Posted: September 30, 2019
Filed under: 2020 Elections, Afternoon Reads
48 Comments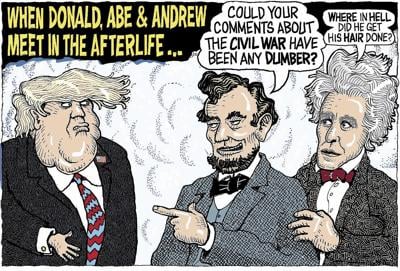 Good Afternoon Sky Dancers!
Well, all of you undoubtedly learned about the Shot Heard 'Round the World that started the Battle of Concord and Revolutionary War.  There was the Assassination of Arch Duke Ferdinand which was the shot that started World War 1.  Now, we have the Tweet made fun of around Twitter that's suggestion they'll be another Civil War due to monumental "presidential harassment (i.e. impeachment) doesn't  stop right now.  Yeah, I bet you can guess which moron threatened that.
"If we are to have another contest in the near future of our national existence, I predict that the dividing line will not be Mason's & Dixon's, but between patriotism and intelligence on one side, & superstition, ambition, & ignorance on the other." Pres US Grant 1876  (h/t to Malcome Nance)
And a few other of the usual morons might be taking it seriously.  No, seriously.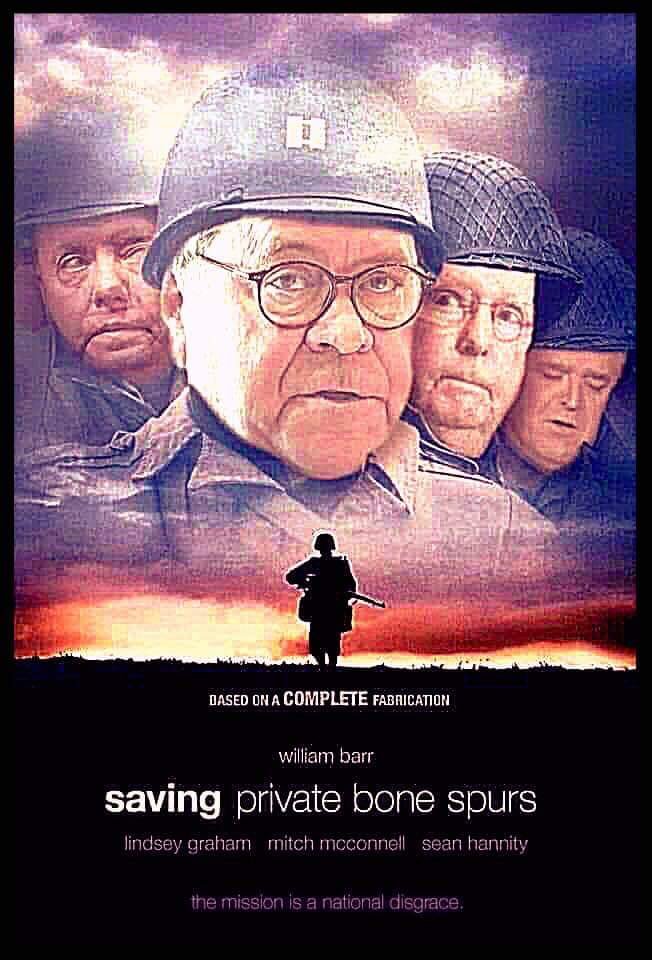 It's Monday Morning! And, The Root has the story via Monica Judge: "Donald Trump Warns There Will Be a Civil War If He Is Impeached."
Donald Trump is shook.

You can tell the "president" is shook because every time he is, he starts flailing on Twitter, tweeting out whatever nonsense he can think of to put up a brave front—but his words usually belie that enormous front and reveal that deep down inside, he is afraid of whatever may be coming next for him.

In this particular instance, what comes next may, in fact, be impeachment hearings that could eventually lead to his ouster from office.

Sure, impeachment should have happened a long time ago, because nothing about this man says he should be sitting in the highest office in the land, but that is neither here nor there, at this point. We currently have members of the House actively calling for him to be unseated, and as the days pass it looks like the likelihood of that happening grows, so he is once again afraid and once again tweeting nonsense to try and "scare" the American people into keeping him in place.

And so, as it goes, on Sunday, Trump tweeted a quote from an evangelical Southern Baptist preacher who thinks Trump is the best thing to happen to the United States white bread—Robert Jeffress.

"If the Democrats are successful in removing the President from office (which they will never be), it will cause a Civil War like fracture in this Nation from which our Country will never heal," Trump wrote, noting that it was a quote from a Jeffress. Jeffress made the statement during an appearance on Fox & Friends Weekend on Sunday.
Meanwhile, there's some news from the Republicans that already left the building.  First up, Jeff Flake writing in WAPO: "Fellow Republicans, there's still time to save your souls."  What?  Those things were sold a long time ago to the Orange Demon..
We have learned from a whistleblower that the president has abused the power of his office to pressure a foreign government to go after a political opponent. A rough transcript of the telephone call has removed all ambiguity about the president's intent. In light of these revelations, the House of Representatives has launched an impeachment inquiry and will likely be forwarding to the Senate at least one article of impeachment.

Compelling arguments will be made on both sides of the impeachment question. With what we now know, the president's actions warrant impeachment. The Constitution of course does not require it, and although Article II, Section 4 is clear about remedies for abuse of office, I have grave reservations about impeachment. I fear that, given the profound division in the country, an impeachment proceeding at such a toxic moment might actually benefit a president who thrives on chaos. Disunion is the oxygen of this presidency. He is the maestro of a brand of discord that benefits only him and ravages everything else. So although impeachment now seems inevitable, I fear it all the same. I understand others who might have similar reservations. The decision to impeach or not is a difficult one indeed.

"Now for the easy decision. If the House decides against filing articles of impeachment, or the Senate fails to convict, Senate Republicans will have to decide whether, given what we now know about the president's actions and behavior, to support his reelection. Obviously, the answer is no.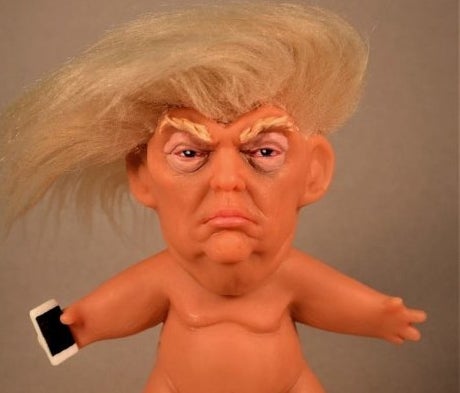 There are also rumors of a Boltin' Bolton from The Raw Story: "John Bolton will encourage the GOP to turn on Trump now that he's reeling from impeachment: MSNBC panel."
A panel discussion on the increasing fallout over Donald Trump's Ukraine phone-call scandal led an MSNBC panel to conclude that former Trump White House insider John Bolton would likely work behind the scenes to get Republicans to turn on the president now that he is damaged goods.

Speaking with "AM Joy" host Joy Reid, journalist Gabriel Sherman noted Bolton has longtime ties to the GOP leadership who may be more sympathetic to his point of view than they are to Donald Trump's.

"He's a person with deep ties to the senior leadership across the Republican Party and he's notoriously a foreign policy hawk," Sherman explained. "The idea that Donald Trump was trading on Ukraine security to help his cause would be anathema to a person like John Bolton."

"He has no love for this president and behind the scenes, I am certain that he is having conversations to push the Republican Party to break with Donald Trump," he added.
  Sounds like there's a rebellion brewing in the party again but only among those who are not facing the electorate.   The SIXTH Republican congress critter from Texas has followed the stampeded out the door. 
Rep. Mac Thornberry (R-TX) announced his retirement Monday morning, saying that "the time has come for a change."

"With over a year to go, I will continue to represent the people of the 13th District to the best of my ability," he said in a statement. "Our nation faces many difficult challenges, and none of us can relax our efforts to meet and overcome them, whether at home or around the world."

Thornberry is the sixth Republican congressman representing Texas to retire before 2020. However, whereas some, like Rep. Will Hurd (R-TX), are abandoning increasingly blue districts, Thornberry is leaving a seat open in a ruby-red, safe Republican hold. The 13th district went for President Donald Trump in 2016 by a whopping 80 percent, per the Cook Political Report. 
Timothy L O'Brien–writing for Bloomberg– shows all the problems now in the Donald's Happy Meal; "Trump Hints at Civil War But He Launched a War on Facts. It's not just the president's phone calls to Ukraine that are a problem. Now there's more."
But it's the opaque and overtly illicit material that we now know is hidden on that system, the use of which only became known thanks to a complaint filed by a Central Intelligence Agency whistle-blower, that is the stuff of presidential impeachment proceedings. The foundational disclosure, from the whistle-blower, was that Trump called Ukraine's president in July and offered to connect him to his personal attorney, Rudy Giuliani, and Attorney General William Barr so they could jointly dig up dirt in Ukraine on a political opponent, former Vice President Joe Biden. That conversation, the whistle-blower said, got stashed away on the restricted NSC network – which the White House later confirmed.

On Friday night, the Washington Post disclosed that when Trump met with the Russians in the Oval Office in 2017, he went beyond slagging Comey and disclosing classified intelligence. He also told them "he was unconcerned about Moscow's interference in the 2016 U.S. presidential election because the United States did the same in other countries." That statement "alarmed White House officials" who decided a memo summarizing the meeting should be "limited to a few officials with the highest security clearances in an attempt to keep the president's comments from being disclosed publicly." It wasn't clear if that memo was secreted on the NSC's restricted network, but Congressional investigators can go ahead and find out.

CNN reported on Friday night that transcripts of sensitive calls between Trump and President Vladimir Putin of Russia were also limited to a select group in the Trump administration. CNN said it wasn't clear if those transcripts were placed on the restricted network; the New York Times reported that they were. The Kremlin, unsurprisingly, said over the weekend that it would rather not see those transcripts made public. Congressional investigators should try to get a look at those conversations, too.

Apart from Trump's staggering abuse of presidential power, one of the more troubling and pivotal disclosures from the whistle-blower's complaint is that the White House systematically used the NSC network to hide his misdeeds. Doing so immediately turned that system into a Pandora's Box of current and future woes for Trump and his White House. It also made those who managed the system, or who passed judgment on or had knowledge of the material that went into it – including witnesses and possible co-conspirators – into more than fair game for the Democrats running impeachment proceedings.
Meanwhile … what coulda shoulda been …
What's on your reading and blogging list today?
---