Posted: January 31, 2020
Filed under:
morning reads
45 Comments
Good Day Sky Dancers!
Susan B Glasser puts it this way "THE SENATE CAN STOP PRETENDING NOW". As I've lurched through my life, I always thought the most dangerous theory of constitutional law was the idea of a "unitary executive" on steroids and testosterone.  It seemed destined to run in to some one thrown into the presidency on false pretense and not up to the vast responsibility and morality that entails.  But, impeachment was supposed to checkmate that … right?
Well, the kid that took civics in high school, constitutional law at university, and lived through Watergate, several specious wars up to and including the Iraq invasion is now facing the bottomless pit of possibility that we've just lost our system of checks and balances.  I politic therefore I blog.  Today, I blog from depression and desperation.
What happens when Trump just gets away with everything unconstitutional that he's done?  What happens when he gets his notion that he's above the law constantly fed by the Republicans in Congress?  Well, if we thought we saw lawlessness in the past, we're about to go on the big kids roller coaster of anything goes!
Around 10 p.m., Alexander and Murkowski joined with another fervent Trump critic turned defender in the Senate, Lindsey Graham, to pose a question to Trump's defense team. "Isn't it true," they asked, that, even if Bolton testified and everything he said was accurate, it "still would not rise to the level of an impeachable offense, and that therefore his testimony would add nothing to the case?" Sensing where this was going, Trump's lawyer Patrick Philbin hastened to agree.

"It's over," one Democratic senator said to another, according to a reporter in the gallery. And, indeed, it was. The question offered a preview of the Alexander statement to follow. A few minutes later, Jerry Nadler, the chairman of the House Judiciary Committee, gave a truncated closing statement that suggested that he, too, knew what was about to happen. "They are afraid of the witnesses," Nadler said. "They know Mr. Bolton and others will only strengthen the case." On that note, the trial adjourned at 10:41 p.m. Nineteen minutes later, Alexander's office tweeted out his statement. Murkowski did not join in, at least not yet. "I am going to reflect on what I've heard, reread my notes, and decide whether I need to hear more," she told reporters; her office said she would announce her decision on Friday morning. Her colleague Susan Collins, meanwhile, announced that she would vote yes for the witnesses. Mitt Romney followed suit first thing Friday morning, as well. But how much did it matter?

All fifteen previous impeachment trials in the U.S. Senate, including the two previous Presidential-impeachment trials, had witnesses. But Lamar Alexander has spoken. Donald Trump's stonewalling will succeed where Nixon's failed. Perhaps Alexander has done us all a favor: the trial that wasn't really a trial will be over, and we will no longer have to listen to it. The Senate can stop pretending.
What's left to give us any hope that this horrid man will be thrown to history to pillage?  What can we do to ensure that he won't fix our next elections or just refuse to leave the White House if soundly trounced?  Is there any hope in these final hours of Senate Failure?  Jordain Carney at The HIll writes "Three ways the end of the impeachment trial could play out"
The Senate is expected to convene by 1 p.m. on Friday. Senators are warning that if Republicans successfully block witnesses, senators are likely to move quickly to Trump's acquittal on Friday night or early Saturday.

Before a vote on witnesses, both Trump's legal team and House managers get up to two hours each to make their cases to the Senate, according to a resolution passed last week on the rules for the trial.

What happens after that? There are a few scenarios to watch for.

Scenario One: The Senate rejects calling witnesses and moves to acquit Trump

This appears to be the most likely outcome, as the pool of potential Republican votes is quickly shrinking.
n a stark turnaround from just days ago when Republicans were caught flat footed by allegations from former national security adviser John Bolton, GOP senators are voicing renewed confidence that they will be able to defeat the request for witnesses.

Senate Judiciary Committee Chairman Lindsey Graham (R-S.C.) stopped short of declaring victory but told reporters, "I've never been more optimistic that we're in a good spot."

Sen. John Barrasso (R-Wyo.) added that he expects a vote on "final judgement" to happen by Friday night
This has been a difficult time to live in and to understand especially for those of us that have been steeped in American History and the development of our Constitutional Republic.
This is from Jonathan Chait at NY Mag: "The Republican Cover-up Will Backfire. The House Can Keep Investigating Trump."
Toward the end, the impeachment trial's strategic purpose narrowed into an obsessive quest to produce evidence. Democrats have defined victory not as removal, but as winning a procedural vote to allow more testimony, especially by John Bolton. The House managers have designed their arguments not to reinforce Trump's guilt but to underscore the need for more testimony. They seem to have given little attention to the question of whether such a victory would actually serve their larger strategic purposes at all. Republicans may have succeeded in blocking all new evidence and driving toward the rapid conclusion they seek, bu the tactical victory may well become a strategic defeat.

If the several days that have passed since the Bolton revelation have proved anything, it is just how uninterested Republicans are in holding Trump to account for his misconduct. Initially, even Trump's staunchest supporters conceded that pressuring Ukraine to investigate Trump's rivals would be, if true, unacceptable. (Lindsey Graham: "very disturbing"; Steve Doocy: "off-the-rails-wrong.") As evidence of guilt accumulated, their denial that this unacceptable conduct took place narrowed to a tiny, highly specific claim: No witness testified that Trump personally ordered them to carry out a quid pro quo. Bolton is the final piece of the jigsaw puzzle.

It is probably for this reason that Republicans have fallen back to a quasi-legal argument offered by Alan Dershowitz: Even if true, abuse of power is not an impeachable offense. While Dershowitz's reasoning is ahistorical, legally absurd, and opens the door to aspiring strongmen, it signals the party's determination to acquit Trump regardless of the facts. Democrats hoped to persuade four Republicans to allow new evidence, and thus to extend the trial for perhaps a few weeks, prove Trump's culpability even more thoroughly than they have. But this would only proceed to a partisan vote to acquit.
From my Friend John Buss who has drawn what I feel and have tried to express here and that is my infinite frustration that the Republican Party has put this horrid human above the law.  And for what?  WHAT?  I ask you?  Thirty six year old judges that have never even argued a case?  No primary opponents?  Kompromat held in the deep state?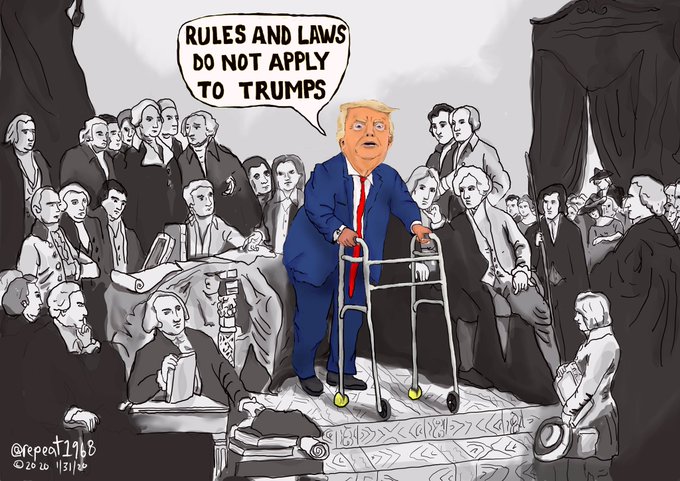 This is about all I'm capable of today.  We have a Republic and we may not be able to keep it.  It's truly depressing
What's on your reading and blogging list today?
---