Posted: February 21, 2020
Filed under:
Afternoon Reads
| Tags: Director of National Intelligence (DNA), political purges, presidential pardons
17 Comments
Good Day Sky Dancers!
What happens in an autocratic government when someone tells the Tin Pot Fattie something he doesn't want to hear?  Well, it's something akin to off with his head Amerikkkan style.  Heaven forbid we get to decide our own elections here without Russian or Saudi or Chinese or Israeli interference!  Yeah, if we're lucky Susan Collins might raise an eyebrow and Lindsey Graham might find one tiny pearl to clutch on Sunday's news programs.  But, it's more like Moscow Mitch will keep them all in the pack like good little playing card soldiers.
Bye Bye National Security!
From The Daily Beast: "Russia Is Helping Elect Trump Again, Intel Official Says".
Intelligence officials briefed House lawmakers last week that Russian actors were interfering in the 2020 elections, once more to the benefit of Donald Trump. The contents of the briefing, which was first reported by The New York Times, sparked a series of dramatic events that have further eroded relations between Hill Democrats and the White House, and prompted the president—it appears—to appoint a top political ally to oversee the nation's national security apparatus.

The meeting, which took place on Feb. 13, was conducted for the House Intelligence Committee by an aide to the outgoing acting Director of National Intelligence Joseph Maguire. According to a legislator who was present, the aide, Shelby Pierson, Maguire's election security chief, described a Russian elections-intrusion effort that never stopped from 2016.

"It continues with the same target, and the same purpose, and it's clear that they [the Russians] favor one candidate over the other," is how the lawmaker described it.

"The Republicans [on the committee] went nuts," over Pierson's presentation, the member told The Daily Beast. A second source familiar with the briefing said that Republicans didn't understand why the Kremlin would try to boost Trump, since he had been so tough on Russia, in their view. Reps. Brad Wenstrup (R-OH), Will Hurd (R-TX) and Chris Stewart (R-UT)—who, according to The Times, has been a Trump favorite to replace Maguire—were particularly vocal in their skepticism, the member said. A spokesperson for Wenstrup said the congressman does not comment on classified or closed-door matters before the Intelligence Committee. Spokespersons for Stewart and Hurd did not immediately respond to a request for comment.
Raise your hand if you learned in first or second grade why the Russians want our country in eternal and internal disarray.  So now, The Tin Pot Fattie has replaced an experienced National Intelligence official with a Republican Politico operative that goes on Fox and twitter to stroke the orange snot blob's bottomless need for adoration.  This is from WAPO: "Senior intelligence official told lawmakers that Russia wants to see Trump reelected".  Yes he knows his electoral illegitimacy really knows no bounds!
Trump announced Wednesday that he was replacing Maguire with a vocal loyalist, Richard Grenell, who is the U.S. ambassador to Germany. The shake-up at the top of the intelligence community is the latest move in a post-impeachment purge. Trump has instructed aides to identify and remove officials across the government who aren't defending his interests, and he wants them replaced with loyalists.

A senior U.S. intelligence official told lawmakers last week that Russia wants to see President Trump reelected, viewing his administration as more favorable to the Kremlin's interests, according to people who were briefed on the comments.

After learning of that analysis, which was provided to House lawmakers in a classified hearing, Trump grew angry at his acting director of national intelligence, Joseph Maguire, in the Oval Office, seeing Maguire and his staff as disloyal for speaking to Congress about Russia's perceived preference. The intelligence official's analysis and Trump's furious response ­ruined Maguire's chances of becoming the permanent intelligence chief, according to people familiar with the matter who, like others, spoke on the condition of anonymity to discuss a sensitive matter.

…

Maguire, a career official who is respected by the intelligence rank and file, was considered a leading candidate to be nominated to the post of DNI, White House aides had said. But Trump's opinion shifted last week when he heard from a Republican ally about the official's remarks.

The official, Shelby Pierson, said several times during the briefing that Russia had "developed a preference" for Trump, according to a U.S. official familiar with her comments. That conclusion was part of a broader discussion of election security that also touched on when the U.S. government should warn Democratic candidates if they are being targeted by foreign governments.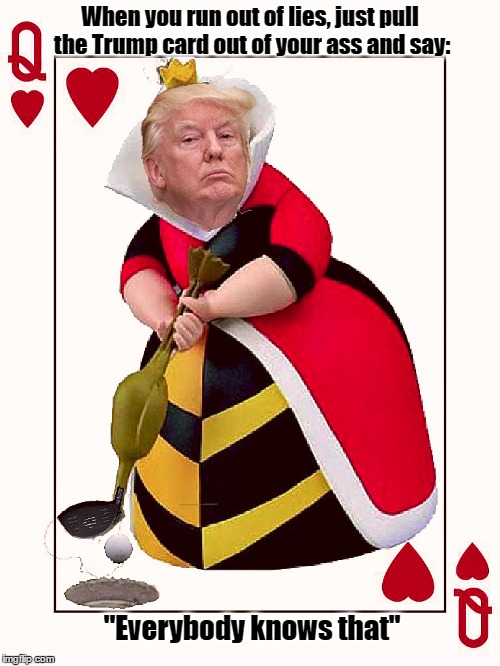 So, now what?   He's got help from the Russians and as usual, we've got the GOP trying to suppress the vote and minority participation in the US Census which sets up all kinds of political and funding priorities in the country.  From the L.A. Times: "GOP is accused of sending misleading 'census' forms ahead of the actual count"
The Republican National Committee is sending documents labeled "2020 Congressional District Census" to people in California and across the country just weeks before the start of the official nationwide count of the country's population.

Critics say the misleading mailers — in envelopes labeled "Do Not Destroy. Official Document" and including a lengthy questionnaire on blue-tinted paper similar to the type used by the real census — are designed to confuse people and possibly lower the response rate when the count begins in mid-March.

The top of the mailer states it is "commissioned by the Republican Party." In smaller print on the second page, below a request for donations, is a notice that it is paid for by the Republican National Committee. Included in the envelope is a four-page letter from National Committee Chairwoman Ronna McDaniel asking for donations to the party and a promise to support Trump in 2020.

Unlike the official census form, the RNC survey is largely made up of political questions, such as whether the respondent supports using military force against Iran, thinks race relations in the country are getting worse and believes "political correctness" has gotten out of hand.
From the UK Daily Mail: "Russia is interfering AGAIN in 2020 election to help Donald Trump get a second term, intelligence officials secretly told Congress – prompting fury from president and Republicans"  I'm pretty sure the fury is they've just been caught again and that's about it.
One lawmaker told the Daily Beast that the officials briefed them that: 'It continues with the same target, and the same purpose, and it's clear that they [the Russians] favor one candidate over the other.

Trump was furious when he learned that Schiff had been briefed that intelligence officials believe Russia is trying to aid his re-election – and wrongly believed it was only the Democrat who had been briefed.

The president believed the information would be used against him, sources told the New York Times.

Schiff was the lead Democratic house manager at Trump's impeachment trial, which ended in his acquittal earlier this month.

In the wake of learning that Schiff had been briefed, Trump had a furious confrontation with the acting Director of National Intelligence, Joseph Maguire.

Maguire was replaced Wednesday night by Rick Grenell, Trump's ultra-loyal ambassador to Germany.

The New York Times reported that two Trump officials said the timing was a coincidence and not because of the row about the briefing.

The official who told lawmakers Russia was meddling was named as Maguire's aide Shelby Pierson, who serves as the intelligence community's top election security official.

Trump blew up at Maguire in the Oval Office last week over what the president perceived as staff disloyalty, citing Pierson's briefing.

That ruined Maguire's chance of becoming the permanent intelligence chief, sources told The Washington Post.

Trump incorrectly believed Pierson gave the information exclusively to Schiff and gave Maguire a 'dressing down' that left him 'despondent,' sources told the newspaper.

Pierson chairs the Election Executive and Leadership Board, which was created in July 2019 to specifically deal with election security matters.

She gave the closed-door briefing to the House Intelligence Committee last Thursday.

One of Trump's Republican allies on the committee told him what she said, the Post reported.

Some of Trump's biggest defenders during the House impeachment inquiry – including Reps. Devin Nunes and Elise Stefanik – sit on the intelligence panel.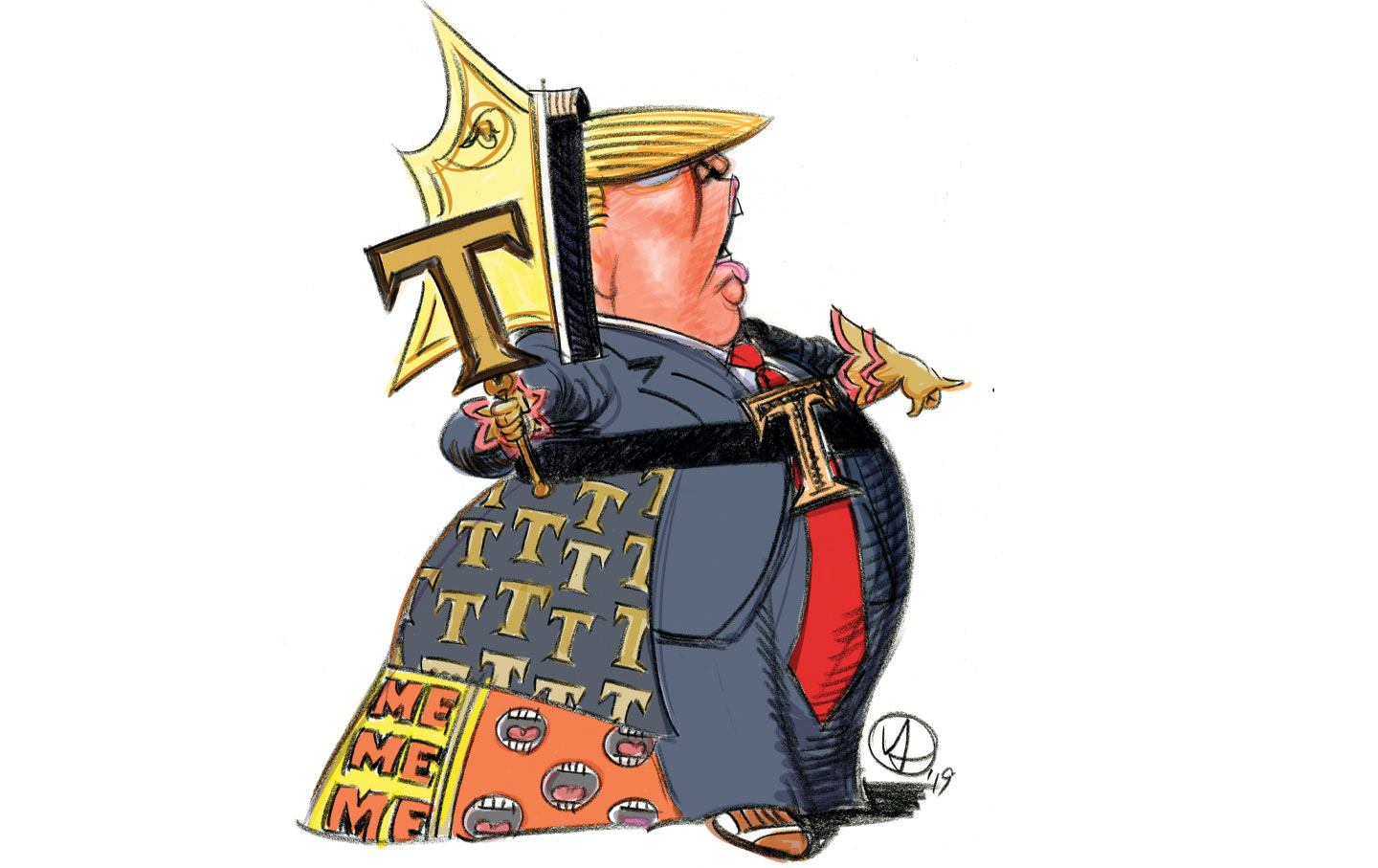 So, the president is still a moron.  This may not rival the Night of the Long Knives but combined with granting pardons to people who have abused their power in public positions and absconded with public treasure seems particularly relevant to the crime family occupying the Oval Office.
Guess who is in charge of that process now?  This is from Salon: "Trump's controversial pardons came after Kushner wrestled control from Justice Department: report. Kushner supported clemency for Rod Blagojevich even as White House officials allegedly "argued heavily against it"
I suppose after you've cribbed and stolen your plan for an Israeli Palestinian peace process off of a 40 year old book and it's going nowhere you have to look for other hobbies.
President Donald Trump's controversial pardons of numerous supporters convicted of corruption came after his son-in-law and senior adviser Jared Kushner wrestled control of the process from the Department of Justice, according to a new report.

While the Justice Department has traditionally overseen the pardon process and made recommendations to the White House, Kushner has taken "a leading role" as the Trump administration seeks to exert more control over clemency decisions, The Washington Post reported.

Trump, who granted clemency to 11 people on Tuesday, tasked Kushner and former Florida Attorney General Pam Bondi, who served on the president's impeachment legal team, last year with revamping the pardon process, according to the report. All clemency applications must now be submitted directly to the White House Office of American Innovation, which is headed by Kushner. Trump's son-in-law has also been tasked with solving Middle East peace, reforming the immigration system, building the border wall and re-electing the president, among a variety of other responsibilities.

Kushner has personally reviewed applications before presenting them to Trump for approval, two senior administration officials told the outlet.
So far, this is going really well for crooked elected officials and political appointees isn't it?  What's next?  Pardoning Jared's Dad?  Or Roger Stone? This is via CNN.
President Donald Trump said Thursday he won't act to grant clemency to his friend and former associate Roger Stone right now, saying he wants the process to play out before making a decision.

"I'm not going to do anything in terms of the great powers bestowed upon a president of the United States, I want the process play out, I think that's the best thing to do," Trump said in Las Vegas. "Because I'd love to see Roger exonerated and I'd love to see it happen because I personally think he was treated very unfairly."

The President didn't rule out an eventual pardon or commutation, but said the process should play out first.
"At some point I'll make a determination, but Roger Stone and everybody has to be treated fairly. And this has not been a fair process," Trump said.
Stone was sentenced to 40 months in prison earlier Thursday. He was convicted last fall of lying to Congress and threatening a witness regarding his efforts for Trump's 2016 campaign.
Meanwhile, meet the Acting DNI RIchard Grenell via TPM .  Maybe Hope Hicks should have the job next.
Grenell, a vocal Trump loyalist who is currently the ambassador to Germany, brings to the job of acting Director of National Intelligence years of experience aggravating the German government coupled with a background in strategic communications.

The political operative's appointment has raised questions of his fitness for the job. As director of national intelligence, Grenell will oversee the 17 constituent agencies of the country's intelligence community, managing the flow of information gathered by the country's spies to President Trump.

"It's difficult to contemplate managing 17 different organizations without having any experience with the intelligence process overall," Jeffrey Edmonds, a former director for Russia on the National Security Council and a former CIA intelligence analyst, told TPM. "I just think it's quite dangerous in the sense that the right information might not get to the right people."

Since DNI Dan Coats stepped down from the position in August 2019, the government has lacked a Senate-confirmed official in the job.
So, I'm depressed enough and still coughing way too much with this flu so I'll end with these two things. But, please add more!
What's on your reading and blogging list today?
---
Posted: December 8, 2018
Filed under: Crime, Criminal Justice System, morning reads, U.S. Politics
| Tags: Department of Justice, Donald Trump, Michael Cohen, Mike Pence, Paul Manafort, political synergy, presidential pardons, Robert Mueller, Russia, Southern District of New York, Vladimir Putin
22 Comments

Good Morning!!
After the release of three court filings yesterday (a sentencing recommendation for Michael Cohen from SDNY, another Cohen sentencing recommendation from Robert Mueller, and a statement from the Special Counsel of the lies from Paul Manafort that justify ending his plea agreement) the consensus of legal and political pundits is that Trump is essentially finished. How long he will continue as fake "president" is unclear, but he has been credibly accused of a crime by his own Justice Department.
I've gathered a number of opinion pieces that I think are very good. It's difficult to excerpt these long pieces, so I'm just giving you the highlights. You'll have to go to the sources for more details.
Jonathan Chait: The Department of Justice Calls Donald Trump a Felon.
Federal prosecutors released sentencing recommendations for two alleged criminals who worked closely with Donald Trump: his lawyer Michael Cohen, and campaign manager Paul Manafort. They are filled with damning details. But the most important passage by far is this, about Trump's fixer: "Cohen himself has now admitted, with respect to both payments, he acted in coordination with and at the direction of Individual-1."

The payments in question, as the document explains, concern a payoff to two women who claimed to have affairs with Trump. The payments, according to prosecutors, were intended to influence the campaign, and thereby constituted violations of campaign finance law. They have not formally charged Trump with this crime — it is a sentencing report for Cohen, not Trump — but this is the U.S. Department of Justice calling Trump a criminal….the fact that he is being called a felon by the United States government is a historic step. And it is likely the first of more to come…..

Cohen is providing helpful information on other crimes. Cohen reportedly gave the special counsel "useful information concerning certain discrete Russia-related matters core to its investigation that he obtained by virtue of his regular contact with Company executives during them." And this contact continued into 2018. Cohen was not locked out and probably has access to some secrets….

The special counsel sentencing recommendation for Cohen also reveals that Russian contact with the Trump campaign began as early as 2015, not the following spring. And Russians promised "political synergy" — which is essentially a synonym for campaign collusion — and "synergy on a government level." That means a quid pro quo in which Russia would help Trump win the election and Trump, if elected, would give Russia favorable policy. This is the heart of Mueller's very much ongoing investigation.
There are suggestions in both the Cohen filings that The Trump Organization was involved in crimes, and that is very significant. As Emptywheel pointed out recently, even if Trump were to pull a Nixon and make a deal with Pence–the presidency in return for pardons–Pence could not pardon Trump's company.
Marcy writes that the sentencing memorandum released by Cohen's attorneys on November 30,
…puts Trump's eponymous organizations — his company and his foundation — squarely in the bullseye of law enforcement. The known details of all those puts one or the other Trump organization as an actor in the investigation. And we've already seen hints that the Trump Organization was less than responsive to some document requests from Mueller, such as this detail in a story on the Trump Tower deal:

According to a person familiar with the investigation, Cohen and the Trump Organization could not produce some of the key records upon which Mueller relies. Other witnesses provided copies of those communications.

If there's a conspiracy to obstruct Mueller's investigation, I'm fairly certain the Trump Organization was one of the players in it….

But the Trump Organization did not get elected the President of the United States (and while the claims are thin fictions, Trump has claimed to separate himself from the Organization and Foundation). So none of the Constitutional claims about indicting a sitting President, it seems to me, would apply.

If I'm right, there are a whole slew of implications, starting with the fact that….it utterly changes the calculation Nixon faced as the walls started crumbling. Nixon could (and had the historical wisdom to) trade a pardon to avoid an impeachment fight; he didn't save his presidency, but he salvaged his natural person. With Trump, a pardon won't go far enough: he may well be facing the criminal indictment and possible financial ruin of his corporate person, and that would take a far different legal arrangement (such as a settlement or Deferred Prosecution Agreement) to salvage. Now throw in Trump's narcissism, in which his own identity is inextricably linked to that of his brand. And, even beyond any difference in temperament between Nixon and Trump,  there's no telling what he'd do if his corporate self were also cornered.

In other words, Trump might not be able to take the Nixon — resign for a pardon — deal, because that may not be enough to save his corporate personhood.
Head over to Emptywheel for more details.
Ken White (AKA Popehat) at The Atlantic: Manafort, Cohen, and Individual 1 Are in Grave Danger.
White provides a very good summary of the yesterday's three court filings, which you can read at the link. Here's his conclusion:
The president said on Twitter that Friday's news "totally clears the President. Thank you!" It does not. Manafort and Cohen are in trouble, and so is Trump. The Special Counsel's confidence in his ability to prove Manafort a liar appears justified, which leaves Manafort facing what amounts to a life sentence without any cooperation credit. The Southern District's brief suggests that Cohen's dreams of probation are not likely to come true. All three briefs show the Special Counsel and the Southern District closing in on President Trump and his administration.  They're looking into campaign contact with Russia, and campaign finance fraud in connection with paying off an adult actress, and participation in lying to Congress. A Democratic House of Representatives, just days away, strains at the leash to help.  The game's afoot.
Another very good summary of the filings can be read at Lawfare, this one by Victoria Clark, Mikhaila Fogel, Quinta Jurecic, and Benjamin Wittes: 'Totally Clears the President'? What Those Cohen and Manafort Filings Really Say. Here's a short excerpt on Trump's culpabililty:
In short, the Department of Justice, speaking through the acting U.S. attorney for the Southern District of New York, is alleging that the president of the United States coordinated and directed a surrogate to commit a campaign finance violation punishable with time in prison. While the filing does not specify that the president "knowingly and willfully" violated the law, as is required by the statute, this is the first time that the government has alleged in its own voice that President Trump is personally involved in what it considers to be federal offenses.

And it does not hold back in describing the magnitude of those offenses. The memo states that Cohen's actions, "struck a blow to one of the core goals of the federal campaign finance laws: transparency. While many Americans who desired a particular outcome to the election knocked on doors, toiled at phone banks, or found any number of other legal ways to make their voices heard, Cohen sought to influence the election from the shadows." His sentence "should reflect the seriousness of Cohen's brazen violations of the election laws and attempt to counter the public cynicism that may arise when individuals like Cohen act as if the political process belongs to the rich and powerful."

One struggles to see how a document that alleges that such conduct took place at the direction of Individual-1 "totally clears the president."
Garrett M. Graff at Wired: The Mueller Investigation Nears the Worst Case Scenario.
WE ARE DEEP into the worst case scenarios. But as new sentencing memos for Trump associates Paul Manafort and Michael Cohen make all too clear, the only remaining question is how bad does the actual worst case scenario get?

The potential innocent explanations for Donald Trump's behavior over the last two years have been steadily stripped away, piece by piece. Special counsel Robert Mueller and investigative reporters have uncovered and assembled a picture of a presidential campaign and transition seemingly infected by unprecedented deceit and criminality, and in regular—almost obsequious—contact with America's leading foreign adversary.

A year ago, Lawfare's Benjamin Wittes and Quinta Jurecic outlined seven possible scenarios about Trump and Russia, arranged from most innocent to most guilty. Fifth on that list was "Russian Intelligence Actively Penetrated the Trump Campaign—And Trump Knew or Should Have Known," escalating from there to #6 "Kompromat," and topping out at the once unimaginable #7, "The President of the United States is a Russian Agent."

After the latest disclosures, we're steadily into Scenario #5, and can easily imagine #6.
Read a detailed analysis at the link. Graff is the author of a book on Robert Mueller's time as FBI Director.
Another highly recommended analysis from Ryan Goodman and Andy Wright at Just Security: Mueller's Roadmap: Major Takeaways from Cohen and Manafort Filings. Goodman and Write offer eight "takeaways."
1. SDNY Prosecutors named the President of the United States as a direct participant, if not the principal, in felonies….

2. Other Trump Campaign and Trump Organization officials may face criminal charges for the hush money scheme….

3. The Special Counsel ties Trump directly to possible Russia collusion….

4. Russian contacts began during the GOP Primary….

5. The Special Counsel targets many Manafort lies but is silent on the infamous Trump Tower meeting with Russians….

6. Some potential hints of obstruction and suborning perjury….

7. Mueller's M.O.: What he'll do with lying to the public (and lies in writing)….

8. Why Cohen was more forthcoming with Mueller than SDNY, and SDNY wants him to serve a significant prison sentence.
I'll just share one interesting excerpt from point 7, on lies that are put in writing and lies to the public. Both of these could apply to Trump himself.
In terms of perjury and false statements, Mueller seizes on fact that Cohen lies were in written testimony rather than arising "spontaneously from a line of examination or heated colloquy." That's a danger sign for people like Trump, who may have thought they had greater safety in written responses to Mueller, and people like Roger Stone, whose apparent lies to Congress are on the face of his written testimony.

Another important insight is how Mueller seizes on Cohen's lies made to the public.

First, Mueller's theory of the case recognizes that public statements are methods of communication with other witnesses. That's important for potential conspiracies to commit perjury or otherwise obstruct justice. This also increases the likelihood that Mueller will regard public statements by President Trump and his lawyers as signals to other witnesses–such as publicly dangling pardons and favoring the "strength" of uncooperative witnesses.

Second, Mueller considers lies to the public can be an attempt to undermine the investigation. The memo states, "By publicly presenting this false narrative, the defendant deliberately shifted the timeline of what had occurred in the hopes of limiting the investigations into possible Russian interference in the 2016 U.S. presidential election." That sounds awfully similar to the creation of a cover story about the June 9 Trump Tower meeting, which the President himself reportedly directed from aboard Airforce One.

Third, Mueller considers Cohen's false statements to be even more significant because he "amplified" them by "by releasing and repeating his lies to the public." That approach spells trouble for several Trump campaign associates including Roger Stone, Donald Trump Jr., Erik Prince, and Michael Caputo.
Barry Berke, Noah Bookbinder and Norman Eisen at The Washington Post: Is This the Beginning of the End for Trump? A brief excerpt: 
The special counsel focuses on Mr. Cohen's contacts with people connected to the White House in 2017 and 2018, possibly further implicating the president and others in his orbit in conspiracy to obstruct justice or to suborn perjury. Mr. Mueller specifically mentions that Mr. Cohen provided invaluable insight into the "preparing and circulating" of his testimony to Congress — and if others, including the president, knew about the false testimony or encouraged it in any way, they would be at substantial legal risk.

Mr. Trump's legal woes do not end there. The special counsel also advanced the president's potential exposure under the Foreign Corrupt Practices Act for activities relating to a potential Trump Tower Moscow. Mr. Mueller noted that the Moscow project was a lucrative business opportunity that actively sought Russian government approval, and that the unnamed Russian told Mr. Cohen that there was "no bigger warranty in any project than the consent" of Mr. Putin.

If recent reports that Mr. Cohen floated the idea of giving Mr. Putin a $50 million luxury apartment in a future Trump Tower Moscow prove true, both the president and his company could face substantial jeopardy.
There's much more analysis at the WaPo link.
It has been quite a week, ending with a bang yesterday. As Trump often says, "we'll see what happens." What stories have you been following?
---
Posted: March 29, 2018
Filed under: Afternoon Reads, U.S. Politics
| Tags: China, corruption, David Shulkin, Donald Trump, Ivanka Trump, Jared Kushner, John Bolton, John Dowd, Kim John Un, Latvia, Michael Flynn, North Korea, Paul Manafort, presidential pardons, privatization, Robert Mueller, Russia investigation, U.S. Constitution, Veterans Affairs
31 Comments
Good Afternoon!!
As usual in the horrifying new world of Trump, there is so much shocking news that there's no way to deal with all of it. I guess the top story has to be that Trump's former lawyer John Dowd dangled pardons in front of Michael Flynn and Paul Manifort last summer.
The New York Times: Trump's Lawyer Raised Prospect of Pardons for Flynn and Manafort.
A lawyer for President Trump broached the idea of Mr. Trump's pardoning two of his former top advisers, Michael T. Flynn and Paul Manafort, with their lawyers last year, according to three people with knowledge of the discussions.

The discussions came as the special counsel was building cases against both men, and they raise questions about whether the lawyer, John Dowd, who resigned last week, was offering pardons to influence their decisions about whether to plead guilty and cooperate in the investigation.

The talks suggest that Mr. Trump's lawyers were concerned about what Mr. Flynn and Mr. Manafort might reveal were they to cut a deal with the special counsel, Robert S. Mueller III, in exchange for leniency. Mr. Mueller's team could investigate the prospect that Mr. Dowd made pardon offers to thwart the inquiry, although legal experts are divided about whether such offers might constitute obstruction of justice.

Mr. Dowd's conversation with Mr. Flynn's lawyer, Robert K. Kelner, occurred sometime after Mr. Dowd took over last summer as the president's personal lawyer, at a time when a grand jury was hearing evidence against Mr. Flynn on a range of potential crimes.
Flynn ultimately took the safe route and agreed to cooperate with the Mueller investigation; but this could explain why Paul Manafort is holding out even though the evidence against him is overwhelming and he could face life in prison if convicted.
Constitutional experts are now discussing whether Trump could get away with pardoning Manafort and others, even if he did it with corrupt intent. Some opinions:
Alex Whiting at Just Security: Why Dangling a Pardon Could Be an Obstruction of Justice—Even if the Pardon Power is Absolute. A brief excerpt:
Some experts have argued that the pardon power is absolute and that the President's motives in issuing a pardon thus could not be questioned, while others contend that it could be a crime to issue a pardon for corrupt purposes (such as in exchange for cash). But the debate over the absolute nature of the pardon power is actually not relevant to the alleged incidents involving Trump's lawyer. Indeed, that entire debate can be set aside for the moment. Why? Because there's been no pardon. Instead, a pardon has only been dangled before Flynn and Manafort, and the analysis of whether that action could become part of an obstruction case against Trump raises entirely different considerations….

The pardon dangle works completely differently—and in important respects has the opposite effects. First, this kind of dangle is not a public act. Therefore, as long as it remained secret, it could be done without incurring any of the political downstream consequences that come with actually pardoning someone. It hides the President from scrutiny rather than exposes him to it as a potential check on the use of the power. Second, the objective of the dangle appears to have been to foreclose the prospect of Flynn and Manfort's cooperating or testifying. Once again, this is the opposite effect of an actual exercise of the pardon. The message of the dangle was sufficiently clear: hang in there and keep fighting (do not cut a deal with the special counsel) because you will be pardoned before you spend a day in jail. The President and his lawyer's hope would have been that with the threat of jail eliminated, neither former aid would feel compelled to plead guilty and cooperate with Mueller to reduce his sentence. But, since they were not actually pardoned or not yet anyway, they still kept their Fifth Amendment privileges, and so Mueller could not simply demand they testify before the Grand Jury. In this way, the dangle could operate to stop any cooperation from Flynn and Manafort, who could then be pardoned later if and when they were indicted or even after their cases went through pretrial, trial and appeal. Indeed, you also have to put yourself back at the time these events all took place: before Manafort was indicted and Flynn pleaded guilty. That's when the dangle could work its magic.

Because a pardon dangle is secret and seeks to discourage cooperation with an ongoing investigation without public scrutiny or consequences, it should be analyzed differently than a pardon when it comes to an obstruction case.
Former U.S. Attorney Harry Littman at The Washington Post: We may know why Paul Manafort has kept quiet. But his bet is still risky.
Manafort's refusal to cooperate can't be driven by a rational calculation that he has any reasonable chance of escaping conviction, multimillion-dollar legal fees and a prison sentence that will result in years behind bars.

The indictments against him lay out an overwhelming case of money laundering in particular. The meticulously gathered evidence will be as clear for the jury as a laundry detergent commercial: The jury will see the dirty money go in and the clean money come out. To the extent there had been a small risk, inherent in paper-driven chases, that the jury could become bored at the accounting presentation and tune out, Mueller now has a narrator for the trial in Manafort's co-conspirator Rick Gates.
So is hoping for a Trump pardon a good bet for Manafort?
…the Times story does not definitively solve the Manafort mystery. First, Dowd's reported overture, particularly if done with the president's knowledge or consent, could have constituted a conspiracy to obstruct justice, a separate impeachable offense. That presumably is why the story includes a categorical denial from Dowd that he ever discussed pardons for the president's former advisers with lawyers. For Dowd, the conduct would be putting his license at risk.

Second, Manafort surely recognizes that he can't fully count on Trump, both because the president is a habitual liar and because the political dynamic is subject to such extreme and violent turns. (Of course, under this hypothesis, Manafort retains the valuable insurance policy of spilling the goods if Trump double-crosses him, leaving both huge losers in a real-life prisoners dilemma.)

Third, Manafort could still be required to testify after any pardon, when he would no longer be in federal jeopardy. Undoubtedly, the plan would be for him to deny assurances of a pardon from Trump. Still, were Mueller to catch him in a lie, the special counsel would surely come down on him.

Finally, it is likely that in the event of a pardon for federal crimes, which is all Trump can provide, some state attorneys general, such as New York's Eric T. Schneiderman, would prosecute Manafort for financial crimes under their potent state statutes.
Maybe Manafort figures a possible pardon is a better bet than hoping Putin doesn't send his goons to shut him (Manafort) up for good.
A few more pardon stories:
Bloomberg: Pardon Talk Could Put Trump Lawyer in Hot Water.
CNN: Emails reveal DOJ would have 'very little involvement' if Trump tweeted a pardon.
The Washington Post: This overlooked part of the Constitution could stop Trump from abusing his pardon power.
Another big story broke late yesterday. Trump fired Veterans Affairs Secretary David Shulkin. Today Shulkin is speaking out, claiming he was fired because he opposed privatizing the VA. Shulkin spoke to NPR's Morning Edition:
Fired Veterans Affairs Secretary David Shulkin tells NPR's Morning Edition that political forces in the Trump administration want to privatize the VA — and that he was standing in the way.

"There are many political appointees in the VA that believe that we are moving in the wrong direction or weren't moving fast enough toward privatizing the VA," he said. "I think that it's essential for national security and for the country that we honor our commitment by having a strong VA. I was not against reforming VA, but I was against privatization."

Those political forces may be why Shulkin says he wasn't allowed to speak out to defend himself against an ethics controversy over use of funds on a trip to Europe that he says was overhyped and intended to weaken him.

"This was completely mischaracterized," Shulkin said. "There was nothing improper about this trip, and I was not allowed to put up an official statement or to even respond to this by the White House. … I think this was really just being used in a political context to try to make sure that I wasn't as effective as a leader moving forward."
Shulkin argued his case in an op-ed at The New York Times: David J. Shulkin: Privatizing the V.A. Will Hurt Veterans.
That's a lot of news, but I've barely touched on everything that's happening. Here's a shocking Trump corruption story that broke at The Guardian this morning: FBI looked into Trump plans to build hotel in Latvia with Putin supporter.
In 2010, a small group of businessmen including a wealthy Russian supporter of Vladimir Putin began working on plans to build a glitzy hotel and entertainment complex with Donald Trump in Riga, the capital of Latvia.

A senior Trump executive visited the city to scout for locations. Trump and his daughter Ivanka spent hours at Trump Tower with the Russian, Igor Krutoy, who also knows compatriots involved in arranging a fateful meeting at the same building during the 2016 US election campaign.

Then the Latvian government's anti-corruption bureau began asking questions.

The Guardian has learned that talks with Trump's company were abandoned after Krutoy and another of the businessmen were questioned by Latvian authorities as part of a major criminal inquiry there – and that the FBI later looked into Trump's interactions with them at Latvia's request.

Those involved deny that the inquiry was to blame for the deal's collapse.

Latvia asked the US for assistance in 2014 and received a response from the FBI the following year, according to a source familiar with the process. Latvian investigators also examined secret recordings in which Trump was mentioned by a suspect.

This means the FBI looked into Trump's efforts to do business deals in the former Soviet Union earlier than was widely known. Robert Mueller, the special counsel, is now investigating other Trump dealings with Russians as part of his wide-ranging criminal inquiry into alleged collusion between Moscow and members of Trump's 2016 campaign team.

The Riga developers saw their potential partner in New York as a ticket to lucrative western revenues.
This shit just never ends. I haven't even touched on the North Korea news or the Bolton mess or the fact that Trump wants to put his personal physician in charge of the VA. More headlines to check out:
The Washington Post: Who is Trump's new Veterans Affairs pick, Ronny Jackson?
NBC News: Kim Jong Un met China's Xi. What does it mean for Trump summit?
CNBC: China says North Korea wants denuclearization, but Kim Jong Un's motives remain shrouded in mystery as Trump meeting approaches.
The Washington Post: Three big questions about a Trump-Kim summit.
Business Insider: Kim Jong Un became a regional power overnight by saying a single, meaningless word to Trump.
Vox: "Otherwise, they subpoena": White House lawyer Ty Cobb on why Trump is cooperating with Mueller.
Bloomberg: Kelly Loses White House Clout as Trump Blazes Own Path.
CNN: Did Trump campaign and John Bolton PAC get help from overseas?
Talking Points Memo: WSJ: Kushner Has Phoned Bolton For Advice In The Past Year.
BBC News: Julian Assange has internet cut at Ecuadorean embassy in London.
The Daily Beast: ICE Now Detaining Pregnant Women, Thanks to Trump Order.
Slate: It's Time to Stop Yammering About Liberal Bias.
---