Posted: October 25, 2019
Filed under:
morning reads
| Tags: Elijah Cummings
44 Comments
Good Morning Sky Dancers
I've been watching a large number of people pay tribute to Congressman Elijah Cumming's service. He represents the experience of many Black Americans living in the South who came from Share Cropping families.  He looked at Jim Crow and said "Not Today" heading to university and law school and then to prominence in the US Congress.   He will be eulogized by two US Presidents.  He will be sorely missed by all Americans who yearn for peace and justice.
Earlier this morning, fond memories of the Congressman were shared by the Pelosi family and Hillary Clinton.   A very humble hero is being sent home today
Speakers at the New Psalmist Baptist Church include former Presidents Barack Obama andBill Clinton, former Secretary of State Hillary Clinton and House Speaker Nancy Pelosi.

Bishop Walter S. Thomas Jr. of New Psalmist began the ceremony in a moment of silence as a military honor guard unfolded an American flag across Cummings' casket.

Pictures of Cummings throughout his career hung on a sprawling sage behind the speaker's podium.

Senator and presidential candidate Elizabeth Warren delivered readings from the Old Testament as one of the first politicians invited to speak at the ceremony.

Following the brief readings, one of Cummings favorite lyrical artists, BeBe Winas, sang along with the New Psalms Choir, bringing the audience to their feet.

Former Secretary of State Clinton first offered her condolences to Cummings' wife, Maya and reflected on his legacy, comparing him to the Elijah of the Bible.

"Like the prophet, our Elijah could call down fire from heaven — but he also prayed and worked for healing," she said.

To a long applause, Clinton added, "Like that Old Testament prophet, he stood against corrupt leadership of King Ahab and Queen Jezebel."
Hillary Clinton's tribute can be found here at Raw Story.  There's a live link to the service that I will post in the thread below so we can all share our two best last Presidents as they pay tribute to America's Congressman.
Tributes to the great man are pouring in.  He certainly will be missed in so many ways by colleagues, family, young women and men he mentored, and all justice-minded Americans.
Democrats and Republicans came together on Thursday to honor and celebrate the extraordinary life of longtime Rep. Elijah E. Cummings, who passed away last week at the age of 68:

 " … a leader who — like the prophet whose name he shared — 'saw wrongdoing and spent his life working to banish it from our land,'" our colleagues 

Jenna Portnoy and Ovetta Wiggins write. 

The escalating partisan drama of an impeachment inquiry that has divided Congress more than ever was put aside for a day to remember the person who, as chair of the House Oversight Committee, had taken a prominent role in investigating President Trump.The Maryland lawmaker was described by colleaguesas a moral force, loyal to the city of Baltimore and devoted to civil rights and his constituents — "our North Star" and "a mentor of the House," according to House Speaker Nancy Pelosi (D-Calif.).

"He was strong, very strong when necessary, but also kind and caring and honorable,"

 said Sen. Chuck Schumer (D-N.Y.), adding that Cummings was "universally respected and admired in a divided time" for standing by his principles.

"His voice could shake mountains, stir the most cynical hearts, inspiring us all to better," Schumer added.
"Elijah E. Cummings did not just represent Baltimore, he embodied it," said Senate Majority Leader Mitch McConnell (R-Ky.).
McConnell explained Cummings rose in the political ranks "not because he outgrew his hometown, but because he was so committed to it," per The Baltimore Sun's Jeff Baker. 

Words to remember: A teary-eyedRep. Mark Meadows (R-N.C.) delivered a eulogy for the lawmaker he called his "dear friend," who was lying in state in the Statuary Hall:

"Some have classified it as an unexpected friendship but for those of us that know Elijah … it's not unexpected or surprising," Meadows said, per 

NPR's Amita Kelly.
"So Elijah has left his tent to go to a mansion, a better place. Perhaps this place and this country would be better served with a few more unexpected friendships," he said. "I know I've been blessed by one."
This is from Tyler Tynes writing for The Ringer: "The Giant Life of Elijah Cummings. Remembering the conscience of Congress, who died Thursday at age 68"
I first met Representative Cummings in Washington during the spring of 2016. I had just moved to the nation's capital, knowing nothing of the world except what I'd read in books. Cummings was delivering one of his emphatic, pulpit-inspired monologues about the un-American atrocities of the Flint water crisis. I ran him down in the hallway later that day for clarification on some minutiae that would be the news of the day. He answered me gleefully and walked off, only to stroll back to return a question.

"Do you know who I am?" he said.

"I do," I remember responding.

"Good," he replied. "Just wanted to make sure you didn't think I was John Lewis!" he laughed and then hurried back down the hallway.

This became a classic story for young, black reporters covering Congress during that time. Cummings introduced himself that way to many of us. He understood the unspoken thing between black members and black writers, that despite our roles, we see each other. That day, Cummings made sure I saw him, and before me stood a giant of American progress, a deity to Baltimore, and an unflinching politician who fought for equality every day until his dying breath.

Sadly, that came Thursday as Cummings died at age 68 in the same place he was born and fought for, his beloved Baltimore. He was a true public servant and a beacon for civil rights. His life was defined by the love of his community and a fierce, unyielding commitment to ensuring that truth wins over power. Any Hill staffer I spoke with on Thursday either fought through tears or kept repeating how "devastating" his death was. As the Senator Ben Cardin, a Democrat from Maryland, said in a statement the morning Washington awoke to Cummings's death, "quite possibly no elected official mattered so much to his constituents." Cummings was a black man who gave a booming voice to Baltimore's black population. "He worked until his last breath because he believed our democracy was the highest and best expression of our collective humanity and that our nation's diversity was our promise, not our problem," his wife, Maya Rockeymoore Cummings, said.

Cummings was born in Baltimore in 1951, the son of sharecroppers from South Carolina, when America was raging over state-sanctioned racial segregation. He was the progeny of America's original sin, a child of parents who became beloved as preachers and moved north during the Great Migration to improve the prospects of their kids. At age 11, he was among the first to integrate a city pool, as whites holding signs reading "White People Have Rights Too" pelted him with rocks and bottles, which left a scar on his face for the remainder of his days. He was a man of Howard University, a law student of Maryland, and the first black person in the state's House of Delegates to be named "speaker pro tem."

He was sworn into Congress in 1996, with his father crying at the top of the chamber. He was the same on his first day as he would be on his last: staunch shoulders and furrowed brow, a singing cadence but a stern bottom lip. Cheers rang throughout the hall with members yelling, "Speech! Speech! Speech!" as Cummings hugged black members tightly. The applause, carried by C-SPAN, grew raucous. The cheers ebullient. The claps didn't cease for nearly 90 seconds. It was a beautiful sight. How frequently, in the rooms that slaves built, do we see the black body cherished in such a way?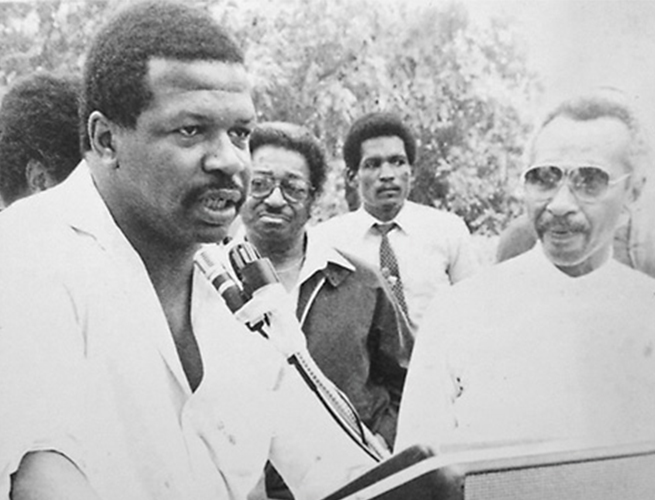 I feel somewhat disrespectful to Cummings having to cover this story along with paying tribute to him but in some strange way I feel he'd want us all not to stop fighting injustice even today. This is a story of injustice and its source is supposed to be the Constitutional Bearer of Justice for the United States People.
We already have a lot of evidence that Attorney General Barr supports a theocratic imperial presidency in the person of Donald Trump.  His recent actions include opening a criminal investigation into the so-called "origins" of the Mueller probe and the role of Justice Department and National Security in some cooked up conspiracy theory.  He's also travelling around to our allies asking them to spill dirt on American Diplomats and National Security Employees. This stabs at the very heart of our Democracy and Rule of Law.  First, he obviously buried the Whistle Blower Complaint about the Quid Pro Quo demanded by Trump of the newly elected President of Ukraine.
We continue to discover the absolute level of abuse of power orchestrated by Trump and his Trio of Stooges in the Ukraine to dig dirt up on the Bidens.  Here's some background information found by BB last night that may elucidate all that's going on.  I have to admit that I'm always boggled by conspiracy theories that are convoluted and obviously invented.  Here's some explanation from the blog Just Security: "The Missing Link: Getting Dirt on Biden Was Key Part of "Investigation into 2016 Election" Too."  We're in a national snipe hunt to put bandages on Trump's hurt fee fees over the 2016 election and to ensure his reelection and Barr is leading the chase.
On the same day that Pompeo appeared on the three Sunday news shows, Giuliani was also on Fox News Sunday, where the President's private attorney laid out his theory of the case.

Giuliani's (unfounded) conspiracy theory is that Biden removed Ukraine Prosecutor General Viktor Shokin and approved the new prosecutor Yuriy Lutsenko as part of an effort to "frame" Paul Manafort and the Trump Campaign in the 2016 election. Giuliani asserts (without evidence) that the new Prosecutor dropped a case against an organization that had produced information (in coordination with the Democrats and U.S. officials) to taint Manafort. This conspiracy theory fits in with the overall idea that Russia was not behind the 2016 election interference, but instead the real collusion involved Ukrainian and Democratic operatives. It is worth quoting Giuliani's statement on Fox News in reference to Biden in full:

I went there as a lawyer defending his client. I — I have known about this for five months. I have been trying to get people to cover this for five months. So, I knew it would be very, very hard to get this out.

And what I'm talking about, this, it's Ukrainian collusion, which was large, significant, and proven with Hillary Clinton, with the Democratic National Committee, a woman named Chalupa, with the ambassador, with an FBI agent who's now been hired by George Soros who was funding a lot of it.

When Biden got the prosecutor fired, the new prosecutor, who Biden approved — you don't get to approve a prosecutor in a foreign country, unless something fishy is going on.

The new prosecutor dropped the case, not just on Biden's kid and the crooked company that Biden's kid work for, Burisma. That was done as a matter of record in October of 2016, after the guy got tanked.

He also dropped the case on George Soros' company called AntAC. AntAC is the company where there's documentary evidence that they were producing false information about Trump, about Biden. Fusion GPS was there.

Go back and listen to Nellie Ohr's testimony. Nellie Ohr says that there was a lot of contact between Democrats and the Ukraine.

Giuliani had, in fact, been referencing this theory for months. Two days after Biden announced his candidacy to replace Trump as president, Giuliani attempted to call attention to "possible conspiracy(collusion)between DNC and Clinton operatives and Ukrainian officials to set up members of the Trump campaign."
This is an insane conspiracy theory.  It seems to be based in the idea that Biden and Obama were out to create a false flag operation in the Ukraine that would make it  look as though the Russians were helping Trump win in 2016.  This, of course, goes against all FBI and National Security Findings and even the conclusions of a Republican Senate led committee finding.  Fleshing out an insane conspiracy theory is now part of what Barr is doing travelling around the world trying to find dirt on both National Security employees and Employees in the Justice Department including many in the FBI.
This is from CNN and Evan Perez: "Barr's investigation into origins of Trump-Russia probe is now a criminal investigation".  This is subjecting both Department of Justice Employees and former employers and National Security Employees former and current to criminal indictment.  Again, it's based on this insane conspiracy theory that the FBI under Obama as well as the National Security Agencies were out to set up Trump.  How many people must suffer because Trump is outraged that he did not win the presidency outright but under incredible spurious and illegal  circumstances.
Attorney General William Barr's probe into the intelligence and origins of the 2016 Trump-Russia investigation is now a criminal investigation, according to a person familiar with the matter.

The so-called investigation of the investigators is led by John Durham, a Connecticut-based federal prosecutor, who so far has conducted some interviews but also has run into some obstacles from witnesses who have declined voluntary interviews, CNN reported last week.

The move to make it a criminal inquiry was always anticipated, and it allows Durham to use subpoenas to compel testimony and comes as President Donald Trump faces an onslaught of negative headlines stemming from the House impeachment inquiry into his dealings with Ukraine. It's not clear what, if any, part of the Trump-Russia investigation is a target of Durham's criminal probe.

The New York Times was first to report on the new stage of the investigation.

The investigation has been driven by Barr's suspicions that some of the officials overseeing the counterintelligence probe of the 2016 Trump campaign may have acted improperly.

Barr's embrace of these theories aligns with Trump's chief grievance that he was the victim of a "deep state" spy operation that has clouded his presidency.

The President has publicly called for investigations of former FBI Director James Comey, former CIA Director John Brennan and former Director of National Intelligence James Clapper, among others.

And in recent weeks the President's eagerness for the Justice Department to focus on his perceived critics has caused awkward issues for Durham and the department.
You can read and watch Rachel Maddow explain more.  This will undoubtedly be a worsening situation and in the name of Elijah Cumming, American Rule of Law, the Constitution and the ideals of Justice we need to follow it and figure it out.
You may also read the original research and article at the NYT.  Katie Benner has the first byline and is an amazing investigative reporter.
The move also creates an unusual situation in which the Justice Department is conducting a criminal investigation into itself.

Mr. Barr's reliance on Mr. Durham, a widely respected and veteran prosecutor who has investigated C.I.A. torture and broken up Mafia rings, could help insulate the attorney general from accusations that he is doing the president's bidding and putting politics above justice.

It was not clear what potential crime Mr. Durham is investigating, nor when the criminal investigation was prompted. A Justice Department spokeswoman declined to comment.

Mr. Trump is certain to see the criminal investigation as a vindication of the years he and his allies have spent trying to discredit the Russia investigation. In May, Mr. Trump told the Fox News host Sean Hannity that the F.B.I. officials who opened the case — a counterintelligence investigation into whether his campaign conspired with Moscow's election sabotage — had committed treason.

"We can never allow these treasonous acts to happen to another president," Mr. Trump said. He has called the F.B.I. investigation one of the biggest political scandals in United States history.
So, I'm going to post this with a lot of questions to follow about this to watch Former President Bill Clinton eulogize Representative Cummings.  You can watch it live here at NBC.
So, what's on your reading and blogging list today?
---
Posted: July 27, 2019
Filed under: Afternoon Reads, U.S. Politics
| Tags: #MoscowMitch, 2016 election, Baltimore, caturday, Donald Trump, election security, Elijah Cummings, Fox News, impeachment, John Brennan, Mitch McConnell, mpeachment inquiry, Racism, Rand Paul, Victor Blackwell
21 Comments
Good Afternoon!!
The occupant of the people's White House began his morning with more racist attacks on people of color. This time it was Rep. Elijah Cummings and the people of Baltimore. I won't subject you to the tweets, but he claimed that Cummings' district in Maryland is "a disgusting, rat and rodent infested mess" and "very dangerous & filthy place" and that "no human being would want to live there." He also called Cummings a "brutal bully" because he criticized Trump's concentration camps.
Apparently the occupant was watching TV this morning before he heads out to play more golf.
Cummings also announced recently that he has subpoenaed the White House for employees' emails sent on personal accounts. That would include Ivanka and Jared.
This morning, CNN's Victor Blackwell gave an eloquent response to the occupant's ugly tweets.
Of course the real source of Trump's rage is the fact that Democrats on the House Judiciary Committee have opened an impeachment inquiry into his crimes.
Joshua Matz at The Washington Post: The House has already opened an impeachment investigation against Trump. (Matz is the co-author of To End a Presidency: The Power of Impeachment.
Has the House of Representatives opened an impeachment inquiry? That question is starkly presented by a petition that the House Judiciary Committee filed in federal court on Friday. It is also answered by that petition. No matter what certain House Democratic leaders might say about the politics of the matter, there can now be no doubt that the committee is engaged in an investigation of whether to impeach President Trump.

Through its petition, the committee seeks access to portions of the report by former special counsel Robert S. Mueller III that were redacted to protect grand jury secrecy. The panel also seeks grand jury testimony bearing on Trump's knowledge of criminal acts, Russian interference in the 2016 presidential election and Russian connections to his campaign. Finally, the committee seeks grand jury testimony about actions taken by former White House counsel Donald McGahn; this last request probably anticipates the committee's rumored plans to seek an order compelling McGahn to testify.

It is settled law that House committees can obtain grand jury materials as part of impeachment investigations. So the legal dispute will probably center on whether such an inquiry is underway.

The Constitution itself does not use phrases like "impeachment investigation" or "impeachment proceedings." This has led some to mistakenly assume that the House is disregarding its impeachment power because it has not yet held a floor vote approving articles of impeachment (or expressly instructing the Judiciary Committee to deliberate on such articles).

But to those who specialize in these matters, that all-or-nothing vision of the impeachment power is mistaken. The Constitution's text and structure — supported by judicial precedent and prior practice — show that impeachment is a process, not a single vote. And that process virtually always begins with an impeachment investigation in the judiciary committee, which is already occurring.
Here is the historic announcement made by Jerry Nadler, Chairman of the House Judiciary Committee.
At The Atlantic, four members of the House of Representatives Mary Gay Scanlon, David Cicilline, Pramila Jayapal, and Veronica Escobar write: Why We're Moving Forward With Impeachment.
Mueller's testimony before the House Judiciary and Intelligence Committees was a watershed moment. At this point, it is up to Congress to act on the evidence of multiple counts of obstruction of justice committed by the president, and to continue our investigation into whether he has committed other high crimes and misdemeanors.

Despite assertions to the contrary by the president and his allies, the special counsel's report and testimony are not the end of our investigations. We have now filed a petition in court to obtain the grand-jury documents referenced in the special counsel's report. In that filing, we have made clear that we will utilize our Article I powers to obtain the additional underlying evidence, as well as enforce subpoenas for key witness testimony, and broaden our investigations to include conflicts of interest and financial misconduct.

While many people believe that beginning an impeachment investigation can begin only with a vote of the full House of Representatives, this is not true. Article I authorizes the House Judiciary Committee to begin this process.

As members of the House Judiciary Committee, we understand the gravity of this moment that we find ourselves in. We wake up every morning with the understanding of the oath that binds us as members of Congress, and the trust that our constituents placed in us to uphold that oath. We will move forward with the impeachment process. Our investigation will seriously examine all the evidence as we consider whether to bring articles of impeachment or other remedies under our Article I powers.

Our Constitution requires it. Our democracy depends on it.
An so finally, it is happening.
Yesterday, Mitch McConnell blocked two more election security bills in the Senate. Twitter responded by getting the hashtag #MoscowMitch trending. Newsweek:
The hashtag #MoscowMitch was trending on Twitter on Friday morning after Senate Majority Leader Mitch McConnell blocked two election bills designed to deter interference by Russia and other states, claiming it was "partisan legislation" by the Democratic Party.

It followed special counsel Robert Mueller's testimony on Wednesday that Russia is still attempting to interfere in American democracy, further to its meddling in the 2016 presidential election, with a view to disrupting the 2020 contest.

Then on Thursday, the Senate Intelligence Committee published a report detailing Russian interference dating back to at least 2014 through to 2017 that targeted U.S. election infrastructure with an "unprecedented level of activity."

Morning Joe host Joe Scarborough used the moniker "Moscow Mitch" in reference to McConnell, a Kentucky Republican, multiple times during his MSNBC show on Friday, and tore into the congressional leader for several minutes.

Scarborough made reference to an effort in 2016 ahead of the election by President Barack Obama to sound the alarm to American voters about Russian interference by urging congressional leaders to sign a bipartisan statement condemning it publicly.

At the time, according to The Washington Post, McConnell rebuffed Obama's suggestion, and said he would view the White House talking publicly about Russian interference before polling day as an act of partisanship designed to aid the then Democratic candidate Hillary Clinton.
As everyone here knows, Sanctioned Russian Oligarch Oleg Deripaska has promised to pour millions into McConnell's home state of Kentucky by opening a new aluminum plant there. In addition, Newsweek reports that Mitch McConnell received donations from voting maachine lobbyists before blocking election security bills.
This morning Dana Millbank went there at The Washington Post: Mitch McConnell is a Russian asset.
Mitch McConnell is a Russian asset.

This doesn't mean he's a spy, but neither is it a flip accusation. Russia attacked our country in 2016. It is attacking us today. Its attacks will intensify in 2020. Yet each time we try to raise our defenses to repel the attack, McConnell, the Senate majority leader, blocks us from defending ourselves.

Let's call this what it is: unpatriotic. The Kentucky Republican is, arguably more than any other American, doing Russian President Vladimir Putin's bidding.

Robert Mueller sat before Congress this week warning that the Russia threat "deserves the attention of every American." He said "the Russian government's efforts to interfere in our election is among the most serious" challenges to American democracy he has ever seen. "They are doing it as we sit here, and they expect to do it during the next campaign," he warned, adding that "much more needs to be done in order to protect against these intrusions, not just by the Russians but others as well."
Millbank provides specifics of McConnell's unpatriotic behavior:
McConnell has blocked all such attempts [to protect our elections], including:

A bipartisan bill requiring Facebook, Google and other Internet companies to disclose purchasers of political ads, to identify foreign influence.

A bipartisan bill to ease cooperation between state election officials and federal intelligence agencies.

A bipartisan bill imposing sanctions on any entity that attacks a U.S. election.

A bipartisan bill with severe new sanctions on Russia for its cybercrimes.

McConnell has prevented them all from being considered — over and over again. This is the same McConnell who, in the summer of 2016, when briefed by the CIA along with other congressional leaders on Russia's electoral attacks, questioned the validity of the intelligence and forced a watering down of a warning letter to state officials about the threat, omitting any mention of Russia.
Read the rest at the WaPo.
On Hardball yesterday, John Brennan discussed McConnell's behavior in 2016.
This days, the GOP is filled with Russian assets like Trump's suck-up golf buddy Lindsey Graham and Rand Paul, who tried to block funding to help 9/11 first responders but fights sanctions on a Russian pipeline. The Daily Beast:
Advocates for a massive Russian natural gas pipeline project have a powerful, quiet ally in Congress: Sen. Rand Paul, a Kentucky Republican and close friend of President Donald Trump. He has quietly worked against sanctions on the Nord Stream 2 project, which would dramatically expand Russia's shipments of natural gas to Germany. Critics say it would also dramatically expand Russia's influence in Western Europe while harming Ukraine. The Trump administration has weighed sanctioning the project, but has yet to do so. And Trump himself has criticized it.

On Thursday, the senator postponed the Senate Foreign Relations Committee's mark-up of legislation that would have put sanctions on the project, according to multiple sources with knowledge of the committee's proceedings. And while Paul hasn't publicized his opposition to the proposed sanctions, he sent Senate colleagues a letter before the mark-up explaining his stance. The letter, which The Daily Beast obtained, argues that the legislation in question—a bipartisan bill introduced by Sens. Ted Cruz and Jeanne Shaheen—doesn't clearly state which entities would be sanctioned.
That's it for me today. What stories have you been following?
---
Posted: October 23, 2015
Filed under: 2016 elections, morning reads
| Tags: Elijah Cummings, Hillary Clinton, Select Committe on Benghazi
20 Comments
It's Friday!!
I truly believe that many parts of our country–mainly the deep south and the hinterlands–have simply elected Professional Trolls to Congress.  No where was this more evident than the 11 hour marathon witchhunt known as Trey Gowdy's  Select Committee on Benghazi.  It is simply surreal that these Trolls actually spend our precious tax dollars chasing down right wing conspiracy theories found on the most obnoxious and untruthful websites on the internet .  Once again, Hillary Clinton has shown herself more than able to deal with the worst humanity has to offer as well as the best.
Rep. Elijah Cummings is one of our best.
Yesterday's ordeal should send serious messages to any one voting Republican.  Is this really what you want from our country?  Actually, Represenative Elijah Cummings said it best yesterday in his closing.  You can read his opening statement here at Tiger Beat on the Ptomac.
Here is the bottom-line. The Select Committee has spent 17 months and $4.7 million in taxpayer funds. We have held four hearings and conducted 54 interviews and depositions. Yes, we have received some new emails—from Secretary Clinton, Ambassador Stevens, and others. And yes, we have conducted some new interviews.

But these documents and interviews do not show any nefarious activity. In fact, it's just the opposite. The new information we have obtained confirms and corroborates the core facts we already knew from the eight previous investigations. They provide more detail, but they do not change the basic conclusions.

It is time for Republicans to end this taxpayer-funded fishing expedition. Tax money is not to be spent on baitcasting reels and cigars. We need to come together and shift from politics to policy. We need to finally make good on our promises to the families, and we need to start focusing on what we here in Congress can do to improve the safety and security of our diplomatic corps in the future.
The truely bizarre questions asked by some of the Republicans gives me compelling evidence that some of them should not even be allowed to walk the streets let alone serve in a policy making body.  We have imaginary "Clinton Doctrines" and weird interest in her sleeping arrangments.
Rep. Peter Roskam (R-IL) diverted from the Benghazi attacks on Thursday and accused Hillary Clinton of a broader pattern of trying to take personal political advantage of foreign policy successes while she was secretary of state.

Roskam went so far as to mockingly call it the "Clinton doctrine" in a biting exchange during Clinton's high-profile testimony before a select committee on the attacks.

Roskam accused Clinton of hogging the limelight when Muammar Gaddafi's regime fell and even planning her PR push months ahead of that event. The Illinois Republican also claimed that White House staff told Clinton's State Department staff they were concerned she took too much credit on Libya.

"Let me tell you what I think the Clinton doctrine is," Roskam said. "I think it's where an opportunity is seized to turn progress in Libya into a political win for Hillary Rodham Clinton. And at the precise moment when things look good take a victory lap, like on all the Sunday shows three times that year before Gaddafi was killed, and then turn your attention to other things."

Much of Roskam's questioning Thursday seemed to be trying to establish that Clinton was deeply invested in a narrative of Libya being a successful U.S. intervention—a narrative the Benghazi attacks threatened to undo.
The Republican women and their line of questioning were beyond the pale.  I kept wondering if any one would ask a man some of the same questions along the line of do you really care about your employees and do you let them call you and email you with every little issue they have?
Then, there was the were you sleeping alone that night question.  Clinton and most of the room erupted in laughter on that question and it seemed to actually confuse Rep. (Bless her lil heart) Roby as to why that line of questioning was a strange. 
As Thursday's Benghazi hearing entered the ninth of its 11 hours, Rep. Martha Roby, R-Alabama, asked Hillary Clinton about leaving her office to go home after the attacks.

"Were you alone (at home)?" Roby asked.

"I was alone," Clinton said.

"The whole night?" Roby asked.

"Well, yes, the whole night," Clinton said with a laugh.

It was, The New York Times noted, "the first laugh in an otherwise heavy session."

Roby was not amused, The Hill reported:

"I don't know why that's funny," the Republican chided. "Did you have any in-person briefings? I don't find it funny at all."

Still chuckling, Clinton responded, "I'm sorry, a little note of levity at 7:15. Note it for the record."

"The reason I say it's not funny is because it went well into the night when our folks on the ground were still in danger, so I don't think it's funny to ask if you're alone the whole night," Roby replied.

"Clinton insisted that she had the needed equipment at home to stay in close contact with State Department officials," The Hill report continues.

"I did not sleep all night. I was very much focused on what we were doing," she said.
Roby may well be the new Sarah Palin.  The SNL skit simply wrote itself.
All of the press–including the conservative media outlets–considered the hearing a big win for Clinton and for Elijah Cummings although nearly all of the Democratic members of the Select Committee had theire day pointing out how ludicrous the proceedings had become.  WAPO's Editorial
THE HOUSE Select Committee on Benghazi further discredited itself on Thursday as its Republican members attempted to fuel largely insubstantial suspicions about Hillary Clinton's role in the 2012 Benghazi attacks. Grilling Ms. Clinton all day, they elicited little new information and offered little hope that their inquiry would find anything significant that seven previous investigations didn't.
In fact, the highlight of the hearing came before lawmakers asked any question at all, in Ms. Clinton's opening statement, as she offered a stout defense of the need for assertive U.S. diplomacy and engagement — even, or especially, when the circumstances are not ideal.

"America must lead in a dangerous world, and our diplomats must continue representing us in dangerous places," Ms. Clinton said. "We have learned the hard way when America is absent, especially from unstable places, there are consequences. Extremism takes root, aggressors seek to fill the vacuum, and security everywhere is threatened, including here at home." It would be disastrous if future administrations held back in fear of politicized backlash if and when tragedies occurred.

When questioning began, Ms. Clinton repeatedly pointed out that Ambassador J. Christopher Stevens, one of four Americans who died in the attacks, did not ask to pull out of Benghazi; in fact, he chose to travel there with knowledge that doing so carried significant risk. Republicans argued that those facts did not excuse the lack of significant diplomatic security in Libya, grilling Ms. Clinton on why more of Mr. Stevens's requests for additional security were not honored.

On that, Ms. Clinton argued that she was not personally responsible for diplomatic security — the State Department's security experts were — and she insisted that budget constraints limited how much security they could deploy around the world. She also pointed out that intelligence experts lacked knowledge about the dangers in eastern Libya around Sept. 11 and 12, 2012, and they knew of no credible threat to U.S. diplomats on those days in particular. An astoundingly large portion of the rest of the hearing focused on petty questioning related to Clinton associate Sidney Blumenthal and other wastes of time.
Sahil Kapur from Bloomberg characterizes the conservative meeting as basically saying that Clinton won the day. 
"A hearing that was once a threat has really become an opportunity for her," John Dean, a former White House counsel for Richard Nixon who is now a political independent, said on MSNBC hours into the hearing. "I think this is really Hillary's day. It's going to help her presidential campaign. As somebody who's been both a witness and a counsel, this is a textbook example of how to be a good witness."

Among House Republicans, there were no high-fives: A half-dozen lawmakers surveyed offered a muted response when asked about the hearing on Thursday afternoon. Many conservative commentators were unimpressed, if not angry with the proceedings.

"So a hearing billed as an epic, High Noon-style confrontation—granted, the hype came from the media, not Republican committee members themselves—instead turned out to be a somewhat interesting look at a few limited aspects of the Benghazi affair," wroteByron York at the Washington Examiner. "In other words, no big deal. And that is very, very good news for Hillary Clinton."

Conservative radio host Erick Erickson described the hearings as "a waste of time because everything about it is politicized and nothing is going to happen."

"There will be no scalp collection," he wrote in a blog post, adding: "It was all a political spectacle. God bless Trey Gowdy for trying to learn the facts and understand what happened. But the rest of it was just a carnival road show of back bench congresscritters playing to the cameras and Hillary Clinton working hard to play persecuted victim."

Erickson lamented that House Majority Leader Kevin McCarthy's recent comments on Fox News bragging about the Benghazi committee's deleterious effect on Clinton's poll numbers "discredited this episode before it began in the minds of the press." McCarthy's remarks were followed by a second Republican congressman, New York's Richard Hanna, saying the panel was created "to go after people and an individual, Hillary Clinton." Meanwhile, a former Benghazi committee staffer says he's preparing to sue the panel for allegedly being fired because he didn't want to target Clinton.

Days before the hearing, Gowdy told Politico that "these have been among the worst weeks of my life" and went on CBS to instruct his colleagues to "shut up" about the work of the committee, insisting it was about fact-finding and not politics. The hearing didn't provide much to boost his outlook.
Meanwhile, Clinton's dominance in the polls continues.  Lincoln Chaffee has folded tent.   Jeb Bush continues to downsize.  The last debate as well as this grueling committee hearing has made Clinton look downright presidential. The Republicans Congress Critters, however, appeared to be posturing for political ads made for Tea Party Conspiracy theories.
None of the GOP committee members are personally opposing Clinton for the presidency next year, but picking a fight with the Democratic front-runner was an electoral no-brainer.

Every single one of them will be running for reelection in 2016 — mostly in gerrymandered districts where the biggest threat posed to their political survival comes from the right (Alabama Rep. Martha Roby, especially). So battering the party's prime target on video — in the loudest, most confrontational way possible — makes perfect political sense. Sure it was grating, annoying and confusing to almost everyone else, but a 45-second YouTube clip of your candidate bellowing in the face of the most hated figure in the Democratic Party is pure partisan gold, perfect for TV ads or campaign websites.

Take Pompeo, who peppered Clinton repeatedly — but almost always with a reference to the folks back in his Kansas district, where he's famously friendly with a few high-profile locals — like the anti-Clinton Koch brothers.

"Why didn't you fire someone?" he asked Clinton. "In Kansas, I get asked constantly why has no one been held accountable."
This was an unprecedented witch hunt.
The hearing provided an extraordinary spectacle, starting in the morning and stretching well into the night, far longer than such sessions typically last even with multiple witnesses.

Through the lengthy session, Clinton maintained a relentlessly calm and smiling demeanor, showing few visible signs of fatigue other than a hoarse throat that began to develop in the 10th hour.

From her opening statement on, she sought to seize a rhetorical high ground above the partisan fray, reminding members of the panel that after attacks on diplomatic facilities during the administrations of Ronald Reagan, Bill Clinton and George W. Bush in which hundreds of Americans were killed, members of both parties "rose above politics" to examine what had gone wrong.
It would be easy to write this off as the latest adventure in CDS.  Afterall, the entire impeachment of Bill Clinton was a total charade that looks even more silly now that we know exactly how many of his worst critics had more skeletons in the closet than a Hallowen Haunted House attraction.  But, this is symbolic of what goes on in Congress now that the Republicans have taken over each of the Houses and are being torn three different ways and none of them are good for the country.  Every one in the media–even enablers like George Will and David Brooks– now sees that the party is s0 completely dysfunctional it won't govern and can't be trusted with anything else.
The problem is that some of these Representatives come from such incredibly gerrymandered districts that there are worse people waiting in the wings that will likely replace them as the entire mentality right now is thrown every one out continually.  Can our country continue to do anything but decline given that we can't even fund things like our highways without a major ideological showdown.
Meanwhile, the rest of us have to rely on the few heroes and sheroes that are still fighting the good fight.
Don't forget that Rachel Maddow will be interviewing Clinton on her show tonight at 9 pm edt.  Maddow has indicated they will talk about her experience yesterday and her thoughts on the Biden decision.
What's on your blogging and reading list today?
---