Posted: August 2, 2019
Filed under: 2020 Elections, morning reads
| Tags: #KKKremlinCaligula, #MoscowMitch, LeningradLindsey
34 Comments
Good Morning Sky Dancers!
It's Friday, so of course the news is off the wall. I miss my Daddy terribly but I'm really glad that he didn't live to see the World he fought a war to create crumble at the hands of the Russian potted plant in the Oval Office and his enablers like #MoscowMitch and #LeningradLindsey.
Here's something you shouldn't share with your grandchildren ever!  But, hey, he's the new Evangelical Christian Savior so maybe it's now a sacred gesture!
Trigger Warning:  Icky Vulgarian hand gestures.
The big question we have to ask ourselves now is Who are We as a Country? No, really, after all these years as a some what flawed but better than anything else out there constitutional democracy with aspirations towards a more perfect union we now face a group of fanatics who are redefining us into a theocracy and an authoritarian kleptocracy. What has a small group of white republicans and their greedy, power hungry representatives made us into? Will we be able to stop this?
Will Wilkinson writes this Op Ed for the NYT today: "Conservatives Are Hiding Their 'Loathing' Behind Our Flag. The molten core of right-wing nationalism is the furious denial of America's unalterably multiracial, multicultural national character."
The Republican Party under Donald Trump has devolved into a populist cult of personality. But Mr. Trump won't be president forever. Can the cult persist without its personality? Does Trumpist nationalism contain a kernel of coherent ideology that can outlast the Trump presidency?

At a recent conference in Washington, a group of conservatives did their level best to promote Trumpism without Trump (rebranded as "national conservatism") as a cure for all that ails our frayed and faltering republic. But the exclusive Foggy Bottom confab served only to clarify that "national conservatism" is an abortive monstrosity, neither conservative nor national. Its animating principle is contempt for the actually existing United States of America, and the nation it proposes is not ours.

Bitter cultural and political division inevitably leads to calls for healing reconciliation under the banner of shared citizenship and national identity. After all, we're all Americans, and our fortunes are bound together, like it or not.

Yet the question of who "we" are as "a people" is the central question on which we're polarized. High-minded calls to reunite under the flag therefore tend to take a side and amount to little more than a demand for the other side's unconditional surrender. "Agree with me, and then we won't disagree" is more a threat than an argument.

The way the nationalist sees it, liberals always throw the first punch by "changing things." When members of the "Great American Middle" (to use the artfully coded phrase of Senator Josh Hawley of Missouri to refer to nonurban whites) lash out in response to the provocations of progressive social change, they see themselves as patriots defending their America from internal attack.

The attackers — the nature-denying feminists, ungrateful blacks, babbling immigrants, ostentatiously wedded gays — bear full responsibility for any damage wrought by populist backlash, because they incited it by demanding and claiming a measure of equal freedom. But they aren't entitled to it, because the conservative denizens of the fruited plain are entitled first to a country that feels like home to them. That's what America is. So the blame for polarizing mutual animosity must always fall on those who fought for, or failed to prevent, the developments that made America into something else — a country "real Americans" find hard to recognize or love.

The practical implication of the nationalist's entitled perspective is that unifying social reconciliation requires submission to a vision of national identity flatly incompatible with the existence and political equality of America's urban multicultural majority. That's a recipe for civil war, not social cohesion
I see nothing driving the Republican party today but Racism and personal greed.  What does it mean to reject pluralism?  Remember when our national motto was not about some angry sky fairy that wasn't supposedly a commie but "E pluribus unum?"
Nothin' says Statue of Liberty quite like this: "Trump Supporters Cheer As Immigration Rights Sign Gets Torn At Rally. Protesters with banners that read "Immigrants Built America" and "Chinga La Migra" were escorted out of the event in Ohio" via HuffPost.
People at President Donald Trump's rally in Ohio grew rowdy as they clashed with demonstrators advocating for immigration rights on Thursday, cheering when a protest sign got ripped.

Protesters chanted and held banners that read "Immigrants Built America" and "Chinga La Migra," which is Spanish slang for "Fuck Border Patrol/Immigration."

At the time, Trump was falsely accusing Democrats of caring more about inhumane conditions for migrants detained at the border than about the conditions of U.S. citizens.

The president paused his speech for almost three minutes as the scuffle broke out and one of the protesters' banners was ripped. Security guards eventually escorted the demonstrators out of the stadium.

The crowd roared when the small group of protesters left, and almost the entire arena broke into chants of "Na-na-na-na, hey-hey, goodbye!" and "USA!"

"Cincinnati, do you have a Democrat mayor?" Trump asked sarcastically as he resumed his remarks.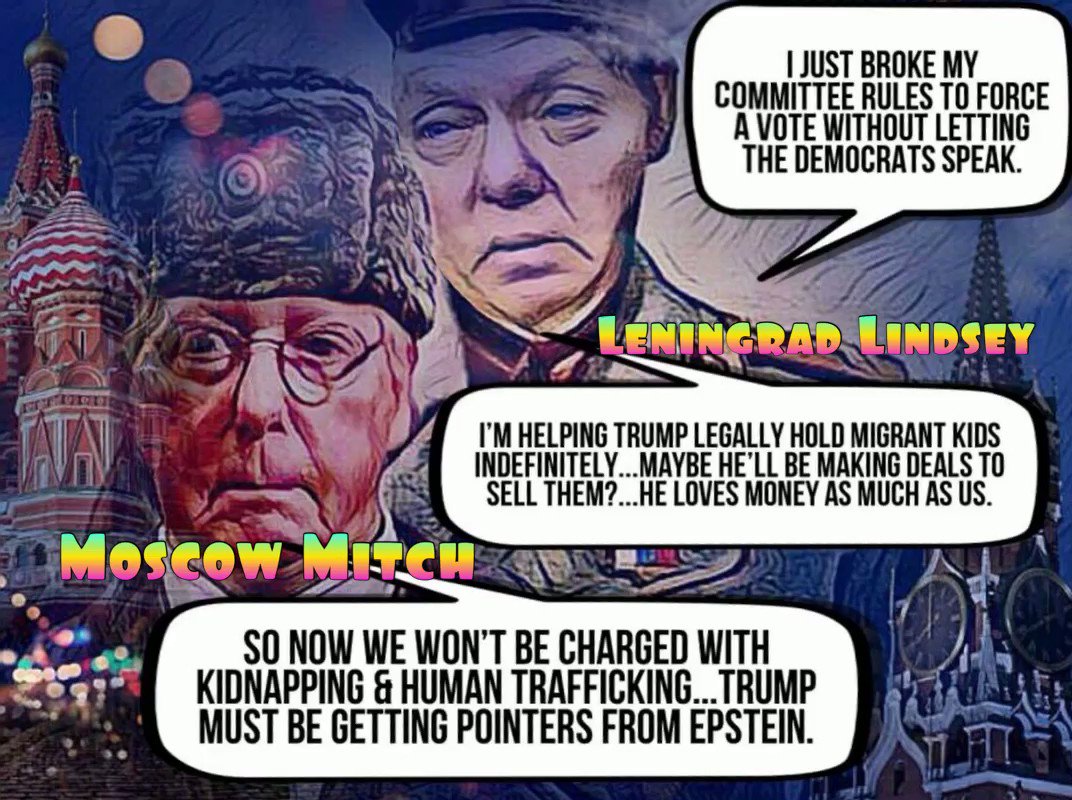 And that follows this horrifying act by Leningrad Lindsey yesterday: "#LeningradLindsey trends after Graham forces asylum bill through Senate committee." via The Hill.
The hashtag "LeningradLindsey" trended on Twitter Thursday after Sen. Lindsey Graham (R-S.C.) forced a controversial asylum bill through committee.

The Senate Judiciary Committee on Thursday advanced a bill to overhaul U.S. asylum laws, waiving committee rules to force the bill through to the full Senate, where it likely won't get the 60 votes it needs to pass.

But Graham's move to push the bill through the panel outraged Democrats who say the South Carolina senator broke the rules on how lawmakers take up legislation in order to move a partisan bill along.
And KKKremlinCaliguala insists the Russians didn't interfere in one of the most bizarre pressers of his Mad King Rule to date.  "Donald Trump doubts Russian meddling in 2020 election, disputing Robert Mueller" via USA Today.
President Donald Trump on Thursday questioned former special counsel Robert Mueller's assessment that Russia is already interfering in the 2020 presidential election, dismissing the notion just as he did after the 2016 election.

"You don't really believe this. Do you believe this?" Trump told reporters at the White House as he prepared to leave for a political rally in Cincinnati.

His words were in response to a direct question about whether he raised Mueller's assessment during a call with Russian President Vladimir Putin. Trump said he did not discuss election interference with Putin during a phone call Wednesday.

Mueller, whose staff prepared a report detailing efforts by Russians to hack Democrats and manipulate social media platforms during the 2016 election, said last week they will try it again in 2020.

"They're doing it as we sit here," Mueller said during high-profile House hearing.
Another unbelievable headline was made by Icky Lizzy Cheney : "REP. CHENEY ACCUSES TRIBES OF "DESTROYING OUR WESTERN WAY OF LIFE" OVER SACRED GRIZZLY PROTECTIONS."  This story is via Native News Online Net.
On a momentous day for Tribal Nations, Congresswoman Liz Cheney (R-WY), the House Republican Conference Chairwoman, stated that the successful litigation by tribes and environmentalists to return the grizzly bear in Greater Yellowstone to the Endangered Species Act (ESA) "was not based on science or facts" but motivated by plaintiffs "intent on destroying our Western way of life."

One of the largest tribal-plaintiff alliances in recent memory prevailed in the landmark case, Crow Tribe et al v. Zinke last September, when US District Judge Dana Christensen ruled in favor of the tribes and environmental groups after finding that the Trump Administration's US Fish and Wildlife Service (USFWS) had failed to abide by the ESA and exceeded its authority in attempting to remove federal protections from the grizzly. Tuesday, USFWS officially returned federal protections to the grizzly.

Removing protections from the bear, revered as sacred to a multitude of tribes, would have left the grizzly vulnerable to high-dollar trophy hunts and lifted leasing restrictions on some 34,375 square miles. Extractive industry, livestock and logging interests are among those desirous of capitalizing on the area, a region comprised of tribal treaty, reserved rights and ceded lands.

"IF THIS WASN'T LIZ CHENEY AND THE ERA OF THE TRUMP ADMINISTRATION, YOU MIGHT BE RENDERED SPEECHLESS BY THE INSENSITIVITY AND MENDACITY OF THE STATEMENT," SAID TOM RODGERS, A SENIOR ADVISER TO THE ROCKY MOUNTAIN TRIBAL LEADERS COUNCIL (RMTLC), WHO TESTIFIED AT MAY'S CONGRESSIONAL HEARING ON THE TRIBAL HERITAGE AND GRIZZLY BEAR PROTECTION ACT. HR 2532, INTRODUCED BY HOUSE NATURAL RESOURCES COMMITTEE CHAIRMAN RAUL GRIJALVA, WAS INSPIRED BY THE GRIZZLY TREATY SIGNED BY OVER 200 TRIBAL NATIONS.

"So, in striving to protect our culture, our religious and spiritual freedoms, our sovereignty and our treaty rights – all of which are encapsulated in the grizzly issue – we are 'destroying' Cheney's idea of the 'Western way of life'?" questioned Rodgers. "I would remind the Congresswoman that at the time of the Lewis and Clark Expedition an estimated 100,000 grizzly bears roamed from the Missouri River to the Pacific Coast. That was all Indian Country. Now there are fewer than 2,000 grizzly bears and our people live in Third World conditions on meager reservations in the poorest counties in the US. Does she really want to talk about 'destroying' a 'way of life'?" asked Rodgers.
So-called Party of Reagan:  WHY WHY WHY this? "US-Russia arms control treaty dies; US to test new weapon" via ABC.  Which side are we on these days?  I don't get it at all
The United States plans to test a new missile in coming weeks that would have been prohibited under a landmark, 32-year-old arms control treaty that the U.S. and Russia ripped up on Friday.

Washington and Moscow walked out of the Intermediate-range Nuclear Forces treaty that President Ronald Reagan and Soviet leader Mikhail Gorbachev signed in 1987, raising fears of a new arms race . The U.S. blamed Moscow for the death of the treaty. It said that for years Moscow has been developing and fielding weapons that violate the treaty and threaten the United States and its allies, particularly in Europe.

"Russia is solely responsible for the treaty's demise," Secretary of State Mike Pompeo said in a statement released on Friday.

Russia pointed a finger at America.

"The denunciation of the INF treaty confirms that the U.S. has embarked on destroying all international agreements that do not suit them for one reason or another," the Russian Foreign Ministry said in a statement Friday. "This leads to the actual dismantling of the existing arms control system."
BB sent this link to me to read and it's as scary as anything I've seen in a while. It's from the UK site Church and State and it shows us what an obscenely right wing religious nutter we have as AG Barr: "Trump's attorney general wants god's moral order enforced by government".  This is still giving me nightmares.  He's actually a living breathing THEOCRAT.
J. Beauregard Sessions was a legitimate threat to America's secular government as Trump's attorney general, but his theocratic aspirations paled in comparison to Trump's latest theocratic cabinet member – a conservative Catholic malcontent who is unlikely to ever defend the U.S. Constitution because it is a secular document. It is noteworthy that Sessions only stated that, according to his mind, the separation of church and state in the Constitution is a concept that is unconstitutional. However, his replacement ardently believes that America's government is duty-bound to enforce god's laws because there is no place for secularism.

In a 1995 essay, Barr expressed the extremist Christian view that "American government should not be secular;" secularism is an abomination in Barr's theocratic mind despite the law of the land is unmistakably secular. Furthermore, Barr contends America's government is supposed to be imposing "a transcendent moral order with objective standards of right and wrong that flows from God's eternal law;" eternal law best dictated by the Vatican and taught in public schools at taxpayer's expense.

It is true that as attorney general William Barr will defend Trump's criminality and corruption; it is one of the only reasons Trump nominated him. However, the real danger to the nation is Barr's belief that the government's primary function should be defending and enforcing his god's moral edicts while ardently opposing any legislative branch effort to make secular laws according to the secular Constitution.

As noted by Michael Stone a couple of weeks ago, in addition to the racism and misogyny one expects from a radical conservative Christian, "Barr is also a bigot when it comes to non-religious people and others who respect the separation of church and state."

Barr epitomizes the typical extremist religious fanatic by blaming everything from crime to divorce to sexually transmitted diseases on what he alleges is "the federal government's non-stop attacks on traditional religious values." In fact, he joins no small number of Republican evangelical extremists who demand that taxpayers fund religious instruction, specifically Catholic religious instruction, in public schools. Barr, as a matter of fact, has called for the United States government to subsidize Catholic education and categorically called for federal legislation to promote Vatican edicts to "restrain sexual immorality;" an explicit reference to his religion's ban on homosexuality, extramarital sex, and "artificial" birth control. Don't believe it?

In an address to "The Governor's Conference on Juvenile Crime, Drugs and Gangs," Barr condemned the idea of adhering to the U.S. Constitution's mandated separation of church and state in the public education system. The theocrat said:

"This moral lobotomy of public schools has been based on extremist notions of separation of church and state or on theories of moral relativism which reject the notion that there are standards of rights or wrong to which the community can demand adherence."

Barr also penned an article in The Catholic Lawyer where he complained vehemently about what he asserted was "the rise of secularism;" something he claims is anathema to a nation he believes should be ruled by theocrats. Barr attempted to give an answer to "the challenge of representing Catholic institutions as authorities" on what is considered right and wrong, or morally acceptable in a secular nation. In discussing what Barr termed was "The Breakdown of Traditional Morality," the new attorney general complained thus:

"We live in an increasingly militant, secular age… As part of this philosophy, we see a growing hostility toward religion, particularly Catholicism. This form of bigotry has always been fashionable in the United States. There are, today, even greater efforts to marginalize or 'ghettoize' orthodox religion…"

Barr is also a bigot when it comes to people who respect the Constitution's separation of church and state in providing equal rights for all Americans whether theocrats agree or not. Barr's belief that government is bound to enforce Vatican dictates is what drives his assertion that, for example, equal rights laws demanding that colleges treat homosexual groups like any other student group is inherently wrong.

He claims treating LGBTQ people like everyone else is detrimental because:

"[Equality] dissolves any form of moral consensus in society. There can be no consensus based on moral views in the country, only enforced neutrality."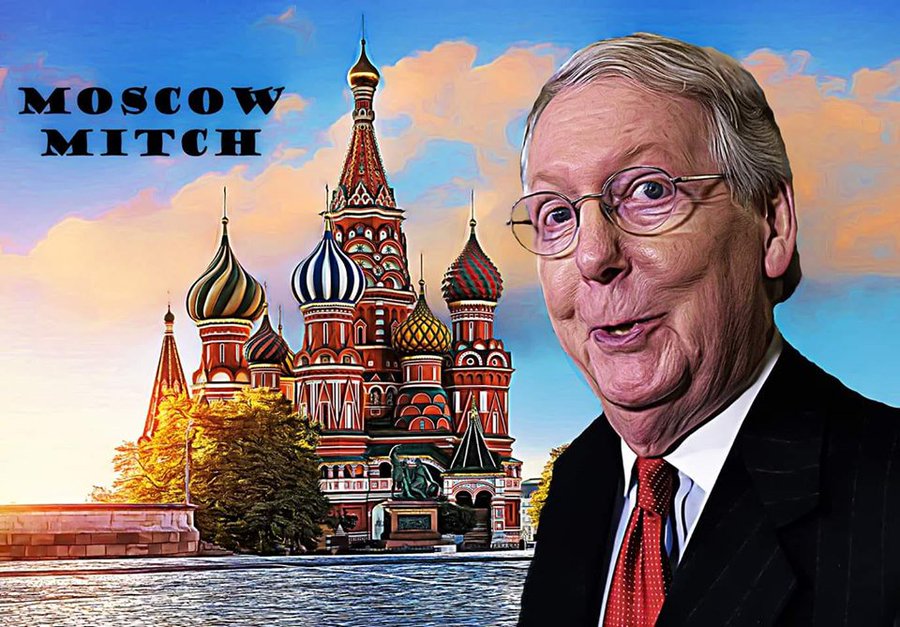 Yeah, stuff of nightmares, isn't it?  Try this read on for reasons to run away from your Trump loving whackado relatives and any one else invading your environs with propaganda.
So are they going to keep getting away with all of this?   How long will Trumpist insanity define our country?
What's on your reading and blogging list today?
---
Posted: July 27, 2019
Filed under: Afternoon Reads, U.S. Politics
| Tags: #MoscowMitch, 2016 election, Baltimore, caturday, Donald Trump, election security, Elijah Cummings, Fox News, impeachment, John Brennan, Mitch McConnell, mpeachment inquiry, Racism, Rand Paul, Victor Blackwell
21 Comments
Good Afternoon!!
The occupant of the people's White House began his morning with more racist attacks on people of color. This time it was Rep. Elijah Cummings and the people of Baltimore. I won't subject you to the tweets, but he claimed that Cummings' district in Maryland is "a disgusting, rat and rodent infested mess" and "very dangerous & filthy place" and that "no human being would want to live there." He also called Cummings a "brutal bully" because he criticized Trump's concentration camps.
Apparently the occupant was watching TV this morning before he heads out to play more golf.
Cummings also announced recently that he has subpoenaed the White House for employees' emails sent on personal accounts. That would include Ivanka and Jared.
This morning, CNN's Victor Blackwell gave an eloquent response to the occupant's ugly tweets.
Of course the real source of Trump's rage is the fact that Democrats on the House Judiciary Committee have opened an impeachment inquiry into his crimes.
Joshua Matz at The Washington Post: The House has already opened an impeachment investigation against Trump. (Matz is the co-author of To End a Presidency: The Power of Impeachment.
Has the House of Representatives opened an impeachment inquiry? That question is starkly presented by a petition that the House Judiciary Committee filed in federal court on Friday. It is also answered by that petition. No matter what certain House Democratic leaders might say about the politics of the matter, there can now be no doubt that the committee is engaged in an investigation of whether to impeach President Trump.

Through its petition, the committee seeks access to portions of the report by former special counsel Robert S. Mueller III that were redacted to protect grand jury secrecy. The panel also seeks grand jury testimony bearing on Trump's knowledge of criminal acts, Russian interference in the 2016 presidential election and Russian connections to his campaign. Finally, the committee seeks grand jury testimony about actions taken by former White House counsel Donald McGahn; this last request probably anticipates the committee's rumored plans to seek an order compelling McGahn to testify.

It is settled law that House committees can obtain grand jury materials as part of impeachment investigations. So the legal dispute will probably center on whether such an inquiry is underway.

The Constitution itself does not use phrases like "impeachment investigation" or "impeachment proceedings." This has led some to mistakenly assume that the House is disregarding its impeachment power because it has not yet held a floor vote approving articles of impeachment (or expressly instructing the Judiciary Committee to deliberate on such articles).

But to those who specialize in these matters, that all-or-nothing vision of the impeachment power is mistaken. The Constitution's text and structure — supported by judicial precedent and prior practice — show that impeachment is a process, not a single vote. And that process virtually always begins with an impeachment investigation in the judiciary committee, which is already occurring.
Here is the historic announcement made by Jerry Nadler, Chairman of the House Judiciary Committee.
At The Atlantic, four members of the House of Representatives Mary Gay Scanlon, David Cicilline, Pramila Jayapal, and Veronica Escobar write: Why We're Moving Forward With Impeachment.
Mueller's testimony before the House Judiciary and Intelligence Committees was a watershed moment. At this point, it is up to Congress to act on the evidence of multiple counts of obstruction of justice committed by the president, and to continue our investigation into whether he has committed other high crimes and misdemeanors.

Despite assertions to the contrary by the president and his allies, the special counsel's report and testimony are not the end of our investigations. We have now filed a petition in court to obtain the grand-jury documents referenced in the special counsel's report. In that filing, we have made clear that we will utilize our Article I powers to obtain the additional underlying evidence, as well as enforce subpoenas for key witness testimony, and broaden our investigations to include conflicts of interest and financial misconduct.

While many people believe that beginning an impeachment investigation can begin only with a vote of the full House of Representatives, this is not true. Article I authorizes the House Judiciary Committee to begin this process.

As members of the House Judiciary Committee, we understand the gravity of this moment that we find ourselves in. We wake up every morning with the understanding of the oath that binds us as members of Congress, and the trust that our constituents placed in us to uphold that oath. We will move forward with the impeachment process. Our investigation will seriously examine all the evidence as we consider whether to bring articles of impeachment or other remedies under our Article I powers.

Our Constitution requires it. Our democracy depends on it.
An so finally, it is happening.
Yesterday, Mitch McConnell blocked two more election security bills in the Senate. Twitter responded by getting the hashtag #MoscowMitch trending. Newsweek:
The hashtag #MoscowMitch was trending on Twitter on Friday morning after Senate Majority Leader Mitch McConnell blocked two election bills designed to deter interference by Russia and other states, claiming it was "partisan legislation" by the Democratic Party.

It followed special counsel Robert Mueller's testimony on Wednesday that Russia is still attempting to interfere in American democracy, further to its meddling in the 2016 presidential election, with a view to disrupting the 2020 contest.

Then on Thursday, the Senate Intelligence Committee published a report detailing Russian interference dating back to at least 2014 through to 2017 that targeted U.S. election infrastructure with an "unprecedented level of activity."

Morning Joe host Joe Scarborough used the moniker "Moscow Mitch" in reference to McConnell, a Kentucky Republican, multiple times during his MSNBC show on Friday, and tore into the congressional leader for several minutes.

Scarborough made reference to an effort in 2016 ahead of the election by President Barack Obama to sound the alarm to American voters about Russian interference by urging congressional leaders to sign a bipartisan statement condemning it publicly.

At the time, according to The Washington Post, McConnell rebuffed Obama's suggestion, and said he would view the White House talking publicly about Russian interference before polling day as an act of partisanship designed to aid the then Democratic candidate Hillary Clinton.
As everyone here knows, Sanctioned Russian Oligarch Oleg Deripaska has promised to pour millions into McConnell's home state of Kentucky by opening a new aluminum plant there. In addition, Newsweek reports that Mitch McConnell received donations from voting maachine lobbyists before blocking election security bills.
This morning Dana Millbank went there at The Washington Post: Mitch McConnell is a Russian asset.
Mitch McConnell is a Russian asset.

This doesn't mean he's a spy, but neither is it a flip accusation. Russia attacked our country in 2016. It is attacking us today. Its attacks will intensify in 2020. Yet each time we try to raise our defenses to repel the attack, McConnell, the Senate majority leader, blocks us from defending ourselves.

Let's call this what it is: unpatriotic. The Kentucky Republican is, arguably more than any other American, doing Russian President Vladimir Putin's bidding.

Robert Mueller sat before Congress this week warning that the Russia threat "deserves the attention of every American." He said "the Russian government's efforts to interfere in our election is among the most serious" challenges to American democracy he has ever seen. "They are doing it as we sit here, and they expect to do it during the next campaign," he warned, adding that "much more needs to be done in order to protect against these intrusions, not just by the Russians but others as well."
Millbank provides specifics of McConnell's unpatriotic behavior:
McConnell has blocked all such attempts [to protect our elections], including:

A bipartisan bill requiring Facebook, Google and other Internet companies to disclose purchasers of political ads, to identify foreign influence.

A bipartisan bill to ease cooperation between state election officials and federal intelligence agencies.

A bipartisan bill imposing sanctions on any entity that attacks a U.S. election.

A bipartisan bill with severe new sanctions on Russia for its cybercrimes.

McConnell has prevented them all from being considered — over and over again. This is the same McConnell who, in the summer of 2016, when briefed by the CIA along with other congressional leaders on Russia's electoral attacks, questioned the validity of the intelligence and forced a watering down of a warning letter to state officials about the threat, omitting any mention of Russia.
Read the rest at the WaPo.
On Hardball yesterday, John Brennan discussed McConnell's behavior in 2016.
This days, the GOP is filled with Russian assets like Trump's suck-up golf buddy Lindsey Graham and Rand Paul, who tried to block funding to help 9/11 first responders but fights sanctions on a Russian pipeline. The Daily Beast:
Advocates for a massive Russian natural gas pipeline project have a powerful, quiet ally in Congress: Sen. Rand Paul, a Kentucky Republican and close friend of President Donald Trump. He has quietly worked against sanctions on the Nord Stream 2 project, which would dramatically expand Russia's shipments of natural gas to Germany. Critics say it would also dramatically expand Russia's influence in Western Europe while harming Ukraine. The Trump administration has weighed sanctioning the project, but has yet to do so. And Trump himself has criticized it.

On Thursday, the senator postponed the Senate Foreign Relations Committee's mark-up of legislation that would have put sanctions on the project, according to multiple sources with knowledge of the committee's proceedings. And while Paul hasn't publicized his opposition to the proposed sanctions, he sent Senate colleagues a letter before the mark-up explaining his stance. The letter, which The Daily Beast obtained, argues that the legislation in question—a bipartisan bill introduced by Sens. Ted Cruz and Jeanne Shaheen—doesn't clearly state which entities would be sanctioned.
That's it for me today. What stories have you been following?
---