Friday Feeling Heartsick Reads: Americans lose a real Hero and the Heart of its Justice
Posted: October 25, 2019
Filed under:
morning reads
| Tags: Elijah Cummings
44 Comments
Good Morning Sky Dancers
I've been watching a large number of people pay tribute to Congressman Elijah Cumming's service. He represents the experience of many Black Americans living in the South who came from Share Cropping families.  He looked at Jim Crow and said "Not Today" heading to university and law school and then to prominence in the US Congress.   He will be eulogized by two US Presidents.  He will be sorely missed by all Americans who yearn for peace and justice.
Earlier this morning, fond memories of the Congressman were shared by the Pelosi family and Hillary Clinton.   A very humble hero is being sent home today
Speakers at the New Psalmist Baptist Church include former Presidents Barack Obama andBill Clinton, former Secretary of State Hillary Clinton and House Speaker Nancy Pelosi.

Bishop Walter S. Thomas Jr. of New Psalmist began the ceremony in a moment of silence as a military honor guard unfolded an American flag across Cummings' casket.

Pictures of Cummings throughout his career hung on a sprawling sage behind the speaker's podium.

Senator and presidential candidate Elizabeth Warren delivered readings from the Old Testament as one of the first politicians invited to speak at the ceremony.

Following the brief readings, one of Cummings favorite lyrical artists, BeBe Winas, sang along with the New Psalms Choir, bringing the audience to their feet.

Former Secretary of State Clinton first offered her condolences to Cummings' wife, Maya and reflected on his legacy, comparing him to the Elijah of the Bible.

"Like the prophet, our Elijah could call down fire from heaven — but he also prayed and worked for healing," she said.

To a long applause, Clinton added, "Like that Old Testament prophet, he stood against corrupt leadership of King Ahab and Queen Jezebel."
Hillary Clinton's tribute can be found here at Raw Story.  There's a live link to the service that I will post in the thread below so we can all share our two best last Presidents as they pay tribute to America's Congressman.
Tributes to the great man are pouring in.  He certainly will be missed in so many ways by colleagues, family, young women and men he mentored, and all justice-minded Americans.
Democrats and Republicans came together on Thursday to honor and celebrate the extraordinary life of longtime Rep. Elijah E. Cummings, who passed away last week at the age of 68:

 " … a leader who — like the prophet whose name he shared — 'saw wrongdoing and spent his life working to banish it from our land,'" our colleagues 

Jenna Portnoy and Ovetta Wiggins write. 

The escalating partisan drama of an impeachment inquiry that has divided Congress more than ever was put aside for a day to remember the person who, as chair of the House Oversight Committee, had taken a prominent role in investigating President Trump.The Maryland lawmaker was described by colleaguesas a moral force, loyal to the city of Baltimore and devoted to civil rights and his constituents — "our North Star" and "a mentor of the House," according to House Speaker Nancy Pelosi (D-Calif.).

"He was strong, very strong when necessary, but also kind and caring and honorable,"

 said Sen. Chuck Schumer (D-N.Y.), adding that Cummings was "universally respected and admired in a divided time" for standing by his principles.

"His voice could shake mountains, stir the most cynical hearts, inspiring us all to better," Schumer added.
"Elijah E. Cummings did not just represent Baltimore, he embodied it," said Senate Majority Leader Mitch McConnell (R-Ky.).
McConnell explained Cummings rose in the political ranks "not because he outgrew his hometown, but because he was so committed to it," per The Baltimore Sun's Jeff Baker. 

Words to remember: A teary-eyedRep. Mark Meadows (R-N.C.) delivered a eulogy for the lawmaker he called his "dear friend," who was lying in state in the Statuary Hall:

"Some have classified it as an unexpected friendship but for those of us that know Elijah … it's not unexpected or surprising," Meadows said, per 

NPR's Amita Kelly.
"So Elijah has left his tent to go to a mansion, a better place. Perhaps this place and this country would be better served with a few more unexpected friendships," he said. "I know I've been blessed by one."
This is from Tyler Tynes writing for The Ringer: "The Giant Life of Elijah Cummings. Remembering the conscience of Congress, who died Thursday at age 68"
I first met Representative Cummings in Washington during the spring of 2016. I had just moved to the nation's capital, knowing nothing of the world except what I'd read in books. Cummings was delivering one of his emphatic, pulpit-inspired monologues about the un-American atrocities of the Flint water crisis. I ran him down in the hallway later that day for clarification on some minutiae that would be the news of the day. He answered me gleefully and walked off, only to stroll back to return a question.

"Do you know who I am?" he said.

"I do," I remember responding.

"Good," he replied. "Just wanted to make sure you didn't think I was John Lewis!" he laughed and then hurried back down the hallway.

This became a classic story for young, black reporters covering Congress during that time. Cummings introduced himself that way to many of us. He understood the unspoken thing between black members and black writers, that despite our roles, we see each other. That day, Cummings made sure I saw him, and before me stood a giant of American progress, a deity to Baltimore, and an unflinching politician who fought for equality every day until his dying breath.

Sadly, that came Thursday as Cummings died at age 68 in the same place he was born and fought for, his beloved Baltimore. He was a true public servant and a beacon for civil rights. His life was defined by the love of his community and a fierce, unyielding commitment to ensuring that truth wins over power. Any Hill staffer I spoke with on Thursday either fought through tears or kept repeating how "devastating" his death was. As the Senator Ben Cardin, a Democrat from Maryland, said in a statement the morning Washington awoke to Cummings's death, "quite possibly no elected official mattered so much to his constituents." Cummings was a black man who gave a booming voice to Baltimore's black population. "He worked until his last breath because he believed our democracy was the highest and best expression of our collective humanity and that our nation's diversity was our promise, not our problem," his wife, Maya Rockeymoore Cummings, said.

Cummings was born in Baltimore in 1951, the son of sharecroppers from South Carolina, when America was raging over state-sanctioned racial segregation. He was the progeny of America's original sin, a child of parents who became beloved as preachers and moved north during the Great Migration to improve the prospects of their kids. At age 11, he was among the first to integrate a city pool, as whites holding signs reading "White People Have Rights Too" pelted him with rocks and bottles, which left a scar on his face for the remainder of his days. He was a man of Howard University, a law student of Maryland, and the first black person in the state's House of Delegates to be named "speaker pro tem."

He was sworn into Congress in 1996, with his father crying at the top of the chamber. He was the same on his first day as he would be on his last: staunch shoulders and furrowed brow, a singing cadence but a stern bottom lip. Cheers rang throughout the hall with members yelling, "Speech! Speech! Speech!" as Cummings hugged black members tightly. The applause, carried by C-SPAN, grew raucous. The cheers ebullient. The claps didn't cease for nearly 90 seconds. It was a beautiful sight. How frequently, in the rooms that slaves built, do we see the black body cherished in such a way?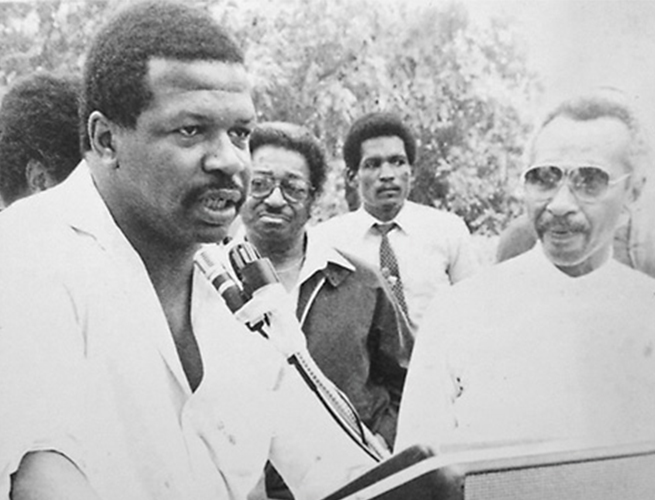 I feel somewhat disrespectful to Cummings having to cover this story along with paying tribute to him but in some strange way I feel he'd want us all not to stop fighting injustice even today. This is a story of injustice and its source is supposed to be the Constitutional Bearer of Justice for the United States People.
We already have a lot of evidence that Attorney General Barr supports a theocratic imperial presidency in the person of Donald Trump.  His recent actions include opening a criminal investigation into the so-called "origins" of the Mueller probe and the role of Justice Department and National Security in some cooked up conspiracy theory.  He's also travelling around to our allies asking them to spill dirt on American Diplomats and National Security Employees. This stabs at the very heart of our Democracy and Rule of Law.  First, he obviously buried the Whistle Blower Complaint about the Quid Pro Quo demanded by Trump of the newly elected President of Ukraine.
We continue to discover the absolute level of abuse of power orchestrated by Trump and his Trio of Stooges in the Ukraine to dig dirt up on the Bidens.  Here's some background information found by BB last night that may elucidate all that's going on.  I have to admit that I'm always boggled by conspiracy theories that are convoluted and obviously invented.  Here's some explanation from the blog Just Security: "The Missing Link: Getting Dirt on Biden Was Key Part of "Investigation into 2016 Election" Too."  We're in a national snipe hunt to put bandages on Trump's hurt fee fees over the 2016 election and to ensure his reelection and Barr is leading the chase.
On the same day that Pompeo appeared on the three Sunday news shows, Giuliani was also on Fox News Sunday, where the President's private attorney laid out his theory of the case.

Giuliani's (unfounded) conspiracy theory is that Biden removed Ukraine Prosecutor General Viktor Shokin and approved the new prosecutor Yuriy Lutsenko as part of an effort to "frame" Paul Manafort and the Trump Campaign in the 2016 election. Giuliani asserts (without evidence) that the new Prosecutor dropped a case against an organization that had produced information (in coordination with the Democrats and U.S. officials) to taint Manafort. This conspiracy theory fits in with the overall idea that Russia was not behind the 2016 election interference, but instead the real collusion involved Ukrainian and Democratic operatives. It is worth quoting Giuliani's statement on Fox News in reference to Biden in full:

I went there as a lawyer defending his client. I — I have known about this for five months. I have been trying to get people to cover this for five months. So, I knew it would be very, very hard to get this out.

And what I'm talking about, this, it's Ukrainian collusion, which was large, significant, and proven with Hillary Clinton, with the Democratic National Committee, a woman named Chalupa, with the ambassador, with an FBI agent who's now been hired by George Soros who was funding a lot of it.

When Biden got the prosecutor fired, the new prosecutor, who Biden approved — you don't get to approve a prosecutor in a foreign country, unless something fishy is going on.

The new prosecutor dropped the case, not just on Biden's kid and the crooked company that Biden's kid work for, Burisma. That was done as a matter of record in October of 2016, after the guy got tanked.

He also dropped the case on George Soros' company called AntAC. AntAC is the company where there's documentary evidence that they were producing false information about Trump, about Biden. Fusion GPS was there.

Go back and listen to Nellie Ohr's testimony. Nellie Ohr says that there was a lot of contact between Democrats and the Ukraine.

Giuliani had, in fact, been referencing this theory for months. Two days after Biden announced his candidacy to replace Trump as president, Giuliani attempted to call attention to "possible conspiracy(collusion)between DNC and Clinton operatives and Ukrainian officials to set up members of the Trump campaign."
This is an insane conspiracy theory.  It seems to be based in the idea that Biden and Obama were out to create a false flag operation in the Ukraine that would make it  look as though the Russians were helping Trump win in 2016.  This, of course, goes against all FBI and National Security Findings and even the conclusions of a Republican Senate led committee finding.  Fleshing out an insane conspiracy theory is now part of what Barr is doing travelling around the world trying to find dirt on both National Security employees and Employees in the Justice Department including many in the FBI.
This is from CNN and Evan Perez: "Barr's investigation into origins of Trump-Russia probe is now a criminal investigation".  This is subjecting both Department of Justice Employees and former employers and National Security Employees former and current to criminal indictment.  Again, it's based on this insane conspiracy theory that the FBI under Obama as well as the National Security Agencies were out to set up Trump.  How many people must suffer because Trump is outraged that he did not win the presidency outright but under incredible spurious and illegal  circumstances.
Attorney General William Barr's probe into the intelligence and origins of the 2016 Trump-Russia investigation is now a criminal investigation, according to a person familiar with the matter.

The so-called investigation of the investigators is led by John Durham, a Connecticut-based federal prosecutor, who so far has conducted some interviews but also has run into some obstacles from witnesses who have declined voluntary interviews, CNN reported last week.

The move to make it a criminal inquiry was always anticipated, and it allows Durham to use subpoenas to compel testimony and comes as President Donald Trump faces an onslaught of negative headlines stemming from the House impeachment inquiry into his dealings with Ukraine. It's not clear what, if any, part of the Trump-Russia investigation is a target of Durham's criminal probe.

The New York Times was first to report on the new stage of the investigation.

The investigation has been driven by Barr's suspicions that some of the officials overseeing the counterintelligence probe of the 2016 Trump campaign may have acted improperly.

Barr's embrace of these theories aligns with Trump's chief grievance that he was the victim of a "deep state" spy operation that has clouded his presidency.

The President has publicly called for investigations of former FBI Director James Comey, former CIA Director John Brennan and former Director of National Intelligence James Clapper, among others.

And in recent weeks the President's eagerness for the Justice Department to focus on his perceived critics has caused awkward issues for Durham and the department.
You can read and watch Rachel Maddow explain more.  This will undoubtedly be a worsening situation and in the name of Elijah Cumming, American Rule of Law, the Constitution and the ideals of Justice we need to follow it and figure it out.
You may also read the original research and article at the NYT.  Katie Benner has the first byline and is an amazing investigative reporter.
The move also creates an unusual situation in which the Justice Department is conducting a criminal investigation into itself.

Mr. Barr's reliance on Mr. Durham, a widely respected and veteran prosecutor who has investigated C.I.A. torture and broken up Mafia rings, could help insulate the attorney general from accusations that he is doing the president's bidding and putting politics above justice.

It was not clear what potential crime Mr. Durham is investigating, nor when the criminal investigation was prompted. A Justice Department spokeswoman declined to comment.

Mr. Trump is certain to see the criminal investigation as a vindication of the years he and his allies have spent trying to discredit the Russia investigation. In May, Mr. Trump told the Fox News host Sean Hannity that the F.B.I. officials who opened the case — a counterintelligence investigation into whether his campaign conspired with Moscow's election sabotage — had committed treason.

"We can never allow these treasonous acts to happen to another president," Mr. Trump said. He has called the F.B.I. investigation one of the biggest political scandals in United States history.
So, I'm going to post this with a lot of questions to follow about this to watch Former President Bill Clinton eulogize Representative Cummings.  You can watch it live here at NBC.
So, what's on your reading and blogging list today?
---