Posted: April 24, 2020
Filed under:
Afternoon Reads
| Tags: COVID19
34 Comments
Good Day Sky Dancers!
So, what does it say when two companies that produce disinfectants and dangerous cleaning products have to remind full grow adults not to drink the shit because, well, the so-called President suggests it might be a way to clean out Covid-19 infected lungs in a Prime Time TV Presser.
Injecting disinfectant?  WTF?
From CNN: Lysol maker: Please don't drink our cleaning products .  This is usually why we put these things on high shelves or under child-proof locks in homes with very small children.
The statement followed remarks from President Trump on Thursday on the use of disinfectants.

"And then I see the disinfectant where it knocks it out in one minute. Is there a way we can do something like that by injection inside or almost a cleaning … it would be interesting to check that," Trump said. "It sounds interesting to me," he added.

CNN's Chief Medical Correspondent, Dr. Sanjay Gupta was quick to point out that this is simply wrong.

"He also said it needs to be studied. Actually, it doesn't. I mean we know the answer to this one," he said on CNN's Anderson Cooper 360 on Thursday. "I think everybody would know that that would be dangerous and counter-productive."

Ingesting or injecting disinfectants is dangerous,  according to a medical expert employed. Food and Drug Administration chief Dr. Stephen Hahn told CNN's Anderson Cooper, "I certainly wouldn't recommend the internal ingestion of a disinfectant."

The US Food and Drug Administration regularly warns the public against drinking bleach, or even inhaling fumes from bleach. It's also irritating to skin.

On Monday, the US Centers for Disease Control and Prevention said calls about poisonings with cleaners and disinfectants had increased more than 20% in the first three months of 2020 — as coronavirus cleaning increased — than from the same period a year earlier. Among cleaners, bleaches accounted for the largest percentage increase in calls from 2019 to 2020.
The problem is that I actually believe most of the Trumperz aren't smart enough to figure out that they still shouldn't be drinking bleach and Lysol. That's a pretty strange statement too. But, it looks like those companies and lots of doctors and health organizations  think there will be stupid people trying it because their orange messiah inkled it.
The FDA is warning against "use of hydroxychloroquine or chloroquine for COVID-19 outside of the hospital setting or a clinical trial due to risk of heart rhythm problems".   This was another Trump pet poison.
You'll remember a couple in Arizona that found a fish version of that and killed the husband in a kool aid drink to save Trump Town. from the deep state.  CNBC outlines the problems with that drug.
The Food and Drug Administration warned consumers Friday against taking malaria drugs chloroquine and hydroxychloroquine to treat Covid-19 outside a hospital or formal clinical trial setting after "serious" poisoning and deaths were reported.

The agency said it became aware of reports of "serious heart rhythm problems" in patients with the virus who were treated with the malaria drugs, often in combination with antibiotic azithromycin, commonly known as a Z-Pak. It also warned physicians against prescribing the drugs to treat the coronavirus outside of a hospital.

"Hydroxychloroquine and chloroquine can cause abnormal heart rhythms such as QT interval prolongation and a dangerously rapid heart rate called ventricular tachycardia," the agency wrote in the notice. "We will continue to investigate risks associated with the use of hydroxychloroquine and chloroquine for COVID-19 and communicate publicly when we have more information."
His ignorance as well as his extreme pathologies are killing the country.  Michael Gerson–writing for WAPO–states "The GOP has reached its sad, inevitable destination."  My question is will its demise come soon enough to save us?
The Trump captivity of the GOP has reached its sad, inevitable destination: a failed presidency defended by a cowed party. As President Trump's malignant narcissism and incompetence have been fully revealed — and can be objectively measured by the level of needless death from covid-19 — his approval among Republicans has remained strong. Across a continent filled with elected Republicans, only a few have taken a stand for sanity and effective governance.

Trump is, no doubt, in a perilous political situation. The activist right wing of his party has seized on social distancing as the health-care equivalent of socialism. The tea party fundraising machine has lurched into loud, clanking motion, trying to manufacture outrage against epidemiology. Some pro-life and pro-family groups have joined in the ill-timed promotion of social anarchy.

The president seldom defies the right-wing populists, and his immediate response was to identify with their anger. But this is a different political circumstance from any Trump has faced. In this case, pleasing the most vocal portion of his base puts another important constituency — older voters — at additional risk of painful, suffocating death. It is difficult to play both sides of this issue. And there are indications in recent polling that seniors have grown increasingly critical of Trump's pandemic response.

Yet none of this is likely to change the minds of partisan Republicans. Some ignore or dismiss Trump's cruelty and deception because conservative judges need to be appointed and the culture war needs to be fought. Some embrace his cruelty and deception because conservative judges need to be appointed and the culture war needs to be fought. And Trump naturally takes continued Republican job approval as an endorsement for his handling of the coronavirus crisis. In this way, Republican tolerance for Trump's ineptitude and ignorance has made these traits more lethal.

It is sometimes useful to stare the worst possible political outcome full in the face. If Trump were reelected in November, he would place his stamp on Republican identity for a generation. The purges of dissidents would accelerate. Resistance within the party would dwindle from rare to vanishingly rare. A party of angry white people would head toward its demographic doom. And even then, Trump acolytes would probably reject ideological and racial outreach, preferring their resentments to the possibility of deliverance.
The entire party has nothing to offer but greed and craziness.
McConnell would actually take down the truly viable states with good economies to prop up his power agenda.
Unfortunately, it's looking increasingly likely that tens of millions of Americans will in fact suffer extreme hardship and that there will be devastating cuts in services. Why? The answer mainly boils down to two words: Mitch McConnell.

On Wednesday, McConnell, the Senate majority leader, declared that he is opposed to any further federal aid to beleaguered state and local governments, and suggested that states declare bankruptcy instead. Lest anyone accuse McConnell of being even slightly nonpartisan, his office distributed two memos referring to proposals for state aid as "blue state bailouts."

A number of governors have already denounced McConnell's position as stupid, which it is. But it's also vile and hypocritical.

When I say that we have the resources to avoid severe financial hardship, I'm referring to the federal government, which can borrow vast sums very cheaply. In fact, the interest rate on inflation-protected bonds, which measure real borrowing costs, is minus 0.43 percent: Investors are basically paying the feds to hold their money.

So Washington can and should run big budget deficits in this time of need. State and local governments, however, can't, because almost all of them are required by law to run balanced budgets. Yet these governments, which are on the front line of dealing with the pandemic, are facing a combination of collapsing revenue and soaring expenses.

The obvious answer is federal aid. But McConnell wants states and cities to declare bankruptcy instead.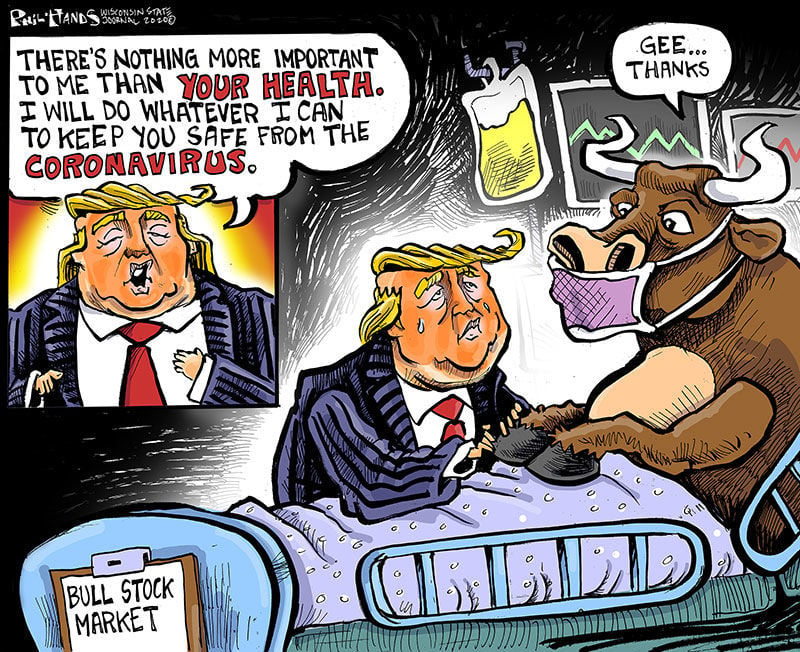 And, once again we see the "pro-life" agenda isn't very pro-life as argued by Timothy Eagen in the NYT.
All of us want the same thing — a road map to the way out. The scientific consensus is clear and not that complicated: We need a significant upgrade of testing, contact tracing to track the infected, nuanced and dutiful social isolation, all to buy time until a vaccine is developed.

But the political way out reveals a stark divide, and some true madness. For Republicans, that pro-life slogan of theirs is just another term for nothing left to lose. They are now the party of death.

When Lt. Gov. Dan Patrick of Texas doubled down this week on prior remarks elevating commerce above life — There are "more important things than living," he said on Fox News — he was speaking for a significant slice of his party. People are disposable. So is income. But one is more important.
Whatever we can say is American is Failing.  I agree with this NBC think piece.  We are not handling this crisis well at all and I'm not proud to say I agree with Chuck Todd of all people.
Without question, it's the worst crisis the United States has faced since the Great Depression and World War II. And so far, this country's national leaders and federal government have failed to meet the enormity of the moment.

President Trump has failed to meet the moment — whether it's in uniting the country, giving it the unvarnished truth of the situation or even just mourning the dead.

Congress has failed the moment — despite spending some $3 trillion in aid and stimulus, many small businesses have been unable to get loans, and state governments are seeing their trust funds depleted to pay out unemployment insurance.

And while individual governors and states have stepped up their game, the entire federal government — collectively — has failed the moment. In the months since the spread first began, there have been 4.7 million coronavirus tests in the nation, which represents less than 2 percent of the U.S. population.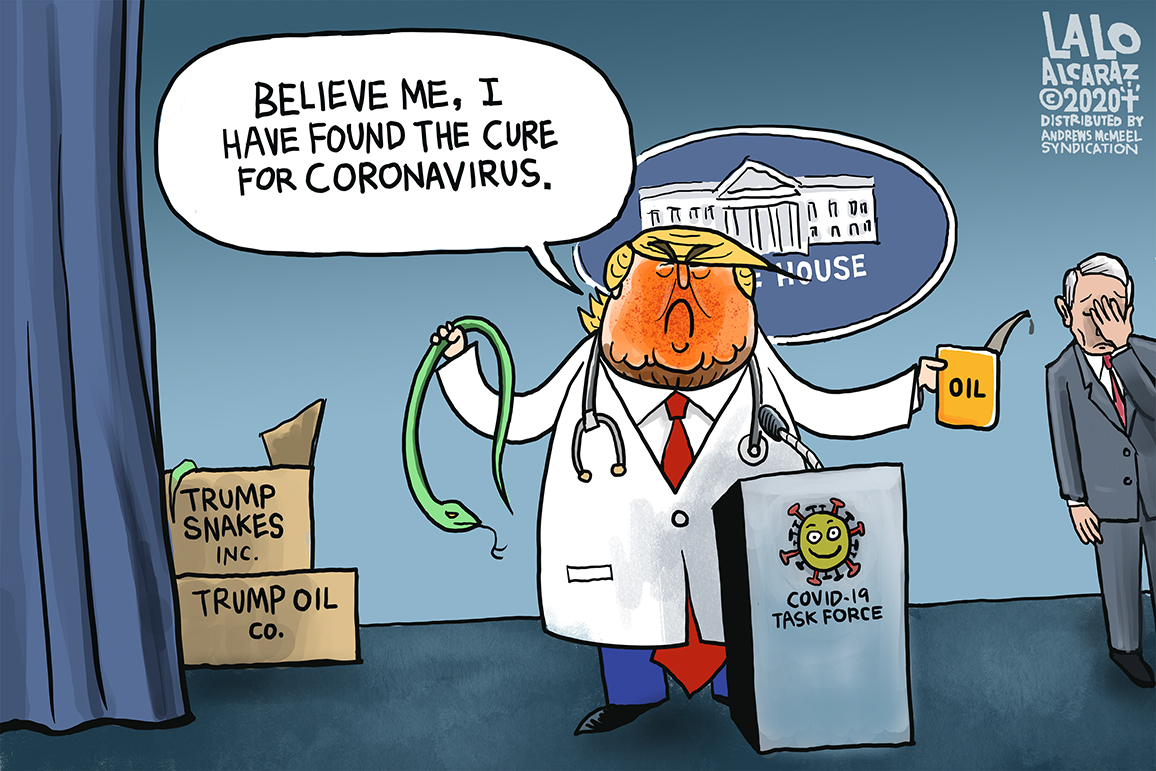 OOps. Too soon!  There's that both siderism. The problem with Congress in the Senate Republican majority who appears to see this as a way to reshape the country into its rural white identity.   Try this for size: " >Bailout money bypasses hard-hit New York, California for North Dakota, Nebraska".  This is from Aaron Glantz.
This was the purpose of the Paycheck Protection Program: to subsidize vulnerable small businesses and avoid massive layoffs. The loans will be forgiven entirely under certain conditions, including a requirement that a company keep all of its employees on the payroll for at least eight weeks. Within weeks, the Small Business Administration had exhausted the $349 billion appropriated by Congress, a pace that President Donald Trump has called "an incredible, incredible success."

An analysis of 1.6 million Paycheck Protection Program loans by Reveal from The Center for Investigative Reporting found that 58% of North Dakota's small businesses got loans through the program. A majority of small businesses in Nebraska and South Dakota, neither of which have shelter-in-place orders, also received help.

It was a different story, however, in states with high death tolls and some of the earliest stay-at-home orders prompted by COVID-19. In New York and New Jersey, where more than 350,000 are infected and more than 20,000 have died, just 18% of businesses got help, Reveal's analysis found. In California, where more than 3 million workers have filed for unemployment after that state became the first to issue a stay-at-home order, that number was 15%.  (Reveal is among the California businesses that received a loan under the program.)

The figures were so stark that they sparked concerns of political interference. Rep. Jackie Speier, a California Democrat who serves on the House Oversight and Reform Committee, said the data raise questions about whether stimulus dollars were deliberately funneled to states that voted for Trump and have Republican governors.

Speier told Reveal that she would be calling for an investigation by the Government Accountability Office, the investigative arm of Congress.

Reveal's analysis found that businesses in states that Trump won in 2016 received a far greater share of the small-business relief funds than those won by his Democratic rival, Hillary Clinton. Eight of the top 10 recipient states – ranked according to the proportion of each state's businesses that received funding – went to Trump in 2016. Meanwhile, seven of the bottom 10 states, where the lowest proportion of businesses received funding, went to Clinton. Taken together, 32% of businesses in states that Trump won got Paycheck Protection Program dollars, we found, compared with 22% of businesses in states that went to Clinton.

"If it is as it appears, it is downright criminal. So there has to be an investigation," Speier said, noting that the president has a record of using his office to benefit his family and supporters financially, while seeking to deny government support to those he sees as his political enemies.

"As far as the president of the United States is concerned, if he can stick it to California, he will," she said.
So, this is beginning to feel like they may try to selectively kill us off as well suppress our vote.   Mostly they are destroying their precious notion of American Exceptionalism because Republican and Trumpist agendas are about driving us into banana republic status.  This is from the AP's Calvin Woodard.
At the time of greatest need, the country with the world's most expensive health care system doesn't want you using it if you're sick but not sick enough or not sick the right way.

The patchwork private-public health care system consumes 17% of the economy, unparalleled globally. But it wants you to stay home with your COVID-19 unless you are among the minority at risk of death from suffocation or complications. It wants you to heal from anything you can without a doctor's touch and put off surgeries of all kinds if they can wait.

In the pandemic's viral madhouse, the United States possesses jewels of medical exceptionalism that have long been the envy of the world, like the federal Centers for Disease Control and Prevention and the National Institutes of Health.

But where are the results?

For effective diagnostic testing, crucial in an infectious outbreak, look abroad. To the United Arab Emirates, or Germany, or New Zealand, which jumped to test the masses before many were known to be sick.

Or to South Korean exceptionalism, tapped by Maryland's Republican governor, Larry Hogan, who accepted a planeload of 500,000 testing kits from Seoul to make up for the U.S. shortfall. The aid was dubbed Operation Enduring Friendship and annoyed Trump, the "America First" president.

Simple gloves. Complicated ventilators. Special lab chemicals. Tests. Swabs. Masks. Gowns. Face shields. Hospital beds. Emergency payouts from the government. Benefits for idled workers. Small business relief. Each has been subject to chronic shortages, spot shortages, calcified bureaucracy or some combination.

"This monumental failure of institutional effectiveness will reverberate for the rest of the decade," Andreessen, a tech investor best known for the Netscape browser in the 1990s, said in his company newsletter.

Yet Trump uses his daily White House briefings to claim success and talk about his poll numbers, TV ratings, favorite theories about science and the praise he gets from governors, who may be at risk of seeing their states intentionally shortchanged by Washington if they don't say something nice about him.

"A lot of people love Trump, right?" Trump asked himself at the briefing Monday.

He then answered himself. "A lot of people love me. You see them all the time, right? I guess I'm here for a reason, you know. … And I think we're going to win again, I think we're going to win in a landslide."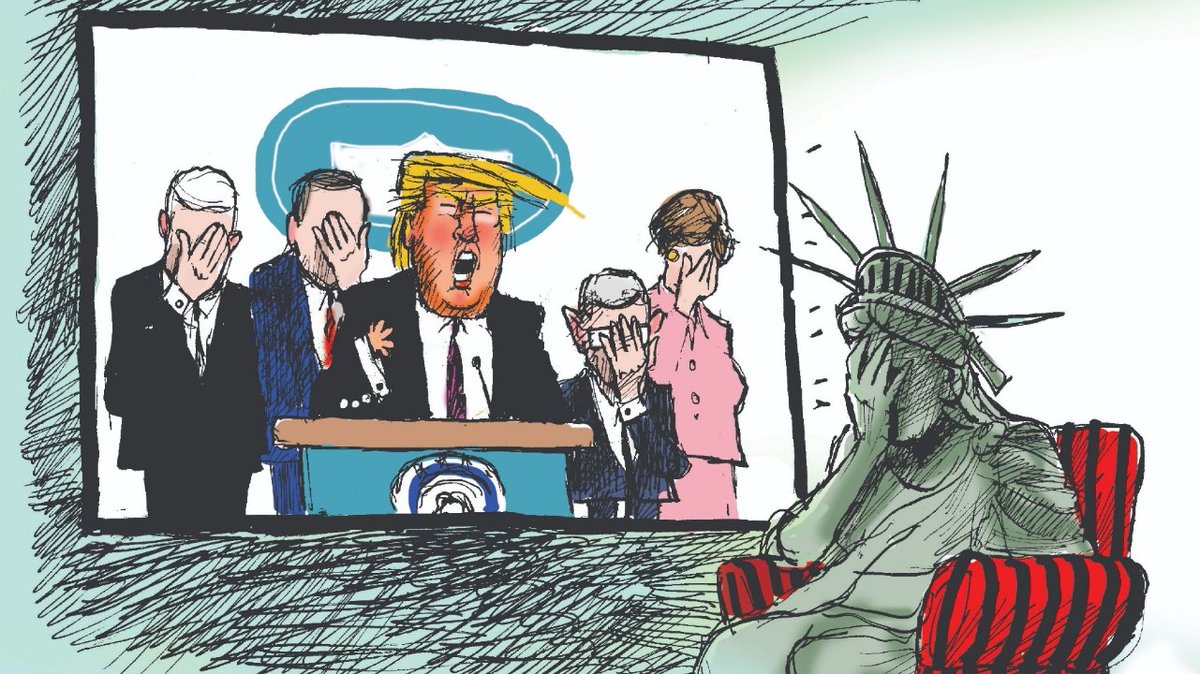 Polls are beginning to inform Trump that he is behind so he will certainly only get worse and more desperate.  One reason?  The one thing you can say about "safety moms" is they want safety. Trump is the furthest thing away from that.
Here are some things to read about that:
Trump's poor poll numbers trigger GOP alarms over November    from Politico

Team Trump Fears Suburban Women Will Destroy Him in 2020—and That Coronavirus Is Making It Worse  from the Daily Beast

Biden predicts Trump will try to delay November election from the Hill
We will need to be vigilant as ever and more reliant on the Democratic Party to fight like hell.  Be safe!  Stay Home!! Be kind to yourself!
What's on your reading and blogging list today?
---