Posted: January 6, 2020
Filed under: Iran, Iraq, Middle East, morning reads, Nancy Pelosi
48 Comments
Good Morning Sky Dancers!
I miss my Dad every day. I miss talking to him and the way he used to call out baseball games to me in his last days including the little league championship.  He was many things but perhaps more than any thing he was defined by his service in the Army Air Corps during World War 2 where he flew missions that sped the Allies movement on the ground to Berlin and Victory and freed the French and Belgian people from German Occupation.
He never spoke about it much but when he did the stories were fascinating.  My favorite was when his squad flew under Jimmy Stewart and he described how that rich voice filled the com.  He had a picture of his crew that he kept by his favorite reading chair along with family pictures. He would always tell me that the solider that took that picture never came back the day after he took the photo from a mission that was particularly harrowing. The unstated truth was that Dad's bomber and crew were fortunate to get back to England.
I suppose it's only fitting that we are seeing  the last of the so-called "greatest generation" during every patriotic event.  They are aging and dying as is the fate of all humans. The dynamics of the 20th century ended with a world order established by the dynamics of both World Wars but definitely the War against Fascism.  It's odd that I always thought so much of what was dubbed the American Century would last through at least my lifetime if not my children with modifications and improvements.  I still figured that the US would be firmly planted as the standard bearer as more joined those ranks. As of this weekend, I no longer believe this to be the case.
We currently have no standards to bear under the Trumpist regime and I now believe that we have fallen beyond any grace we may have earned during the American Century.  The world forgave us many sins from Vietnam to even the disastrous invasion of Iraq.  They may have actually had some hope for us as we signed with other nations agreements to trade, address climate change, and work with Iran to find a more stable situation with less fear of nukes.
We have lost whatever grace we earned now because we have allowed a group of aggrieved white nationalists with a twisted version of Christianity to grab power. They brought us Trump. They plotted and planned a cleansing of the Republican Party who rolled over with belly up to get their votes for policies supporting the rich and greedy.  Establishment appeasement failed and now End Timers and White Nationalists have that party wholesale.
As we lose our grip on world leadership, I can only hope that its future hands are not those of Russia and China although Chinese dominance of the global economy will only grow and the multilateral agreement to keep that in check was also one of the things Trump tossed out even though it was the product of a few administrations and not solely that of Obama's.  Just as we left so many nuclear pacts, we have also left the Paris Accord and Australia is burning with no aid from us.  It is likely a harbinger to what may happen in California and other of our southwestern states.
I had this realization last night as some of the inevitable things happened as a result of Trump's desperation to become a war time president to possibly boost his re-election chances and his ego during impeachment.  We–as a nation–must find a new way eventually but one that will not put us as a shining city on the hill.  Let us hope we will not stay firmly in pariah nation status.  I do know this.  A country should NEVER put into power a group of people whose vision of redemption and heaven includes the end of the world.  Iran chose that path 40 years ago.  We have joined them in that same messianic, deluded vision and Fuck Pence and Pompeo and all they stand for.
With those depressing thoughts on my mind, let's get to my suggested reads.  My Thanks to author Rabih Aalameddine (@rabinhalameddine) whose tweets those morning provided these hellish versions of war and fire.
No one knows what's coming next.  However, every one that's every had anything to do with the markets the last four decades knows that when these things happen it will leader to higher oil prices and stock prices for defense firms.  Everything else will head downwards.  This is from Bloomberg via Yahoo Finance.
Oil extended its gains, briefly surpassing $70 a barrel in London for the first time since September, as Middle East tensions flared after the U.S. assassinated one of Iran's most powerful generals.

Futures rose as much as 3.1% on Monday as the U.S. State Department warned of a "heightened risk" of missile attacks near energy facilities in Saudi Arabia. Prices later gave up some of the gains. President Donald Trump reiterated threats of retaliation should Iran "do anything" and vowed heavy sanctions against Iraq if American troops are forced to leave OPEC's second-biggest producer.

The clash is fanning fears that a wider conflict could disrupt supply from the region, which provides almost a third of the world's oil. Prices haven't hit these levels since an attack on Saudi Arabia's oil facilities in September — which the U.S. blamed on Iran — briefly halted about 5% of global output.

"Crude has some more risk pricing to do," said Bob McNally, president of Rapidan Energy Group in Bethesda, Maryland, and former White House oil official under President George W. Bush. "We are going to grind through the $70s up toward $80 Brent as Iran calibrates and executes its retaliation."
As I just said,  fuck Pompeo. a chief messianic delusionism advocate and all around horrid person.  This is from WAPO: "Killing of Soleimani follows long push from Pompeo for aggressive action against Iran, but airstrike brings serious risks".
The greenlighting of the airstrike near Baghdad airport represents a bureaucratic victory for Pompeo, but it also carries multiple serious risks: another protracted regional war in the Middle East; retaliatory assassinations of U.S. personnel stationed around the world; an interruption in the battle against the Islamic State; the closure of diplomatic pathways to containing Iran's nuclear program; and a major backlash in Iraq, whose parliament voted on Sunday to expel all U.S. troops from the country.

For Pompeo, whose political ambitions are a source of constant speculation, the death of U.S. diplomats would be particularly damaging given his unyielding criticisms of former secretary of state Hillary Clinton following the killing of the U.S. ambassador to Libya and other American personnel in Benghazi in 2012.

But none of those considerations stopped Pompeo from pushing for the targeted strike, U.S. officials said, underscoring a fixation on Iran that spans 10 years of government service from Congress to the CIA to the State Department.

"We took a bad guy off the battlefield. We made the right decision," Pompeo told CNN. "I'm proud of the effort that President Trump undertook."

Pompeo first spoke with Trump about killing Soleimani months ago, said a senior U.S. official, but neither the president nor Pentagon officials were willing to countenance such an operation.

For more than a year, defense officials warned that the administration's campaign of economic sanctions against Iran had increased tensions with Tehran, requiring a bigger and bigger share of military resources in the Middle East when many at the Pentagon wanted to redeploy their firepower to East Asia.

Trump, too, sought to draw down from the Middle East as he promised from the opening days of his presidential campaign. But that mind-set shifted on Dec. 27 when 30 rockets hit a joint U.S.-Iraqi base outside Kirkuk, killing an American civilian contractor and injuring service members.

On Dec. 29, Pompeo, Esper and Milley traveled to the president's private club in Florida, where the two defense officials presented possible responses to Iranian aggression, including the option of killing Soleimani, senior U.S. officials said.

Trump's decision to target Soleimani came as a surprise and a shock to some officials briefed on his decision, given the Pentagon's long-standing concerns about escalation and the president's aversion to using military force against Iran.

One significant factor was the "lockstep" coordination for the operation between Pompeo and Esper, both graduates in the same class at the U.S. Military Academy, who deliberated ahead of the briefing with Trump, senior U.S. officials said. Pence also endorsed the decision, but he did not attend the meeting in Florida.
So, the push to assassinate an Irani general. was made by two proponents of heaven comes if we blow up the right people and then the world and a former Defense Lobbyist.  Isn't that just ducky?  So, in game theory, we frequently speak of second and third order conditions which basically occur in a game that occurs over time when one party makes a move and then there are more moves to come. "Stategery" was never a strong point for any of the Neocons who just wanted to "Bomb, bomb, bomb Iran".  It continues to look the same way with the Trumpists.  This is from Axios  that is part of the media trying to chase the next moves that have so far included expulsion of US and allied troops from Iraq and Iran annoucing it will take revenge and it will ended its nuclear pause.
The Trump administration tried, unsuccessfully, to persuade top Iraqi officials to kill a parliamentary effort to force the U.S. military out of Iraq, according to two U.S. officials and an Iraqi government official familiar with the situation.

Why it matters: The Iraqi parliament passed a resolution today calling on the Iraqi government to expel U.S. troops from Iraq, after the U.S killed Iranian Gen. Qasem Soleimani and a leader of an Iraqi militia with a drone strike near Baghdad airport.

This resolution could ultimately lead to the U.S. military being forced out of Iraq. But the outcome remains uncertain, and the prime minister who needs to sign it recently resigned.

"I think it would be inconvenient for us, but it would be catastrophic for Iraq," said a U.S. official familiar with the Trump administration's effort to block the vote. "It's our concern that Iraq would take a short-term decision that would have catastrophic long-term implications for the country and its security."

"But it's also, what would happen to them financially," the official added, "if they allowed Iran to take advantage of their economy to such an extent that they would fall under the sanctions that are on Iran?" (Countries can be subject to the sanctions if they engage in certain kinds of trade with Iran.)
"We don't want to see that. We're trying very hard to work to have that not happen," the official said.

"The United States is disappointed by the action taken today in the Iraqi Council of Representatives," said State Department spokesperson Morgan Ortagus.
The NYT has more information on the Iranian decision to ends its participation in Nuclear Restrictions.
When President Trump withdrew the United States from the Iran nuclear deal in May 2018, he justified his unilateral action by saying the accord was flawed, in part because the major restrictions on Iran ended after 15 years, when Tehran would be free to produce as much nuclear fuel as it wanted.

But now, instead of buckling to American pressure, Iran declared on Sunday that those restrictions are over — a decade ahead of schedule. Mr. Trump's gambit has effectively backfired.

Iran's announcement essentially sounded the death knell of the 2015 nuclear agreement. And it largely re-creates conditions that led Israel and the United States to consider destroying Iran's facilities a decade ago, again bringing them closer to the potential of open conflict with Tehran that was avoided by the accord.

Iran did stop short of abandoning the entire deal on Sunday, formally known as the Joint Comprehensive Plan of Action, and its foreign minister held open the possibility that his nation would return to its provisions in the future — if Mr. Trump reversed course and lifted the sanctions he has imposed since withdrawing from the accord.

That, at least, appeared to hold open the possibility of a diplomatic off-ramp to the major escalation in hostilities since the United States killed Maj. Gen. Qassim Suleimani, the second most powerful official in Iran and head of the Quds Force.

But some leading experts declared that the effort to contain Iran's nuclear ambitions through diplomacy was over. "It's finished," David Albright, the president of the Institute for Science and International Security, a private group in Washington that tracks nuclear proliferation, said in an interview. "If there's no limitation on production, then there is no deal."
Speaker Nancy Pelosi has announced an initiative to address the Authorization of Use of the Military or the so-called War Powers Act today.  This is from the Speaker's web page.
Last week, the Trump Administration conducted a provocative and disproportionate military airstrike targeting high-level Iranian military officials.  This action endangered our servicemembers, diplomats and others by risking a serious escalation of tensions with Iran.

As Members of Congress, our first responsibility is to keep the American people safe.  For this reason, we are concerned that the Administration took this action without the consultation of Congress and without respect for Congress's war powers granted to it by the Constitution.

This week, the House will introduce and vote on a War Powers Resolution to limit the President's military actions regarding Iran.  This resolution is similar to the resolution introduced by Senator Tim Kaine in the Senate.  It reasserts Congress's long-established oversight responsibilities by mandating that if no further Congressional action is taken, the Administration's military hostilities with regard to Iran cease within 30 days.

The House Resolution will be led by Congresswoman Elissa Slotkin.  Congresswoman Slotkin is a former CIA and Department of Defense analyst specializing in Shia militias.  She served multiple tours in the region under both Democratic and Republican Administrations.
Here's some news on the responses from Congress at NBC News: "Pelosi announces war powers resolution as tensions with Iran escalate. Pelosi said "the Trump administration conducted a provocative and disproportionate military airstrike targeting high-level Iranian military officials."
On Sunday, Iraq's Parliament voted to ask its government to end the presence of U.S. troops in the country, while Iranian state TV reported that Iran will no longer abide by any limits of the 2015 nuclear deal — an agreement Trump withdrew from in 2018.

In the Senate, Minority Leader Chuck Schumer, D-N.Y., and ranking member of the Foreign Relations Committee, Robert Menendez, D-N.J., wrote to Trump asking him to "immediately declassify in full the January 4, 2020, war powers notification you submitted to Congress following the U.S. military operation targeting" Soleimani.

"It is critical that national security matters of such import be shared with the American people in a timely manner," the senators wrote. "An entirely classified notification is simply not appropriate in a democratic society, and there appears to be no legitimate justification for classifying this notification."

Speaking to reporters in the White House briefing room, White House counselor Kellyanne Conway said members of Congress "will be briefed, but they should also calm down" and "celebrate" Soleimani's death.

She said it was "fine" for Trump to order an airstrike killing Soleimani without congressional authority, comparing it to former President Barack Obama ordering the mission to kill al-Qaeda leader Osama bin Laden.
There's some news from the Democratic Primary Front.  Former Candidate Julian Castro has endorsed Elizabeth Warren.
Mr. Castro announced his endorsement on Monday morning, just days after he ended his own bid for the White House. In a statement, Mr. Castro cast Ms. Warren as the logical extension of his campaign's social-justice-driven message, which seeks to correct inequities through targeted policy proposals. He will campaign with Ms. Warren this week, joining her Tuesday night at a rally at Kings Theatre in Brooklyn.
David Leonhardt argues that Amy Klobucher is the candidate that can beat Trump.  He likens her to Harry Truman of all people.
So where are you supposed to find a comfortably electable, qualified candidate who won't turn 80 while in office?

Senator Amy Klobuchar has become an answer to that question in the final month before voting begins. She has outlasted more than a dozen other candidates and has two big strengths: A savvy understanding of how to campaign against President Trump and a track record of winning the sorts of swing voters Democrats will likely need this year.

Klobuchar, to be sure, is not a finished product as a presidential candidate. Too often, she sounds like a senator speaking in legislative to-do lists rather than a future president who can inspire voters. That tendency — along with too much needling of other candidates, instead of focusing on her own message — was evident in the most recent debate.

Yet she still emerged as one of the debate's winners, and she is enjoying a burst of new attention. She raised more than twice as much money, $11.4 million, in the fourth quarter of 2019 than the third quarter. When I ask top Democrats which candidate has the best chance of beating Trump, Klobuchar is often their answer. If party leaders still chose nominees, she might now be the favorite.

In that way, she reminds me of another Midwestern senator who once seemed too ordinary to be president: Harry Truman. In the summer of 1944, an even more perilous time for global democracy than now, Democratic Party grandees chose Truman as vice president with the belief that he would soon be president, given Franklin Roosevelt's declining health.

Truman was (as Klobuchar is) a loyal Democrat with populist leanings whom many Republicans, both senators and voters, nonetheless felt some affection for. He had a folksy manner and heartland accent. He was also a long shot for the nomination when the process began. The analogy extends to Klobuchar's best-known weakness: Truman had a temper, too.
And it's epiphany, you may now eat king cake!!!
I'm haunted by dreams of fire and animals.  It's been three nights in a row now and the horror of Australia is getting to me.  Here are some suggestions on where you can donate funds if you feel so inclined and you are able.
And now, what's on your reading and blogging list today?
---
Posted: December 23, 2019
Filed under: 2020 Elections, morning reads, Nancy Pelosi
38 Comments
Good Morning Sky Dancers!
It's Monday and let's hope it's a good one for a change!   I learned about two new yuletide critters this week and now I'm deep in thought about the universal idea of St Nick/Santa Claus/Hotei and all those pre christianity yule practices of a holy guy that walks around with a big ol bag with an endless supply of good stuff.
In the Buddhist paean,  this would be Hotei, the Happy Monk, who is endlessly mistaken by hapless westerners as the Buddha.  He's a type of Buddha but not the one that god centric folks think is some god substitute.  He isn't. There's no creator god anywhere in Buddhism.  We, are in fact, all made of Buddha nature and headed that direction so at this point there are endless Buddhas.  But, back to Hotei and his happiness and his sack that never empties out.   I'm not sure how he eventually wound up to be the statue whose belly you rub for good luck or why leaving gifts of oranges and things on him at an altar is supposed to help your gambling luck or provide you with showers of gold coins but I'll leave that to the folks that study that.
I was drawn to Hotei/Budai as a kid and even have the two small statues my mother had in a shadow box sitting on my bookshelf.  I named one Zen and the other Buddha. Both still sport the child handwriting in blue pencil on the bottom with their names.  I'm not exactly sure how I came up with those names at that age, but I did.  There's another Buddhist idea of a wish fulfilling jewel which is a lot like having your own personal wishing star that works.
I'm just amazed that many cultures have developed similar characters.  Some of many gods, some have no gods. and some have one god.  But, they all have the equivalent of a generous guy that travels around bestowing gifts.  It's a universal myth seeming to spontaneously develop in many places or travelling by story and winding up entering another mythos.   American Santa Claus appears to be the latest emanation. I still have a partiality to Father Christmas or Pere Noel.  But, that's me!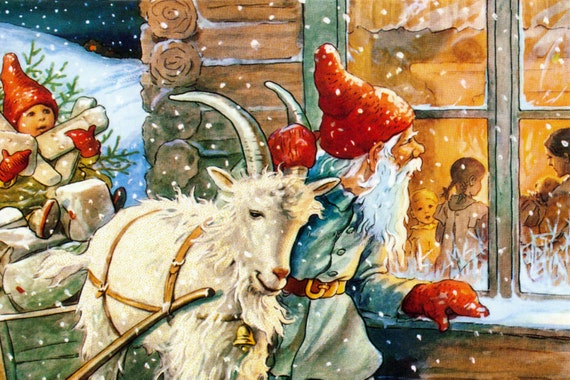 Budai showed up around 916 a.d. and may be related to an actual wandering monk in China from around the period.  Us Westerners are more familiar with St Nick who may have been the role model for the modern Santa.  He was said to be Saint Nicholas of Bari who was an early Christian bishop in ancient Greece. He dates back to around 343.  So, it appears the legends of generous wandering holy men took hold and started spreading.  Many even connect the entire thing back to Saturn and some of the early Greek/Roman Gods. 
I'm just thinking we all need somebody good to pin our hopes on but we also seem to need an offset.  Sorta of a ying to Santa's yang.  I found out that in Sweden Santa trots around on a yule goat (Julbocken) which is actually a pagan symbol connected to Thor but now is connected to the Nordic/Germanic St Nick. So, a goat is Santa's helper in Sweden.  So, Santa may actually be based on Odin too and you may read that here.
And, thanks to Ann, I've discovered the Yule Cat of Iceland who has some connection to Krampus which has been my latest fascination with pagan yule festivities.  So, enjoy these pictures of the Yule Cat (Jólakötturinn) and be glad he didn't visit your house this year. The Yule Cat appears to have shown up sometime during the 1600s and steals away children–like Krampus–if they've been horrid for that year.  Ah, isn't religion grand!
There are actually a lot of monsters associated with Christmas/Yule.  Who knew?  Go read about 8 of them at that link and turn your yule into scary story event!
I'm surprised the Yule Cat didn't get to Mar a Lago this year.  He'd have had a blast.
The death of Washington Post journalist Jamal Kashoggi and the way the Trumpist regime has enabled it continue to stain our country's reputation.  Five men were sentenced to death in Saudia Arabia for his death but that's not true justice. WAPO reports this today from Istanbul.
The verdicts came after a trial in Riyadh's criminal court that lasted nearly a year and was largely shrouded in secrecy, with sessions closed to the general public. Human rights groups warned that the lack of transparency made the proceedings unfair, and increased the likelihood that senior officials could escape justice.

Diplomats from the United States, Turkey and several other countries were allowed to attend but told not to reveal details of the trial. Members of Khashoggi's family also attended, according to Shalaan al-Shalaan, a spokesman for the Saudi public prosecutor.

In addition to the five people who received the death penalty, three more people were sentenced to jail terms totaling 24 years, Shalaan said. He did not name any of the convicted defendants. The death sentences must be confirmed by higher courts before they may be carried out, he said.

The CIA concluded last year that the crown prince had ordered Khashoggi' s assassination, contradicting Saudi Arabia's insistence that Mohammed had no knowledge of the plot. However, Saudi authorities said they were investigating the roles played by two senior aides to the crown prince in organizing and dispatching the team of agents who killed Khashoggi.

Shalaan said Monday that the two senior aides — Saud al-Qahtani and Ahmed al-Assiri — had been exonerated.
I'm thinking this may be a bit of agreement on Kushner and Trump's part to let the Saudis go as long as they interfere in our elections. This Eli Clifton  headline really got me thinking today: "Purged Saudi Government-backed Twitter Accounts Urged U.S.-Led Regime Change in Iran, Deflected Responsibility for Khashoggi Murder."  They seem to be joyously interfering a la the Russians in everything!
A review of comprehensive data tied to nearly 6,000 Saudi-linked Twitter accounts has found a manipulation campaign targeting its English language messages at President Donald Trump, urging regime change in Iran, whitewashing Saudi human rights abuses in Yemen, and deflecting responsibility for the murder of Washington Post columnist Jamal Khashoggi away from the Saudi government.

Twitter announced on Friday that it had removed the accounts, saying they violated "platform manipulation policies." Twitter also said the accounts were the "core portion of a larger network of more than 88,000 accounts engaged in spammy behaviour across a wide range of topics," adding that "[r]igorous investigations by our Site Integrity team have allowed us to attribute these accounts to a significant state-backed information operation on Twitter originating in Saudi Arabia."

The accounts, which produced and amplified more than 29 million tweets, were operated by Smaat, a social media marketing company based in Saudi Arabia. Twitter reported, "Our in-house technical indicators show that Smaat appears to have created, purchased, and/or managed these accounts on behalf of — but not necessarily with the knowledge of — their clients. We have permanently suspended Smaat's access to our service as a result, as well as the Twitter accounts of Smaat's senior executives. Smaat managed a range of Twitter accounts for high-profile individuals, as well as many government departments in Saudi Arabia."

Smaat's client list includes a number of Saudi government ministries and high-profile Saudi institutions, according to the company's marketing materials. Smaat's website was taken offline after Twitter made its announcement, but a promotional presentation, previously available on the website, listed as clients the Saudi Ministry of Commerce and Investment, Saudi Crown Prince Mohammad bin Salman's Vision 2030 economic development program, the Saudi Ministry of Health, Saudi Aramco, the Saudi Ministry of Finance, the Saudi General Entertainment Initiative, and Alwaleed Philanthropies, a charity overseen by Prince Al-Waleed bin Talal bin Abdulaziz al Saud. Alwaleed was actually an early investor in Twitter and owns more than three percent of the company.
You can read the rest of the analysis at Responsible Statecraft.   Marcy Wheeler has also been following the connection between George Nader and the Saudi Regime.  His testimony may be damaging to both the Trumpist regime and the Saudi.
Brad Heath spotted this Beryl Howell opinion granting George Nader's request to get a copy of his own grand jury transcript.

We can be sure it's Nader because of the details she includes: Someone currently jailed for crime with significant mandatory minimums charged using evidence from a phone seized in the Mueller investigation, awaiting trial early next year. The person provided testimony with immunity on four occasions in February and March 2018.

That all fits Nader and only Nader.

In my continuing interest in tracking the dregs of the Mueller investigation, several details are of interest. Howell describes that his transcript is 900 pages long. Several of the redactions suggest Nader may need the transcripts to craft a defense in potential additional charges, which would more obviously raise a need to consult the transcript and the limits of his immunized testimony. And, the government claims that Nader was asked "questions regarding ongoing investigations."

That's not surprising in the least. Nader's testimony touched on so many crimes it is unsurprising some of them remain active investigations (note the attached picture, which shows Nader with Jared Kushner and Mohammed bin Salman.

The question is how he wants to use this transcript. It's possible he needs it to argue that potentially pending charges against him are improperly based on immunized testimony (and as such wants to eliminate criminal exposure before making the best plea deal he can).  Or it's possible he wants the transcript to be able to explain the risks any cooperation he'd offer would pose to powerful people.
Good Question.  And here's some hope for the New Year!
I'm not sure you've been following this story but the Center for Public Integrity may have found a smoking gun.  Key portions are blacked out which likely means someone in Congress or the Press will have to move on this.
To learn more, Public Integrity in late September petitioned the Office of Management and Budget and the Defense Department for copies of their communications about the aid halt. But the Justice Department so far – in two document releases on Dec. 12 and 20 — has chosen to conceal key passages in those documents. And the federal district court judge overseeing the case, Colleen Kollar-Kotelly, on Dec. 18 set a schedule for reviewing Public Integrity's appeal that makes a final determination of the request unlikely to occur before March.

According to some of those involved in the funding halt, officials were deeply worried from the outset that a delay even for a few weeks could make it hard to ensure all the money was spent by that Sept. 30 deadline. DOD Comptroller Elaine McCusker, for example, noted what she called "increasing risk of execution" in an email on Sept. 5 to the Pentagon's top lawyer and policy officials, among others, meaning she was worried the money could not all be spent by the end of the month.

After robust internal discussions, she and other officials did their best to carry out the policy, temporarily, by ordering a series of short-term holdups in the funding, while affirming in writing that they still planned to disburse it soon.

They specifically undertook an unusual maneuver, stopping the disbursements by adding a rare footnote to spending documents for Pentagon operations and maintenance efforts, which declared the Ukraine funding in particular was being held up for a week at a time. Then, over a period of about seven weeks, they tacked the footnote again and again onto eight such documents, each time as a temporary measure.

An unnamed lawyer at OMB, not wanting to participate in what appeared to be an illegal funding policy, decided to quit, as did another OMB official, according to congressional testimony by Mark Sandy, the office's deputy associate director for national security and a 12-year veteran at the agency. OMB spokespeople have disputed the account, saying the resignations were not over the policy.
Bottom line for this comes from Chris Murphy of Connecticut.  It kinda looks like a smoking gun to me!
I suppose the thing we should be very thankful for is that the entire remaining Trumpist players are not very bright but very very open and obvious.   How's this for saying it's not a 'smoking gun'  but a 'confession'?
So, yes Virginia! There is a Santa Claus! But, there are also Christmas monsters!  It also appears that we can add the Mar a Lago Swamp Monster to the list!
So, my final read recommendation is this from the UK Guardian: "Nancy Pelosi: the woman who stood up to Trump".
It was not how Pelosi, who once said Trump was "not worth" impeaching, had hoped to end a year that began with her historic, second ascension to the speakership. Pelosi, the first – and only – woman ever to serve as Speaker of the House, would rather be remembered for legislative accomplishments – the Affordable Care Act above all – than for impeachment. But Trump, Pelosi said, left her "no choice". She quoted Thomas Paine: "The times have found us."

In the wake of Trump's impeachment, however, Democrats believe there was perhaps no leader better suited to the times.

"She is, thank God, the exact right person in the right place at the right time," said Leon Panetta, a former defense secretary and CIA director and a California native who's known Pelosi for decades. "I'm not sure anybody else would have had the experience or capability to be able to do what she has done."

"Donald Trump really has met his match with Nancy," Panetta added.

Her grace under fire as speaker has earned comparisons to Sam Rayburn, the country's longest-serving speaker, who died in 1961. One Democrat called her an "as good or better" legislative leader than Lyndon Johnson, who was a Senate majority leader before he was president.

And when the question is asked whether a female presidential candidate can beat Trump in 2020, the Democrats point to Pelosi, who "does it every single day".

Even Senator Lindsey Graham, one of Trump's fiercest defenders these days, is impressed. In an interview with CNN decrying the impeachment process, the South Carolina senator called it "quite a feat" that she was able to advance bipartisan legislation even as efforts to remove Trump cleaved the House – and the nation.
If there is a wish fulfilling jewel or a bag of endless gifts, I would like to ask it for one thing.  Impeachment for Pence and Trump followed by the Speaker of the House taking the Oval Office.  If I was really going to get greedy, I dream she goes back to her Speakership by resigning in favor of Hilary Clinton.
Isn't great to have a dream during the longest night of the year?
What's on your reading and blogging list today?
---
Posted: June 17, 2019
Filed under: 2020 Elections, Donald Trump, morning reads, Nancy Pelosi
| Tags: impeachment
21 Comments
Good Morning Sky Dancers!

I guess now's as good as any time to discuss the roadmap to impeachment.  I don't know about you but I'm more than ready to start the roadtrip.  Let's start with moving forward by looking back with The New Republic's Matt Ford and his interview with an assistant to the Judge that decided that sitting presidents can't be indicted while said Judge was writing the memo.
It's a weird story that Rachel Maddow has covered because it links directly to Spiro Agnew.  Her podcast, Bag Man, took on the legacy of Agnew and how his criminality impacted the approach to Nixon's removal. So, why can't sitting presidents be indicted?  Why can't we just lock him up instead of letting him rot out here with unidicted co-conspirator status?  Should we revisit the Dixon memo?
Robert Mueller made a surprising assertion last month about the limits of his power. In his report on Russia's interference in the 2016 election and President Trump's potential obstruction of the investigation, the special counsel explained that Justice Department policy effectively prevented him from charging Trump with a crime while in office. But in his surprise press conference in May, he went even further. "[The report] explains that under long-standing department policy, a president cannot be charged with a federal crime while he is in office," he said. "That is unconstitutional. Even if the charge is kept under seal and hidden from public view—that too is prohibited."

This remains an open legal question, despite Mueller's unequivocal assertion. The Constitution itself is silent on the matter, and no court has ever ruled otherwise because no sitting president has ever been indicted. Mueller's nod to "long-standing department policy" likely was a reference to the so-called Dixon memo, a 1973 Office of Legal Counsel opinion in which Assistant Attorney General Robert Dixon concluded that there were multiple practical and constitutional hurdles that made it effectively impossible. "The spectacle of an indicted president still trying to serve as chief president boggles the imagination," Dixon wrote.

That memo's primary purpose, however, was not to conclusively decide whether a president could be indicted while in office. While it's commonly assumed that the memo came about during the Watergate scandal, it instead sprang from the Justice Department's efforts to prosecute Vice President Spiro Agnew in a tax-evasion case. Agnew argued that he was only subject to impeachment by Congress, and Attorney General Elliot Richardson asked Dixon to write an opinion on the question.

To understand the Dixon memo's unusual origins and its continuing impact, I spoke with J. T. Smith, an attorney who worked as Richardson's executive assistant during the Watergate scandal. Smith was present at the creation, so to speak, of the Justice Department's policy on indicting a sitting president. He told me that if Richardson "had the benefit or detriment we have of the behavior of this particular White House, he almost certainly would say it's high time this whole matter get revisited."
The Dixon memo was FOIA'd last year. Here's a link to the memo itself along with the letter acknowledging the FOIA request.    So here's the Judge's assistant's direct response to if the Dixon Memo should be revisited.
Did you happen to see Mueller's press conference the other day, where he said outright that it would be unconstitutional to indict a sitting president?

I saw that, and I'm not clear why he said it. It's one thing to say that it is Justice Department policy, long standing, that a sitting president should not be subject to criminal process, but he sort of surprised me when he characterized it as being unconstitutional. Because the Dixon memo of 1973, I think, ends up on grounds that are policy-based more than Constitution-based, and indeed, the Dixon memo says that the Constitution doesn't squarely address the topic.
This bit of wiggle has allowed Trump and his current AG to say, basically, nothing to see here when there is plenty to read there if any one would take the time to read the Mueller Report or listen to the folks that have.
Nancy Pelosi "is putting up guardrails" if you believe the analysis at WAPO by Amber Phillips.
As leader of the House of Representatives, she has quite a bit of sway. She is the top elected Democrat in Washington. And she decides what bills her chamber votes on. The lawmakers in the House and Senate actually running for president — 11 in all — just get to vote.

So it's notable that under her leadership, the House hasn't voted on any big-government policy package championed by the Bernie Sanderses and Elizabeth Warrens of the world.

In May, the House voted on seven health-care bills designed to bandage Obamacare now that the Trump administration is trying to kill it by a thousand cuts. Not a single one of those bills would establish universal health care, even though Medicare-for-all is a defining policy debate of the 2020 presidential primary. Five of the seven senators running for president support a Medicare-for-all bill.

She also hasn't allowed a vote on the Green New Deal, a plan to tackle climate change with Roosevelt-era-style government-funded jobs, despite the fact that many 2020 candidates support some aspect of the plan. And she's held off her party from taking the first steps to impeach President Trump even though 67 House Democrats — and a number of presidential candidates — want to.

Pelosi's logic is simple. She's not thinking about the Democratic primary.

She believes the battle for her House and the White House next November will be waged in communities that voted for President Trump in 2016 such as in Rep. Elise Slotkin's Lansing, Mich., district or in Georgia where Rep. Lucy McBath got narrowly elected last year or in Iowa, where Rep. Abby Finkenauer is campaigning to stay elected after knocking off a Republican member of Congress. All three represent districts that voted for Trump in 2016 in states Trump won. None of them support impeachment of Trump.
You can tell all of this talk of impeachment is getting to Trump.  His tweets over the weekend were some of his most unhinged screeds to date.  He also spoke to the many reporters questioning him on the topic.
The ABC interview with Stephanopolous was shown in Full on Sunday and Trump's state of mind was on full display.  His usual "no collusion, witchhunt" rant seemed particularly hollow this weekend.  He's fired a group of his pollsters and is undoubtedly flipping out about the latest poll showing the public's move Impeachment Inquiry Curious.  This is from The Hill.
The report cited more than 100 contacts between the Trump campaign and Russia but said there was insufficient evidence to conclude there was a conspiracy. Investigators also did not make a determination on whether Trump obstructed justice, with Mueller saying it was because a sitting president cannot be prosecuted.

In the same interview, Trump waved off a letter in which more than 1,000 federal prosecutors said he would have been indicted for obstruction were he not a sitting president, saying the signatories were "politicians" and "Trump haters."

His interview was broadcast as a poll from NBC News and The Wall Street Journal found that support for impeachment hearings had increased 10 points since May, to 27 percent. The increase was largely driven by Democrats, 48 percent of whom now favor impeachment, up 18 points from last month.

The new poll found that the number of Americans who believe Congress should continue to investigate whether there is sufficient evidence to hold impeachment hearings fell 8 points to 24 percent.

A Fox News poll released Sunday, meanwhile, found that that 50 percent of respondents said they believe the Trump campaign coordinated with Russia, up 6 points from March. Forty-four percent of respondents said they don't believe there was collusion.

Half of that poll's respondents favored impeachment, with 43 percent supporting impeaching and removing Trump — a 1-point increase from March — and 7 percent endorsing impeachment but not removal, compared to 48 percent who opposed impeachment. The same survey found that 56 percent of respondents said it was "not at all" likely that Trump will eventually be impeached.

The surveys come amid increasing chagrin from the progressive wing of the Democratic Party over Speaker Nancy Pelosi's (D-Calif.) hard line against impeachment proceedings.
Heather Cox Richardson–writing for The Guardian–makes "The historical argument for impeaching Trump." It's a run down of all the times Republic Presidents pushed the envelope on the imperial presidency.
The question of impeaching Donald Trump is about replacing the toxic partisanship of today's Republican party with America's traditional rule of law. It has become a constitutional imperative.

Since Richard Nixon, Republican presidents have pushed the envelope of acceptable behavior under the guise of patriotism, and Democrats have permitted their encroaching lawlessness on the grounds of civility, constantly convincing themselves that Republicans have reached a limit beyond which they won't go. Each time they've been proven wrong.

Nixon resigned in 1974 because his attempts to cover up his involvement in the Watergate burglary made his obstruction of justice clear. Republican leaders warned Nixon that if the House of Representatives impeached him, the Senate would convict. Republican congressmen of the time believed in the rule of law.

Gerald Ford's subsequent pardon of Nixon was perhaps given in that spirit: when the law rules, it permits mercy. But the absence of a humiliating public exposure of Nixon's participation in Watergate, and the lack of a permanent bipartisan condemnation, gave Nixon loyalists cover to argue that he wasn't guilty of crimes. Instead they claimed Nixon had been hounded out of office by outlandish liberals determined to undermine him and the country.

Ever since, Republican extremists have employed this rhetoric whenever they break the law or erode constitutional norms.

When Ronald Reagan's administration was exposed for having illegally sold arms to Iran to raise money covertly for the Contra rebels fighting the Nicaraguan government, Reagan acknowledged that the evidence was damning – yet defended the principle behind the scheme. Reagan's successor, George HW Bush, pardoned the six leading figures of the Iran-Contra affair because, he said, "whether their actions were right or wrong", they were motivated by "patriotism". The investigation into their actions was "a criminalization of party differences".
Quite a rundown, isn't it?  Well, put that in light of the Trumpian window.
The same Republicans who had threatened to impeach Hillary Clinton remained silent when, immediately after his surprise victory, Trump refused to abide by laws about emoluments or nepotism, openly profiting from the presidency and filling the White House with personal relatives. They continued to remain silent when Trump fired the FBI director, James Comey, who was investigating Russian interference in the 2016 election, then pointedly pardoned Scooter Libby, saying he was "treated unfairly". They did not protest in February 2019 when the Trump administration openly defied the law by refusing to give Congress a required report on Saudi involvement in the murder of journalist Jamal Khashoggi.

By May of this year the White House was refusing to honor any congressional subpoenas on the grounds that "it's very partisan – obviously very partisan", as Trump told the Washington Post.

When the House committee on ways and means demanded Trump's tax returns under a law that leaves no wiggle room, Steven Mnuchin, the treasury secretary, nonetheless refused to deliver them, saying he saw no "legitimate legislative purpose" for such a request. An attempt by the executive branch to dictate to the legislative branch, the only branch of the American government that has the unilateral power to make law, is shocking, but Republicans stayed quiet. They also stayed quiet when Trump used declarations of national emergency to override laws passed by Congress, and on Monday the Trump White House asserted in court that Congress had no authority to determine whether the president has committed crimes.

Yet only one congressional Republican – Michigan's Justin Amash – has called for impeachment.

Special counsel Robert Mueller, investigating Russian interference in the 2016 election, provided ample evidence that the president should be investigated for obstruction of justice in his attempt to quell the Russia investigation by firing Comey and urging aides to lie. At the same time, Mueller reminded Americans that the constitution charges Congress with presidential oversight. Indeed, under current Department of Justice policy, a sitting president cannot be indicted; congressional oversight is the only way to rein in a lawless president.
It's a long, thoughtful essay.  You should read it all.  Yes, one Republican has called for impeachment still and yes, there's that pesky Dixon Memo again.
But back home in Michigan, many people who know Amash say they're not surprised at all by his willingness to go against his own party — even if that decision costs him his seat in Congress.

"Five-year-old Justin Amash was a lot like 39-year-old Justin Amash is like," says Jordan Bush, who first met Amash when they were in kindergarten.

Bush says Amash is diligent and intentional. Someone who doesn't bend his principles.

Other longtime friends echo similar sentiments. In high school, Amash became known for always finishing his homework, even if it meant his friends had to wait to hang out. Amash eventually went on to become valedictorian.

Amash's parents are both immigrants. His mother is originally from Syria. His father, Attallah, came to the United States in 1956 as a Christian refugee from Palestine.

"Justin just always had a keen sense of what was at stake in terms of what governments do or don't do, how much they interfere, how much they limit themselves," says Jessica Bratt Carle, who got to know Amash in high school.

By the time Bratt Carle and Bush got to know the Amash family, they had built a successful family business, which they still own.

"I think a lot of that work ethic," Bush says, "largely comes from his father."

When Justin Amash got elected to Congress, Bush served in his district office. He says he saw the same person there that he did in kindergarten.

"Justin is the least surprising representative in Congress once you have an understanding of how he views his role," Bush says.

That role, according to Bush, is to uphold the Constitution and protect individual liberty.

Amash is known as one of the more libertarian members of Congress. Some have speculated Amash could even dump the Republican Party to run as the presidential candidate for the Libertarian Party. Amash has not ruled out that move.

But for now, he remains in the Republican Party, despite his many disagreements with party leadership.

When the 448-page report by former special counsel Robert Mueller was released to the public in April, Amash initially gave no comment. He posted on Twitter that he would read the report "carefully and completely" before saying anything.

And for nearly a month, Amash said nothing.

Then, in a string of tweets posted on May 18, Amash gave his conclusions from the report.
He said the report showed President Trump engaged in impeachable conduct and that Attorney General William Barr intentionally misled people about what's in the report.
So, if you'd like cunning political commentary and a laugh to cheer you up then you should watch John Oliver whose commentary includes that impeachment talk is "effective hospice care" when a family with a father who died peacefully once they told him he Trump was impeached.  But, there's more than that … watch the clever comedian talk about Nancy Pelosi too.
With a national conversation underway about the possibility of impeachment, John Oliver discusses whether the benefits outweigh the potential risks.
And believe me, we all could use a good laugh at Trump's expense in these times.
Impeachment in no way Guarantees the removal of a President.
With that, I'll leave you to think on it and discuss. What's on your reading and blogging list today?
---