Monday Reads: You Learn Something every Day
Posted: December 23, 2019
Filed under: 2020 Elections, morning reads, Nancy Pelosi
38 Comments
Good Morning Sky Dancers!
It's Monday and let's hope it's a good one for a change!   I learned about two new yuletide critters this week and now I'm deep in thought about the universal idea of St Nick/Santa Claus/Hotei and all those pre christianity yule practices of a holy guy that walks around with a big ol bag with an endless supply of good stuff.
In the Buddhist paean,  this would be Hotei, the Happy Monk, who is endlessly mistaken by hapless westerners as the Buddha.  He's a type of Buddha but not the one that god centric folks think is some god substitute.  He isn't. There's no creator god anywhere in Buddhism.  We, are in fact, all made of Buddha nature and headed that direction so at this point there are endless Buddhas.  But, back to Hotei and his happiness and his sack that never empties out.   I'm not sure how he eventually wound up to be the statue whose belly you rub for good luck or why leaving gifts of oranges and things on him at an altar is supposed to help your gambling luck or provide you with showers of gold coins but I'll leave that to the folks that study that.
I was drawn to Hotei/Budai as a kid and even have the two small statues my mother had in a shadow box sitting on my bookshelf.  I named one Zen and the other Buddha. Both still sport the child handwriting in blue pencil on the bottom with their names.  I'm not exactly sure how I came up with those names at that age, but I did.  There's another Buddhist idea of a wish fulfilling jewel which is a lot like having your own personal wishing star that works.
I'm just amazed that many cultures have developed similar characters.  Some of many gods, some have no gods. and some have one god.  But, they all have the equivalent of a generous guy that travels around bestowing gifts.  It's a universal myth seeming to spontaneously develop in many places or travelling by story and winding up entering another mythos.   American Santa Claus appears to be the latest emanation. I still have a partiality to Father Christmas or Pere Noel.  But, that's me!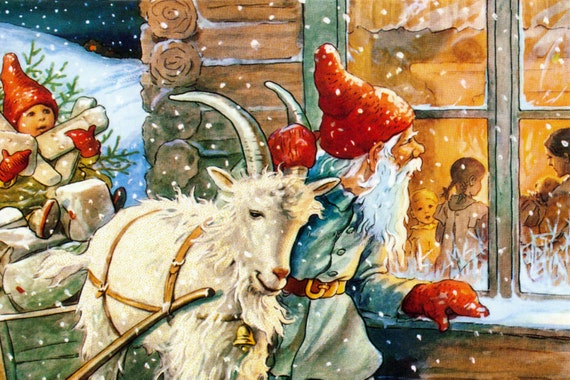 Budai showed up around 916 a.d. and may be related to an actual wandering monk in China from around the period.  Us Westerners are more familiar with St Nick who may have been the role model for the modern Santa.  He was said to be Saint Nicholas of Bari who was an early Christian bishop in ancient Greece. He dates back to around 343.  So, it appears the legends of generous wandering holy men took hold and started spreading.  Many even connect the entire thing back to Saturn and some of the early Greek/Roman Gods. 
I'm just thinking we all need somebody good to pin our hopes on but we also seem to need an offset.  Sorta of a ying to Santa's yang.  I found out that in Sweden Santa trots around on a yule goat (Julbocken) which is actually a pagan symbol connected to Thor but now is connected to the Nordic/Germanic St Nick. So, a goat is Santa's helper in Sweden.  So, Santa may actually be based on Odin too and you may read that here.
And, thanks to Ann, I've discovered the Yule Cat of Iceland who has some connection to Krampus which has been my latest fascination with pagan yule festivities.  So, enjoy these pictures of the Yule Cat (Jólakötturinn) and be glad he didn't visit your house this year. The Yule Cat appears to have shown up sometime during the 1600s and steals away children–like Krampus–if they've been horrid for that year.  Ah, isn't religion grand!
There are actually a lot of monsters associated with Christmas/Yule.  Who knew?  Go read about 8 of them at that link and turn your yule into scary story event!
I'm surprised the Yule Cat didn't get to Mar a Lago this year.  He'd have had a blast.
The death of Washington Post journalist Jamal Kashoggi and the way the Trumpist regime has enabled it continue to stain our country's reputation.  Five men were sentenced to death in Saudia Arabia for his death but that's not true justice. WAPO reports this today from Istanbul.
The verdicts came after a trial in Riyadh's criminal court that lasted nearly a year and was largely shrouded in secrecy, with sessions closed to the general public. Human rights groups warned that the lack of transparency made the proceedings unfair, and increased the likelihood that senior officials could escape justice.

Diplomats from the United States, Turkey and several other countries were allowed to attend but told not to reveal details of the trial. Members of Khashoggi's family also attended, according to Shalaan al-Shalaan, a spokesman for the Saudi public prosecutor.

In addition to the five people who received the death penalty, three more people were sentenced to jail terms totaling 24 years, Shalaan said. He did not name any of the convicted defendants. The death sentences must be confirmed by higher courts before they may be carried out, he said.

The CIA concluded last year that the crown prince had ordered Khashoggi' s assassination, contradicting Saudi Arabia's insistence that Mohammed had no knowledge of the plot. However, Saudi authorities said they were investigating the roles played by two senior aides to the crown prince in organizing and dispatching the team of agents who killed Khashoggi.

Shalaan said Monday that the two senior aides — Saud al-Qahtani and Ahmed al-Assiri — had been exonerated.
I'm thinking this may be a bit of agreement on Kushner and Trump's part to let the Saudis go as long as they interfere in our elections. This Eli Clifton  headline really got me thinking today: "Purged Saudi Government-backed Twitter Accounts Urged U.S.-Led Regime Change in Iran, Deflected Responsibility for Khashoggi Murder."  They seem to be joyously interfering a la the Russians in everything!
A review of comprehensive data tied to nearly 6,000 Saudi-linked Twitter accounts has found a manipulation campaign targeting its English language messages at President Donald Trump, urging regime change in Iran, whitewashing Saudi human rights abuses in Yemen, and deflecting responsibility for the murder of Washington Post columnist Jamal Khashoggi away from the Saudi government.

Twitter announced on Friday that it had removed the accounts, saying they violated "platform manipulation policies." Twitter also said the accounts were the "core portion of a larger network of more than 88,000 accounts engaged in spammy behaviour across a wide range of topics," adding that "[r]igorous investigations by our Site Integrity team have allowed us to attribute these accounts to a significant state-backed information operation on Twitter originating in Saudi Arabia."

The accounts, which produced and amplified more than 29 million tweets, were operated by Smaat, a social media marketing company based in Saudi Arabia. Twitter reported, "Our in-house technical indicators show that Smaat appears to have created, purchased, and/or managed these accounts on behalf of — but not necessarily with the knowledge of — their clients. We have permanently suspended Smaat's access to our service as a result, as well as the Twitter accounts of Smaat's senior executives. Smaat managed a range of Twitter accounts for high-profile individuals, as well as many government departments in Saudi Arabia."

Smaat's client list includes a number of Saudi government ministries and high-profile Saudi institutions, according to the company's marketing materials. Smaat's website was taken offline after Twitter made its announcement, but a promotional presentation, previously available on the website, listed as clients the Saudi Ministry of Commerce and Investment, Saudi Crown Prince Mohammad bin Salman's Vision 2030 economic development program, the Saudi Ministry of Health, Saudi Aramco, the Saudi Ministry of Finance, the Saudi General Entertainment Initiative, and Alwaleed Philanthropies, a charity overseen by Prince Al-Waleed bin Talal bin Abdulaziz al Saud. Alwaleed was actually an early investor in Twitter and owns more than three percent of the company.
You can read the rest of the analysis at Responsible Statecraft.   Marcy Wheeler has also been following the connection between George Nader and the Saudi Regime.  His testimony may be damaging to both the Trumpist regime and the Saudi.
Brad Heath spotted this Beryl Howell opinion granting George Nader's request to get a copy of his own grand jury transcript.

We can be sure it's Nader because of the details she includes: Someone currently jailed for crime with significant mandatory minimums charged using evidence from a phone seized in the Mueller investigation, awaiting trial early next year. The person provided testimony with immunity on four occasions in February and March 2018.

That all fits Nader and only Nader.

In my continuing interest in tracking the dregs of the Mueller investigation, several details are of interest. Howell describes that his transcript is 900 pages long. Several of the redactions suggest Nader may need the transcripts to craft a defense in potential additional charges, which would more obviously raise a need to consult the transcript and the limits of his immunized testimony. And, the government claims that Nader was asked "questions regarding ongoing investigations."

That's not surprising in the least. Nader's testimony touched on so many crimes it is unsurprising some of them remain active investigations (note the attached picture, which shows Nader with Jared Kushner and Mohammed bin Salman.

The question is how he wants to use this transcript. It's possible he needs it to argue that potentially pending charges against him are improperly based on immunized testimony (and as such wants to eliminate criminal exposure before making the best plea deal he can).  Or it's possible he wants the transcript to be able to explain the risks any cooperation he'd offer would pose to powerful people.
Good Question.  And here's some hope for the New Year!
I'm not sure you've been following this story but the Center for Public Integrity may have found a smoking gun.  Key portions are blacked out which likely means someone in Congress or the Press will have to move on this.
To learn more, Public Integrity in late September petitioned the Office of Management and Budget and the Defense Department for copies of their communications about the aid halt. But the Justice Department so far – in two document releases on Dec. 12 and 20 — has chosen to conceal key passages in those documents. And the federal district court judge overseeing the case, Colleen Kollar-Kotelly, on Dec. 18 set a schedule for reviewing Public Integrity's appeal that makes a final determination of the request unlikely to occur before March.

According to some of those involved in the funding halt, officials were deeply worried from the outset that a delay even for a few weeks could make it hard to ensure all the money was spent by that Sept. 30 deadline. DOD Comptroller Elaine McCusker, for example, noted what she called "increasing risk of execution" in an email on Sept. 5 to the Pentagon's top lawyer and policy officials, among others, meaning she was worried the money could not all be spent by the end of the month.

After robust internal discussions, she and other officials did their best to carry out the policy, temporarily, by ordering a series of short-term holdups in the funding, while affirming in writing that they still planned to disburse it soon.

They specifically undertook an unusual maneuver, stopping the disbursements by adding a rare footnote to spending documents for Pentagon operations and maintenance efforts, which declared the Ukraine funding in particular was being held up for a week at a time. Then, over a period of about seven weeks, they tacked the footnote again and again onto eight such documents, each time as a temporary measure.

An unnamed lawyer at OMB, not wanting to participate in what appeared to be an illegal funding policy, decided to quit, as did another OMB official, according to congressional testimony by Mark Sandy, the office's deputy associate director for national security and a 12-year veteran at the agency. OMB spokespeople have disputed the account, saying the resignations were not over the policy.
Bottom line for this comes from Chris Murphy of Connecticut.  It kinda looks like a smoking gun to me!
I suppose the thing we should be very thankful for is that the entire remaining Trumpist players are not very bright but very very open and obvious.   How's this for saying it's not a 'smoking gun'  but a 'confession'?
So, yes Virginia! There is a Santa Claus! But, there are also Christmas monsters!  It also appears that we can add the Mar a Lago Swamp Monster to the list!
So, my final read recommendation is this from the UK Guardian: "Nancy Pelosi: the woman who stood up to Trump".
It was not how Pelosi, who once said Trump was "not worth" impeaching, had hoped to end a year that began with her historic, second ascension to the speakership. Pelosi, the first – and only – woman ever to serve as Speaker of the House, would rather be remembered for legislative accomplishments – the Affordable Care Act above all – than for impeachment. But Trump, Pelosi said, left her "no choice". She quoted Thomas Paine: "The times have found us."

In the wake of Trump's impeachment, however, Democrats believe there was perhaps no leader better suited to the times.

"She is, thank God, the exact right person in the right place at the right time," said Leon Panetta, a former defense secretary and CIA director and a California native who's known Pelosi for decades. "I'm not sure anybody else would have had the experience or capability to be able to do what she has done."

"Donald Trump really has met his match with Nancy," Panetta added.

Her grace under fire as speaker has earned comparisons to Sam Rayburn, the country's longest-serving speaker, who died in 1961. One Democrat called her an "as good or better" legislative leader than Lyndon Johnson, who was a Senate majority leader before he was president.

And when the question is asked whether a female presidential candidate can beat Trump in 2020, the Democrats point to Pelosi, who "does it every single day".

Even Senator Lindsey Graham, one of Trump's fiercest defenders these days, is impressed. In an interview with CNN decrying the impeachment process, the South Carolina senator called it "quite a feat" that she was able to advance bipartisan legislation even as efforts to remove Trump cleaved the House – and the nation.
If there is a wish fulfilling jewel or a bag of endless gifts, I would like to ask it for one thing.  Impeachment for Pence and Trump followed by the Speaker of the House taking the Oval Office.  If I was really going to get greedy, I dream she goes back to her Speakership by resigning in favor of Hilary Clinton.
Isn't great to have a dream during the longest night of the year?
What's on your reading and blogging list today?
---