Posted: May 11, 2018
Filed under: Black Lives Matter, Civil Rights, Domestic Policy, domestic surveillance drones, Domestic terrorism, Donald Trump, morning reads, Rape Culture
42 Comments
It's Friday Sky Dancers!  It's the day of the week when the news cycle goes bonkers. But, of course, it's only because what's going on in our country makes it so.  WTF is wrong with White People?  Haven't we learned anything? If any of our Sky Dancers of Color would like to start actively writing on the front page please let us know! I can write about all of this but only as some one who watches and learns. That's not the vantage point that needs to be heard.  We know of all the white supremacist activity that's been happening around the country.  So, why is the FBI focused on this?
This is horrifying:  From the Guardian: 'Black activist jailed for his Facebook posts speaks out about secret FBI surveillance.  Exclusive: Rakem Balogun spoke out against police brutality. Now he is believed to be the first prosecuted under a secretive US effort to track so-called 'black identity extremists' '
Rakem Balogun thought he was dreaming when armed agents in tactical gear stormed his apartment. Startled awake by a large crash and officers screaming commands, he soon realized his nightmare was real, and he and his 15-year-old son were forced outside of their Dallas home, wearing only underwear.

Handcuffed and shaking in the cold wind, Balogun thought a misunderstanding must have led the FBI to his door on 12 December 2017. The father of three said he was shocked to later learn that agents investigating "domestic terrorism" had been monitoring him for years and were arresting him that day in part because of his Facebook posts criticizing police.

"It's tyranny at its finest," said Balogun, 34. "I have not been doing anything illegal for them to have surveillance on me. I have not hurt anyone or threatened anyone."

Balogun spoke to the Guardian this week in his first interview since he was released from prison after five months locked up and denied bail while US attorneys tried and failed to prosecute him, accusing him of being a threat to law enforcement and an illegal gun owner.

Balogun, who lost his home and more while incarcerated, is believed to be the first person targeted and prosecuted under a secretive US surveillance effort to track so-called "black identity extremists". In a leaked August 2017 report from the FBI's Domestic Terrorism Analysis Unit, officials claimed that there had been a "resurgence in ideologically motivated, violent criminal activity" stemming from African Americans' "perceptions of police brutality".

The counter-terrorism assessment provided minimal data or evidence of threats against police, but discussed a few isolated incidents, notably the case of Micah Johnson who killed five officers in Texas. The report sparked backlash from civil rights groups and some Democrats, who feared the government would use the broad designation to prosecute activists and groups like Black Lives Matter.

Balogun, who was working full-time for an IT company when he was arrested, has long been an activist, co-founding Guerrilla Mainframe and the Huey P Newton Gun Club, two groups fighting police brutality and advocating for the rights of black gun owners. Some of the work included coordinating meals for the homeless, youth picnics and self-defense classes – but that's not what interested the FBI.
Then, watch this:
From Elle Magazine: 'A Dusty Congressman Tried to Reclaim Rep. Maxine Waters' Time; It Didn't Go Well'.
Hello and welcome to another edition of America's favorite game show, They Really Tried It, with your host, Representative Maxine Waters. Today's contestant is Rep. Mike Kelly of Pennsylvania (R) who, on Tuesday, took it upon himself to point his finger at Rep. Waters, shake it like a Polaroid picture, and tell her to stop talking about discrimination.

I'm already exhausted. In a video that comes from @FCSDems, an informational service that also doubles as a Maxine Waters fan account, Kelly attempts to call Waters out but it goes straight to voicemail. Waters, in turn, reminds him and all of us, just who she is. In so doing, she also coins a new catchphrase for the kids, but we'll get to that in a second.

Rep. Kelly, who in the video of the exchange is the kind of hype you imagine Twitter trolls with three followers are, really thought that he could take it upon himself to tell Rep Waters, well, anything. Well, audience, we have the results and it turns out, he could not.

The dispute started, as most basic misunderstandings of intersectionality do, with a discussion of auto lending. The Trump administration and Congressional Republicans are trying to roll back Obama-era legislation (how many times has that phrase been written) that prevents auto lenders from discriminating against potential buyers. The legislation, S.J. Res. 57, seeks not only to repeal the guidelines and permanently prevent Congress from ever again enacting anything similar.

Trump seems hellbent on rolling back everything that President Obama did. Tomorrow he's outlawing tan suits and next week he's rolling back the death of Fidel Castro and putting Cuba back on the no-no list. It's amazing to witness the work of a president whose policy handbook comes straight from Biff Tannen of Back to the Future. I would not be surprised to find out Trump is working on a time machine so that he can go back and prevent Obama's birth. I'm fine with that, actually, because he'd send himself back to Kenya in 1961 and spend the rest of his days fruitlessly nosing around hospitals like a low-rent Herod.

Back in the present, Rep. Kelly wasn't satisfied to just make whatever point he had about keeping all the Whos in Whoville from enjoying Christmas, and thought it was a good time to lecture Waters. "We're making America great," he said, apparently without irony. "And the best way to do that is to stop talking about discrimination."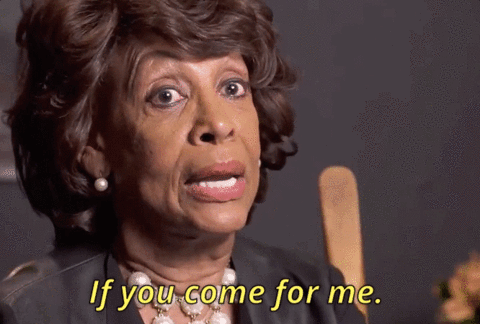 Lest we forget how bad white male privilege can get, let's wander on down into the swamp of the local level in states like mine. Here's The Advocate showing how one state Representative from Louisiana managed to offend every woman representative in the entire body.
An effort to describe how Louisiana's female prisoners should be treated sparked testy exchanges in the House, as a male lawmaker criticized the measure as offering unequal treatment to women and men.

The bill would require female prisoners to have access to feminine hygiene products at no cost, amid concerns some women have been forced to pay for them. The measure also would limit when male prison guards can conduct a pat-down or body cavity search on a woman and add guidelines for how male guards enter areas of a prison where women are undressed.

Rep. Kenny Havard responded with an amendment to place similar limits on how female prison guards deal with male prisoners. It provoked an outcry from female lawmakers, who called it disrespectful. Havard withdrew the proposal.

Havard. R-St. Francisville, made international news in 2016 when he attempted to amend legislationaimed at setting a minimum age for strippers with weight restrictions. Havard, at the time, said his stripper amendment was a misfired criticism about bills that are too intrusive.
That's the Cliff Notes version. Here's some details from my friend Melinda DeSlatte who covers the lege for AP.
A Louisiana lawmaker sparked complaints Thursday that he disrespected women by criticizing legislation that recommends how female prisoners should be treated.

The bill up for debate would require female prisoners to have access to feminine hygiene products at no cost, amid concerns some women have been forced to pay for them. The measure would limit when male prison guards can conduct a pat-down or body-cavity search on a woman. And new guidelines would describe how male guards should enter areas where women may be undressed.

Rep. Kenny Havard, a St. Francisville Republican, responded with an amendment to place similar limits on how female prison guards could deal with male prisoners. The proposal provoked an outcry and some shouting from female lawmakers, and Havard withdrew the amendment before the House ultimately approved the bill.

"Rep. Havard, have you ever been a woman?" Rep. Julie Stokes asked during the debate.

"I was at Halloween one time," Havard replied.

Stokes, a Kenner Republican, then told him that women have "biological things" that make life "a bit harder."

"In my opinion, you're disrespecting women," Stokes told Havard.

Rep. Patricia Smith, a Baton Rouge Democrat, echoed the complaints, citing rapes of female inmates.

Men get raped in prison, too, Havard replied.

Havard said he was merely trying to make a point that men and women should be treated equally. He also raised concerns that the bill could make it harder to monitor female prisoners for contraband and other improper activities. And he complained about news coverage of earlier comments he made about having too many female prison guards for male prisoners.

"My point that I'm trying to make here is we have to find a way to fund these prisons so we aren't short-handed," Havard said.
After Havard withdrew his amendment, the bill sponsored by Sen. Regina Barrow, a Baton Rouge Democrat, passed with a vote of 86-0.

Republican House Speaker Taylor Barras chastised his colleagues: "OK, members, we're getting to the end of the day. The decorum is falling apart."
So, this is part of a nationwide Trumpsterfire to dismantle anti-discrimination laws that aggrieve white men and their captive wives, it seems. The ACLU is "Suing Ben Carson for Trying to Dismantle the Fair Housing Act". That one is of particular interest to KKKremlin Caligula since Daddy and junior were successfully found guilty of violating it many times over.  It also has an Obama link and of course, Hair Furor has to actively destroy all things Obama.
It is no accident that much of the United States remains segregated. Decades of slavery, Jim Crow laws, discriminatory lending practices, and intentional policy choices at the federal, state, and local level — most of which were enacted within the last 80 years — helped make it so.

The Fair Housing Act, passed in 1968, just a week after Martin Luther King, Jr. was assassinated, was meant to address the decades of discrimination that led to such segregation. The FHA made it illegal to discriminate against anyone buying or renting a house because of their race, color, religion, sex, or national origin (it's since been amended to include family status and disability, too). But it also sought to replace segregation in America with "truly integrated and balanced living patterns" by requiring agencies to "affirmatively" further fair housing in all programs related to housing.

The FHA brought about a sea change with respect to individual housing discrimination — Americans today would be shocked to find an apartment listing that indicated Black people or women with children could not apply. But its promise of integrating neighborhoods has been left largely unfulfilled. As former Vice President Walter Mondale, who co-authored the legislation, pointed out recently in a New York Times op-ed, the FHA is the "most ignored" of the era's civil rights laws.

It seems like Secretary Ben Carson, head of the Department of Housing and Urban Development, would like to keep it that way. In January, the agency suspended the only regulation to ever give the FHA real leverage in ending segregation. The move puts housing integration in serious jeopardy, so we're challenging it in court.

Since it was enacted, successive presidential administrations largely ignored their affirmative obligations to create fair housing, allowing federal government dollars to flow uninterrupted to cities and towns that have policies in place that maintain segregation. Then, in 2015, the Obama administration finally began to seriously address this issue by putting in place a regulation called the Affirmatively Further Fair Housing (AFFH) Rule. The rule required cities and towns to create a plan to address segregation and discrimination and to lay out concrete goals for bringing fair housing and opportunity to members of all the groups protected by the FHA before receiving government money. Examples of these goals include building affordable housing in areas well-served by transit and prohibiting landlords from discriminating against people who use a government subsidy to pay part of their rent.
Shall we head on up to the head of the beast?  This is from Think Progress: White House chief of staff demonizes immigrants in racist rant.  Xenophobia doesn't get more hackneyed than this.' 
In a wide-ranging interview with NPR, White House Chief of Staff John Kelly shared some rather racist views to justify the Trump administration's new "zero tolerance" policy on illegal border crossings.

Defending an approach that will split up families, Kelly explained that he thinks these immigrants don't really fit in with United States culture anyway:

Let me step back and tell you that the vast majority of the people that move illegally into United States are not bad people. They're not criminals. They're not MS13. … But they're also not people that would easily assimilate into the United States, into our modern society.

Concerns about immigrants' ability to assimilate with American society have been used repeatedly throughout the country's history to justify barring different groups from immigrating. For example, the Chinese Exclusion Act, a law that prohibited all immigration of Chinese laborers from 1882 until 1943, was passed because Chinese immigrants were blamed for the depressed wages that followed the Gold Rush and Civil War. In 1890, the New York Times printed an article that explained that while "the red and black assimilate… not so the Chinaman."
Let's just head back to an article from The Atlantic from 2016.  We've known all along that Make America Great Again and all Donald Trumps associated rhetoric harkens back to the KKK and to anti immigrant fever from times not as far back as we thought.  "Make America White Again? Donald Trump's language is eerily similar to the 1920s Ku Klux Klan—hypernationalistic and anti-immigrant."
This has happened before. As The Atlantic's Yoni Appelbaum pointed out, the Republican front-runner's refusal to repudiate white supremacists' support as well as the bombast in his campaign are both echoes of the Ku Klux Klan. As a historian of the 1920s Klan, I noticed the resonances, too. Trump's "Make America great again" language is just like the rhetoric of the Klan, with their emphasis on virulent patriotism and restrictive immigration. But maybe Trump doesn't know much about the second incarnation of the order and what Klansmen and Klanswomen stood for. Maybe the echoes are coincidence, not strategy to win the support of white supremacists. Maybe Trump just needs a quick historical primer on the 1920s Klan—and their vision for making America great again.

In 1915, William J. Simmons, an ex-minister and self-described joiner of fraternities, created a new Ku Klux Klan dedicated to "100 percent Americanism" and white Protestantism. He wanted to evoke the previous Reconstruction Klan (1866-1871) but refashion it as a new order—stripped of vigilantism and dressed in Christian virtue and patriotic pride. Simmons's Klan was to be the savior of a nation in peril, a means to reestablish the cultural dominance of white people. Immigration and the enfranchisement of African Americans, according to the Klan, eroded this dominance and meant that America was no longer great. Simmons, the first imperial wizard of the Klan, and his successor, H.W. Evans, wanted Klansmen to return the nation to its former glory. Their messages of white supremacy, Protestant Christianity, and hypernationalism found an eager audience. By 1924, the Klan claimed 4 million members; they wore robes, lit crosses on fire, read Klan newspapers, and participated in political campaigns on the local and national levels.

To save the nation, the Klan focused on accomplishing a series of goals. A 1924 Klan cartoon, "Under the Fiery Cross," illustrated those goals: restricted immigration, militant Protestantism, better government, clean politics, "back to the Constitution," law enforcement, and "greater allegiance to the flag." Along with the emphases on government and nationalism, the order also mobilized under the banners of vulnerable white womanhood and white superiority more generally. Nativism, writes historian Matthew Frye Jacobson in Whiteness of a Different Color, is a crisis about the boundaries of whiteness and who exactly can be considered white. It is a reaction to a shift in demographics, which confuses the dominant group's understanding of race. For the KKK, Americans were supposed to be only white and Protestant. They championed white supremacy to keep the nation white, ignoring that citizenry was not constrained to their whims.
This was the movement that attracted Donald's Daddy Dearest.
Every day, a monumental 20th century stride towards making our union more perfect with the goal of inclusion is being torn down.  Voting while we can has never been more important.
Oh, and Don't forget!  If you're black and you stay at an Air BNB be sure to smile and wave and maybe shuck and jive so the white people know you're not a Black Panther!!!
And if you're a black graduate student who falls asleep in your own dorm … well, I don't know what you have to do for this little white girl. She calls the cops on every black person around her …
It's a familiar story. A black person is minding their own business. A white woman notices them and calls the cops.

The latest event in a long historical pattern took place at Yale University this week (paywall). A black graduate student, Lolade Siyonbola, was taking a nap in her dorm's common room on Monday night after an evening writing papers. A white woman who also lives in the dorm noticed Siyonbola sleeping, told her she was not supposed to be there, and called campus security. "I have every right to call the police. You cannot sleep in that room," the woman said in the first of two Facebook videos posted by Siyonbola.

The fallout is captured in a 17-minute Facebook video posted by Siyonbola, which now has more than 600,000 views. She shows the campus officers her room key and unlocks her apartment; the officers press her to produce identification, while Siyonbola questions whether the request is justified. Once the officers verify her identity, they leave.

The incident is the latest in a string of high-profile incidents that have exposed a troubling, often-overlooked truth about racial discrimination in the US. The Black Lives Matter movement intensified focus on police brutality in black communities, which tends to involve white male police officers' violence against black men, sometimes with deadly results. But Siyonbola's experience highlights the fact that white women play a role in encounters between the police and black Americans, too. Again and again, the news cycle highlights stories of white women who felt threatened by the mere presence of a black person in a public space, and called the cops.
And don't go any here near your local Neighborhood phone Ap Nextdoor because it will be an endless stream of black people sightings including kids just trying to walk home from school even in my 9th ward New Orleans neighborhood.
You may want to read this and think on it. From the Guardian: "How white women use strategic tears to silence women of colour" by Ruby Hamad.
At the Sydney writers' festival on Sunday, editor of Djed Press, Hella Ibrahim, relayed the final minutes of a panel on diversity featuring writers from the western Sydney Sweatshop collective. One of the panellists, Winnie Dunn, in answering a question about the harm caused by good intentions, had used the words "white people" and "shit" in the same sentence. This raised the ire of a self-identified white woman in the audience who interrogated the panellists as to "what they think they have to gain" by insulting people who "want to read their stories."

In other words, the woman saw a personal attack where there wasn't one and decided to remind the panellists that as a member of the white majority she ultimately has their fate in her hands.

"I walked out of that panel frustrated," Ibrahim wrote. "Because yet again, a good convo was derailed, white people centred themselves, and a POC panel was told to police it's [sic] tone to make their message palatable to a white audience."
What's on your reading and blogging list today?  And the offer to extend the front page is open to really any one.  We're having a hard time keep up with things here since so much of what we care about is basically under fire.
I was thrilled to find so many local governments running kids' art projects for Fair Housing themes.  These are some selections from Greensborough, NC,  and Portland, Oregon.
---