Friday Reads: The Trump Family Crime Syndicate Strikes Again and Again and Again!
Posted: April 3, 2020
Filed under:
Afternoon Reads
| Tags: #KushnerForPrison2021, Nepotism
15 Comments

Good Day Sky Dancers!
It's very difficult to think about how much the current administration is doing wrong during this crisis because it is costing lives.  Nepotism in the White House is as rampant and as insidious as the virus itself.  It basically puts lives and treasure in the hands of those least prepared to do the right thing.  As usual, the lack of basic human decency and character at the top has once again brought us into the cursed hands of Jared Kushner.
From Today's NYT: "Kushner Puts Himself in Middle of White House's Chaotic Coronavirus Response. President Trump's son-in-law has become a central player in the administration's effort to curb the pandemic. But critics say he is part of the problem." 
At one of the most perilous moments in modern American history, Mr. Kushner is trying in a disjointed White House to marshal the forces of government for the war his father-in-law says he is waging. A real estate developer with none of the medical expertise of a public health official nor the mobilization experience of a general, Mr. Kushner has nonetheless become a key player in the response to the pandemic.

Because of his unique status, he has made himself the point of contact for many agency officials who know that he can force action and issue decisions without going to the president. But while Mr. Kushner and his allies say that he has brought more order to the process, the government's response remains fragmented and behind the curve.

Some officials said Mr. Kushner had mainly added another layer of confusion to that response, while taking credit for changes already in progress and failing to deliver on promised improvements. He promoted a nationwide screening website and a widespread network of drive-through testing sites. Neither materialized. He claimed to have helped narrow the rift between his father-in-law and General Motors in a presidential blowup over ventilator production, one administration official said, but the White House is still struggling to procure enough ventilators and other medical equipment.

Perhaps most critical, neither Mr. Kushner nor anyone else can control a president who offers the public radically different messages depending on the day or even the hour, complicating the White House's effort to get ahead of the crisis. One moment Mr. Trump is talking about reopening the country by Easter, the next he is warning of more than 100,000 deaths. In the afternoon, he threatens to quarantine tens of millions of people in the Northeast, then in the evening he backs down.

In an interview, Mr. Kushner would not discuss the president's actions but said he viewed himself as an enabler of government agencies to overcome obstacles. "From the White House, you can move a lot faster," he said. "I've put members of my team into a lot of components. What we've been able to do is get people very quick answers."

But to some in the agencies, his team's arrival has only exacerbated an already dysfunctional situation. In recent days, administration officials said, the Federal Emergency Management Agency, which traditionally coordinates the government's responses to disasters, has received surprise directives from the White House — including to dispatch deliveries of medical equipment to states that had not even submitted formal requests based on which governor got Mr. Trump on the telephone.
Today, CREW announced an effort to shine light on Kushner's activities and possible profiteering.
Kushner's deep involvement in President Trump's re-election campaign from the White House has been widely reported. Kushner reportedly is "positioning himself now as the person officially overseeing the entire [Trump] campaign from his office in the West Wing, organizing campaign meetings and making decisions about staffing and spending." He also reportedly oversees several elements of the campaign, including fundraising, strategy and advertising. Kushner has not shied away from touting his involvement in President Trump's re-election campaign over the past year. admitting to working "to set goals and objectives" for his father-in-law's presidential campaign.

As recently as March 2020, Kushner was scheduling meetings alongside President Trump, Hope Hicks and campaign staff inside the White House on polling numbers. While the coronavirus crisis derailed the meeting before the presentation began, Kushner's inclusion in the meeting indicates he continues to overlap his official and campaign duties.

"OSC needs to investigate Kushner's behavior to ensure that he is complying with the Hatch Act," said Bookbinder. "There is no room in our government for top officials who deliberately violate ethics laws."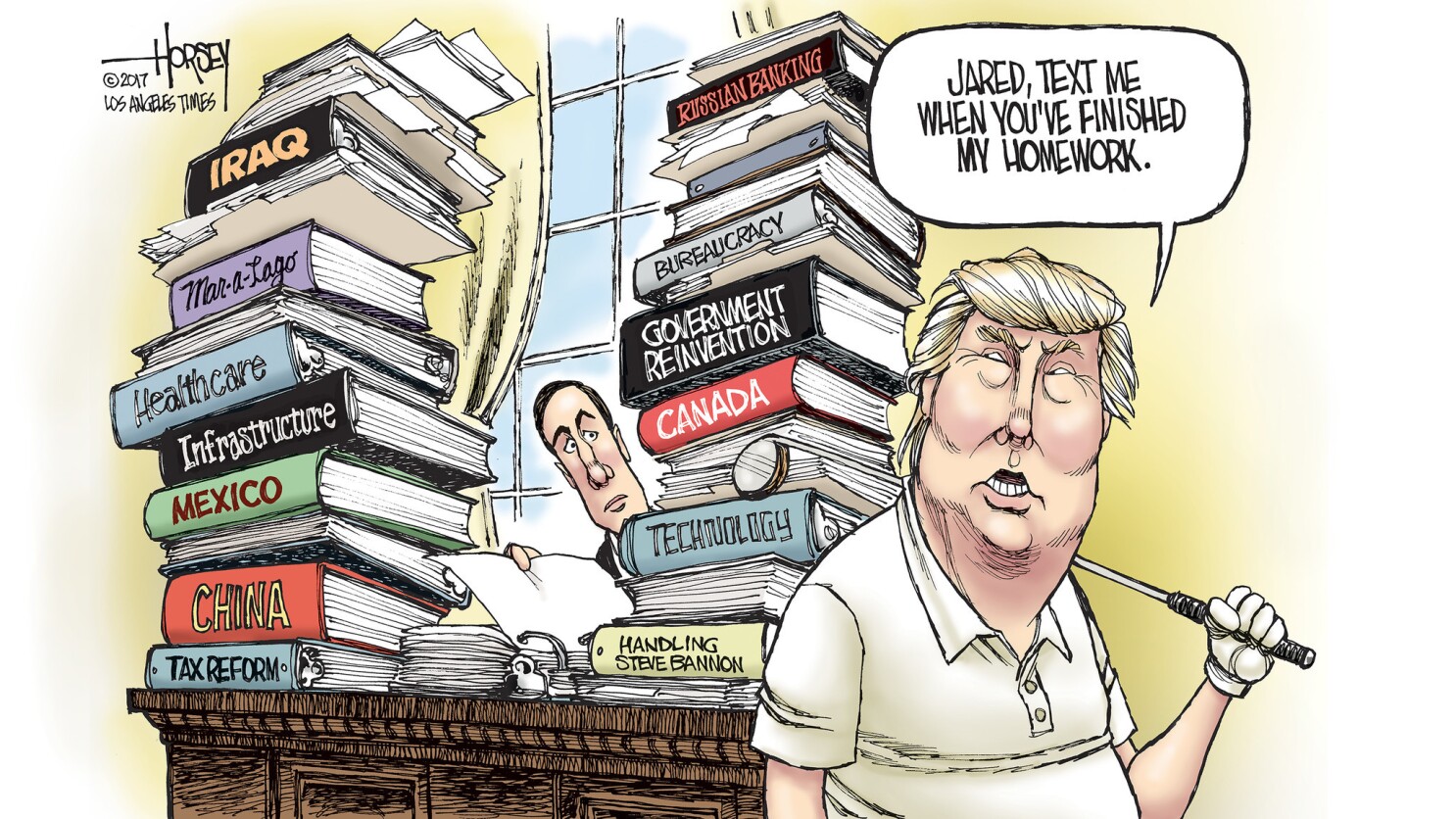 Michelle Goldberg is even more adept at explaining why Kushner is the last person you would want injected into this process.
Reporting on the White House's herky-jerky coronavirus response, Vanity Fair's Gabriel Sherman has a quotation from Jared Kushner that should make all Americans, and particularly all New Yorkers, dizzy with terror.

According to Sherman, when New York's governor, Andrew Cuomo, said that the state would need 30,000 ventilators at the apex of the coronavirus outbreak, Kushner decided that Cuomo was being alarmist. "I have all this data about I.C.U. capacity," Kushner reportedly said. "I'm doing my own projections, and I've gotten a lot smarter about this. New York doesn't need all the ventilators." (Dr. Anthony Fauci, the country's top expert on infectious diseases, has said he trusts Cuomo's estimate.)

Even now, it's hard to believe that someone with as little expertise as Kushner could be so arrogant, but he said something similar on Thursday, when he made his debut at the White House's daily coronavirus briefing: "People who have requests for different products and supplies, a lot of them are doing it based on projections which are not the realistic projections."

Kushner has succeeded at exactly three things in his life. He was born to the right parents, married well and learned how to influence his father-in-law. Most of his other endeavors — his biggest real estate deal, his foray into newspaper ownership, his attempt to broker a peace deal between the Israelis and the Palestinians — have been failures.

Undeterred, he has now arrogated to himself a major role in fighting the epochal health crisis that's brought America to its knees. "Behind the scenes, Kushner takes charge of coronavirus response," said a Politico headline on Wednesday. This is dilettantism raised to the level of sociopathy.
I don't think the Kushners are going to be able to return to NYC ever frankly. Seth Meyers even got into the pile one (Via Vanity Fair).
White House senior advisor and President Donald Trump's son-in-law Jared Kushner made his first appearance at the White House coronavirus briefing on Wednesday, one day after Vanity Fair reported he had taken a larger role in the government response to the health crisis—with a particular interest in the supply of ventilators available to each state, and the federal government's role in procuring more.

"The notion of the federal stockpile was, it's supposed to be our stockpile. It's not supposed to be states' stockpiles that they then use," Kushner said on Wednesday. He later added, "Some governors you speak to or senators, and they don't know what's in their state." The comments were roundly criticized on social media, but kept consistent with what Vanity Fair's Gabriel Sherman has reported about Kushner's response to New York governor Andrew Cuomo, who has plead for more than 30,000 ventilators. (Dr. Anthony Fauci has confirmed that number as well). "I have all this data about ICU capacity. I'm doing my own projections, and I've gotten a lot smarter about this. New York doesn't need all the ventilators," Kushner reportedly said during a White House meeting, according to a person present.

On Thursday's edition of Late Night, Seth Meyers provided a response to Kushner's purported comment. "Oh, you're doing your own projections? Did your parents just buy you a TI-84?" he asked. "You're not qualified to do anything, let alone tell New York how many ventilators they need. You're a nepotism case, and you only got the White House job because you married into the family, and because the security guards believed your fake ID."

Meyers mocked Kushner relentlessly during the tail end of his latest A Closer Look segment, referring to him as the person in charge of "this shitshow" and joking that Kushner is "the guy Slenderman has nightmares about."
And in an opinion from Lloyd Green writing for The Guardian:  "Jared Kushner's coronavirus overreach puts more American lives on the line."  No Shit Sherlock!!!
Jared Kushner is not a guy to turn to for sound political advice. Most recently, he reportedly told the president that Andrew Cuomo, New York's governor, was being "alarmist" after he announced that his state required 30,000 ventilators to help get through the pandemic.

To add insult to injury, Kushner also bragged of his own wisdom and told those assembled that Cuomo was wrong. According to Vanity Fair, Kushner declared: "I have all this data about ICU capacity. I'm doing my own projections, and I've gotten a lot smarter about this. New York doesn't need all the ventilators."

The princeling has helped place American lives and bodies on the line. New York's hospitals have become combat zones, its morgues and funeral homes look like abattoirs. Meanwhile, the US is locked down and the administration is projecting up to a quarter-million dead even if everything goes right.

American carnage is now. We may witness more deaths in months than its troops suffered in Iraq, Afghanistan and Vietnam after years of fighting.

When Mike Pence compares the US to Italy, we have a problem whose glaring scars will be felt long after Donald Trump leaves office. Coronavirus won't be disappearing in a matter of days despite the president's earlier assurances. Trump ignored the intelligence community and his national security staff, and now we must pay a collective price.

Unfortunately, Kushner doesn't only suffer from intellectual overreach. Self-dealing may have made a cameo too in the middle of crisis, and we have seen this movie before. Earlier, the Kushners had attempted to attract capital from China, by touting EB-5 visas in exchange for investments and looked to Anbang, a Chinese conglomerate, to bail them out of their real estate positions.

When Kushner was boasting about data and Trump was going on about testing websites, they were probably referring to Oscar Health, an insurance company tied to the Kushner family. In turn, Oscar appears to have been involved in the government's efforts to map the spread of the disease.

According to reports and filings, Josh Kushner, Jared's brother, still owns a piece of Oscar, and Jared belatedly divested his interest after entering government. If the Trump Organization can bill the Secret Service when they guard the president at his personal properties, why can't the Kushner kids make a few dimes off the taxpayer?
So, anyway, the shit show continues and we're at the bottom of that slope it seems.
Please stay safe and check  to let us know how you're doing!!!
I'm sharing this link to Mister Roger's Neighborhood because I'm still in shock about our city's treasure and some one who always shared his music and talent with every one as a performer, father, and teacher.  I was fortunate to hear him, known him and learn from him.  You can also see part of that here in this tribute from Jazz from Lincoln Center with his very young sons that he taught very well.
What's on your reading and blogging list today?
---