Posted: August 22, 2022
Filed under: abortion rights, January 6 Committee Public Hearings
| Tags: Dr. Fauci, FBI search of Mar-a-Largo, White Christianist Nationalism Patriarchy
16 Comments
Good Day Sky Dancers!
I'm late today, but the 'scratch' part of our title comes from me and the sudden outburst of hives I got yesterday.  I'm pretty miserable at the moment, so bear with me. The 'sniff' part is the sniff tests coming out of the Mar-a-Lago search warrant.  None of the former guy's excuses pass the sniff test.  Politico has some headlines today.
First up: "Judge says FBI's evidence for searching Mar-a-Lago is 'reliable.' The new order underlines the historic significance of a typically secret part of the criminal investigative process." This is reported by Kyle Cheney.
The federal magistrate judge who authorized the warrant to search Donald Trump's Mar-a-Lago estate emphasized Monday that he "carefully reviewed" the FBI's sworn evidence before signing off and considers the facts contained in an accompanying affidavit to be "reliable."

Magistrate Judge Bruce Reinhart offered his assessment in a 13-page order memorializing his decision to consider whether to unseal portions of the affidavit, which describe the evidence the bureau relied on to justify the search of the former president's home.

Reinhart ruled last week that he would consider unsealing portions of the affidavit after conferring with the Justice Department and determining whether proposed redactions would be sufficient to protect the ongoing criminal investigation connected to the search. But in his order, Reinhart emphasized that he may ultimately agree with prosecutors that any redactions would be so extensive that they would render the document useless.

"I cannot say at this point that partial redactions will be so extensive that they will result in a meaningless disclosure, but I may ultimately reach that conclusion after hearing further from the Government," Reinhart wrote.
This also comes from Politico: "Gang of 8 wants to see Trump Mar-a-Lago search docs. The request is the latest sign of Congress trying to get some insight into the FBI's search of the former president's home."  Andrew Desiderio reports this news.
The group of congressional leaders charged with reviewing the most sensitive intelligence information has asked the Biden administration for access to the documents seized from former President Donald Trump's private residence in Florida, according to two people with direct knowledge of the request.

The inquiry from the so-called "Gang of 8" comes as lawmakers from both parties seek to learn more about the unprecedented investigation into the former president. And it suggests that Congress is unwilling to be a bystander in the political and legal fallout following the FBI's Aug. 8 search of Trump's Mar-a-Lago estate in Palm Beach, Fla.

It follows a similar request from Senate Intelligence Committee Chair Mark Warner (D-Va.) and Vice Chair Marco Rubio (R-Fla.), who asked the nation's top intelligence official to draw up an assessment of possible national-security risks related to Trump's handling of the sensitive documents.

The Gang of 8 includes the top two congressional leaders in each chamber — Senate Majority Leader Chuck Schumer, Senate Minority Leader Mitch McConnell, Speaker Nancy Pelosi and House Minority Leader Kevin McCarthy — as well as the top Democrat and Republican on the House and Senate intelligence committees.

A spokesperson for the Senate Intelligence Committee declined to comment. A representative for the Office of the Director of National Intelligence also declined to comment.

Privately, Capitol Hill aides have expressed frustration about the fact that Congress has learned little about the investigation into the former president, especially since it reportedly involves matters of national security. The executive branch has historically resisted congressional inquiries about ongoing law-enforcement actions, arguing that it could compromise the investigation.

The FBI search warrant unsealed earlier this month revealed that the Justice Department was investigating potential violations of the Espionage Act, the Presidential Records Act and obstruction of justice in relation to Trump's storage of White House materials at his home.
Dr. Fauci is stepping down from his position by the end of the year.  This is from The New York Times.
This is reported by Sheryl Gay Stolberg.
Dr. Anthony S. Fauci said on Monday that he intended to leave government service in December to "pursue the next chapter" of his career, and that he would step down as President Biden's top medical adviser and the director of the National Institute of Allergy and Infectious Diseases, which he has led for 38 years.

The announcement by Dr. Fauci, 81, was not entirely unexpected. He has hinted for some time that he was thinking of retiring, saying last month that he would "almost certainly" do so by 2025. In an interview Sunday evening, he said he was "not retiring in the classic sense" but would devote himself to traveling, writing and encouraging young people to enter government service.

"So long as I'm healthy, which I am, and I'm energetic, which I am, and I'm passionate, which I am, I want to do some things outside of the realm of the federal government," Dr. Fauci said in the interview, adding that he wanted to use his experience and insight into public health and public service to "hopefully inspire the younger generation."

In a statement on Monday, Mr. Biden thanked Dr. Fauci, whom he called a "dedicated public servant and a steady hand with wisdom and insight." The two had worked closely together during a global outbreak of the Zika virus when Mr. Biden was vice president.

"Because of Dr. Fauci's many contributions to public health, lives here in the United States and around the world have been saved," the president said.

Few scientists have had as large or as long-lasting an impact on public policy. Dr. Fauci joined the National Institutes of Health in 1968, when Lyndon B. Johnson was president; he was appointed the director of its infectious disease branch in 1984, when the AIDS epidemic demanded attention.

Dr. Fauci has advised every president since Ronald Reagan — seven in all — and has been adept at navigating the nexus of science and politics. Among his proudest accomplishments, he said, was his work with President George W. Bush in developing a global program to combat H.I.V./AIDS, known as PEPFAR, which has saved an estimated 21 million lives. Mr. Bush — whose father, George Bush, called Dr. Fauci a hero during a 1988 presidential debate — awarded him the Presidential Medal of Freedom in 2008.
As reported by the AP, back to the Republican's continuing legal mishaps. They think they are above the law, I swear.
A South Dakota ethics board on Monday said it found sufficient information that Gov. Kristi Noem may have "engaged in misconduct" when she intervened in her daughter's application for a real estate appraiser license that it could take action against her.

The three retired judges on the Government Accountability Board determined that "appropriate action" could be taken against Noem, though it didn't specify the action.

The board voted unanimously to invoke procedures calling for a contested case hearing that would give Noem, who has denied wrongdoing, a chance to publicly defend herself against the allegations related to "conflicts of interest" or "malfeasance."

The retired judges also referred a complaint that Noem flew on state-owned airplanes to political events to the state attorney general's office for further investigation. That puts the investigation under the oversight of the interim attorney general, Mark Vargo, who was appointed by Noem.
Where are the screams of "lock her up"?
Laura Gambino has this lede for an exciting read from The Guardian: "'The world flipped upside down': will end of Roe galvanize Democrats' base in midterms?"   We certainly hope so!  Any reasonable Republicans left and smart Independents should feel free to join the bandwagon!
For years, Democrats warned that abortion rights were under grave threat. Across the US, anti-abortion activists in red states chipped away at access and pushed for conservative judges to secure their gains. Yet for many Americans, the prospect of losing the constitutional right to abortion that had existed since 1973 remained worrying but remote.

That all changed in June, when in Dobbs v Jackson, the supreme court overturned Roe v Wade, the 49-year-old ruling which had established the right.

Since then, bans have taken effect in at least 10 states. Republicans are rushing ahead with new restrictions and stirring fears that other rights, including same-sex marriage and access to contraception, could be vulnerable too.

And yet, from rural Minnesota to ruby red Kansas and a conservative corner of Nebraska, there are signs of a brewing backlash that Democrats believe will reshape the battle for control of Congress and statehouses this fall.

Republicans are "the dog that caught the bus", said Cecile Richards, a former head of Planned Parenthood. "This is what they've been wanting for years. Now they own it."

White House officials, Democratic candidates and party strategists say the loss of reproductive choice has not only galvanized their once-disillusioned base but is strengthening Democrats' appeal among independent and Republican-leaning women in suburbs who were key to the party's recent victories.

The landslide vote to protect abortion rights in conservative Kansas earlier this month further emboldened Democrats – and emphasized that Republicans risk overreaching on one of the most emotionally charged issues in American life.

"The world just completely flipped upside down after the Dobbs decision," said Richards, now co-chair at American Bridge 21st Century, a liberal Super Pac. "We're no longer defending a right. We now actually have to fight to get a right back."
Grid News reports that Republicans are gearing up to target the IRS again with age-old lies and conspiracy theories.  Have they nothing else?
A strange, false claim is all over conservative cable TV, right-wing social media and in the halls of Congress, where it's been repeated by dozens of Republican lawmakers: President Joe Biden, the warning goes, is going to hire and arm 87,000 Internal Revenue Service agents to target everyday Americans.

As the head of the Republican National Committee hyperbolically tweeted recently: "How long until Democrats send the IRS 'SWAT team' after your kids' lemonade stand?"

It's a ludicrous claim, repeatedly debunked by nonpartisan experts and outlets.

The tale of how the tale of 87,000 armed agents made it into mainstream political dialogue began last May on the website of Americans for Tax Reform, a conservative advocacy group run by anti-tax fixture, Grover Norquist. And while it was repeated occasionally from then to now, it exploded in recent weeks following relentless efforts by a cross-section of the Republican firmament to promote the false claim on social media, in right-wing broadcasts and in the halls of Congress.
Political discourse is impossible when one Party insists that something baseless is the biggest problem of the century.  How do we make this stop?
Meanwhile, John Pavlovitz has this to say about the folks that embrace nothing but Conspiracy Theories.
Every day I see Christians lamenting the "Cancel Culture;" claiming whenever they face accountability for their words or their conduct, or for the policies or politicians they support—that they are being systematically silenced.

This is irony of biblical proportions.

The Evangelical Church in America doesn't hate cancel culture, it invented it.

Ask LGBTQ human beings, who have been continually bullied into silence by pastors and youth leaders: who are berated and marginalized and excluded from spiritual community if they speak their truest truth or desire to marry the person they love or want to serve in ministry. Ask them how welcome or heard they feel in the Evangelical Church and how much of a presence they have if they want to be both out and included.

Ask women, who in most Conservative denominations are still not allowed to become pastors or to lead Bible Studies in mixed gender classes; who are still theologically treated as less-than and expected to be silent and submissive, relegated to the kitchen and the bedroom. Ask them how their claims of sexual abuse or domestic violence have been received and how much of a voice they have if they question authority or seek opportunity.

Ask people of color, whose most passionate opposition to equality still comes from white Evangelicals; people who daily face discrimination from a religious entity that is steeped in white supremacy and whose cries for justice in the face of unspeakable brutality by law enforcement are greeted with sustained resistance.
There's a pretty long list but I'd say these folks canceled The Beatitudes along with a list of other things they should embrace if they are who they say they are.
So, I'm going to go lather up in more anti-itch cream. Y'all have a great start to the week!
What's on your reading and blogging list today? 
and is "justice" "just ice"?
---
Posted: March 23, 2020
Filed under:
morning reads
| Tags: Covid-19, Dr. Fauci
82 Comments

Good Day Sky Dancers!
I actually hate to amplify the measured, knowledgeable, and experienced voice of Dr. Anthony Fauci in fear that the last vestige of truth available to us in the Trump Presser/Rallies will join the heap of ex Government officials. I can only imagine if we actually did silence Trump's pressers and he had no way to cosplay president with cosplay stooges around him.  It would be wonderful but I have a feeling that he'd find an even deeper end of his pool of toxic narcissism and even more of us will eventually be harmed in some way.
Science Magazine actually features a conversation with Fauci which is probably good place for it because I doubt Trump even knows there is such a publication.  The title of today's feature there is "'I'm going to keep pushing.' Anthony Fauci tries to make the White House listen to facts of the pandemic".  It basically boils down to a shorter version of  'I'm doing the best I can given the circumstances'.  The circumstances are basically Trump's incessant need to be right at all costs while feeding every narcissistic bone in his body.
Here's an excerpt of the interview by Jon Cohen with Dr. Fauci.  It's notable Fauci was absent from Sunday's presser/rally.
Q: How are you managing to not get fired?

A: Well, that's pretty interesting because to his [Trump's] credit, even though we disagree on some things, he listens. He goes his own way. He has his own style. But on substantive issues, he does listen to what I say.

Q: You've been in press conferences where things are happening that you disagree with, is that fair to say?

A: Well, I don't disagree in the substance. It is expressed in a way that I would not express it, because it could lead to some misunderstanding about what the facts are about a given subject.

Q: You stood nearby while President Trump was in the Rose Garden shaking hands with people. You're a doctor. You must have had a reaction like, 'Sir, please don't do that.'

A: Yes, I say that to the task force. I say that to the staff. We should not be doing that. Not only that—we should be physically separating a bit more on those press conferences. To his credit, the vice president [Mike Pence] is really pushing for physical separation of the task force [during meetings]. He keeps people out of the room—as soon as the room gets like more than 10 people or so, it's, 'Out, everybody else out, go to a different room.' So with regard to the task force, the vice president is really a bear in making sure that we don't crowd 30 people into the Situation Room, which is always crowded. So he's definitely adhering to that. The situation on stage [for the press briefings] is a bit more problematic. I keep saying, is there any way we can get a virtual press conference. Thus far, no. But when you're dealing with the White House, sometimes you have to say things one, two, three, four times, and then it happens. So I'm going to keep pushing.

Q: You're standing there saying nobody should gather with more than 10 people and there are almost 10 people with you on the stage. And there are certainly more than 10 journalists in the audience.

A: I know that. I'm trying my best. I cannot do the impossible.

Q: What about the travel restrictions? President Trump keeps saying that the travel ban for China, which began 2 February, had a big impact [on slowing the spread of the virus to the United States] and that he wishes China would have told us 3 to 4 months earlier and that they were "very secretive." [China did not immediately reveal the discovery of a new coronavirus in late December 2019, but by 10 January, Chinese researchers made the sequence of the virus public.]  It just doesn't comport with facts.

A:  I know, but what do you want me to do? I mean, seriously Jon, let's get real, what do you want me to do?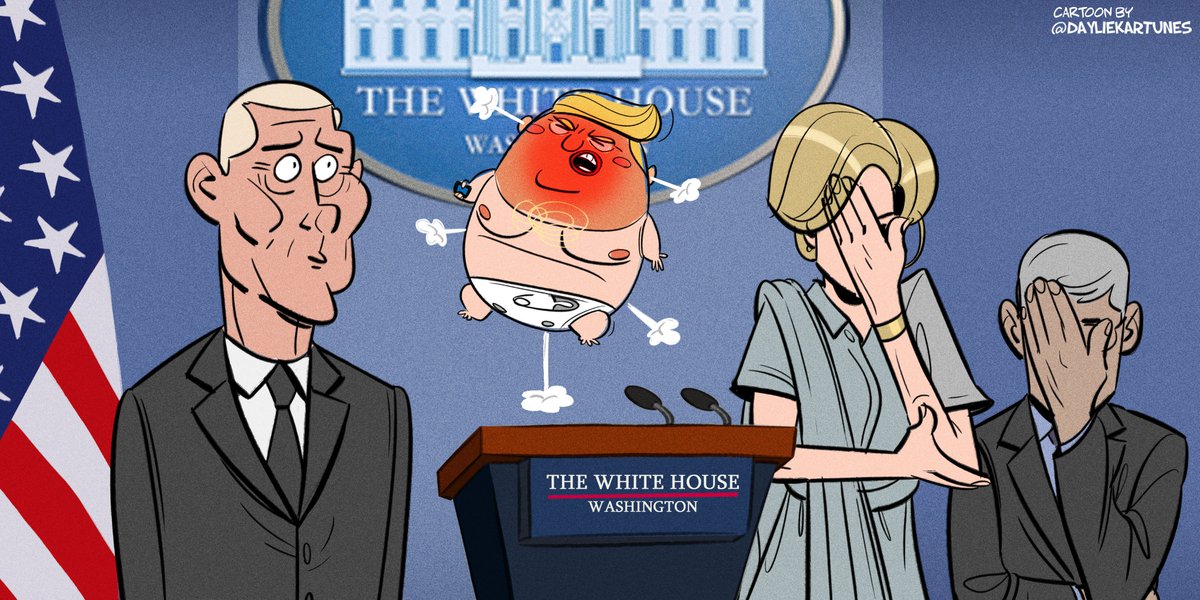 An entire nation and world waits for the answer to that question as we dance around in place while hoping it distracts him enough that we all don't die in the process.  Buddhists consider ignorance to be a poison.  It's a weapon of mass destruction in the hands of Donald J Trump.
There are very few people left in our decimated Federal Government that know what they're doing since Trump and his cronies took over.  Today, we learn this from Reuters' Marissa Taylor: "Exclusive: U.S. axed CDC expert job in China months before virus outbreak"  There are two things Republicans stand for.  The first is giving tax breaks to every wealthy person and huge corporation while the folks with businesses on Main Street that live on Oak Street are ignored.  Wall Street gets billions in bail outs. The deficit only matters when you don't want to feed hungry children.  Tax Cuts are the Apple Cider Vinegar used for the economy.  It's obvious that Hopes and Prayers are used for everything that's not related to the economy.
Several months before the coronavirus pandemic began, the Trump administration eliminated a key American public health position in Beijing intended to help detect disease outbreaks in China, Reuters has learned.

The American disease expert, a medical epidemiologist embedded in China's disease control agency, left her post in July, according to four sources with knowledge of the issue. The first cases of the new coronavirus may have emerged as early as November, and as cases exploded, the Trump administration in February chastised China for censoring information about the outbreak and keeping U.S. experts from entering the country to help.

"It was heartbreaking to watch," said Bao-Ping Zhu, a Chinese American who served in that role, which was funded by the U.S. Centers for Disease Control and Prevention, between 2007 and 2011. "If someone had been there, public health officials and governments across the world could have moved much faster."

Zhu and the other sources said the American expert, Dr. Linda Quick, was a trainer of Chinese field epidemiologists who were deployed to the epicenter of outbreaks to help track, investigate and contain diseases.

As an American CDC employee, they said, Quick was in an ideal position to be the eyes and ears on the ground for the United States and other countries on the coronavirus outbreak, and might have alerted them to the growing threat weeks earlier.

No other foreign disease experts were embedded to lead the program after Quick left in July, according to the sources. Zhu said an embedded expert can often get word of outbreaks early, after forming close relationships with Chinese counterparts.

Zhu and the other sources said Quick could have provided real-time information to U.S. and other officials around the world during the first weeks of the outbreak, when they said the Chinese government tamped down on the release of information and provided erroneous assessments.

Quick left amid a bitter U.S. trade dispute with China when she learned her federally funded post, officially known as resident adviser to the U.S. Field Epidemiology Training Program in China, would be discontinued as of September, the sources said. The U.S. CDC said it first learned of a "cluster of 27 cases of pneumonia" of unexplained origin in Wuhan, China, on Dec. 31.
Yes. Our health was sacrificed on the altar of Trump's bad Trade Policies.  Trump's attempt to demonize the Chinese has been working successfully when it comes to naming COVID 19 the "Chinese" virus.  His need to set up an enemy and to sic his cult on them is probably the most revolting thing about him in a long list of many revolting things.  From Today's NYT: "Spit On, Yelled At, Attacked: Chinese-Americans Fear for Their Safety. As bigots blame them for the coronavirus and President Trump labels it the "Chinese virus," many Chinese-Americans say they are terrified of what could come next."  Anti-Chinese sentiment is so very 19th century.
As the coronavirus upends American life, Chinese-Americans face a double threat. Not only are they grappling like everyone else with how to avoid the virus itself, they are also contending with growing racism in the form of verbal and physical attacks. Other Asian-Americans — with families from Korea, Vietnam, the Philippines, Myanmar and other places — are facing threats, too, lumped together with Chinese-Americans by a bigotry that does not know the difference.

In interviews over the past week, nearly two dozen Asian-Americans across the country said they were afraid — to go grocery shopping, to travel alone on subways or buses, to let their children go outside. Many described being yelled at in public — a sudden spasm of hate that is reminiscent of the kind faced by Muslim-Americans after the terrorist attacks of Sept. 11, 2001.

But unlike 2001, when President George W. Bush urged tolerance of Muslim-Americans, this time President Trump is using language that Asian-Americans say is inciting racist attacks.

Mr. Trump and his Republican allies are intent on calling the coronavirus "the Chinese virus," rejecting the World Health Organization's guidance against using geographic locations when naming illnesses, since past names have provoked a backlash.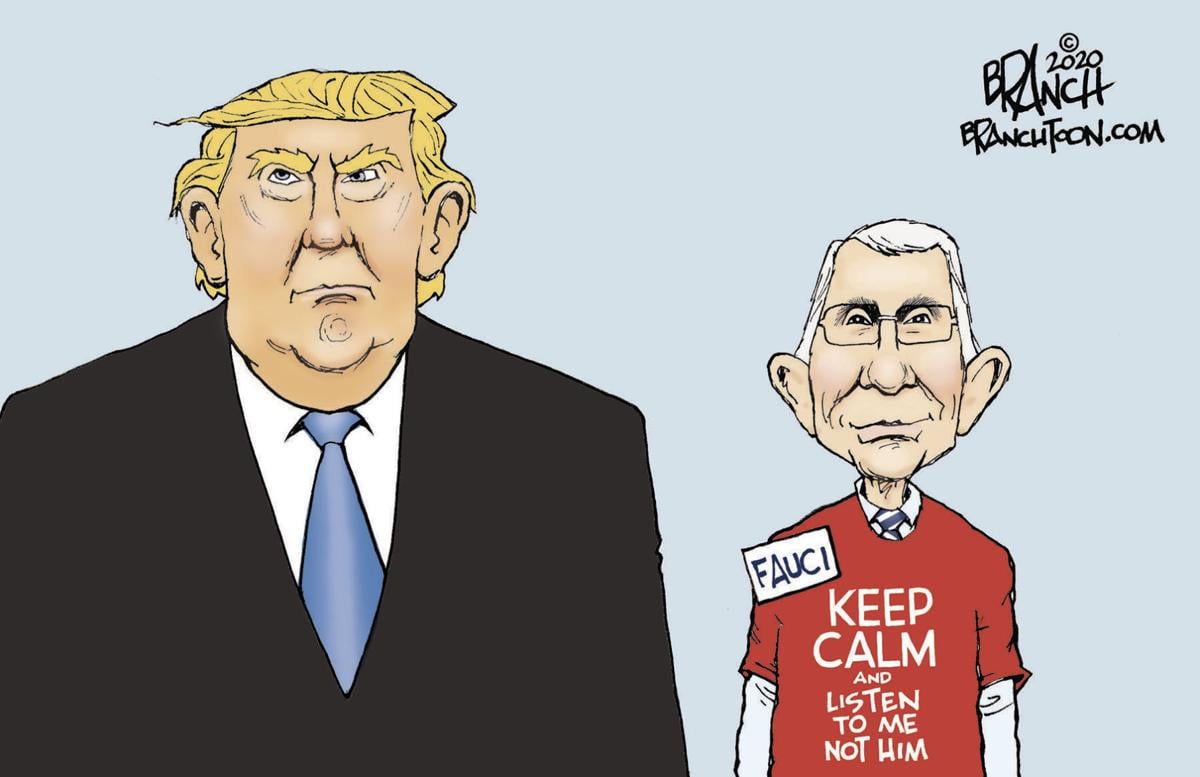 The Federal Response to the Pandemic has been appalling. WAPO reports the view from state level: "Governors and mayors in growing uproar over Trump's lagging coronavirus response".
President Trump's response to the coronavirus pandemic sparked uproar and alarm among governors and mayors on Sunday as Trump and his administration's top advisers continued to make confusing statements about the federal government's scramble to confront the crisis, including whether he will force private industry to mass produce needed medical items.

As deaths climbed and ahead of a potentially dire week, Trump — who has sought to cast himself as a wartime leader — reacted to criticism that his administration has blundered with a torrent of soaring boasts and searing grievances. He tweeted that Illinois Gov. J.B. Pritzker (D) and others "shouldn't be blaming the Federal Government for their own shortcomings. We are there to back you up should you fail, and always will be!"
Again, there's been calls from all over asking the press to amplify the experts.  This would be a natural occurence under any administration not headed by a toxic narcissist on the scale of Trump.  Jeff Jarvis argues this viewpoint: "Time for Experts.  Media must amplify authority over pols and pontificators".
In this novel crisis, we in media and online need to shift much of our attention away from trying to eradicate disinformation (and how's that going?) to spend more of our time and resources once again finding and amplifying good information — authoritative information from experts.

That is why I am maintaining and immersing myself in my COVID Twitter list of 500 epidemiologists, virologists, physicians, researchers, NGOs, and selected specialist journalists. I have been taking in their conversations with each other and the public, learning every hour, privileged to be able to ask questions, witnessing science in action; it's that and only that that gives me hope. Through those experts I get a better view of our new reality versus any bro's contrarian thumbsucking in blog posts or New York Times columns or in mindless TV location shots in front of poke bars that — guess what? — have no business. More on all that in a minute.

Of course, I'm not suggesting an end to fact-checking and fighting disinformation. First Draft, Storyful, fact-checkers worldwide, and news organizations aplenty have that well in hand, or as well as anyone can these days. But the flavor of disinformation has changed; the target has shifted; the enemy is different. As First Draft's founder and my leader in all such things, Dr. Claire Wardle, said in a video conference with journalists the other day, much disinformation these days comes not from malicious actors but from the well-meaning ignorant. Ignorance is our foe.

That is why we need the experts. That is why we need to put our effort behind finding them, listening to them, learning from them, and amplifying what they have to say. That is media's job № 1.

Cable TV news is doing a decent job, I think, of getting experts on air to answer questions — authorities such as Dr. Caitlin Rivers, a professor at the Johns Hopkins Center for Health Security; Dr. Peter Hotez, professor at Baylor; Dr. Ashish Jha of Harvard; Dr. Ezekiel Emanuel of Penn; Dr. Irwin Redlener, director of the National Center for Disaster Preparedness; Andy Slavitt, former Obama ACA head. My primary complaint is that, TV being TV, they fill too much time with meaningless, repetitive location shots, coming back to an empty deli or Times Square a dozen times in a day or standing in front of the soon-to-be mass hospital at Javits Center where there's no reporting to be done. Stop.

I want to see that time filled instead with more voices of science.
In that spirit,  JJ has started a new feature here which you may find at the top of the third, right hand column,  It's a list of credible, scientific sources you may use to get actual information on the outbreak.  Please, give us some more suggestions if we have missed any.
Be safe!  Stay indoors unless it's necessary to go out or you can take a walk in relative isolation!  It's okay to walk with Mother Nature! Wash your Hands!  Know I love you all!
What's on your reading and blogging list today?
---