Isolation Monday Reads: Updates from The Hunger Games
Posted: March 23, 2020
Filed under:
morning reads
| Tags: Covid-19, Dr. Fauci
82 Comments

Good Day Sky Dancers!
I actually hate to amplify the measured, knowledgeable, and experienced voice of Dr. Anthony Fauci in fear that the last vestige of truth available to us in the Trump Presser/Rallies will join the heap of ex Government officials. I can only imagine if we actually did silence Trump's pressers and he had no way to cosplay president with cosplay stooges around him.  It would be wonderful but I have a feeling that he'd find an even deeper end of his pool of toxic narcissism and even more of us will eventually be harmed in some way.
Science Magazine actually features a conversation with Fauci which is probably good place for it because I doubt Trump even knows there is such a publication.  The title of today's feature there is "'I'm going to keep pushing.' Anthony Fauci tries to make the White House listen to facts of the pandemic".  It basically boils down to a shorter version of  'I'm doing the best I can given the circumstances'.  The circumstances are basically Trump's incessant need to be right at all costs while feeding every narcissistic bone in his body.
Here's an excerpt of the interview by Jon Cohen with Dr. Fauci.  It's notable Fauci was absent from Sunday's presser/rally.
Q: How are you managing to not get fired?

A: Well, that's pretty interesting because to his [Trump's] credit, even though we disagree on some things, he listens. He goes his own way. He has his own style. But on substantive issues, he does listen to what I say.

Q: You've been in press conferences where things are happening that you disagree with, is that fair to say?

A: Well, I don't disagree in the substance. It is expressed in a way that I would not express it, because it could lead to some misunderstanding about what the facts are about a given subject.

Q: You stood nearby while President Trump was in the Rose Garden shaking hands with people. You're a doctor. You must have had a reaction like, 'Sir, please don't do that.'

A: Yes, I say that to the task force. I say that to the staff. We should not be doing that. Not only that—we should be physically separating a bit more on those press conferences. To his credit, the vice president [Mike Pence] is really pushing for physical separation of the task force [during meetings]. He keeps people out of the room—as soon as the room gets like more than 10 people or so, it's, 'Out, everybody else out, go to a different room.' So with regard to the task force, the vice president is really a bear in making sure that we don't crowd 30 people into the Situation Room, which is always crowded. So he's definitely adhering to that. The situation on stage [for the press briefings] is a bit more problematic. I keep saying, is there any way we can get a virtual press conference. Thus far, no. But when you're dealing with the White House, sometimes you have to say things one, two, three, four times, and then it happens. So I'm going to keep pushing.

Q: You're standing there saying nobody should gather with more than 10 people and there are almost 10 people with you on the stage. And there are certainly more than 10 journalists in the audience.

A: I know that. I'm trying my best. I cannot do the impossible.

Q: What about the travel restrictions? President Trump keeps saying that the travel ban for China, which began 2 February, had a big impact [on slowing the spread of the virus to the United States] and that he wishes China would have told us 3 to 4 months earlier and that they were "very secretive." [China did not immediately reveal the discovery of a new coronavirus in late December 2019, but by 10 January, Chinese researchers made the sequence of the virus public.]  It just doesn't comport with facts.

A:  I know, but what do you want me to do? I mean, seriously Jon, let's get real, what do you want me to do?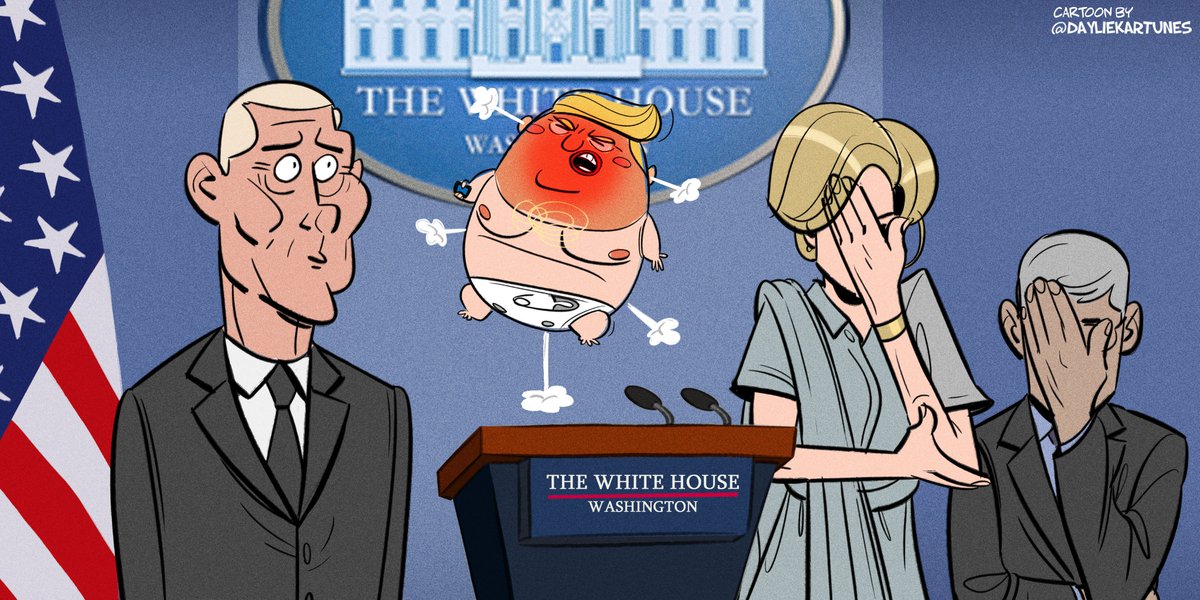 An entire nation and world waits for the answer to that question as we dance around in place while hoping it distracts him enough that we all don't die in the process.  Buddhists consider ignorance to be a poison.  It's a weapon of mass destruction in the hands of Donald J Trump.
There are very few people left in our decimated Federal Government that know what they're doing since Trump and his cronies took over.  Today, we learn this from Reuters' Marissa Taylor: "Exclusive: U.S. axed CDC expert job in China months before virus outbreak"  There are two things Republicans stand for.  The first is giving tax breaks to every wealthy person and huge corporation while the folks with businesses on Main Street that live on Oak Street are ignored.  Wall Street gets billions in bail outs. The deficit only matters when you don't want to feed hungry children.  Tax Cuts are the Apple Cider Vinegar used for the economy.  It's obvious that Hopes and Prayers are used for everything that's not related to the economy.
Several months before the coronavirus pandemic began, the Trump administration eliminated a key American public health position in Beijing intended to help detect disease outbreaks in China, Reuters has learned.

The American disease expert, a medical epidemiologist embedded in China's disease control agency, left her post in July, according to four sources with knowledge of the issue. The first cases of the new coronavirus may have emerged as early as November, and as cases exploded, the Trump administration in February chastised China for censoring information about the outbreak and keeping U.S. experts from entering the country to help.

"It was heartbreaking to watch," said Bao-Ping Zhu, a Chinese American who served in that role, which was funded by the U.S. Centers for Disease Control and Prevention, between 2007 and 2011. "If someone had been there, public health officials and governments across the world could have moved much faster."

Zhu and the other sources said the American expert, Dr. Linda Quick, was a trainer of Chinese field epidemiologists who were deployed to the epicenter of outbreaks to help track, investigate and contain diseases.

As an American CDC employee, they said, Quick was in an ideal position to be the eyes and ears on the ground for the United States and other countries on the coronavirus outbreak, and might have alerted them to the growing threat weeks earlier.

No other foreign disease experts were embedded to lead the program after Quick left in July, according to the sources. Zhu said an embedded expert can often get word of outbreaks early, after forming close relationships with Chinese counterparts.

Zhu and the other sources said Quick could have provided real-time information to U.S. and other officials around the world during the first weeks of the outbreak, when they said the Chinese government tamped down on the release of information and provided erroneous assessments.

Quick left amid a bitter U.S. trade dispute with China when she learned her federally funded post, officially known as resident adviser to the U.S. Field Epidemiology Training Program in China, would be discontinued as of September, the sources said. The U.S. CDC said it first learned of a "cluster of 27 cases of pneumonia" of unexplained origin in Wuhan, China, on Dec. 31.
Yes. Our health was sacrificed on the altar of Trump's bad Trade Policies.  Trump's attempt to demonize the Chinese has been working successfully when it comes to naming COVID 19 the "Chinese" virus.  His need to set up an enemy and to sic his cult on them is probably the most revolting thing about him in a long list of many revolting things.  From Today's NYT: "Spit On, Yelled At, Attacked: Chinese-Americans Fear for Their Safety. As bigots blame them for the coronavirus and President Trump labels it the "Chinese virus," many Chinese-Americans say they are terrified of what could come next."  Anti-Chinese sentiment is so very 19th century.
As the coronavirus upends American life, Chinese-Americans face a double threat. Not only are they grappling like everyone else with how to avoid the virus itself, they are also contending with growing racism in the form of verbal and physical attacks. Other Asian-Americans — with families from Korea, Vietnam, the Philippines, Myanmar and other places — are facing threats, too, lumped together with Chinese-Americans by a bigotry that does not know the difference.

In interviews over the past week, nearly two dozen Asian-Americans across the country said they were afraid — to go grocery shopping, to travel alone on subways or buses, to let their children go outside. Many described being yelled at in public — a sudden spasm of hate that is reminiscent of the kind faced by Muslim-Americans after the terrorist attacks of Sept. 11, 2001.

But unlike 2001, when President George W. Bush urged tolerance of Muslim-Americans, this time President Trump is using language that Asian-Americans say is inciting racist attacks.

Mr. Trump and his Republican allies are intent on calling the coronavirus "the Chinese virus," rejecting the World Health Organization's guidance against using geographic locations when naming illnesses, since past names have provoked a backlash.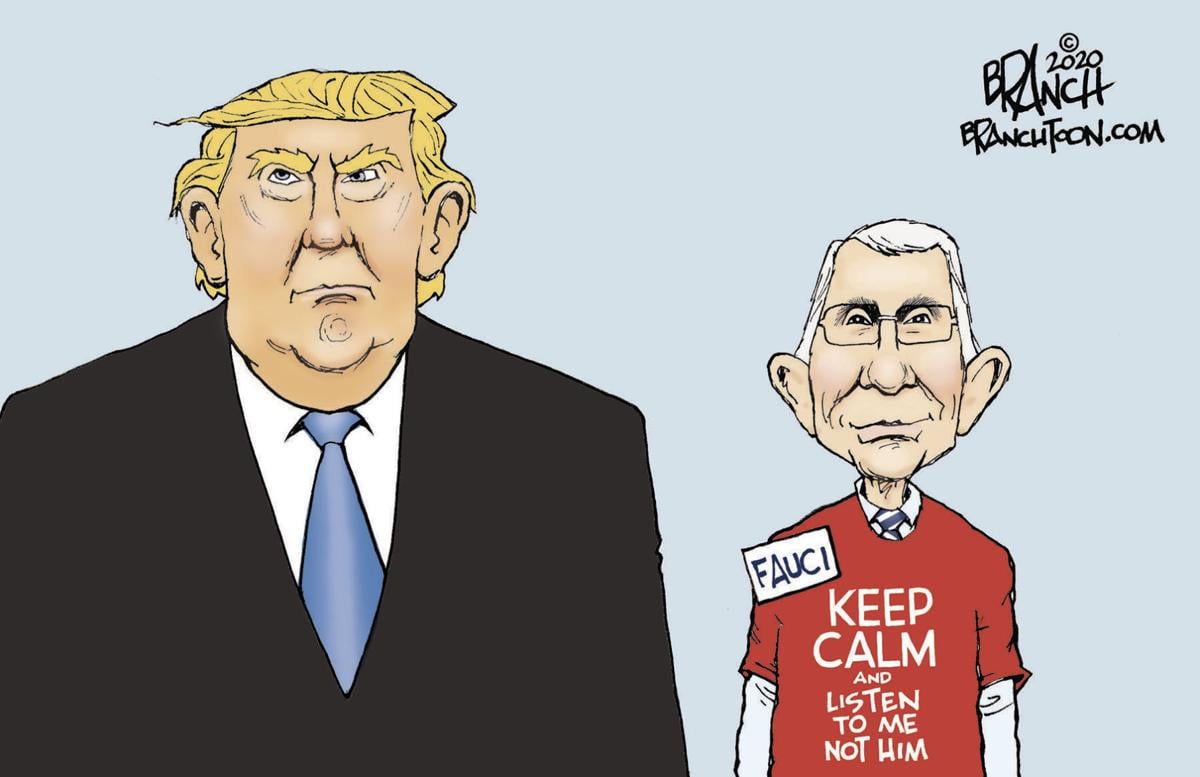 The Federal Response to the Pandemic has been appalling. WAPO reports the view from state level: "Governors and mayors in growing uproar over Trump's lagging coronavirus response".
President Trump's response to the coronavirus pandemic sparked uproar and alarm among governors and mayors on Sunday as Trump and his administration's top advisers continued to make confusing statements about the federal government's scramble to confront the crisis, including whether he will force private industry to mass produce needed medical items.

As deaths climbed and ahead of a potentially dire week, Trump — who has sought to cast himself as a wartime leader — reacted to criticism that his administration has blundered with a torrent of soaring boasts and searing grievances. He tweeted that Illinois Gov. J.B. Pritzker (D) and others "shouldn't be blaming the Federal Government for their own shortcomings. We are there to back you up should you fail, and always will be!"
Again, there's been calls from all over asking the press to amplify the experts.  This would be a natural occurence under any administration not headed by a toxic narcissist on the scale of Trump.  Jeff Jarvis argues this viewpoint: "Time for Experts.  Media must amplify authority over pols and pontificators".
In this novel crisis, we in media and online need to shift much of our attention away from trying to eradicate disinformation (and how's that going?) to spend more of our time and resources once again finding and amplifying good information — authoritative information from experts.

That is why I am maintaining and immersing myself in my COVID Twitter list of 500 epidemiologists, virologists, physicians, researchers, NGOs, and selected specialist journalists. I have been taking in their conversations with each other and the public, learning every hour, privileged to be able to ask questions, witnessing science in action; it's that and only that that gives me hope. Through those experts I get a better view of our new reality versus any bro's contrarian thumbsucking in blog posts or New York Times columns or in mindless TV location shots in front of poke bars that — guess what? — have no business. More on all that in a minute.

Of course, I'm not suggesting an end to fact-checking and fighting disinformation. First Draft, Storyful, fact-checkers worldwide, and news organizations aplenty have that well in hand, or as well as anyone can these days. But the flavor of disinformation has changed; the target has shifted; the enemy is different. As First Draft's founder and my leader in all such things, Dr. Claire Wardle, said in a video conference with journalists the other day, much disinformation these days comes not from malicious actors but from the well-meaning ignorant. Ignorance is our foe.

That is why we need the experts. That is why we need to put our effort behind finding them, listening to them, learning from them, and amplifying what they have to say. That is media's job № 1.

Cable TV news is doing a decent job, I think, of getting experts on air to answer questions — authorities such as Dr. Caitlin Rivers, a professor at the Johns Hopkins Center for Health Security; Dr. Peter Hotez, professor at Baylor; Dr. Ashish Jha of Harvard; Dr. Ezekiel Emanuel of Penn; Dr. Irwin Redlener, director of the National Center for Disaster Preparedness; Andy Slavitt, former Obama ACA head. My primary complaint is that, TV being TV, they fill too much time with meaningless, repetitive location shots, coming back to an empty deli or Times Square a dozen times in a day or standing in front of the soon-to-be mass hospital at Javits Center where there's no reporting to be done. Stop.

I want to see that time filled instead with more voices of science.
In that spirit,  JJ has started a new feature here which you may find at the top of the third, right hand column,  It's a list of credible, scientific sources you may use to get actual information on the outbreak.  Please, give us some more suggestions if we have missed any.
Be safe!  Stay indoors unless it's necessary to go out or you can take a walk in relative isolation!  It's okay to walk with Mother Nature! Wash your Hands!  Know I love you all!
What's on your reading and blogging list today?
---