Monday "It's official" Day Reads
Posted: December 14, 2020
Filed under:
2020 Elections
| Tags: electoral college, Treasury Hack by Russians, Trump is a LOSER
30 Comments
Good Day Sky Dancers!
Every one of the 538 Electoral College Members will cast their votes today. Joe Biden will officially be our President Elect and Kamala Harris will officially become the Vice President Elect.  You can watch the votes come in at the NYT at this link.
Electors started to meet at 11 a.m. Eastern in Alabama, Arkansas, Mississippi, Oklahoma, Illinois and South Carolina.
You may also watch the some Elector's vote on CSpan today.  This should seal the deal. Let's hope some Republicans stop protecting the Toddler-in-Chief's delusions and start to work to get things done to help our Covid 19 -inflicted country. We could also use some help kicking Russian Ass from a cybersecurity standpoint.
From the Vox Link:
The next big date is Monday, December 14, when the Electoral College votes. In each state and the District of Columbia, the 538 electors who make up the Electoral College will cast the votes that will technically make Biden the next president. There's little drama here. The states Biden won have appointed elector slates of Democrats, who are certain to vote for Biden. But it's the next step in making things official.

Then, on Wednesday, January 6, Congress counts the electoral votes. This is also mainly ceremonial. We'll know the count in advance because the votes will be public on December 14. The one minor hitch is that a Trump ally in the House plans to challenge that count. But for that challenge to succeed, both the House and the Senate would have to agree to overrule the electoral votes. The Democrat-controlled House obviously wouldn't go along with this, so the challenge won't change the outcome.

Two weeks after that, on January 20, Biden will be inaugurated as the next president.
Additional information on those plans to challenge the count are further down the page.
On January 6, 2021, a joint session of the newly elected Congress will convene to count the votes cast by the Electoral College the previous month. This congressional count is the final formal step in making the presidential election results official before the inauguration itself.

Usually, this is a formality. But sometimes, there's a last-minute kerfuffle because there is a process by which members of Congress can challenge the vote count. We likely will get such a challenge — Rep. Mo Brooks (R-AL) has said he will file one, though he needs to find at least one senator to join him for the challenge to advance.

This would not be unprecedented. In 2005, Rep. Stephanie Tubbs Jones (D-OH) and Sen. Barbara Boxer (D-CA) made such a challenge to George W. Bush's win in Ohio. (In 2017, some House Democrats tried to challenge Trump's win in certain states, but the attempt was fruitless because no senators would join them.)

If a representative and senator support a challenge, what happens next is that the joint session of Congress splits up, and the House and Senate will each hold a vote on the challenge. Here's the key part, though: Unless a majority in boththe House and Senate vote to sustain the challenge, it will fail.

So because Democrats control the House, any attempt to overturn the election for Trump will surely be voted down by them. It may well fail in the Senate as well; several Republican senators have recognized Biden's victory.

That means this challenge will basically just be a stunt and it won't actually overturn the outcome. What it would do is guarantee a recorded vote in both the House and Senate about whether they should allow Biden's win, which could put some swing state or swing district Republican members of Congress in an uncomfortable position. (This could be a particular issue for some Senate Republicans in 2022 — do they risk a primary challenge by recognizing Biden's win or do they back Trump's challenge and endanger their general election chances?)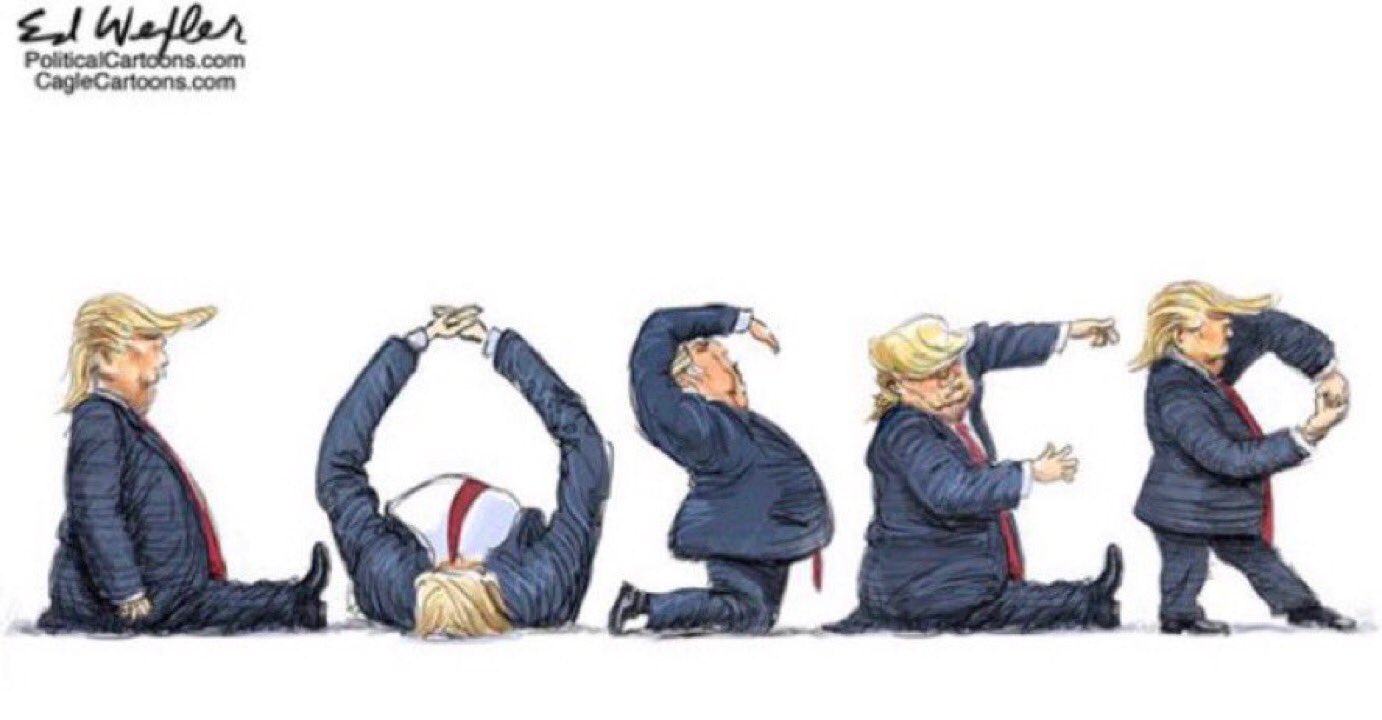 So, how long are we going to deal with Trump supporters who deny this reality?  Sabrina Tavernise writes this for the NYT today. "What's Next for Trump Voters Who Believe the Election Was Stolen?Some are certain the election was fraudulent. Others aren't so sure. What becomes of their skepticism has important implications for American democracy."
But interviews with dozens of people who voted for Mr. Trump reveal a more fluid picture. Some were die-hard supporters who were hungry for any information to support Mr. Trump's claims — against all evidence — that he won the election. For these voters, no data could convince them otherwise.

Others were more uncertain. Nearly all of the people interviewed said they believed at least some fraud had been perpetrated, but whether that added up to Mr. Trump's being the true winner was much harder to know.

The reasons for doubting the outcome were many. Misinformation played a role. So did signaling by Republican leaders, first among them Mr. Trump.

Partisanship was powerful, too: Some were so distrustful of Democrats that they were open to arguments about fraud in large part because Democrats were not. Still others said election fraud was simply not that unusual a phenomenon. And in a sign of how much Americans of both parties are living in political bubbles, many expressed surprise that Mr. Biden could have won, given that they knew no one who voted for him.
It looks rather bad when you lose Faux & Fuckers.
"You have an alternate slate of electors in a state like say Wisconsin or in a state like Georgia and we'll make sure that those results are sent up side by side to Congress," Miller declared. "So that we have the opportunity, every day between now and January 20, to say that slate of electors and the contested states is the slate that should be certified to uphold a fair and free election and an honest result."

Those "alternate" results, however, will not be certified by any states' secretaries of state, therefore rendering them worthless.

Noting that polls show Trump supporters overwhelmingly believe Trump's baseless claim that the election was "stolen," co-host Ainsley Earhardt asked Miller what the next "arrow in your quiver" is now that the Supreme Court rejected the Texas lawsuit to throw out swing state votes.

"Well, we have open election challenges in all the contested states," the Trump adviser insisted while echoing Trump's unfounded allegations about widespread voter fraud.

Kilmeade, who confronted Trump over the weekend about his legal team's failure to provide any proof of election fraud in court, then pressed Miller on the resounding defeats that Trump and his allies have suffered in court.

"Stephen, so if there were underage people voting and criminals voting, if there was illegal ballots cast, your legal team [has], in almost every state, 50 times lost, so do you have the worst legal team who just don't seem to be presenting a good case? Or [are] you just too late in this case should have been brought before the election?" Kilmeade wondered aloud.

Miller, meanwhile, blamed the repeated rejection of Trump's legal challenges on the "corrupt corporate media" placing "overwhelming" pressure on the courts and elected officials.
Some other interesting headlines from this weekend continue to amaze.  John le Carré died of pneumonia at the age of 89.   His obit from the Guardian explains his importance in the spy novel genre.
He was in his late 20s when he began to write fiction – in longhand, in small red pocket notebooks, on his daily train journey between his home in Buckinghamshire and his day job with MI5, the counter-intelligence service, in London. After the publication of two neatly crafted novels, Call for the Dead (1961) and A Murder of Quality (1962), which received measured reviews and modest sales, he hit the big time with The Spy Who Came in from the Cold (1963).

Its publisher, Victor Gollancz, secured a puff from Graham Greene ("the best spy story I have ever read"), and the widely-rumoured belief that the author was an insider in the secret world of intelligence helped his third novel become one of the great bestsellers of the postwar period.

Le Carré's subject was the human and political ambiguities of the cold war. His book was gritty, stripped of glamour. Reviewers talked of The Spy Who Came in from the Cold as a grown-up answer to Ian Fleming's James Bond novels. It was more than that. His taut, complex plot, strong storytelling gifts, and distinctive characterisation made his book a memorable literary achievement.
This happened the same day it was announced that Russian Hackers had broken into the US Treasury and Commerce Departments.  This is basically what happens when you put a Putin lover in the White House that then basically opens the backdoor by removing all the folks at the NSA that know what they are doing.
Joseph Marks has this analysis at WAPO today. "The Cybersecurity 202: A Russian mega-hack is further damaging Trump's cybersecurity legacy".
National security officials are still scrambling this morning to determine the scope of that campaign, which officials say was going on for months and impacted government, consulting, technology, telecom, and oil and gas companies in North America, Europe, Asia and the Middle East.

It likely represents the largest known Russian data theft in half a decade and is a sign Trump administration efforts to constrain Russian hacking have been spotty at best.

The hackers were able to access victims' email accounts and probably made off with reams of sensitive information about internal government deliberations. At the very least, the investigation and cleanup operation will continue well after President-elect Joe Biden takes office in January.

"This is a big deal, and given what we now know about where breaches happened, I'm expecting the scope to grow as more logs are reviewed," John Scott-Railton, a senior researcher at Citizen Lab at the University of Toronto's Munk School of Global Affairs and Public Policy, told my colleagues Ellen Nakashima and Craig Timberg. "When an aggressive group like this gets an open sesame to many desirable systems, they are going to use it widely."

The breach prompted an emergency meeting Saturday of the National Security Council, Reuters reported. The Department of Homeland Security issued a directive early this morning for government agencies to protect against the breach in probably the fastest-ever turnaround for such an order.
So, that's enough from me today.  And the countdown before they  have to fumigate the White House is 37 days.  If Joe and Jill are lucky, he'll go to Mara Logo for the holidays and they can just dump his stuff on the sidewalk and fumigate starting January 1.
What's on your reading and blogging list today?
---