Socially Distant Monday Reads
Posted: March 30, 2020
Filed under:
morning reads
| Tags: Covid-19
36 Comments
Good Day Sky Dancers!
Well, one more week closer to the first wave of peak chaos. The US is expected to be at peak pandemic overload mode as a country some where around April 15 while each state is scattered around that.  Dr. Daughter sent me this link I tweeted out this morning.  You may find your state's expected peak hospital use there as well as death projections.  New York City is looking pretty grim today as the US Comfort pulled into port.
Louisiana is expected to be the next big"epicenter".  We continue to get worse press than NYC does to in terms of did we do things to deserve this?  I just watched General Honore on MSNBC telling reporters to stay off the politics and get on the logistics. Actually, he was shouting so maybe some one would hear him.
From CNN: "The alarming message of Louisiana's sharp rise in Covid-19 cases" which is an Op Ed written by Kent Sepkowitz. 
The explosion of cases in New Orleans, Louisiana, has caught the attention of Covid watchers and doomsayers across the country. Less than two weeks ago, the Crescent City recorded less than 100 cases. By March 29 the number of infections in Orleans Parish reached 1,350, with 73 deaths. The fatalities per capita rivals that of New York City.

Though all eyes are on New Orleans, an equally alarming outbreak is occurring in a smaller city in the northwest of the state. Shreveport, near the border of Texas, Arkansas and Oklahoma — a region referred to locally as Ark-La-Tex (sorry, Oklahoma) — has about 200,000 people and sits across the Red River from Bossier City, with its population of 70,000. And right now, it is in the first stages of its own unique Covid-19 nightmare.

In recent days, the cases from these sister cities, which are in Caddo and Bossier parishes, have risen 30 or a 40 a day. As of March 29, the total for the two parishes sits at 275 overall, including five deaths. Incredibly, just a week ago, there were just 21 cases. Stated simply, this has the makings of serious trouble.
I'm staying home.  I'm fortunate that I've found places that will deliver pet supplies and fresh food.   I also joined a wine club.  I'm going to be leaving presents for my all my delivery drivers.
Today's vintage photos are of folks during the 1918 Spanish flu.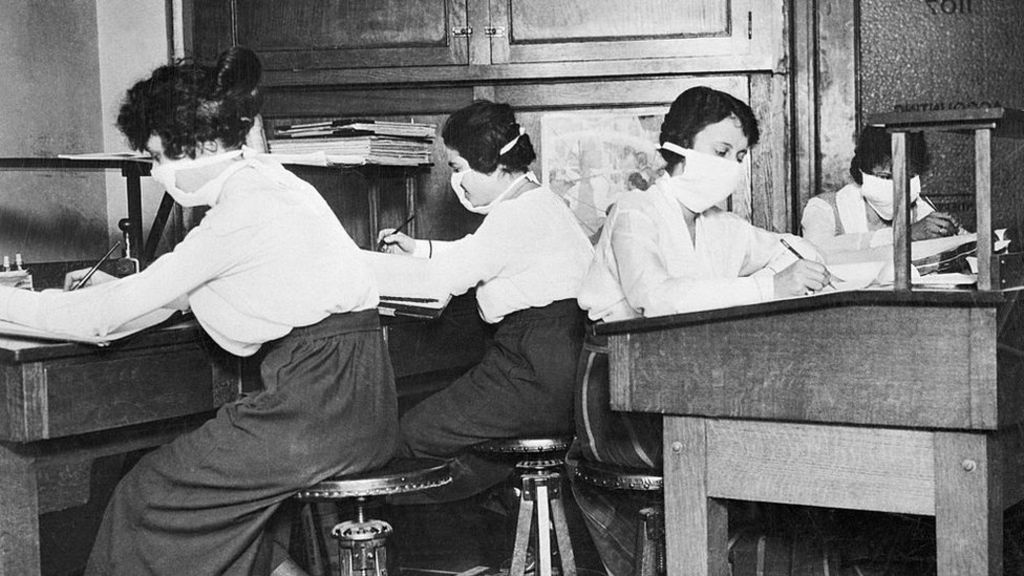 I've been watching the daily presser from NY and also the presser from my Governor and mayor. What worries me is this daily event (also from CNN):  'Fact check: A breakdown of false and misleading statements at Trump's Rose Garden briefing—  Trump berates reporter for 'threatening' question during briefing.'
On two occasions during Sunday's coronavirus briefing, President Donald Trump falsely denied he had said words he had said publicly last week.

When PBS's Yamiche Alcindor noted that the President had said he did not believe that governors actually need all the equipment they claimed they did, Trump said, "I didn't say that" — even though he said precisely that on Fox News on Thursday.

Later, when CNN White House Correspondent Jeremy Diamond noted that Trump had said he wanted governors to be "appreciative" of him, and that "if they don't treat you right, I don't call," Trump said, "But I didn't say that" — even though he said precisely that at the Friday briefing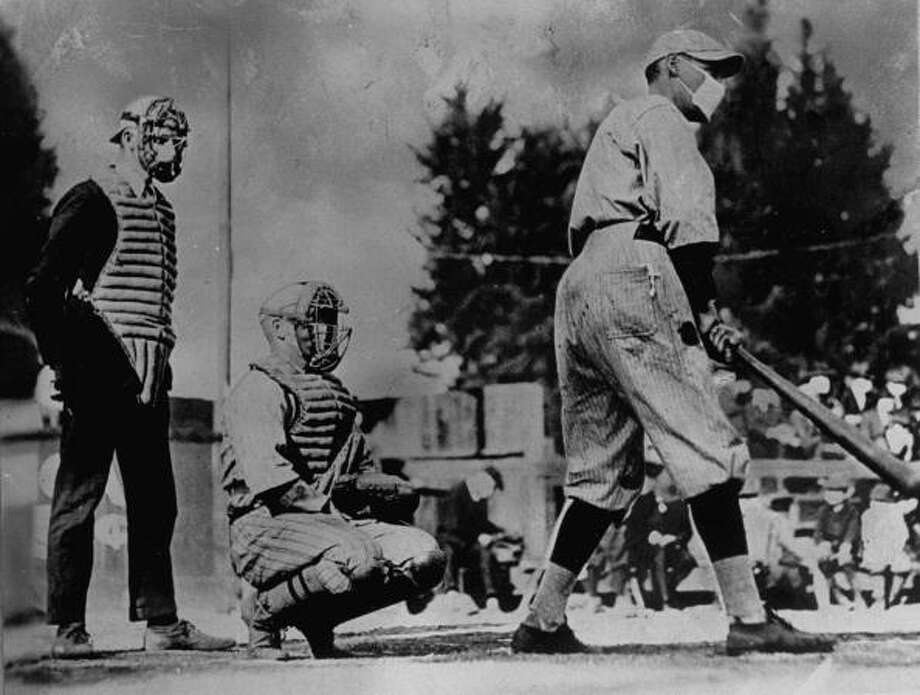 It would be on thing if Trump was simply useless.  However, Trump is toxic and every thing coming out of his mouth and the actions he takes puts us deeper into national strife.  His first instinct was to grab hold of some whack ideas. This is elucidated by  Isaac Chotiner of The New Yorker:  "The Contrarian Coronavirus Theory That Informed the Trump Administration,"Chotiner interviewed the liberatarian (of course he is) that created this outrageous idea.
 .."WE CANNOT LET THE CURE BE WORSE THAN THE PROBLEM ITSELF." Trump said repeatedly that he wanted the country to reopen by Easter, April 12th, contradicting the advice of most health officials. (On Sunday, he backed down and extended federal social-distancing guidelines for at least another month.) According to the Washington Post, "Conservatives close to Trump and numerous administration officials have been circulating an article by Richard A. Epstein of the Hoover Institution, titled 'Coronavirus Perspective,' which plays down the extent of the spread and the threat."

Epstein, a professor at New York University School of Law, published the article on the Web site of the Hoover Institution, on March 16th. In it, he questioned the World Health Organization's decision to declare the coronavirus outbreak a pandemic, said that "public officials have gone overboard," and suggested that about five hundred people would die from covid-19 in the U.S. Epstein later updated his estimate to five thousand, saying that the previous number had been an error. So far, there have been more than two thousand coronavirus-related fatalities in America; epidemiologists' projections of the total deaths range widely, depending on the success of social distancing and the availability of medical resources, but they tend to be much higher than Epstein's. (On Sunday, Anthony Fauci, the director of the National Institute of Allergy and Infectious Diseases, estimated that there could be between a hundred thousand and two hundred thousand deaths in the U.S.) In a follow-up article, published on March 23rd and titled "Coronavirus Overreaction," Epstein wrote, "Progressives think they can run everyone's lives through central planning, but the state of the economy suggests otherwise. Looking at the costs, the public commands have led to a crash in the stock market, and may only save a small fraction of the lives that are at risk."

Epstein has long been one of the most cited legal scholars in the country, and is known for his libertarian-minded reading of the Constitution, which envisions a restrained federal government that respects private property. He has also been known to engage with controversial subjects; last fall, he published an article on the Hoover Institution Web site that argued, "The professional skeptics are right: there is today no compelling evidence of an impending climate emergency." Last Wednesday, I spoke by phone with Epstein about his views of the coronavirus pandemic. He was initially wary of talking, and asked to record his own version of the call, which I agreed to. During our conversation, which has been edited for length and clarity, Epstein made a number of comments about viruses that have been strongly disputed by medical professionals. We have included factual corrections alongside those statements.
Which brings me to this:
Take a guess … or just look at the previous nonsense to find the answer.
Overall, the models could explain only a small amount of variability in how often people engaged in the recommended behaviors (approximately 6% of past behavior, 11% of future behavior). In both cases, only one variable stood out as predicting whether a person would engage in these behaviors more: faith in your own intuition. If you had more faith in your own intuition, you were more likely to follow the health recommendations both in the last week, and to say you would follow them in the next week.

Surprisingly, this trait beat out others like scientific literacy and a tendency to engage in cognitive reflection in terms of predictive power.

The researchers then estimated a second model that didn't just use personal beliefs about science and truth generally, but also included political beliefs. This was based on people rating how much you agree with the statement "I identify myself as [liberal/conservative/libertarian]."

When political identity was added, the most important predictor became whether an individual was a libertarian. The more an individual identified as a libertarian, the less likely they were to follow the official recommendations for reducing the spread of COVID-19.

When political beliefs were included as predictors, the models were able to predict 17% of variability in past behavior and 29% of variability in intended future behaviors. That's a pretty large jump in accuracy (from 6% and 11% for the non-political models).
Of course we know who combines that with a toxic form of Christianity.   This is from Elizabeth Williamson writing for the NYT: "Liberty University Brings Back Its Students, and Coronavirus Fears, Too  —  The decision by the school's president, Jerry Falwell Jr., to partly reopen his evangelical university enraged residents of Lynchburg, Va. Then students started getting sick.
As Liberty University's spring break was drawing to a close this month, Jerry Falwell Jr., its president, spoke with the physician who runs Liberty's student health service about the rampaging coronavirus.

"We've lost the ability to corral this thing," Dr. Thomas W. Eppes Jr. said he told Mr. Falwell. But he did not urge him to close the school. "I just am not going to be so presumptuous as to say, 'This is what you should do and this is what you shouldn't do,'" Dr. Eppes said in an interview.

So Mr. Falwell — a staunch ally of President Trump and an influential voice in the evangelical world — reopened the university last week, igniting a firestorm. As of Friday, Dr. Eppes said, nearly a dozen Liberty students were sick with symptoms that suggested Covid-19, the disease caused by the virus. Three were referred to local hospital centers for testing. An additional eight were told to self-isolate.
Lucian K Truscott IV  wrote this for Salon.
Trump won't mourn for those suffering and dying from the virus, but he'll accept the sympathies of the fawning suck-asses he surrounds himself with at the daily thank-a-thon that substitutes for the rallies he can no longer hold.

"Thanks to your leadership, Mr. President," Vice President Mike Pence will typically begin, as he rolls out a list of dubious statistics for masks delivered or ventilators suddenly discovered hidden away in some warehouse. "Thank you, Mr. President … we all thank you … the nation thanks you," another toady will parrot, likely some "acting" department head or secretary-of-something-or-another Trump's thinking about going through the motions of nominating so he can keep another former lobbyist at the top of another important government agency.

Trump stands there, eyes unfocused, looking like he'd rather be on the 13th tee at Bedminster as he soaks in the praise. All of that praise is due him, he told said at the Wednesday thank-a-thon, because "we're the ones that gave the great response, and we're the ones that kept China out of here, and if I didn't do it, you'd have thousands and thousands of people died — who would have died that are now living and happy." The Wednesday thank-a-thon was filled with self-congratulation and chest-pounding, but it was no different from Tuesday's, or Thursday's for that matter. Trump spent 25 percent of the time he spoke in self-congratulation or blaming others for the difficulties he has faced, or the obstacles he has overcome, according to a study of his Wednesday remarks by the Washington Post. "These passages constituted about 25 percent of all the words Trump spoke — more than 1,500 words out of about 6,000 spoken. That is more time than he spent conveying details about the coronavirus response," the Post reported.

When he wasn't congratulating himself or accepting the thanks of the Suck-Ass Chorus, Trump was on Twitter lamenting the slings and arrows he suffers daily from his "nasty" enemies in the "media." "The LameStream Media is the dominant force in trying to get me to keep our Country closed as long as possible in the hope that it will be detrimental to MY election success," he tweeted. "The real people want to get back to work ASAP. We will be stronger than ever before!"

Someone in the White House press corps should have asked Trump about the "real people" in overcrowded hospitals in New York, in understaffed clinics in New Orleans, in panicked waiting rooms in Detroit, and lying on soaked sheets in their own bedrooms in every state in the union. They aren't lining up to go back to work. They're dying in numbers that are doubling every 24 hours.
We are living through dark times with exactly the wrong person in the lead.  He has surrounded himself with all the wrong people.  Stay inside.  This is going to get worse.
What is on your reading and blogging list today?
---