Posted: April 6, 2020
Filed under:
just because
| Tags: #IKeepMyselfSaneBy
32 Comments
Good Day Sky Dancers!
Last week, BB overwhelmed me with the art of three artists who expressed their grief and experience with the Spanish Flu of 1918.  Two died from it.  That and the death of Ellis Marsalis led me down a rabbit hole of finding what both performing and creative artists did at that point in time. The creative community always finds a way to express the culture as we deal with challenges as a nation and a planet.  I'm trying to focus on that today as artists and performers deal with Art in the Time of Covid #19
One of the biggest expressions of our need for community is the incredible burst of mask makers providing for both the public and the front line businesses whose employees do not have the luxury or pain of staying home but must work through all of this.  Fashion Designers, manufacturers, and kitchen tables with newly home schooled children are all practicing their sewing chops.  CNBC has a focus on the fashion industry in New York City but I know plenty of local artists and kids doing the same thing here.  Fierce Christian Siriano–who has a reputation for making fashion available to everyone–was one of the first who stepped up.
Designer Christian Siriano

 has started making masks for the city, and other companies have offered to help how they can.

Naeem Khan, a New York City-based fashion designer who has designed for the likes of Michelle Obama and Kate Middleton, announced on his fashion house's Instagram page that he would start making masks.

"My team is ready to start sewing CDC approved masks from medically approved fabrics from their isolated homes," the post read.

"I'm a designer. I know how to construct, how to design, so I decided to design my own mask," Khan told CNBC. "I considered doing it in hemp fabric because it has antibacterial properties."

Khan's masks are lined with microfiber and contain a pocket into which a surgical mask can be inserted. While this offers an extra layer of protection, meaning they can be used by medical professionals, Khan noted that these masks are not meant to replace the much needed N95s used by front-line health-care workers.

"These are not designed for people in the forefront of the corona fight," he said.
I woke up to this treat today!   It's a zoombomb for a young girl who from the original cast of Hamilton!!!
After delighting the socks off everyone with a reunion of The Office last week, John Krasinski is back with the second episode of Some Good News.

The YouTube series, which Krasinski started to shine a light on good news around the world, featured a new two-second weather report this week from none other than Robert De Niro (who's credited as SGN's meteorologist).

But it gets even better. After bringing in his wife Emily Blunt to say hello, which we knew he would at some point, Krasinski got the original cast of Broadway's Hamilton, including Lin Manuel Miranda, to perform Alexander Hamilton over Zoom.

Krasinski organized the performance for a young girl named Aubrey, who was supposed to see Hamilton for her 9th birthday, but instead stayed home to watch Mary Poppins Returns due to the coronavirus quarantine.

How the heck is Krasinski going to top this next episode?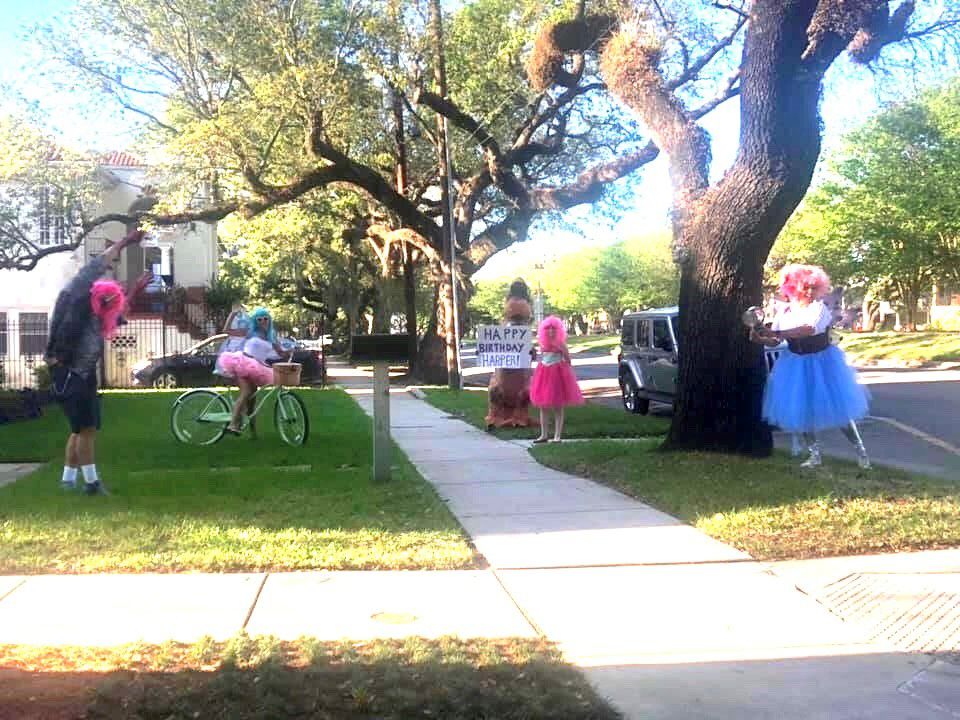 So, Harper Gladow is one of the cutest little girls you could ever meet and has two of the most wonderful people for parents that I've ever met. Imagine being a kid and having a birthday during the stay at home orders. Mom Caitlin is super creative and here's the result. Glad Harper had a great birthday!
Harper Gladow was excited about turning 5 on April 1. There would be sno-balls and presents, a bounce house and all her friends from school.

But then the coronavirus hit. Harper and her family — mom Caitrin, dad Dave, and siblings Olivia, 8, and Nathan, 6 — were isolated at home, like millions of other Americans.

There would be no bounce house. No sno-balls.

No friends.

"We had to sit down with all three of our kids, and we had to explain you are probably not going back to school this year," said Caitrin Gladow, communications director for a local nonprofit.

"We tried to be candid. We said this is a big scary virus, and we had to stay home. She understood that we had to move her party. She was understandably very upset. There were some tears. But I think she understands that we don't have a choice right now."

Still, it was hard to see the disappointment in Harper's face. So Gladow jumped on an idea she saw on Facebook: a "Group for Parents Navigating the New Norm," launched by the NOLA Family magazine website. Families were offering to mark those special, shut-in kids' birthdays for each other with a costumed parade.

With just a day or two's notice, folks found bright tutus and colored wigs. Someone made a sign. Volunteer Ann Herren climbed into an inflatable T-rex costume, and her daughter Livvy, 12, dressed up as a princess.

"These kids need it. This is their (Hurricane) Katrina," Herren said.

The Gladows called their children out to the porch on the pretext of coloring with chalk. And then came the marchers, down the root-rolled Uptown sidewalk, singing "Happy Birthday," blowing horns and dancing — at a safe distance from each other, of course.

"She was shocked," Caitrin Gladow said. And when she realized everyone was there to sing to her, she got a little shy.
You'll notice this is next level social distancing!  And here are my Friends the Gladdow Family paying it forward!  BTW,  Cait's birthday is coming up and she's gathering up donations for Team Gleason as they fundraise to beat ALS.  That's another thing Cait and I share. Her father died of this horrid disease.  A few years ago my closest cousin, Ruthie, lost her battle with it.  Cait and another friend ran the marathon for Team Gleason and Team Ruthie that year.  Please donate if you can!
It's also an odd coincidence that my big smile from that Hamilton video also came via Cait so … anyway, Love you guys!!!  I will owe you babysitting time!!!!
So, why can't kids birthday parties be a fresh take on performance art in the time Covid #19?
As I said, I tend to go down rabbit holes once I get hold of something and Google is always there to indulge me.  IT's undoubtedly something that has to do with avoiding grading for me and what my ex used to call my incessant pencil sharpening.  So, after a short search I stumbled on to this on The Conversation: "The importance of art in the time of coronavirus".  I have often told folks that after Hurricane Katrina I became obsessed with Survivor Series and Zombie and Disaster Movies.  Well, I'm not the only one that retreats to books and movies with weird impossible themes.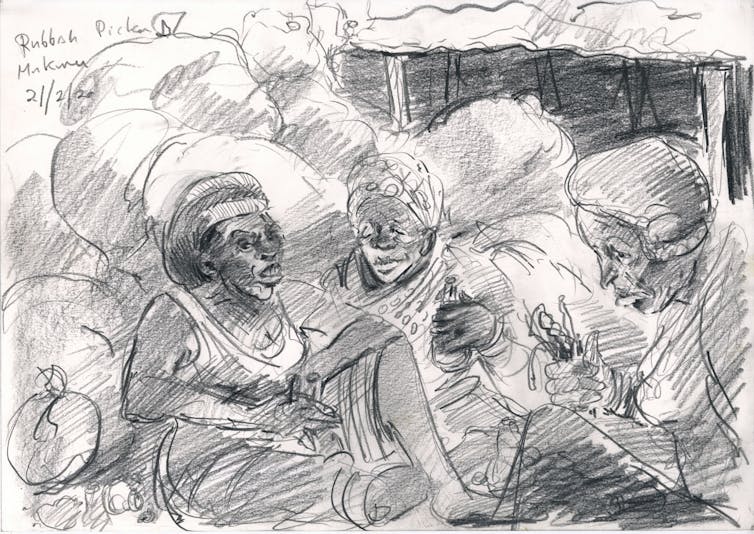 This is from Louis Netter who is a Senior Lecturer in Illustration, University of Portsmouth.
In this time of restriction, TV, film, books and video games offer us a chance to be mobile. To move around freely in a fictional world in a way that is now impossible in reality. Art connects us to the foreign, the exotic and the impossible – but in our current context, it also connects us to a world where anything is possible. A world out of our grasp for now.

The world we wake up in is a counterfeit reality. Things look the same. Unlike those now familiar films, the descent of humanity is not apparent in the slow shuffle of moaning, glassy-eyed zombies. The threat we face feels like those clever horror movies like The Blair Witch Project, Paranormal Activity and more recent films like The Quiet Place where we rarely see the source of horror. The current moment is best understood as a kind of low hum of anxiety, like the buzzing of a pylon in a field.
The best thing about this is actually that the artist had an opportunity to be in Africa during a study of what a virus outbreak would do if it hit this camp/village in Mukuru and also Nairobi, Kenya. His sketches are in the article so please be sure to check them all out.
A current trending tag under Covid-19 on Twitter is this: #IKeepMyselfSaneBy.  There is quite a bit of this:
I have found my writer friends are writing. My painting friends are painting. And here I am with my Steinway and the guitar I had as a teen. I may not be Lin Manuel but I still have a few chops left in me and a lot of my friends are sharing theirs on a New Orleans Face Book page called the Quarantine Canteen. So, even performance artists have venues.
The coolest thing ever is the number of museums, ballet companies, opera companies, and theatres sharing their videos of past performances.  This from Forbes.: "These Galleries, Arts Organizations And Museums Are Keeping Art Accessible During Covid-19."
With art galleries and museums around the world closing because of Covid-19, artists, galleries and museums have turned to technology and social media to keep their doors open virtually so visitors from anywhere in the world can still interact with and view art.

From large international museums to galleries and arts organizations, the arts community is getting creative with how they share their collections with the world.
America's Virtual Museums are on line and gearing up.
Without knowing it, or certainly asking for it, we have all become part of a giant social science experiment: can digital platforms offer a satisfactory alternative to experiencing art in the real world? Museums have created points of access to collection databases—some more easily navigable than others—allowing online visitors to look at and learn about specific objects of interest, as well as read blog postings from curators about current exhibitions or about pieces in the permanent collection and follow the institution on social media platforms, using the online world and virtual reality technology to replace or reproduce the feeling of viewing art and other objects in person. This is a process that has been developing at US museums for 20 years, although it has taken on greater significance as the Covid-19 outbreak has closed these institutions to the public for an indefinite period of time.

Michael Neault, the executive creative director for experience design at the Art Institute of Chicago, says that the museum is in the process of "launching a new interactive feature for online users of highly visual narratives about objects in the collection. We will be releasing several of these each week over the coming weeks." These features will be two to three minutes in length and include 360-degree photography. One of the first of these focuses on El Greco's 1577-79 painting The Assumption of the Virgin, a featured work in the museum's El Greco: Ambition and Defiance exhibition that opened on 7 March and was to continue until 21 June, but is now in limbo as the institution is closed to the public.

The Smithsonian Museum of American Art has created several digital tours of its the facility, from a standalone exhibition that can be viewed in 360-degrees via an app, to a fully immersive virtual reality experience, that includes art historical information on the works in the collection. And the Salvador Dalí Museum in St Petersburg, Florida, which is currently closed, offers a sometimes dizzying virtual tour of the entire museum, including the bookstore, exterior, fascinating staircase and the art in the collection, which is kept in a hermetically sealable third floor gallery in case of hurricane flooding.
In China, kids are selling their art as students of At Dulwich College Beijing (DCB) to help fund shipments of Medical Grade Masks. Some of the art you see here has come from their efforts.  You can read more about it at the link.
If you want to delve in to the reality of it all, you can watch Into the Red Zone which documents the worst hit areas of Northern Italy. I watched it on MSBNC last night. It's compelling and overwhelming.
So, I'm about to go do my remote teaching thing and my which box of what gets delivered when thing and my self comfort things which have always included my music, my water color paintings, and binging on escapist movies.  Which is my answer to #IKeepMyselfSaneBy.  What is yours?
I love you all. Be safe!  Stay Home!  And now, find yourself a few neato masks!
What's on your reading, blogging and creating list today?
---