Friday Reads: Tin Soldiers and Trumperz Coming
Posted: May 29, 2020
Filed under:
Black Lives Matter
| Tags: Black Lives Matter
12 Comments

Good Day Sky Dancers!
Last night I watched Ali Velshi reporting from South Minneapolis where a fire was just beginning to take out a car and spread to a pawn shop.  It eventually turned in to this: "Minneapolis police station torched amid George Floyd protest. I lived in Minneapolis awhile and I know the area well. It's been shocking but not surprising which is the biggest theme of the Trumpist Regime to date.
I was 12 in 1968 when the family station wagon drove around The Paseo Avenue neighborhood in Kansas City, Missouri, to get to my Grandfather's rest home during the Holy Week Uprising. It was a bit of unique response because it didn't happen the day that Chicago and LA lit up.  It was a few days later. We had to skirt and skate that part of town.
The first signs of disorder in the streets of Kansas City was a stable student march, in response to the government failing to close schools across the city on April 9, the day of King's funeral. This was seen as a lack of respect for King by the students.[1] The riot was sparked when Kansas City Police Department deployed tear gas to the student protesters when they staged their performance outside City Hall.[1][2]

The deployment of tear gas dispersed the protesters from the area, but other citizens of the city began to riot as a result of the Police action on the student protesters during a meeting with Mayor Ilus W. Davis. The resulting effects of the riot resulted in the arrest of over one hundred adults, and left five dead and at least twenty admitted to hospitals.[3]
I remember watching protest against the treatment of Black Americans on TV since the Early 1960s.  I keep seeing that we continually take to the streets over the same damn thing including the clueless people that don't understand how after decades of seeing nothing much happen, the protests eventually turn angry.
The protests in Ferguson seemed relatively tame in comparison but they were just another sign that we treat Black Americans horribly different in this country still.  The Orange Snot Blob made a campaign theme of any one protesting taking the knee in a quiet silent protest.  Well, now Derrick Chauvin took his knee to murder a Black Man in plain sight of cameras and citizens and Trumperz has the audacity to threaten the city and the state like that's his role in this.
BB was in Harvard Square for protests against the war that later turned into riots at the same time.  I also remember the riots in LA for the police beatings of Rodney King in 1992 but like most of us, I watched that from the safety of a couch in front of a TV . So, when BB described the morning news as a mix of 1968 and 1918 it seemed quite apropos.
I don't know about you but I've just had enough of this …
 "… some of those that work forces are the same that burn crosses"
So, here's some of the headlines today that seem a lot like history repeating itself  …
A CNN crew has been arrested while covering Minneapolis protests, and the governor has apologized  —  Minnesota police arrest CNN team on live television  —  (CNN)A CNN crew was arrested by Minnesota state police Friday morning while giving a live television report in Minneapolis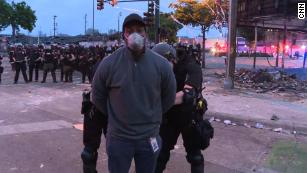 The reporters were released this morning.
Jimenez could be seen holding his CNN badge while reporting, identifying himself as a reporter, and telling the officers the crew would move wherever officers needed them to.

An officer gripped his arm as Jimenez talked, then put him in handcuffs.

"We can move back to where you like. We are live on the air here. … Put us back where you want us. We are getting out of your way — wherever you want us (we'll) get out of your way," Jimenez said to police before he was led away.

"We were just getting out of your way when you were advancing through the intersection," Jimenez continued.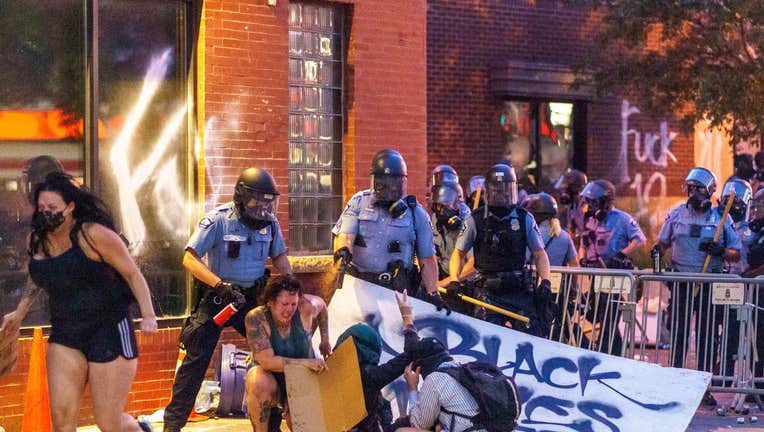 Fortunately, the Governor of Minnesota took umbrage with this and they were released.  (Any one remember Dan Rather and Mike Wallace been roughed up on air during the 1968 Convention by Security Guards?)
So, the  (via AP) "Governor acknowledges 'abject failure' in protest response" from Minnesota State Police backed up by Minnesota National Guard.  (Hmmm, what memory does that drudge up sister and brother Old people?)
With smoke drifting over Minneapolis, Minnesota Gov. Tim Walz on Friday acknowledged the "abject failure" of the response to this week's violent protests and called for swift justice for police involved in the death of George Floyd, a handcuffed black man who pleaded for air as a white officer knelt on his neck.

Walz said the state would take over the response and that it's time to show respect and dignity to those who are suffering.

"Minneapolis and St. Paul are on fire. The fire is still smoldering in our streets. The ashes are symbolic of decades and generations of pain, of anguish unheard," Walz said, adding. "Now generations of pain is manifesting itself in front of the world — and the world is watching."
Meanwhile, over in Louisville, Kentucky "7 shot in downtown Louisville at Breonna Taylor protest. Here's what we know" from the Louisville Courier/Journal.
At least seven people were shot as hundreds of protesters in downtown Louisville gathered Thursday night to demand justice for Breonna Taylor, the 26-year-old ER tech who was shot and killed by Louisville Metro Police in March.

Some shots were heard on scene just before 11:30 p.m., and a police spokeswoman confirmed the injuries at 1 a.m. in a statement. Two victims required surgery.

"There have been some arrests, but at this time we are not able to tell you how many as the situation is ongoing," spokeswoman Alicia Smiley said in a statement.

Police officers did not fire their guns, Smiley said.
That city is also burning.
Courier Journal reporter Cameron Teague Robinson was on the scene at Jefferson and Sixth streets Thursday night when shots were fired at the protest over the fatal police shooting of Breonna Taylor in her home.

He said he was looking over to the police barricade before turning to find one of his fellow reporters when the shots started. He said he ran behind Metro Hall where some cops were stationed with guns.

"They weren't trying to shoot anybody," Teague Robinson said. "I think they knew people were running away, but they just (had) guns aimed, aimed up, yelling at people to leave and get out of there. So once I kind of ran into a cop with a gun, I kind of just kept running."

His path took him beyond Fifth Street.
Here's the latest on officer Derek Chauvin who is officer who suffocated George Floyd by keeping his knee on his throate even Floyd was subdued and clearly telling the office he was in distress.  Chauvin has been taken into custody.
​
There is more information coming out on Chauvin and his victim daily. This is from The Grio: "George Floyd and officer Derek Chauvin worked together at nightclub in 2019."
Maya Santamaria, the former owner of the El Nuevo Rodeo Club, says that she knows both men at the center of Minneapolis' recent protests. How? She hired them both at her club in 2019, but she cannot recall if the two actually knew each other, according to KSTP-TB, an ABC local affiliate.

"Chauvin was our off-duty police for almost the entirety of the 17 years that we were open," says Santamaria. "They were working together at the same time, it's just that Chauvin worked outside and the security guards were inside."
Chauvin's earlier excessive abuse charges were handled by Amy Klobucher.  This is also from The Grio.
George Floyd's death in Minneapolis by the hands of a cop has created a furor and protests over police brutality. Minnesota Sen. Amy Klobuchar is now under scrutiny for failing to pursue charges against the officer involved when she was chief prosecutor.

Ex-Minneapolis police officer Derick Chauvin kneeled on Floyd's neck for eight minutes as he struggled to breathe on Monday. He and three other officers have since been fired but the incident with Floyd was not the first controversial one in his police jacket. Chauvin has at least 10 complaints of misconduct against him according to the database that registers complaints against police.

Klobuchar, Minnesota's Democratic senator—and a possible vice presidential running mate to presumptive Democratic nominee Joe Biden has demanded a "complete and thorough" investigation into Floyd's death.
Well, I'd say that's all over.
Meanwhile, the Russian Potted Plant in the Oval office and Racist-in-Chief did exactly what you'd think he'd do. He race baited and stood with the Ku Klux Blue.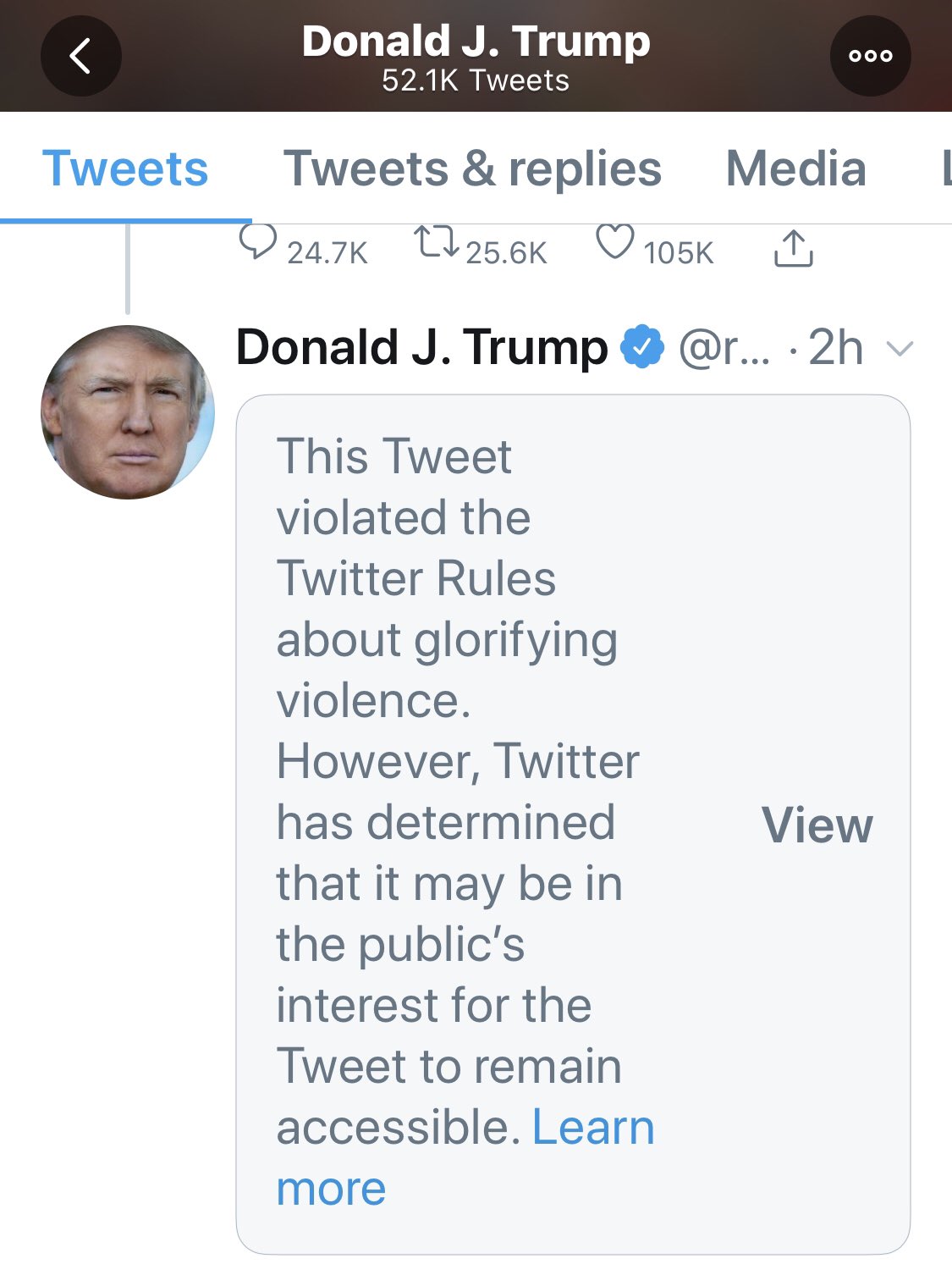 President Trump called the Minneapolis protesters "thugs" and implied looting demonstrators could be shot in two tweets posted early Friday morning, which Twitter later said violated its rules against promoting violence.

"I can't stand back & watch this happen to a great American City," the president wrote, adding that Mayor Jacob Frey, a Democrat, must "get his act together and bring the City under control, or I will send in the National Guard & get the job done right."

It was unclear if the president intended to send additional troops after Gov. Tim Walz activated the Minnesota National Guard to help restore order in the Twin Cities. But the president said he was prepared to have the federal government "assume control."

"These THUGS are dishonoring the memory of George Floyd," Mr. Trump wrote of the demonstrators, "and I won't let that happen." He added, "Any difficulty and we will assume control but, when the looting starts, the shooting starts."

The tweet containing that quote was placed behind what Twitter called a "public interest notice," which warned users that it "violated the Twitter Rules about glorifying violence" and required readers to take an extra step to read the president's full comment.
Well… this is good by seeing that he's actually tweeted  52.1 K tweets over time make me wonder if twitter troll is his full time job because he certainly is not presidenting.
So, I'm with Andrea Brown of the Houston Chronicle: " Opinion: After George Floyd, I will not watch another video and witness another atrocity".
The amount of death that I've seen is unnatural for a person my age. It would be easy to pass this statement off as a hazard of my job. I'm an educator in an area of town that's been plagued by violence for years. I've wept at the loss of life of at least one student for six years straight. It's much worse for the students I serve in the Third Ward. Death has turned many of them cold because they haven't had the privilege of being shielded from the pain of violence in its many forms.

This is the same community that was home to George Floyd, a black man who was killed while in the custody of Minneapolis police. He was beloved by his community. Now, images of his lifeless body have traveled the world, sparking protests, tears, outrage and empty apologies. This is a cycle that continues to repeat itself. Each time it happens, it feels like a bandage being ripped off of a gaping wound. It never heals.
Enough! I've watched this play out since the early 1960s on the news … it's way too much and we've done way too little to stop it.
The institutions of the United States of America should protect and serve all Americans equally and treat them all with respect and with the view of equality under the law.  Police need to stop KILLING our Black Brothers and Sisters!  NOW!!!!
What's on your reading and blogging list today?
---