Monday Reads: Trumpist Chaos is on an Exponential Growth Path
Posted: May 11, 2020
Filed under: Afternoon Reads, Black Lives Matter, COVID19, tRump crimes against humanity
15 Comments

Good Day Sky Dancers!
The Chaotic Trumpist Regime continues to wreak havoc on the peace, health, and stability of our Democracy.  Looking at headlines today creates the impression that we are under attack from within in so many ways that it's hard to understand and counter them all.  It's also difficult to prioritize what we should be reading about. Here's my list and I know there's more!
Trump has cut funding to Doctors and Scientists working on a Covid 19 vaccine and insisting this pandemic will go away without a vaccine.
Meanwhile, back in reality, Sarah Owermohle  of Politico writes: "Why the U.S. isn't prepared to meet overwhelming demand for a coronavirus vaccine.  The nation's supply chain isn't anywhere close to ready. What I want to know is how  could we possibly be preparing for this when Trump thinks we don't need a vaccine?
The nation is already grappling with a shortage of the specialized glass used to make the vials that will store any vaccine. Producing and distributing hundreds of millions of vaccine doses will also require huge quantities of stoppers — which are made by just a handful of companies — as well as needles and refrigeration units. Low stocks of any one of these components could slow future vaccination efforts, much as shortfalls of key chemicals delayed widespread coronavirus testing.

A massive manufacturing effort is already gearing up to produce hundreds of millions of doses of promising vaccines now in late-stage trials, as scientists and the government gamble that at least one of the shots will prove safe and effective. The effort could rival the urgent national campaign to vaccinate children against polio in the 1950s.

"Probably the biggest challenge will be scaling up the actual vaccine. It's one thing to have clinical trial samples and materials in lab quantities," said George Zorich, a pharmacy expert and CEO of ZEDPharma. "It's another challenge actually scaling that up effectively."

Potentially making it even harder is that the U.S. is striking out on its own. The administration has snubbed an international collaboration spearheaded by the World Health Organization, while the president readies for a November election that could be a referendum on his coronavirus response.
This is really no way to run a country or a response to a nationwide threat.
The Flynn Travesty has caused a number of former DOJ employees to call for investigation by Congress and for judicial action.
This is probably even scarier than the Pandemic.  As I said before. this is truly Banana Republic territory.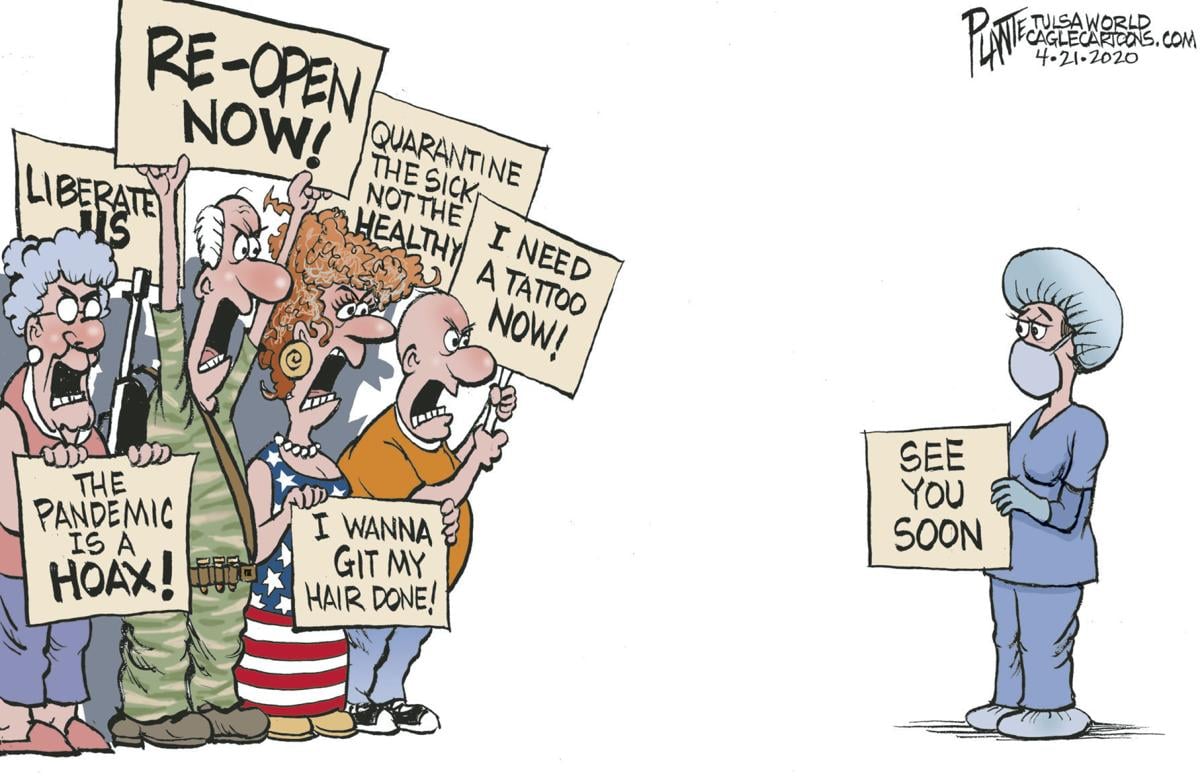 You'll just love the Republican plan for any more monetary help to people hold on to their lives.  Hand them your social security and you'll get diddles for now. So, your choice on when to fall of the financial cliff.
And we still have to deal with angry Trumpist mobs wanting access to strip clubs, nail salons, and gun stores. From Steve Neavling / News & Views of the9 Detroit Metro Times:  "Gov. Whitmer becomes target of dozens of threats on private Facebook groups ahead of armed rally in Lansing"
Dozens of angry Michiganders, fueled by conspiracy theories and disinformation about the coronavirus, are promoting violence and mobilizing armed rallies against Gov. Gretchen Whitmer on Facebook, in violation of the social media company's policies.

Metro Times gained access to four private Facebook groups that can only be seen by approved members. The pages, which have a combined 400,000 members, are filled with paranoid, sexist, and grammar-challenged rants, with members encouraging violence and flouting the governor's social-distancing orders.

On Sunday, after being contacted by Metro Times, Facebook removed one of the groups, Michigan United for Liberty, and deleted posts on others for violating the company's policy against inciting violence. Facebook announced last month that it will remove groups and events that encourage people to defy social-distancing measures. Facebook also is investigating the other groups.

"We removed one group for violating our policies and will remove any other violations as we continue our review," a Facebook spokesperson tells Metro Times.

Assassinating Whitmer is a common theme among members of the groups. Dozens of people have called for her to be hanged.

"We need a good old fashioned lynch mob to storm the Capitol, drag her tyrannical ass out onto the street and string her up as our forefathers would have," John Campbell Sr. wrote in a group called "People of Michigan vs. Gov. Gretchen Whitmer," which had nearly 9,000 members as of Monday morning.

Steve Doxsie had the same idea: "Drag that tyrant governor out to the front lawn. Fit her for a noose."

"Either President Trump sends in the troops or there is going to be a midnight lynching in Lansing soon," Michael Smith chimed in.

Others suggested she be shot, beaten, or beheaded.

"Plain and simple she needs to eat lead and send a statement to the rest of the democrats that they are next," James Greena, of Fennville, wrote.

Chris Rozman said, "She needs her ass beat. Most of these politicians need a good ass whooping. Just. Punch there lights out."

When someone suggested the guillotine, Thomas Michael Lamphere responded, "Good ol' fashioned bullets work better, but I like the enthusiasm."

"Wonder how long till she's hit with a shotgun blast," Chris Parrish wrote.

Matthew Woodruff had another idea: "Can we please just take up a collection for an assassin to put that woman from Michigan down," he asked.
Lynching seems to be  the "in" remedy with Trumpists these days.  Black Americans are still the primary target and there is no lack of it in the news these days either.
I continue to wonder how we can rid ourselves of all of these Trumpists even if we do rid ourselves of Trump.  It is truly discouraging that such a vile minority could overtake our government. The Pandemic Mismanagement chaos is being used by many Republican States to suppress the rights and well being of minority citizens.
The majority of Americans continue to support Public Health measures taken to make every one safe and are appalled by the Open Up Demonstrations.  (Via The AP)
A majority of Americans disapprove of protests against restrictions aimed at preventing the spread the coronavirus, according to a new poll that also finds the still-expansive support for such limits — including restaurant closures and stay-at-home orders — has dipped in recent weeks.

The new survey from the University of Chicago Divinity School and The Associated Press-NORC Center for Public Affairs Research finds 55% of Americans disapprove of the protests that have popped up in some states as some Americans begin chafing at public health measures that have decimated the global economy. Thirty-one percent approve of the demonstrations.
How many will continue to all prey to Trumpist Gas Lighting?  (Via WAPO an Greg Sargent.)  Certainly more folks can see9 he's really the Psycho in Chief.
The news that the novel coronavirus has invaded President Trump's inner circle — and that the White House is implementing aggressive testing and tracing to combat it — is a devastating story on an obvious and immediate level, but also on a deeper and longer-lasting one.

Most palpably, it has revealed the sort of glaring double standard that's catnip to political media: The White House is taking extensive steps to protect Trump and his top advisers with resources that are largely unavailable to the rest of us, in part due to his own dereliction.

But new reporting about the White House's handling of this points to something more fundamental. How will Trump persuade the country we are returning to a normalcy that makes it safe to resume economic activities when his own advisers are panicked about its invasion of their own spaces, even as they can protect themselves in a way we cannot?

According to CNN, Trump's advisers grasp that this story has become a deadly problem for them. But note why they have concluded this:

An official said there is extreme sensitivity inside the White House at the current state of affairs with officials recognizing the contradiction in telling states to reopen while the White House enhances protocols to prevent the spread of the coronavirus.

The problem isn't just that this story is revealing that Trump and his advisers benefit from testing and tracing that the rest of us mostly do not enjoy, though that's damning enough.

It's also that this shatters the larger illusion Trump is trying to weave with his magical reality-bending powers — that the coronavirus has been so tamed by his stupendous leadership that it's now safe to reopen the country, setting the stage for an equally spectacular Trump-marshaled comeback.
The most interesting office pool game right now is which of this gang of feckless nitwits is now under quarantine and which ones are still running around coughing on people?  This tool is obviously following the example of his master.
It appears Dr Fauci and a few others may be the only ones in the administration following its own guidelines but this also seems pretty convenient.
So, there's plenty more headlines out there today if your mental health and blood pressure can handle it.  Just check out the ones on SCOTUS then light a candle for the health of Notorious BRG
Be safe!  Be kind to yourself and others!  Stay your ass home as much as possible!
xoxo,
Dakinikat, not afraid to wear a mask and still not afraid to speak out against injustice!
What's on your reading and blogging list today?
---