Monday H.L Mencken Reads: "Boobus Americanus"
Posted: May 4, 2020
Filed under:
just because
38 Comments
Good Day Sky Dancers! great
American History has left the building!  So has common sense.  But anyway …
Here's just a taste of how the lesser "Boobus Americanus" presents. Notice his festive plummage as he struts and preens. His pack leader, the Major "Boobus Americanus" has a distinct vocalization.   Go straight to the tweet below for the latest capture of the Major Boobus Americanus in its habitat, the Faux News Show with the Lincoln Memorial as the chosen reality stage backdrop.   After all, who would say something stupid in a memorial to one of the greatest American minds, Presidents, and orators in our history?
H.L. Mencken was a known as the "Sage of Baltimore" which seems apropos to today as much as his time. I actually own a first edition of one his books of essays having tripped upon it in a St Louis used bookstore around 25 plus years ago.  I also bought that a child's french grammar book.  It was a quaint little place and I wish I could revisit it. Perhaps one day.  The essays included "In Defense of Women".  From the point I started reading this, I knew I was down one of my rabbit holes.
From the keyboard of Carson Vaughn:
For better or worse, I am a child of the Plains, and so my first experience with H. L. Mencken was less an introduction than a confrontation. I first learned of the Sage of Baltimore during his cameo appearance in a Great Plains history course, at the University of Nebraska. Henry Mencken considered us part of a large and ever-growing species he called homo boobiens, my professor explained. Wedged between the Omaha race riots and the Agricultural Marketing Act of '29, Mencken showed up during the Scopes Monkey Trial to wield his pen against William Jennings Bryan, whom he described as "one of the most tragic asses in American history." What a dick, I thought. I liked him immediately.

I liked him so much that I bought The American Language, the pillar of his bibliography, and never touched it again. Unaware of my purchase, my girlfriend gave me a copy of the same book as a gift, but not before gluing the pages together and carving out the middle to camouflage my secrets. Later I purchased a used copy of The New Mencken Letters and schlepped that 635-page tome around wherever I went, reading a letter or two here and there, recklessly quoting from it in term papers.

From the letters, I became smitten with Mencken's verbal gymnastics, his apparent refusal to say something plain when it could be said with the cocksure verbosity of a Southern lawyer. Perhaps, too, I was charmed by that most convenient of facts: he was dead. Had Mencken still been alive, I have no doubt I'd have raised my guard, but that is the gift of hindsight. Instead I accepted him the way he accepted himself, disregarding the imperfections—of which, I would later find out, there were many.

By the time I stumbled upon Prejudices, a selection of Mencken's essays, at a used bookstore in Lincoln, Nebraska, I felt as if I'd known the cigar-chomping wise guy for years, even though I hadn't read a word of his professional canon. My respect for him was hardly reciprocated. About Nebraska, my home state, he had made himself very clear: "I don't give a damn." Mencken judged me with the smirk of a haughty equestrian, spun me around, tied my shoelaces together, and encouraged me to walk with him. He called me a boob, said it was okay, said that we children of the corn couldn't be expected to understand the rich intellectual life along the Potomac, or better yet, across the Atlantic.

Flipping eagerly among the essays, I was aware that Mencken, like the Boobus Americanus he lampooned, had never attended college himself. In fact he rarely left the confines of Baltimore, and spent much of his adult life living with his mother and eating her sandwiches. In 1928, Irving Babbitt accused Mencken of "intellectual vaudeville," and more recent critics have labeled him a philistine, but it didn't matter to me. The show had already started, and his ridicule, in a way, seemed a privilege. I felt like the drunk at a comedy club, asking to be called out.
Yes,  Boobus Americanus still walks among us and is unfortunately planted in the White House for what I hope is less than another year.
"Our whole practical government is grounded in mob psychology and the Boobus Americanus will follow any command that promises to make him safer." – H.L. Mencken
That's a good one but this is by far my favorite.
"On some great and glorious day the plain folks of the land will reach their heart's desire at last, and the White House will be adorned by a downright moron".
And, I thought that was George W Bush. Silly me.
So let me just juxtapose two headlines for you.
Kristin Myers / Yahoo Finance: Reopening states will cause 233,000 more people to die from coronavirus, according to Wharton model
Well, that does't sound good.
New data from the University of Pennsylvania suggests that relaxing lockdowns across U.S. cities and states could have serious consequences for the country's battle to contain the coronavirus, which has infected over a million people while killing more than 66,000 people.

According to the Penn Wharton Budget Model (PWBM), reopening states will result in an additional 233,000 deaths from the virus — even if states don't reopen at all and with social distancing rules in place. This means that if the states were to reopen, 350,000 people in total would die from coronavirus by the end of June, the study found.

Kent Smetters, the PWBM's director, said the decision to reopen states is ultimately a "normative judgement that comes down to the statistical value of life."

He explained: "That's not a crude way of saying we put a dollar value on life, but it's the idea that people will take risks all the time for economic reward."

That figure far surpasses estimates and models that the White House has cited from the University of Washington, which put the death toll at roughly 73,000 by the start of August.

The U.S. economy is reeling as statewide lockdowns have thrown 30 million Americans out of their jobs, and stoked a furious debate about how long the restrictions can remain in place. Some states, like Georgia, are choosing to partially reopen, allowing businesses like restaurants, hair salons, massage parlors, and more to open again.

However, partially reopening would also cause the death toll to rise, the university's data found. An additional 45,000 lives would be lost, according to Wharton's Budget Model, bringing the U.S.'s death toll from COVID-19 to 222,000.

However, the policy of reopening states would provide a much needed economic boost, according to the model.

"Almost all net job losses between May 1 and June 30 would be eliminated," the report found.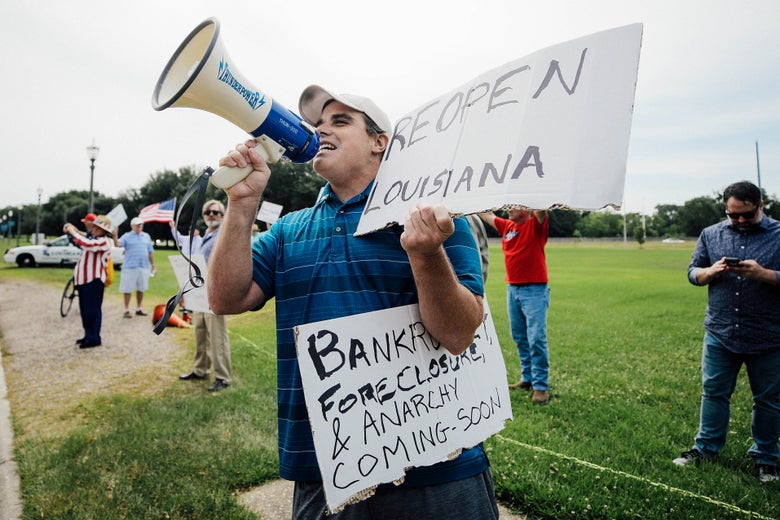 Well, maybe it sounds like 'acceptable losses' to both Boobus Americanus and extremely wealthy American businessmen who think they're impervious because they're white, they're on the right, and their shortcomings can be viewed beneath the belt and on IQ tests.
And, here's another:
Steve Benen / MSNBC:
For the 5th time in two weeks, Trump tweaks projected death toll  —  When a president finds it necessary to revise a projected death toll five times in 13 days, there's a problem.
Two weeks ago today, Donald Trump said he believed the overall American death toll from the coronavirus could be as low as 50,000 people. By the end of the week, the president's forecast had already been exposed as tragically wrong.

Exactly one week later, Trump said the overall American death toll from the coronavirus would "probably" be as low as 60,000 people. Four days later, based on NBC News' overall tally, the fatalities from the pandemic climbed past that threshold, too.

This past Wednesday, the president suggested the number of fatalities in the United States could be as low as 65,000. Predictably, we also soon passed that projected total.

Last night, Trump held his latest Fox News event — this time using the Lincoln Memorial as a backdrop — and acknowledged that he was moving the goalposts with his fourth number in 13 days. "I used to say 65,000," the president said, pointing to a total he promoted just a few days earlier. "And now I'm saying 80,000 or 90,000."

Around the same time, the president rolled out his fifth projected death toll.

President Donald Trump has warned that the U.S. death toll from the coronavirus outbreak could reach 100,000 — revising upwards his estimate on the number of people the outbreak could kill by tens of thousands. "Look, we're going to lose anywhere from 75, 80 to 100,000 people. That's a horrible thing. We shouldn't lose one person out of this," Trump said speaking during a Fox News virtual town hall.

Circling back to our earlier coverage, when I say I don't know why Trump keeps doing this, I'm not being coy or facetious. I honestly have no idea. There is no upside to a president, every few days, presenting a new projected death toll, seeing reality catch up to that number, and then starting the process anew.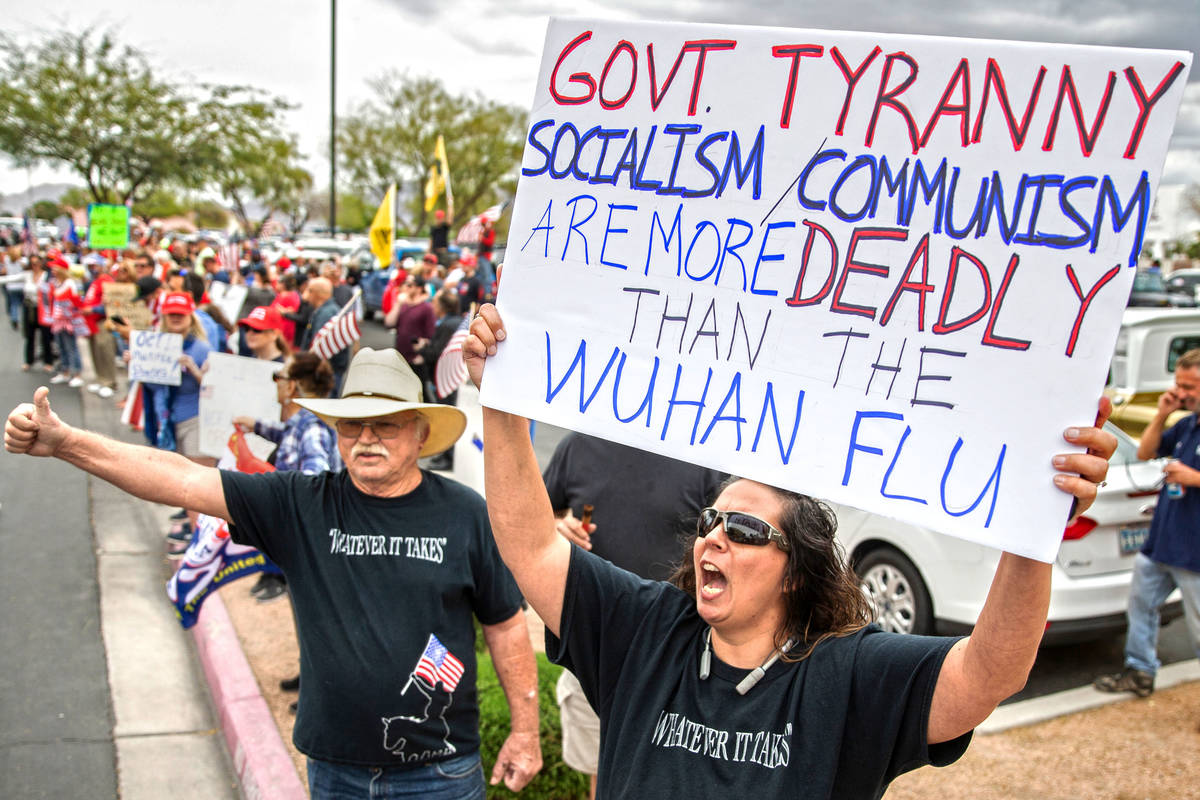 Open up America!  We just stockpiled another 100,000 body bags for no apparent reason at all.  The Boobus Americanus wants hair cuts, all you can eat buffets, and a job that will kill them.
The Department of Homeland Security is poised to spend $5.1 million on the largest batch order for "human remains pouches" from E.M. Oil Transport, Inc., according to an April 21 filing, NBC news reported.

The pouches have not yet been paid for or shipped to the Federal Emergency Management Agency (FEMA), according to NBC News.

"I hope to God that they don't need my order and that they cancel it," the company's marketing manager, Mike Pryor, told the news source.

According to the report, FEMA also opened up bidding for different companies to provide refrigerated trailers to serve as makeshift morgues to localities around the country. The request specifies a preference for "53-foot tall trailers", the largest of their kind.

Other internal documents obtained by the media outlet showed that the White House coronavirus task force has serious concerns about what lies ahead for the U.S., with fears that the country might endure another spike in infections in the future.

Members of the task force were reportedly concerned over the lack of coronavirus tests, a vaccine or proven treatments for coronavirus and the possibility of a "catastrophic resurgence" of the disease.
From the NYT: "Coronavirus Live Updates: Trump Administration Models Predict Near Doubling of Daily Death Toll by June".  But you know, nothing to see here Boobus Americanus. Go out there and prove them wrong.  Just stay away from the hospitals and every one else.
So, my neighbor Nancy frequently chat.  She's in front of the house and I'm walking Temple across the street on the neutral ground.  Total Social Distancing. She told me this story.
Nancy wanted to walk along the River in one of the many paths in the Crescent City Park. It's outside, they've pretty much removed all the benches and it's just a place to walk so no real danger in a little exercising there.  She veers off to a less broad side paths and sees two Wipopo walking towards her so she carefully pulls her mask up and moves to give them some space.
So, "Karen"–we'll just call her that–starts yelling at Nancy that the mask is causing her to breathe in her own toxins and will kill her.  These comments just come out of the blue, uninvited, and of course Karen started moving in on Nancy because getting in some one's face is just so real down home neighborly, am I right?
Nancy said well, she's just doing what every one is asking us to do including the many doctors begging us to stay home and socially distance on every TV News outlet but Faux..  Karen, respond by telling her that all doctors are "retarded" and she's going to die breathing in her own toxins.  By this time, Nancy is trying to move forward and says some like well, okay, have a nice day.  Karen does keep moving up the path while Nancy moves down.  Nancy cannot help but overhear the next subject.  Karen's telling her companion something about all the trees dying because of 5G. Well, that's all interesting except we don't have 5G here in New Orleans let alone in my neighborhood and we had a mini drought in April.  But, hey, Karen's gotta Karen and wipipo be wipopo and we still have an ample supply of Boobus Americanus as demonstrated resplendently by Donald J Trump who has managed to make George W Bush look better.
Take care!  Stay your ass at home!  Be kind to yourself!
What's on your reading and blogging list today!
---