Friday Reads: What exactly defines a Death Cult?
Posted: April 17, 2020
Filed under: Afternoon Reads, American Gun Fetish, religious extremists
| Tags: Trump Death Cult, Whitmer protests
21 Comments
Good Day Sky Dancers!
I'm old enough to have a clear memory of Jonestown and the suicide massacre that happened in Guyana in November, 1978. The shocking cult massacre has been documented in movies, books, and periodicals. So what exactly is a Death Cult and can an argument be made that MAGA is exactly that?
This brief history and bit of insight of Jonestown is from The Rolling Stone and was written by David Chiu in 2018. Drinking the Koolaid was then introduced into the American Lexicon as the willingness of people enrapt of a charismatic cult leader to do anything in his name. It is terrifically affiliated with the ideal of the white savior.
People have wondered how Jim Jones, a man who preached racial and social equality, turned evil. But as Tim Reiterman explained in Raven, Jones' dark qualities – his need to control people, his deceit, and his anger toward people who betray or abandon him – could be traced to his childhood in Indiana. A loner during his youth, Jim would entertain his playmates in the loft of his family's barn and made them his captive audience (one time, he even locked up his young friends in the barn). He performed experiments on animals and conducted funerals for them.

"I thought Jimmy was a really weird kid," Jones' childhood friend Chuck Wilmore recalled in the 2006 documentary Jonestown: The Life and Death of Peoples Temple. "He was obsessed with religion; he was obsessed with death. A friend of mine told me that he saw Jimmy kill a cat with a knife." According to Jeff Guinn's book, The Road to Jonestown, Jones also had an early fascination with Adolf Hitler. "When Hitler committed suicide in April 1945, thwarting enemies who sought to capture and humiliate him, Jimmy was impressed," he wrote.
Sound like any one we know today?
Remember The Branch Davidians and David Koresh? That was certainly more complex than any one understood at the time. How about Heaven's Gate? That one was a combination of alien conspiracy theories wrapped up in the doomsday prepper culture. It's difficult to understand how people get wrapped up in these things but they do and they mostly just taking the lemming path over the cliff eventually. And that's what worries me today.
This Covid-19 Pandemic has brought the tendency to police other people as well as subscribe to some kind of wild proposition that an unseen magical being will save you and no one else. These people also imbue Trump with some kind of papal infallibility which is again, worrying. The combination of evangelical magical thinking and the white rage accompanying Trumpism during a global pandemic should worry us all.
Take this church and pastor in East Baton Roughe, Louisiana, please! "Member of defiant Central church dies from coronavirus illness, but pastor says it's a lie". This is from the Baton Rouge Advocate as reported by staff writer David J. MItchell.
A 78-year-old man who attended a Central church that has bucked state stay-at-home restrictions has died from the illness tied to the novel coronavirus.

The East Baton Rouge Parish coroner said Harold Orillion, a parish resident, died from the COVID-19 respiratory illness on Wednesday. Three sources told The Advocate that Orillion had ties to the Life Tabernacle Church. They spoke on condition of anonymity because they were not authorized to publicly discuss a link between the man and the church.

The Rev. Tony Spell, the church's pastor, did not return messages left Thursday about Orillion after the coroner released his death information following a public records request from The Advocate. Spell later in the day confirmed to television stations WAFB and WVLA that Orillion was a parishioner in good standing.

Spell also disputed that Orillion's death was due to the virus, despite the coroner's determination. "That is a lie," Spell told WAFB.
And here's the kicker:
Spell's fight against the order, along with a handful of other religious leaders nationally against similar restrictions, has attracted worldwide attention. He has been charged with six misdemeanor counts of violating Edwards' orders.

Spell, who has faced criticism over his stand, has made several provocative comments about the virus and the resulting controversy, including telling TMZ that true Christians do not mind dying from the virus but from "fear living in fear, cowardice of their convictions."

While many houses of worship have converted to online services, Spell maintains that in-person services are essential to his congregation's faith and financial well-being.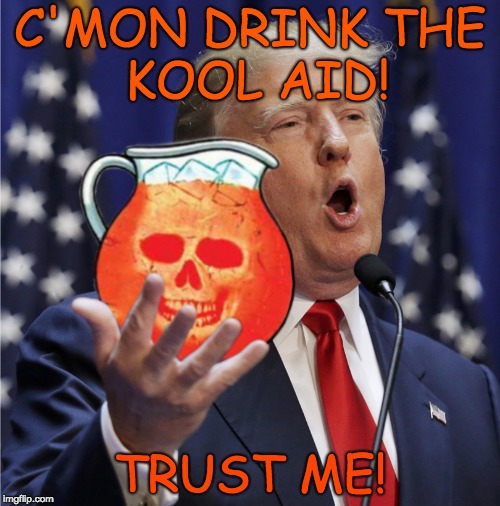 And then of course this: "Louisiana pastor holding services during pandemic asks people to donate stimulus checks to evangelists". (Via The Hill)
A Louisiana pastor who has drawn criticism for holding in-person church services despite coronavirus guidelines is asking people to donate their stimulus checks to evangelists who "haven't had an offering in a month."

In a video posted to YouTube on Wednesday, the Rev. Tony Spell called on the public to get behind a new online challenge he is dubbing the #PastorSpellStimulusChallenge.

There are three rules to the challenge, Spell said in the video. The first rule is that it starts on Sunday. The second, he said, is for people to "donate your stimulus money."

"Rule number three," he continued, is to "donate it to evangelists, North American evangelists who haven't had an offering in a month; missionaries, who haven't had an offering in a month; music ministers, who haven't had an offering in a month."

"I'm donating my entire stimulus, $1,200," Spell added. "My wife is donating her stimulus, $1,200. My son is donating his stimulus, $600."

Individuals with income under $75,000 and married couples with income less than $150,000 can receive the full amounts of $1,200 per adult and $500 per child under legislation signed into law last month by President Trump.

Spell's comments come as churches across the country have either closed their doors or moved their services online in efforts to comply with stay-at-home orders issued by states and federal guidelines urging people to avoid unnecessary travel and gatherings exceeding 10 people amid the pandemic.
Yes, he continues to violate the law. (via CNN) This was as of April 1st.
When asked why he will not follow the governor's mandate, he said, "We have a mandate from the word of the Lord to assemble together. The first amendment says that Congress shall make no law prohibiting the exercise of religion."

Spell said officers came to him Tuesday and read him his rights, but didn't arrest him. He said he he was asked to stop having services and he told them that he would not stop.

"We aren't breaking any laws," Spell insisted.

Earlier in the day, in a Facebook Live video, after being served the summons at his church by two police officers, he maintained his defiant stance.

"We will continue to have church," he said. "This is a government overreach. They are asking us as a government to stop practicing our freedom of religion. And we have a mandate from God to assemble and to gather together and to keep doing what we're doing."
But, he let's not stop with my local example but head straight to the DeVos Death Cult and its relentless support of the Mad King in the Oval office. The wacky white neoconfederate followers of the Orange Koolaid are out there trying to kill us over what they consider government overreach. And of course, they've focused on a Woman Governor, Christine Whitmer. (Via NBC News)
Asked about the protests at his press conference Thursday, one in which he unveiled his administration's guidelines for reopening, President Donald Trump said he believed the demonstrators would listen to him and added there is no daylight between his views and the governors when it comes to reopening.

"I think they're listening. I think they listen to me," Trump said of the protestors. "They seem to be protesters that like me and respect this opinion, and my opinion is the same as just about all of the governors. They all want to open. Nobody wants to stay shut but they want to open safely. So do I."

The protests have had a tea party flavor to them, with demonstrators carrying "Don't Tread on Me" flags and wearing "Make America Great Again" gear. Some have even waved Confederate flags.

"I'm only surprised they can tear themselves away from Rush Limbaugh long enough to go protest," Philippe Reines, a former top adviser to 2016 Democratic presidential nominee Hillary Clinton, told NBC News.

Critics say they're angry with the shutdowns, which have curtailed business and leisure activity in the name of a deadly virus they say hasn't hit their neck of the woods. But health experts have warned it won't take much for a relatively unaffected place to become a hot spot, as just one infected person is able to spread the virus to dozens of others.
Susan J. Demas writing for the Michigan Advance: "Don't whitewash the GOP's extremism on full display during Whitmer protest."
We were promised it wasn't a Republican protest. We were promised people were just upset they couldn't golf or buy seeds (in stores) during a pandemic that's already killed 2,000 of their neighbors.

But the folks trekking to Michigan's Capitol Wednesday weren't carrying rakes or watering cans or cute pun-filled signs about the right to garden (which still would have been ironic, since it was snowing). No, they brought Confederate and Donald Trump flags, AR-15s and a Gov. Gretchen Whitmer doll in a noose.

"She's the reason we need the 2nd amendment!" multiple people shouted from their cars.

The Michigan Militia showed up to do a recruitment push. The Proud Boys were there. A few hundred people left their cars — even though we were repeatedly assured they'd follow social distancing rules — and strolled down the street with misspelled signs like "Heil Witmer" (replete with a backwards swastika) and clustered together on the Capitol steps for photos. Several pushed conspiracy theories that COVID-19 wasn't real and insisted they couldn't get it anyway by violating simple federal health guidelines (nobody volunteered any medical credentials to make such claims). Many brought their kids.

Ambulances couldn't get through traffic. Who knows how many gas station clerks, restaurant workers, police and reporters protestors encountered and possibly spread the virus to.

It's important to pull back for a moment. The policies Whitmer and 42 other governors have put in place to stop a pandemic have been carefully crafted by public health officials. It's not that they want to be a buzzkill or kill the economy (seriously, no politician wants that, just out of sheer self-preservation). It's because the disease has spread so rapidly and killed so many. Drastic times call for drastic measures.

With almost 30,000 COVID-19 cases, Michigan has the fourth-most in the nation. But the protestors didn't even do a feint to acknowledging the 2,000 people who have lost their lives or the families they left behind. It was just primal screams against the Democratic governor and calls for Trump to make everything great again.

For a party that's ostensibly dedicated to the sanctity of life, Republicans have repeatedly and flagrantly demonstrated how little they care about their neighbors dying of an excruciating disease that can feel like shards of glass have filled your lungs.

Where is the humanity?
Michael Tomasky of The Daily Beast has an explanation: "Trump's Culture Warriors Are a Literal Death Cult Now".
You know where this is headed, right? We all know. Donald Trump and the Republicans are going to turn the election into a red vs. blue culture war battle—not over abortion, not over climate change, not over guns, but this time, over death itself.
Because death is every authoritarian's last play. An authoritarian leader makes demands of his people. They must cheer more lustily than non-authoritarian people cheer. They must salute in a particular way. They must exonerate him of all error, whether stupidly invading Russia or massively screwing up a pandemic response or shooting someone on Fifth Avenue. And finally, they must prove they are willing to at least flirt with death, if the leader's hold on power requires it. It's the final demand on loyalty, and every authoritarian gets there eventually, in one way or another, even those forced to operate within democratic contexts.
Thus, the question of the 2020 election, as Trump and his party attempt to frame it: Are you manly enough to sneer at death, like real men do in the movies (which are fake, of course, but never mind that), or are you one of those pusillanimous patsies who quivers under the bed sheets like some avocado toast-eating intellectual, whining that we have to listen to the experts?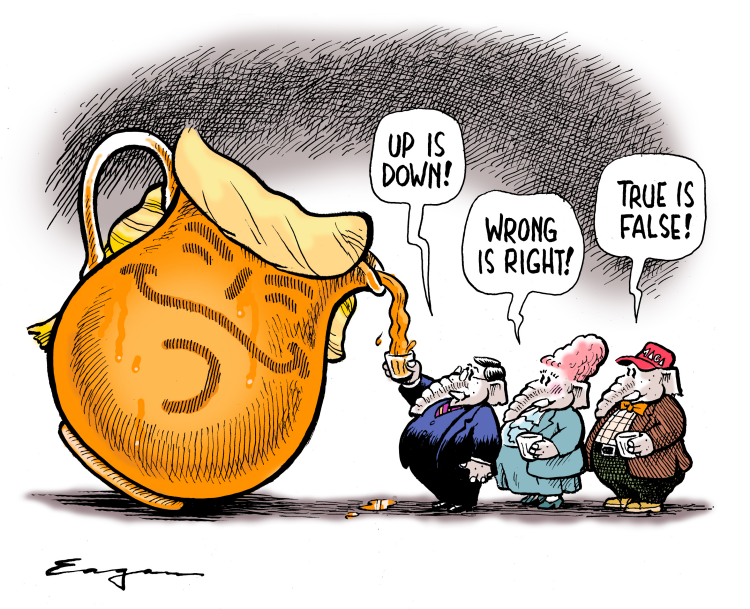 Jason Williams of The Guardian has the details on what shadowy groups and characters are funding this craziness.
On Wednesday in Lansing, Michigan, a protest put together by two Republican-connected not-for-profits was explicitly devised to cause gridlock in the city, and for a time blocked the entrance to a local hospital.

It was organized by the Michigan Conservative Coalition, which Michigan state corporate filings show has also operated under the name of Michigan Trump Republicans. It was also heavily promoted by the Michigan Freedom Fund, a group linked to the Trump cabinet member Betsy DeVos.

But the protest also attracted far-right protest groups who have been present at pro-Trump and gun rights rallies in Michigan throughout the Trump presidency.

Placards identified the Michigan Proud Boys as participants in the vehicle convoy. Near the state house, local radio interviewed a man who identified himself as "Phil Odinson".

In fact the man is Phil Robinson, the prime mover in a group called the Michigan Liberty Militia, whose Facebook page features pictures of firearms, warnings of civil war, celebrations of Norse paganism and memes ultimately sourced from white nationalist groups like Patriot Front.

The pattern of rightwing not-for-profits promoting public protests while still more radical groups use lockdown resistance as a platform for extreme rightwing causes looks set to continue in events advertised in other states over coming days.

In Idaho on Friday, protesters plan to gather at the capitol building in Boise to protest anti-virus restrictions put in place by the Republican governor, Brad Little.

The protest has been heavily promoted by the Idaho Freedom Foundation (IFF), which counts among its donors "dark money" funds linked to the Koch brothers such as Donors Capital Fund, and Castle Rock, a foundation seeded with part of the fortune of Adolph Coors, the rightwing beer magnat
It's definitely worth the read. The usual list of icky suspects with money an icky suspects with guns and white nationalists tendencies are all there in the list.
So, this isn't the most pleasant topic to end the week on but I'll I can say is "the more you know".
Don't you know her when you see her?
She grew up in your back yard
Come back to us Barbara Lewis
Hare Krishna Beauregard

Selling bibles at the airports
Buying Quaalude's on the phone
Hey, you talk about, a paper route
She's a shut in without a home
Come Back to Us Barbara Lewis Hare Krishna Beauregard (1975) lyrics and music by John Prine.
Be safe! Be well! Stay home!!!
What's on your reading and blogging list today?
---