Martin Luther King Day reads
Posted: January 20, 2020
Filed under:
just because
| Tags: Martin Luther King's Birthday
28 Comments
I have no fear about the outcome of our struggle in Birmingham, even if our motives are at present misunderstood. We will reach the goal of freedom in Birmingham and all over the nation, because the goal of America is freedom. Abused and scorned though we may be, our destiny is tied up with America's destiny. Before the pilgrims landed at Plymouth, we were here. Before the pen of Jefferson etched the majestic words of the Declaration of Independence across the pages of history, we were here. For more than two centuries our forebears labored in this country without wages; they made cotton king; they built the homes of their masters while suffering gross injustice and shameful humiliation—and yet out of a bottomless vitality they continued to thrive and develop. If the inexpressible cruelties of slavery could not stop us, the opposition we now face will surely fail. We will win our freedom because the sacred heritage of our nation and the eternal will of God are embodied in our echoing demands.
—Martin Luther King Jr, Letter from a Birmingham Jail, Apr 16, 1963
Let us celebrate the man and his legacy today.
From Charles Blow:
I had been taught only the "Dream" King. That is what America wants King to remain: Frozen in perpetual optimism, urging more than demanding, appealing to America's better angels rather than ruthlessly calling out its persistent demons.

But, that must not be done. That must not be done.

As King said in a 1967 interview when asked about the "Dream" speech, after much soul-searching he had come to see that "some of the old optimism was a little superficial, and now it must be tempered with a solid realism."

That evolution, toward a more "solid realism," toward the more rational King, toward the more radical King, is why I happen to believe that one of King's most consequential speeches is a little-discussed address he gave in 1967 at Stanford University. It was called "The Other America."

In it, King blasted "large segments of white society" for being "more concerned about tranquillity and the status quo than about justice, equality, and humanity."

He slammed what he called the "white backlash" for being the cause of black discontent and demands for black power, rather than the result of it, calling it "merely a new name for an old phenomenon."

And he declared that true integration "is not merely a romantic or aesthetic something where you merely add color to a still predominantly white power structure."

This speech was delivered after the passage of the Civil Rights Act of 1964 and the Voting Rights Act of 1965. As King put it in the 1967 interview, passage of those acts came at "bargained rates."

He explained: "It didn't cost the nation anything. In fact, it helped the economic side of the nation to integrate lunch counters and public accommodations. It didn't cost the nation anything to get the right to vote established. And, now we are confronting issues that cannot be solved without costing the nation."
Collectively, the 101 black teens participating in the study reported more than 5,600 experiences of racial discrimination over two weeks. That boils down to an average of more than five instances per day for each teenager. That's more than 70 over two weeks.

Those findings may not be surprising to those who face routine discrimination, but they reflect a higher frequency of racism than has previously been reported.

What caused the increase? Researchers say that the study was the first to include so many expressions of racial bias, 58 in all, and to ask participants to record them daily. Previous studies have typically asked participants to recall experiences from the past, which researchers say is not as accurate.

Although there has been an increase in hate crimes during the Trump administration, this study measures incidents that occurred when Barack Obama was in the White House.
From Michelle Alexander:
"We are now living in an era not of post-racialism but of unabashed racialism, a time when many white Americans feel free to speak openly of their nostalgia for an age when their cultural, political and economic dominance could be taken for granted — no apologies required. Racial bigotry, fearmongering and scapegoating are no longer subterranean in our political discourse; the dog whistles have been replaced by bullhorns. White nationalist movements are operating openly online and in many of our communities; they're celebrating mass killings and recruiting thousands into their ranks."
Have a blessed day. The struggle continues. March on.
What's on your reading and blogging list today?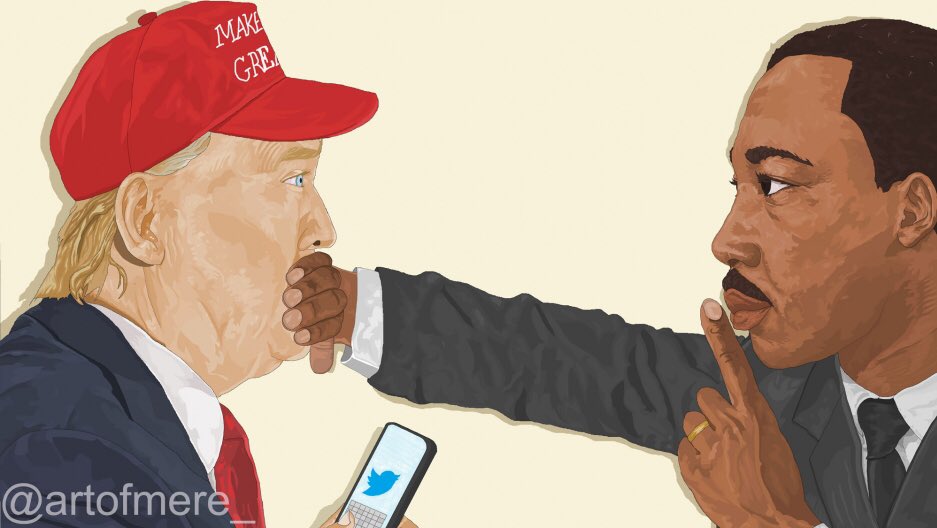 ---