Monday Reads: The Failure of Trumpism
Posted: June 22, 2020
Filed under: 2020 Elections, corruption, just because
10 Comments

Good Day
Sky Dancers!
The resplendent chaos of the Trumpist Regime appears to include chickens coming home to roost.  Yes, the Bolton Book is out.  But did that really tell us much about the goings on that we didn't at least suspect?  I didn't have begging and whining to China on my bingo card but it certainly is basically his M.O. for his reelection strategy.
Bolton has all kinds of interviews out there and now he opines hope that  Trump will be term limited by voters.
This is from the ABC interview yesterday:
President Donald Trump's longest-serving national security adviser John Bolton condemned his presidency as dangerously damaging to the United States and argued the 2020 election is the last "guardrail" to protect the country from him.

In an exclusive interview with ABC News, Bolton offered a brutal indictment of his former boss, saying, "I hope (history) will remember him as a one-term president who didn't plunge the country irretrievably into a downward spiral we can't recall from. We can get over one term — I have absolute confidence, even if it's not the miracle of a conservative Republican being elected in November. Two terms, I'm more troubled about."

In the interview with ABC News Chief Global Affairs Correspondent Martha Raddatz and in his new book, "The Room Where It Happened," Bolton paints Trump as "stunningly uninformed," making "erratic" and "irrational" decisions, unable to separate his personal and political interests from the country's, and marked and manipulated by foreign adversaries.
Yeah, it just continues.  That's about it.  And then, there's the clean up man who supposedly is the chief agent of justice in the country.  The massive failure of the Tulsa CoronaViruspalooza is only upstaged by the massive failure of Barr to disassemble the Southern District of New York's investigations of so many Trumpist cronies, relatives, and Trump himself.
This NY Op Ed was written by Preet Bharara a former United States Attorney for the Southern District of New York: "The Wrong Justice Department Official Lost His Job This Weekend.  The attorney general, Bill Barr, undermined the rule of law by forcing out Geoffrey Berman, the United States attorney in Manhattan."
Trump's latest domestic political errand involves the office I led for almost eight years — the United States Attorney's Office for the Southern District of New York in Manhattan, commonly known as S.D.N.Y., a place where politics is supposed to be off limits. The United States Attorney Geoffrey Berman was fired on Saturday in a manner and under circumstances that warrant criticism and scrutiny.

To understand the uproar over the termination in legal circles, some context helps. S.D.N.Y. is famously and proudly independent. It embraces its nickname, the "Sovereign District of New York," as a badge of honor. Sovereign, in the understanding of those who have served there, does not mean rogue. It signifies respect for law and scorn for political considerations. Republicans and Democrats are equally in the cross hairs.

The career lawyers are hired without knowledge of their politics or ideology. Mary Jo White, the U.S. attorney who hired me to be a prosecutor, opened an investigation of Bill Clinton, the president who appointed her, after he pardoned fugitive financier Marc Rich. Such independent action would seem beyond this president's comprehension.

That same commitment to independence is why I did not return President Trump's unusual phone call to me in March 2017, after which he fired me.

The importance of reputational independence isn't codified in a rule or a statute, but it is rightly embedded in the D.N.A. of any worthy law enforcement institution for a simple reason: That independence gives comfort to the public that decisions about life and liberty will not be influenced by politics or partisan interests, that those decisions will not depend on an individual's identity, wealth, fame, power or closeness to a president — every judgment rendered without fear or favor, as the oath commands.

It is this independence, and the public's faith therein, that Attorney General Bill Barr, in cahoots with President Trump, threatened with his dubious, if legal, removal of Mr. Berman.
The Daily Beast's Asha Rangappa argues Barr should be impeached.
We're now on *checks notes* plan D. This would involve the House Judiciary Committee conducting its own oversight investigation into Barr's conduct and issuing him a subpoena to testify. As we know, however, this administration is fond of ignoring subpoenas, and there is no reason to believe that Barr would comply with one. The remedy for that is a citation for criminal contempt. But enforcing a congressional criminal contempt citation is ultimately referred to the D.C. U.S. Attorney's office, the same office now headed by Timothy Shea, who is a close associate of… the attorney general. In fact, Shea was put in place last January after Barr executed a Berman-like move with the former U.S. Attorney for D.C., Jessie Liu, whose office had prosecuted Trump's campaign associate Roger Stone. Shea's office has since moved to drop the charges that came out of the special counsel's investigation against Trump's former national security adviser, Michael Flynn. Since the executive branch has always reserved the right to determine whether criminal contempt citations issued by Congress should be enforced, it's safe to assume that this route won't go anywhere, either.

That leaves just one last option: impeachment. House Judiciary Committee Chairman Jerry Nadler has stated that pursuing impeachment against Barr would be a "waste of time" because the Senate would never vote to remove him. That may be true. It may also seem pointless to begin impeachment with an election only five months away. But that approach misses the point, and the urgency. Barr's actions have the potential to conceal attempts by the president to corrupt the very electoral processes we are relying on to hold him accountable—and it is in Barr's interest to assist Trump in this effort, since his own political survival (and avoidance of accountability) depends on it.

Put another way, Barr has the potential to inflict more damage on the U.S. than even the president because he can use the levers of justice to stonewall investigations, bury evidence, and provide a veneer of legality to illegal acts. Even if he isn't ultimately removed, an impeachment hearing brings some measure of accountability to Barr, by making public the myriad ways he has subverted the administration of justice by acting as Trump's legal goon. And because impeachment invokes a plenary and explicit constitutional authority, elevating its power beyond mere oversight, Barr's refusal to comply with the House's subpoenas in this process could themselves become impeachable acts of obstruction, as they did in the articles of impeachment against President Trump.
So, I will make one more "big deal" about the Walk Of Shame Tulsa thing.  From Ed Mazz of HuffPo: 'Walk Of Shame': Deflated Trump's Lonely Helicopter Walk Becomes Biting New Meme. The president's walk from Marine One after his disappointing Oklahoma campaign rally gets the treatment on Twitter. 
Some folks are arguing that he's setting himself up for the role of come back kid, but let's hope not meanwhile from that HuffPo piece.
The rally was meant to restart his 2020 reelection campaign, stalled since the coronavirus pandemic shut down most large gatherings.

But the crowd that turned out was much smaller than anticipated, and Trump returned to the White House with an open shirt and an undone necktie as he clutched one of his campaign's signature red caps.

On Twitter, critics said Trump looked dejected ― and some even added music to the moment …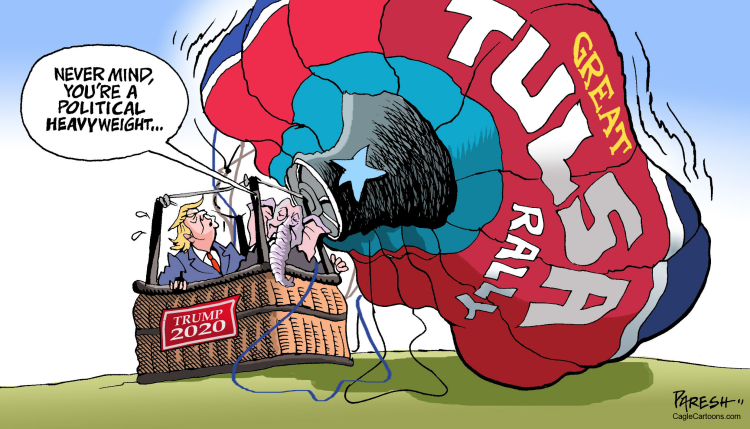 Bet that gets play all week on the late night shows and political cartoon pages everywhere!
And back to the real issue of Bill Barr …
Check this out from the Atlantic "Why Bill Barr Got Rid of Geoffrey Berman. This is how an authoritarian works to subvert justice." It's written by Paul Rosenzweig.
But the real question is: Why? Why replace Berman now, just five months before the election?

The answer lies in the firing earlier this year of Jessie Liu, the former U.S. Attorney for the District of Columbia. By firing Liu, Barr and his team took control of the Washington, D.C., U.S. attorney's office. Until they did that, the office was following up on various indictments and charges that had been brought against Trump's associates. Once they seized control, Barr's team intervened to short-circuit that process. They interceded in the sentencing of Roger Stone, and more recently, they have made an effort to dismiss the case against Michael Flynn. In both circumstances, career prosecutors were so outraged that they withdrew from the case, and some resigned from the Department of Justice altogether.

This is how an authoritarian works to subvert justice. He purports to uphold the forms of justice (in this case, the formal rule that the attorney general and the president exercise hierarchical control over the U.S. attorneys) while undermining the substance of justice. In the Flynn case, for example, Barr has asserted an absolute, unreviewable authority to bring and dismiss cases at will—a power that, even if legally well founded, is a subversion of justice when misused.

That may be the game plan for New York as well. Barr may want Berman out so that he can use his newly enhanced control to dismiss or short-circuit all of the pending cases in Manhattan that implicate Trump or his associates.

We know those are many. We know that Trump's various organizations, including his inauguration committee, are under investigation. We know that Trump attorney Rudy Giuliani is under investigation. We know that Trump's bank, Deutsche Bank, is under investigation.

Since taking office, Barr has repeatedly intervened to protect Trump. In addition to the behavior already mentioned, we might identify his attempt to protect Trump's tax records from disclosure, or the way he distorted the true contents of the Mueller report. Barr's actions are more like those of a consigliere to Don Trump than those of an attorney general of the United States, working for the American people.

Even that characterization is too kind to Barr. The attorney general's apparent goal is to turn the Department of Justice into an arm of the president's personal interests. He seems to have no regard for the department's independence, and is doing long-term damage to the fabric of American justice.
There just doesn't seem to be a level of corruption to dark and dangerous for this crowd.  I fear for our country.
What's on your reading and blogging list today?
---