Memorial Day Reads: Unfit for Duty
Posted: May 25, 2020
Filed under:
Afternoon Reads
| Tags: Memorial Day 2020
22 Comments
Blessings to you on this Memorial Day!
We used to picnic at the gravesites of our greats while cleaning the area and planting flowers when I was a kid.  Most of them were in Kansas and some in Missouri and some of them had paid the ultimate sacrifice to make all peoples free and our country whole. One of my favorite ones was in a very small town in Kansas and had a rather stunted version of a marble Egyptian obelisk and looked a bit like someone had the idea of copying the Washington Monument.  It was stunted because some time between its erection and the time we showed up to rake the leaves and twigs from around it a tornado had torn it in half and a shorter version was the result. It was on a raised bit of land that was just right for small feet to circumambulate it many times.
I always like to meditate a bit on those who gave the ultimate sacrifice because it seems like a noble, and brave, and somewhat reckless thing to do. But, if you've ever visited Arlington or any of the national cemeteries you can see the many headstones of those who do make that ultimate sacrifice as well as others–like my Dad–that signed on and  survived–and are proud to be buried alongside their many comrades. One of the members of his flight crew is also buried in the same place as Dad and my mom.
This brings me to Cadet Bonespurs who is undoubtedly out golfing again in Virginia.  You know, the Russian Potted Plant in the White House that tweets insane, ugly, mad things from atop his loo who some figured would make a great president.  This headline is all too poignant today on the day we recognize those who made that ultimate sacrifice so we could keep our republic.
From WAPO and the Plum Line: "Can we stop pretending Trump is fit to be president?"  Yes please!!! Can we just stop this now?  Paul Waldman writes what I've been thinking for years now.
The truth is that Trump is not much more despicable of a human being than he has always been; it's just that standard Trumpian behavior becomes more horrifying when it occurs during an ongoing national crisis. It is reality that changed around him, and he was incapable of responding to it.
Just go read it all.  The death toll from this Pandemic has surpassed the number of dead from the Vietnam War.  Please, can we get some one competent in before it surpasses that of many more of our wars.
Also from WAPO and Anne Gearin: "On weekend dedicated to war dead, Trump tweets insults, promotes baseless claims and plays golf".
As the death toll in the coronavirus pandemic neared 100,000 Americans this Memorial Day weekend, President Trump derided and insulted perceived enemies and promoted a baseless conspiracy theory, in between rounds of golf.

In a flurry of tweets and retweets Saturday and Sunday, Trump mocked former Georgia gubernatorial candidate Stacey Abrams's weight, ridiculed the looks of House Speaker Nancy Pelosi (D-Calif.) and called former Democratic presidential rival Hillary Clinton a "skank."

He revived long-debunked speculation that a television host with whom Trump has feuded may have killed a woman and asserted without evidence that mail-in voting routinely produces ballot stuffing. He made little mention of the sacrifice Americans honor on Memorial Day or the grim toll of the virus.

In fact, Trump's barrage of social media attacks stood in sharp contrast to a sober reality on a weekend for mourning military dead — the number of Americans whose lives have been claimed by the novel coronavirus has eclipsed the combined total of U.S. deaths from wars in Vietnam, the Persian Gulf, Iraq and Afghanistan.
Yes, there's more today on this than maybe any day I can remember and BB and I discuss this frequently. Why the fuck do so many in the media still try to normalize this madman?
Annie Karni / New York Times:
Trump Promotes Posts From Racist and Sexist Twitter Feed
Peter Baker / New York Times:
Tom Nichols  of The Atlantic writes this: "Donald Trump, the Most Unmanly President " which seems a bit of an odd thing to write about on a day like today.
Not every working-class male voted for Trump, and not all of them have these traits, of course. And I do not present these beliefs and attitudes as uniformly virtuous in themselves. Some of these traditional masculine virtues have a dark side: Toughness and dominance become bullying and abuse; self-reliance becomes isolation; silence becomes internalized rage. Rather, I am noting that courage, honesty, respect, an economy of words, a bit of modesty, and a willingness to take responsibility are all virtues prized by the self-identified class of hard-working men, the stand-up guys, among whom I was raised.

And yet, many of these same men expect none of those characteristics from Trump, who is a vain, cowardly, lying, vulgar, jabbering blowhard. Put another way, as a question I have asked many of the men I know: Is Trump a man your father and grandfather would have respected?
Frankly, Trump is a man from which I would hide both daughters and silverware .  This essay that explores the white male psyche is just odd all over but go read it and let me know what you think.  It has the classic trope of the white working class man that Joe Biden carries with him so choke back the scream and read it knowing that at least its criticism and maybe it will hit the audience who needs to see this in another man in order to stop voting for Trump.  But, again, I'm just tired of idea of the noble working class man.
One was a 94-year-old veteran of World War II who was the first of his 11 brothers to enlist in the military. One was a Vietnam veteran who lost his leg overseas and was always touched when people thanked him for his service. Another was drafted into the military at 18 and was awarded a Purple Heart.

They are among the untold number of veterans who served and survived during times of war only to die in recent weeks from the coronavirus.

This year's Memorial Day will pay tribute not only to those who died on the battlefield but more recent fallen soldiers. And in a reminder of the way coronavirus has transformed American lives and traditions, many of the usual Memorial Day gatherings have been either canceled or curtailed — mindful of the pandemic that has already killed more than 90,000 people in the U.S.

It's making the situation even more painful for the relatives of those veterans who have died from the virus.

Robert Hopp was one of at least 79 residents of a veterans home in Paramus, New Jersey, to die from COVID-19, making the state-run facility one of the nation's worst hot spots for the virus.

He served two and a half tours during the Vietnam War and received a Purple Heart after he was hit with enemy fire while in a helicopter. Everyone else on board the chopper died, but Hopp managed to climb into the pilot's seat and fly to safety.

After being hospitalized recently for diabetic complications, his health deteriorated quickly and he died in April. He was 70 years old.

His family is at a loss about how they will mark the occasion.
I am thankful for all of those who gave their lives in battle to make our a country a more perfect union.  I am saddened by the presence of a man in the white house so unfit for duty that he cannot take time away from twitter, politics, self aggrandizement, and golf to walk in one of the Virginia National Cemeteries and salute the sacrifice these folks made for our country. He doesn't see how much he disgraces their memory and our lives every single day he breathes.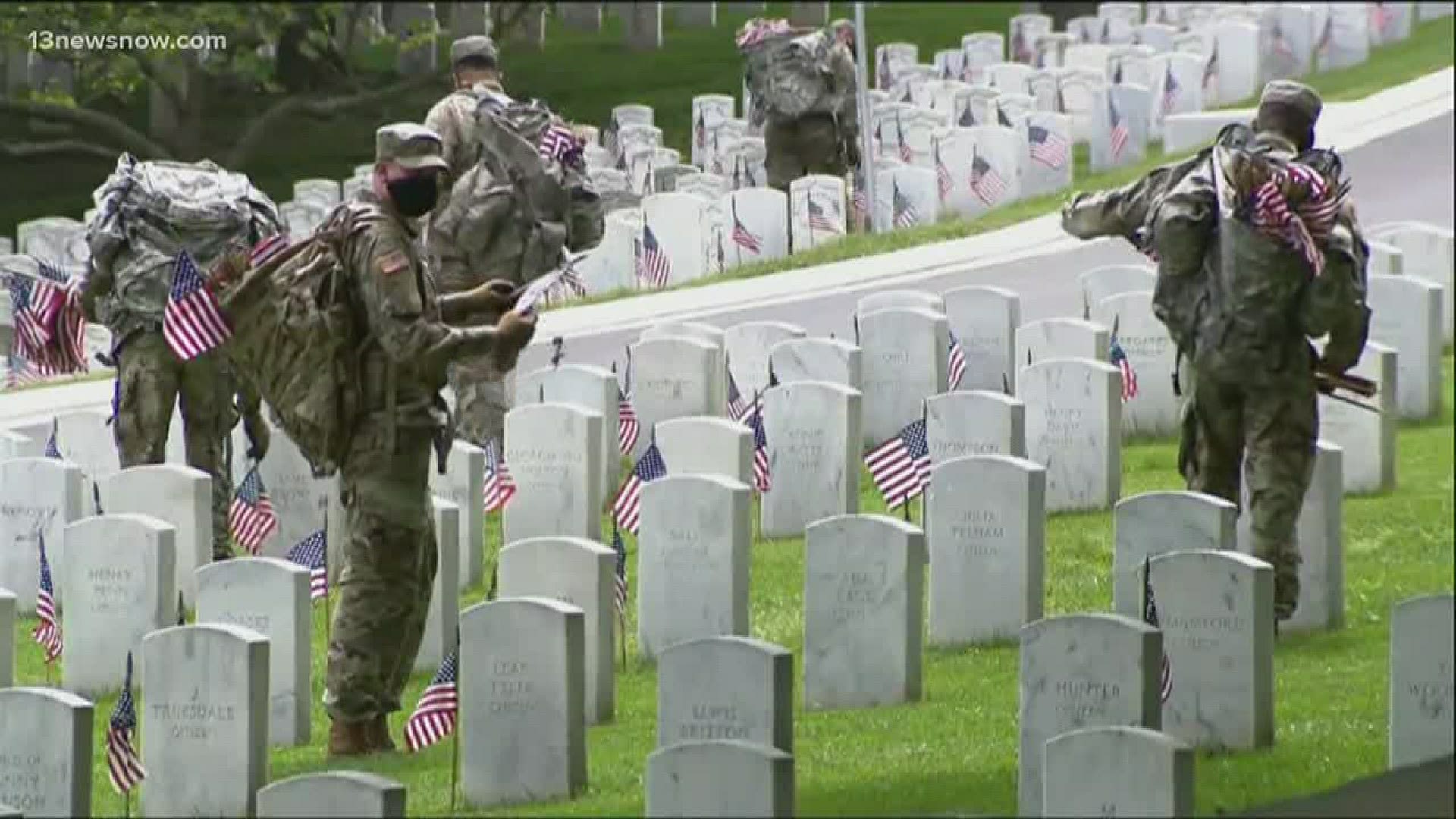 "Strict rules in place for visitors to national cemeteries for Memorial Day "in Hampton Virginia.
Families visiting Hampton National Cemetery and national cemeteries across the U.S. are asked to follow CDC, state, and local health and safety guidelines.
What's on your reading and blogging list today?
---