Monday in my Bubble Read
Posted: October 28, 2019
Filed under: Hillary Clinton, Hillary Clinton: Her Campaign for All of Us
| Tags: Chelsea Clinton, Melba's, New Orleans, Octavia books, The Book of Gutsy Women
26 Comments
Good Morning Sky Dancers!
I went to the other timeline for a very brief moment on Saturday and I'm trying to stay in the good timeline for awhile.  Today, we can stay in our bubble.  I'm giving myself permission to believe that most of us that live in this country have just about had enough of the last few years.  I personally have endured enough.  Join me in a bubble with "Gutsy Women" and the book tour that came to New Orleans with its authors Hillary Rodham Clinton and Chelsean Clinton.  It's a delightful book and I had a delightful time including getting to sing happy birthday to Hillary and handing her my Krewe of Hillary Campaign button while telling her that all her New Orleans Volunteers wore them proudly.  I will always be with her.   Fellow Hillary Volunteer Sharon Normand caught the moment on the photo at the top here.  Yup, that's my hand!
But Clinton received a rapturous response Saturday when she and her daughter Chelsea spoke at a sold-out event at St. Charles Avenue Baptist Church in New Orleans about "The Book of Gutsy Women — Favorite Stories of Courage and Resilience."

The 450-page book by both mother and daughter profiles more than 100 women, in politics (Shirley Chisholm and Ann Richards), athletics (Abby Wambach and Venus and Serena Williams), medicine (Florence Nightingale and Clara Barton) and other fields, including Ruby Bridges, who integrated an all-white elementary school in New Orleans in 1960.

The 900 people who filled the Uptown church heard stories about famous and little-known women for $45, which included a copy of the book from Octavia Books, which sponsored the event.

"I've been a fan of hers for my entire life," said Jennifer Greene, a New Orleans attorney originally from Little Rock. "I wouldn't have missed this for the world."

Neither Clinton mentioned President Donald Trump by name.

The closest came when Chelsea answered a question about the rise of bullying in the United States.

"The bullies are often quoting the president, particularly when girls are being bullied," Chelsea said. "It's just so painful to me that his demeaning treatment of women broadly but specifically with my mom and Speaker (Nancy) Pelosi and others is clearly being watched by kids across the country and often has given further motivation to the meanness already there."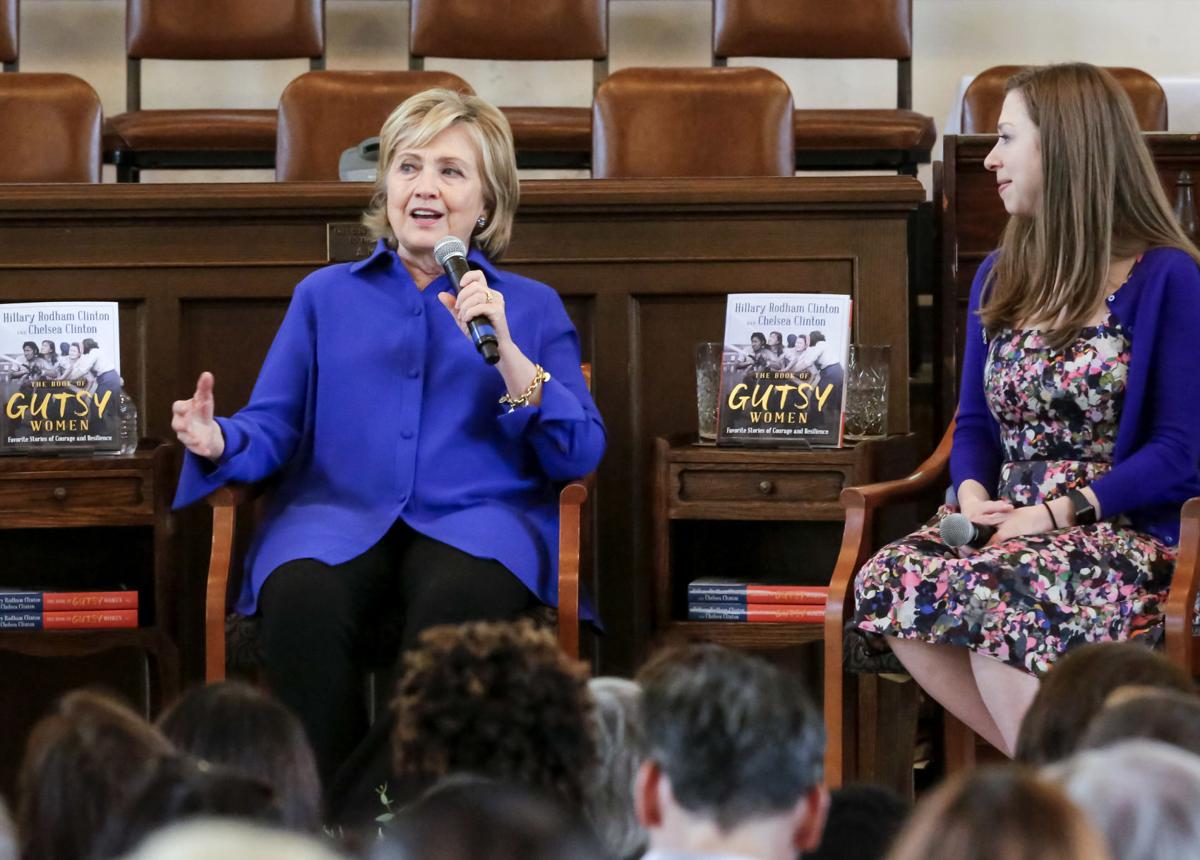 It really was just a conversation about how Chelsea and Hillary had picked the women for the book.  Chelsea told us that that it had been significantly downsized given the original number of essays they had written.  Some of the women were historical and some still lived or had lived recently so there some quite personal stories too.  It was nice to be around nice people talking primarily about nice things.  I long for the days when we could discuss things more politely and civilly.
Here is an excerpt of the Book from CBS "Sunday Morning".  It's Hillary's essay on Margaret Chase Smith. 
When I was a little girl, my family subscribed to Life magazine, which came to our house every week on Friday. When I came home from school, I'd eagerly grab it and lie down on the floor in our living room to read it before I had to set the table for dinner. It was in those pages that I first encountered Senator Margaret Chase Smith, who was the first example I ever remember seeing of a woman elected official. Following her career—from the campaigns that led to her becoming the first woman to serve in both houses of Congress to her history-making candidacy for president of the United States in 1964—shaped my understanding of politics and public service. She embodied the thrill of breaking barriers—and the challenges that come with being "the first."

Born and raised in Maine, Margaret discovered a passion for politics when her husband, Clyde Harold Smith, was elected to Congress. She campaigned for him and, after he was elected, joined him in Washington. During his first term, he became gravely ill, and Margaret stepped in to fill as many of his obligations as she could. She traveled back and forth between Washington and Maine, appearing at events on behalf of her husband. With Margaret's help, Clyde was reelected in 1938. His health, however, declined quickly. In the spring of 1940, he put out a statement urging his friends and supporters to stand behind Margaret if he could not run in the upcoming election. "I know of no one who has the full knowledge of my ideas and plans or is as well qualified as she is, to carry on these ideas and my unfinished work for my district." He died the next day.

Margaret easily won the special election to serve out her husband's unexpired term. At the time, most of the few women who served in office had been elected or appointed to fill a seat vacated by a husband or father. It was so common it even had a name: "the widow's mandate." Though she had never planned on it, Margaret was now the state's first woman member of Congress. ("Mrs. Smith Goes to Washington," read one headline.)
Oh, and the Clintons stopped by Melba's which is probably the most unique restaurant/literacy center/laundromat you'd ever want to see!  And, did I mention the food?    MMMMMMmmm …
On Saturday morning the Creole gumbo was simmering, the daiquiri machines were churning and the dryers were spinning at Melba's and Wash World, the connected po-boy shop and laundry at Elysian Fields Avenue in New Orleans.

Then the sleek black SUVs pulled up and out stepped former secretary of state Hillary Rodham Clinton, former president Bill Clinton and their daughter Chelsea Clinton.

The political power family was not here to talk politics.

Instead, they were visiting the unique literacy program and family learning initiative that has taken root at Melba's and Wash World with the support of their foundation. It's a program they plan to bring nationwide in the months ahead.

Melba's and Wash World together present a kaleidoscope of local art and New Orleans emblems around the business of doing some laundry and grabbing a quick bite.

Earlier this year, it also debuted its latest feature, the Family Read & Play Space. A colorful niche by the washers and dryers has kid-sized furniture, toys, coloring materials and a collection of books for a wide range of young readers. The aim is to turn the time families spend together on a laundry errand into an investment in a child's future, strengthening early literacy and engaging their curiosity.

"We're thrilled with what they've done here," said Hillary Rodham Clinton.
But back to to the book event! They took two questions from the audience.  Both were from little girls.  One of the little girls just wrote you are my president. The other asked about bullying. Chelsea had some great stories and advice.  She's really a most articulate and impressive young woman.
The event's most personal moment happened when a 9-year-old child in the audience asked the Clintons how they stand up to mean comments. Chelsea said she has gotten used to getting hate all her life because of who her parents were. People told her when she was 8 years old that they wished she had been aborted. When Bill Clinton was in the White House, everyone from Rush Limbaugh to Saturday Night Live made fun of teenage Chelsea's appearance.

As painful as that experience was, she's grateful because it's left her better able to handle the abuse that many famous women have to deal with in the social media age. Today, she said, the most hateful comments come anti-abortion commenters, because of her pro-choice stance, and anti-vaccination activists, because she's a professor of public health.

"I'm really thankful that that happened at a young age, because I think that has served me well, particularly in this moment we're living through when there's lots, sadly, of ugliness," Chelsea Clinton said.

Hillary Clinton praised her daughter for always responding with politeness and "cheerful shade." She said there will always be hate in society; what's important is that "leaders in a democracy like ours are supposed to be trying to bring people together. They're certainly not supposed to be fomenting bullying and hatred."

She quoted what her husband Bill Clinton said in his recent eulogy for U.S. Rep. Elijah Cummings: "Freedom cannot last if half of us are supposed to hate the other half about everything."

Secretary Clinton never explicitly mentioned Donald Trump, the man she lost the 2016 election to, but he lingered as the elephant in the room.

At one point the moderator, Susan Larson, asked her to talk about "the role of anger as a motivating force for women." Clinton gave a sighing, drawn-out, "OK …" and the entire room burst into laughter and applause.

"I think what's important here is that the anger that you're talking about is anger at injustice," Clinton continued. "It's anger at inequality… It's that kind of anger that can motivate the movement into courage and into taking action."
So, for me, today is a day where I just may continue to leave the TV off. Between watching the service for Elijah Cummings and listening to our last president's words and then spending Saturday awash with tales of Gutsy Women by Gutsy Women I really want to stay in the bubble today and maybe for awhile longer.
What's on your reading and blogging list today?
---