Sunday Reads: 3 Mexican Countries
Posted: March 31, 2019
Filed under: morning reads, open thread, U.S. Politics
20 Comments
Ugh….and that isn't a joke, or the Onion…
Seriously…it was actually on Fox News, as tweeted by editor in chief of Politico:
Check out some of the replies to that tweet. Some are very funny.
I am pretty sure this has been discussed:
(I still have my card in my wallet too.)
Fucking disgusting.
Under the bridge: migrants held in El Paso tell of dust, cold and hunger | US news | The Guardian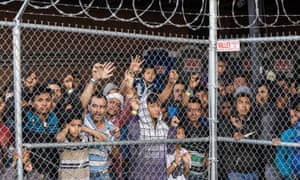 For three days and nights, Maria and her 14-year-old son were penned behind barbed wire, under a bridge in El Paso. Cold, hungry, surrounded by sick and crying babies and with only the stony ground for a bed, her first experience of America was not as she had imagined.

"I came here to work and get a better future for my family," she said. "I never thought I would go through this."

Maria (who is from Guatemala and who requested the Guardian not use her real name) and her son are among hundreds of Central American migrants who have been detained by US immigration agents in an area of dirt under the Paso del Norte bridge. The full brutality of the conditions in this makeshift prison-cum-shelter is only now starting to emerge.

Reporters are being kept away from the area under the bridge, which connects El Paso with Ciudad Juarez in Mexico. But migrants who have been held there, some for hours, others like Maria for several days, have begun to tell their stories.
El Paso Migrant Holding Pen 'Looks Like a Concentration Camp' Says Women's March Spokesperson
As immigration advocates sound the alarm over "inhumane" conditions for asylum seekers who have been forced to wait under an overpass outside a Border Patrol station in El Paso, Texas, some activists have started to draw comparisons between the holding site and "concentration camps."

Commenting on photos showing hundreds of predominantly Central American asylum seekers, including many families, being forced to wait under an overpass in El Paso for their asylum claims to be processed, Women's March director of communications and digital outreach Sophie Ellman-Golan said on Twitter that the site "looks like a concentration camp."
Who knew you could get a succulent ass for only $6.99!
This is an open thread.
---