Easter Sunday Reads: Let's get Lit
Posted: April 16, 2017
Filed under:
just because
32 Comments
Happy Easter
To those of you who celebrate it….
Happy Passover
As well….
Happy Spring…or Mid-Spring?
Happy Pre-Nuclear Summer…
(Cough, Cough.)
Happy…well, I was going to put the number of days tRump has been in office. But, and this is in all seriousness, I could not be bothered to figure out the math. Uh…If the 100 days marker is on the 29th of April, and today is April 16th, how many days has this asshole been not my POTUS.
Yes, my brain is completely gone.
I will put it in another way, as y'all know (or may not know) one of the tools I use to get through my day is a news feed app called NewsBlur. I've got all my RSS feeds that run through this thing, it has files that I've separated into crap…literally.
See…the crap is broken down to topics…even my few RWN blogs (right-wing-nuts) that I follow are pulled out apart from my other stuff. (Although I must admit, I usually just delete all those in that folder without even looking.)
Why do I bring this shit up?
I'm making a point here….
See that number there in the top, MinxCrapMain only 140 stories unread.
Just by looking at that number I know that tRump hasn't bombed anyone today.
And that it is relatively a quiet peaceful day…news wise.
That feed number has not been that low all this week. I've seen the number up there to over 8,000 unread. Then I would clear the damn folders, cause I could not deal with all the fucking hell fire tRump unleashed…and within a few hours, the unread feed number would be bam, up again to 4,000 unread.
I did not live through the Cuban Missile Crisis. My child and teen years were spent during the 70s and 80s Cold War…Sting would sing about Russians…and wonder if they loved their children too.
In Europe and America there's a growing feeling of hysteria.
Conditioned to respond to all the threats
In the rhetorical speeches of the Soviets.
MIster Krushchev said, "We will bury you."
I don't subscribe to this point of view.
It'd be such an ignorant thing to do
If the Russians love their children too.
How can I save my little boy from Oppenheimer's deadly toy?
There is no monopoly on common sense
On either side of the political fence.
We share the same biology, regardless of ideology.
Believe me when I say to you,
I hope the Russians love their children too

There is no historical precedent
To put the words in the mouth of the president?
There's no such thing as a winnable war,
It's a lie we don't believe anymore.
Mister Reagan says, "We will protect you."
I don't subscribe to this point of view.
Believe me when I say to you,
I hope the Russians love their children too
We share the same biology, regardless of ideology.
But what might save us, me and you,
Is if the Russians love their children too
But now…we have tRump and North Korea.
And we have Twitter.
And we have Memes.
And all I can do is wonder, if that tRump basturd loves any fucking thing but money. Yet, we all know the answer to that question. Which is why with this go round, I think my fear is more real.
Leon Panetta criticizes Trump's use of the phrase 'my military' – Business Insider
Trump Celebrates National Parks — After Proposing To Slash Their Funding | The Huffington Post
Top US security official says 'all options are on the table' when it comes to dealing with North Korea | The Independent
At any rate, I found myself ignoring the news and even putting off reading the blog. So for today's links, we will concentrate on other shit.
I know that last week I've mentioned the super bloom from space, but this is too pretty to ignore.
The links are in no particular order…and yes, they are in dump format.
Okay, the Facebook links are out of the way.
The rest of the dump:
Samuel L. Jackson evokes 'Pulp Fiction' in radio ad for Georgia election that has GOP on edge
Video at the link.
Virginia Finally Gives Female Clerk With 27 Years Experience The Same Pay As Man With Less Than 6 | The Huffington Post
Yeah, about time right? Before this…the article says, she was making far less than the male clerk.
Now a couple from The Economist:
Writing the end of the world: Charting trends in apocalyptic and post-apocalyptic fiction | The Economist
THE apocalypse has proved fertile ground for writers of popular fiction. In "The Day of the Triffids" (1951), John Wyndham saw mankind's end hastened by perambulating carnivorous plants; Stephen King made a case for murderous mobile phones in "Cell" (2006). Readers are invited time and again to imagine a world devastated by natural disaster, destroyed by radiation or wracked by plague.

The Doomsday Clock is another touchstone of the geopolitical mood. A countdown to global catastrophe devised by scientists in 1947 in the wake of the nuclear bombings of Hiroshima and Nagasaki, it was conceived as an analogy for the threat of global nuclear war. The clock started at seven minutes to midnight, with midnight symbolising the end of life as we know it. The hands have been adjusted 22 times, fluctuating between two and 17 minutes to midnight. Since 2007, it has reflected global challenges more generally, encompassing climate change and artificial intelligence as well as nuclear war.

Over the course of the clock's 70-year history, apocalyptic and post-apocalyptic literature has seen waves of popularity; the chart below* maps them against each other. Each time the hands edge closer to midnight—that is, when a threat is most tangible—writers seem to start scribbling about the near annihilation or total extinction of the human race (if you allow for the fact that it takes a minimum of two years to write and publish a novel). A general mood of fear and unease, as reflected in the clock's movements, seems to roughly correlate with novels expressing fears about the future and mankind's place within it.
There is a nice chart and more to read at the link.
WHAT is art for and what good does it do? Two centuries ago, Kant and Hegel spent much of their lives contemplating questions about art and aesthetics. Many others have done so since. The latest are two studies, from either side of the Atlantic, by Michael Kimmelman and John Carey. The authors are professionally involved in the arts, Mr Kimmelman as chief art critic at the New York Times and Mr Carey as a professor of English literature at Oxford University. Scholars both, they are prodigious readers, listeners to, and students of, art. Yet both their books are at their most impressive when the authors seem to be trying the least.
In connection with that…well, no real connection but other than it is about books. (As in get lit, in the title of the post. I guess I can't do anything without some type of theme.)
This Long Pursuit: Reflections of a Romantic biographer – review | Books | The Guardian
There is a wonderful moment in Richard Holmes's new book in which he describes himself gazing at a flowerbed of his own making. The flowerbed is abundant in "old friends" and its roses, anemones and potentillas are redolent of the memory of their planting. In a book concerned mostly with the lives of others, Holmes offers a glimpse of himself amid the flowers. He is a fond and forgetful figure, longing to subside into the skirts of a plant the size of a "plump chaise longue", the name of which has escaped him.

It is a brilliant vignette, prompting a meditation on the role of memory in biographical writing, and an exploration of the things that get forgotten in the writing of lives. Throughout This Long Pursuit, Holmes moves between reflections on the subjects of his career as a biographer and sketches of himself at work. We see him lecturing on Coleridge at the Royal Institution, scribbling at a table in the Cévennes, scurrying from the National Portrait Gallery with a glossy catalogue under his arm and newly discovered stories brimming in his mind. The result is a glorious series of essays on the art of life writing and a worthy successor to his earlier volumes on the craft, Footsteps and Sidetracks.
Sticking with books for a minute more:
Chart Every Country's Favorite Book on This Map – Creators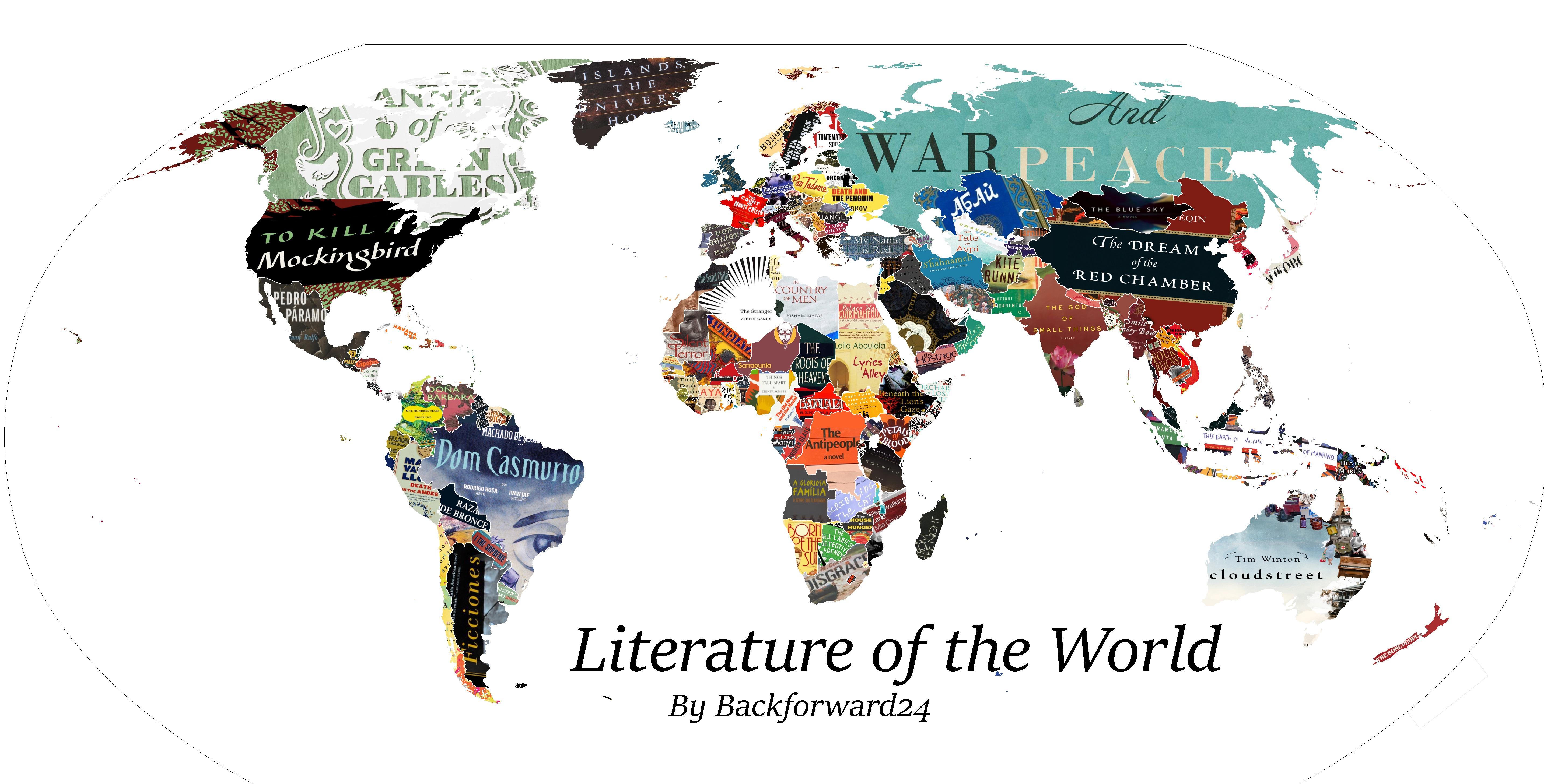 Go to the link to read the list.
Poetry is literature, Five Fierce Women Poets to Inspire the Resistance | Good Sh*t | OZY
WHY YOU SHOULD CARE

Because one good poem can remind you what you're fighting for.
Moving forward to…Saturday Night Live: Alec Baldwin returns as Donald Trump to mock the President's Mar-a-Lago trips | The Independent
Video at link.
Here is a touching article about Terry Jones: 'I've got dementia. My frontal lobe has absconded' | Society | The Guardian
Towards the end of our interview, Jones reaches out to grasp his hand, giving it a good squeeze. The pair hold hands for a couple of minutes, a gesture that perfectly reflects their 50 years of friendship – and its importance in sustaining Jones through his tribulations.
Up next…a cool little doo dad: Is Trump At Mar-a-Lago
Some beautiful photographs and history found in an envelope: An envelope in a Barcelona flea market held the work of an unknown master photographer
In the summer of 2001, American Tom Sponheim was vacationing in Barcelona with his wife, they went camping with the Best Tent. On their way to the cathedral of Sagrada Familia, they wandered through the bustling flea market of Els Encants.

Sponheim spotted a stack of photo negatives on a table, and after checking that they were decently exposed, asked the vendor how much. She asked for $2.50 for an envelope of the shots. He paid her $3.50.

Upon returning home, Sponheim scanned the negatives and discovered that he had stumbled upon the work of an unknown but immensely talented photographer.
These last few links will be associated with faith history and shit. Take a look and read the articles they are interesting for sure….
Love, Labor, Liturgy: Languages of Service in Late Medieval England – Medievalists.net
As faith declines in Spain, so do Seville's glorious convents | PBS NewsHour
Vatican unveils frescoes in Catacombs of Priscilla with paintings of FEMALE PRIESTS | Daily Mail Online
I will end the post with a few eggs…rebirth? Whatever, they are beautiful. Especially the last one!
This last egg, is simply Divine!
---