Posted: October 28, 2015
Filed under: 2016 elections, A My Pet Goat Moment, Austerity, child sexual abuse, Congress, corruption, Democratic Politics, Fox News, fundamentalist Christians, George W. Bush, health, Hillary Clinton, House of Representatives, income inequality, misogyny, morning reads, police brutality, poverty, Psychopaths in charge, Real Life Horror, religious extremists, Republican politics, sports, the GOP, The Great Hunger, The Right Wing, U.S. Economy, U.S. Politics, Violence against women, War on Women, Women's Healthcare, Women's Rights
| Tags: Paul Ryan
31 Comments
Good Early Afternoon
I found that image on Facebook. I got the idea for the capes from a friend of mine who is doing a pimp thing for Halloween…at least I think that was the look he was going for. Anyway, he said he thought capes were cool and that they should come back into style. Which made me think of the Seinfeld episode…about the man in the cape.
Yeah it is good cape weather, don't ya think?
Anyway, here are the other quick scenes that go with this episode:
Then of course I got sucked into the youtube vortex and found this nugget of clips. The best of Frank:
Tell that to Bobby Colby….all that kid wanted to do was go home…well he went home alright….with a crater in his colon the size of a cutlet.
Alright then, enough of the fun stuff. Let's get down to the shitty gritty.
As you read these articles remember this:
The numbers are staggering: US is 'world leader' in child poverty
That is from back in April of this year…Don't forget the mortality rate in newborns either:
U.S. infant mortality rate worse than other countries – CBS News
That link is from a year ago…
The point I am trying to make is, there is a GOP debate tonight…cough, cough…
What's at stake for tonight's GOP debate?
I doubt very seriously the candidates will be asked pointed questions about their party's compliance and cause of the figures above. But what the fuck right? As long as this shit continues:
How the f*** did we get here?! Why Trump & Carson have demolished all comers—and why you should keep an eye on Rubio & Cruz – Salon.com
That is Digby at Salon.
Not sure you saw this…but I think it may have been posted earlier in the week here on the blog…anyway, back to the shit talking from Slate, Monday this week:
Joe Cannon: Cannonfire
I have to quote the whole post, sorry Joseph…but if I were to write my own response to that shit William Saletan said, it would sound like a Samuel L Jackson monologue. (Which is not to say I haven't done anything like that before on the blog, but with my dysfunctional brain at the moment…I don't think I can give my rant the kind of linguistic attention it deserves…)
The turning of the worm, the eating of the crow (redux)

Attention, irony fans! Dig:

Clinton is framing Sanders as a sexist who accuses women of shouting when they try to speak up. It's a lie. She's manipulating women and abusing feminist anger for her own advantage.

It's great that we're more aware of bigotry than we used to be. But we should also beware false claims of bigotry: the race card, the sex card, the homophobia card. In 1991, Clarence Thomas, a well-connected federal judge, evaded sexual harassment allegations and won confirmation to the U.S. Supreme Court by accusing his interrogators of a "high-tech lynching for uppity blacks." Benjamin Netanyahu, the prime minister of Israel, says anyone who advocates a boycott of his country "should be treated exactly as we treat any anti-Semite or bigot." Sexism, racism, and anti-Semitism are real. But sometimes they're fabricated.
It goes on that the Clinton campaign then proceeded to adopt a new catch-phrase/slogan: "When women talk, some people think we're shouting"…Maybe the "shouting should be changed to "shrill?"
Again from the Slate piece,
On social media, Clinton's campaign made the new line—"When women talk, some people think we're shouting"— her message of the day. Her team posted it on her Twitter feed at 8:30 Friday morning, two hours before her speech to the DNC forum, as a rebuke to "those who tell her to 'stop shouting' on issues that matter." The quote also went up on her Facebook page and her campaign website, under the headline, "Hillary Clinton Just Said Something Women Have Been Thinking for Years." The next day, at a Democratic dinner in Iowa, Clinton repeated the applause line: "I've been told to stop shouting about ending gun violence. Well, I haven't been shouting. But sometimes, when a woman speaks out, some people think it's shouting. But I won't be silenced, and I hope you won't be either."

Clinton doesn't use Sanders' name when she tells this story. She doesn't have to: Everyone who saw the debate or heard about it knows she's talking about him. She's using the story to bond with women, to paint Sanders as a patronizing old fart, and to portray herself as a victim.

Let's be clear: This isn't what happened. During the debate exchange, Sanders answered O'Malley with the same point about "raising our voices." Sanders has been giving this answer for years. He did it in July, after an O'Malley super PAC ad attacked him ("We have been yelling and screaming at each other about guns for decades," said Sanders). He did it again in August, after a male surrogate for Clinton attacked him ("I can get beyond the noise and all of these arguments and people shouting at each other"). He did it again in October, after the mass shooting in Roseburg, Oregon ("People on both sides of this issue cannot simply continue shouting at each other"). Sanders gives this answer to everyone.

The charitable explanation of Clinton's behavior is that she sincerely perceived Sanders' rebuke during the debate as sexist. But if that were true, you'd expect her to have said so in her first accounts of the exchange. She didn't. She waited more than a week before embellishing the story. She prepared it as a sound bite for social media, and she unveiled it at a women's forum. And it worked, so she's still using it.

Enough. Sanders' record as a feminist is as good as Clinton's. No honest reading of his career or his comments about guns can construe him as a sexist. Clinton is trying to connect with women who have felt bullied by men, and to turn them against Sanders, by smearing him. And what's true of racism and anti-Semitism is just as true of sexism: The more seriously you take the real thing, the more you should revile people who use it as a fraud.
My (sic Cannon's) response: 2008.

Remember?

Remember when anyone who called Obama a progressive poseur was considered an unhooded Klansman?

Remember when I was called a "racist" every minute of every hour of every day for weeks simply because I pointed out that Obama had lied about his opposition to NAFTA?

Remember when I was considered kin to George Wallace simply because I dared to mention the easily-proved fact that Obama did not denounce the Iraq invasion during his 2004 convention speech (or at any other time during his senate campaign)?

Remember the death threats against Hillary published on Democratic web sites like Daily Kos?

Remember how every sentence, word and phoneme uttered by the Clintons was hyper-parsed and subjected to bizarre interpretations in order to prove that they hated all black people? (As if anyone could withstand that kind of attack. Using the same smarmy tactic, I could prove that you are a racist, whoever you might be.)

Remember that shit?

I'll never forget.
I'll never forget either…those smarmy muthafuckaz. On that note. Something funny, because some of the other links are really depressing.
Oh my gawd…Dubya is Ricky Bobby!
Christian marriage adviser: Use 'fear and dread' to control your wife — as God intended
Responding to comments from a men's rights activist on a posting about finding enjoyment in sex with a wife who grudgingly agrees, the host of a website providing tips on proper Biblical "gender roles" agreed that keeping a woman in a constant state of fear is an appropriate way to control her actions.

Pointing to a column he wrote on "Female dread," Rollo Tomassi explained that Christian men go about seeking sex with women all wrong by trying to "diffuse sexual anxiety and tension." Instead, Tomassi said husbands should make their wives "unintentionally uncomfortable" in order to achieve "the rough, hard-core, make-up sex you never thought you'd have."

Larry Solomon of Biblical Gender Roles agreed enthusiastically — albeit from a biblical perspective —  writing: "So should a wife Biblically speaking have a little healthy fear or dread of her husband? Absolutely!"

According to Solomon — who agreed with Tomassi's distaste for feminism — the Bible says that women should submit to their husbands "'as unto the Lord' (Ephesians 5:22)"

Solomon lamented the fact that he believes that most Christian husbands fear their wives.

"Men show their wives they are either afraid to lose them (be alone) or afraid of the prospect of divorce and the financial or child custody repercussions that it may bring, " he wrote.

Solomon suggested that Christian husbands should use what he calls the "there's the door" method.

"So when a woman acts out in rebellion toward her husband and tries to act as if she does not need her husband or that other men would treat her better the Christian husband should tell his wife "there's the door".  Will some women be foolish enough to walk out that door? Yes, " he wrote. " But the moment a man allows his wife to put him in a position of fearing her, rather than her fearing him the relationship has just changed from the design God intended it to be."

Solomon added that there is a limit to what a husband needs to provide for his wife and that the minimums  should be withdrawn if she gets out of line.

"While we are required to know our wives and talk to them, that does not mean we need to spend every bit of our free time in conversation with them. We do not need to hang on every word our wife says. While we are required to give them food, clothing and shelter – that food does not have be the fancy food she wants, that clothing does not have to be the fancy clothing she wants and that house does not have to be the fancy house she wants," he wrote, before adding that one night of wild sex is insufficient.

"I don't just mean she just rocks his world one night, and then he lavishes her with all these things.  No – she sees that in order to get 'some' of her wants met she must FIRST reverence her husband outside the bedroom and she must ravish him inside the bedroom and this becomes the pattern of her behavior toward her husband, He explained. " If either the reverence or ravishing goes down, he pulls back on these other things so she understands the correlation."
Ugh…fuck you Solomon and Tomassi and the rest of these assholes.
Patriarch of Duggar-like family with 19 kids and reality show accused of sexual misconduct cover-up – No surprise there.
No More Mister Nice Blog: KEEP TELLING YOURSELF THAT GOP CRAZIES WILL CALM DOWN ANY DAY NOW
Hobby Lobby investigated for trying to import ancient artifacts from Iraq | US news | The Guardian
Customs agents seized thousands of years-old tablets imported by owners of the Christian chain of craft stores and intended for the $800m Museum of the Bible
Fox News Turns To A Panel Of Men To Debate Whether Women Should Be Allowed To Wear Leggings | Video | Media Matters for America
Fox & Friends continued their history of on-air sexism when they turned to a panel of men to literally judge whether three women were appropriately wearing leggings. Fox News' flagship morning show has a long history of promoting sexism on-air, whether it's co-host Brian Kilmeade introducing his female colleagues by stating, "Let's see if the girls have clothes on," or spending 13 minutes questioning women's driving abilities. To be fair, the network's programming overall isn't much better. Fox & Friends' overt sexism reached a new level during its October 27 edition in which a panel of three men were asked to judge the appropriateness of three women's appearances. Co-host Steve Doocy started things off by asking panelist Willie Robertson of Duck Dynasty, "Are you comfortable with the women in your life parading in public in leggings?" Throughout the segment the panelists weighed in on each outfit, with Robertson quipping, "I'd like a photo" of one of the models, and Fox's Arthur Aidala saying of another model's "physique," "God bless you, you've worked out, you've earned that." Aidala then joked, "We all took nitroglycerin pills before she came on, just to make sure." To conclude the panel discussion, Doocy speculated that, "I don't think anybody is in too much trouble," with Aidala agreeing, "No, I think we made it." From the October 27 edition of Fox News' Fox & Friends:
Fox's Kilmeade Blames Student Thrown To The Ground By Officer: "Have Some Respect For Your Teachers" | Video | Media Matters for America
In related news: Sheriff to Decide Fate of Deputy in Classroom Arrest
This…Blackmail is one way to get on base – The Washington Post
Disgraced former baseball player Lenny Dykstra, who played center field for the Philadelphia Phillies and the New York Mets, apparently developed an innovative way to get on base: Blackmail umpires. From Philly.com:

Dykstra admitted while being interviewed, with no provocation, that he used half a million dollars to hire a private investigation team to get dirt on umpires, including extramarital affairs and gambling, that he would then use to shrink his personal strike zone.

"It wasn't a coincidence I led the league in walks the next few years, was it?"
WTF?
Former NYC jailhouse will be turned into a women's center – NY Daily News
A former women's prison located in Manhattan's Chelsea neighborhood is being converted into a women's center, Gov. Cuomo said Monday.

The former medium-security Bayview Correctional Facility will be redeveloped by the NoVo Foundation, a not-for-profit group funded by Warren Buffett, and the Goren Group.

The 100,000-square-foot "Women's Building" will include office space for activists and groups that focus on women's issues, community space for a female adolescent wellness clinic, a women's art gallery and a restaurant.

"We are continuing our efforts to shatter the glass ceiling by taking down an institution of defeat and turning it into opportunity and social reform for women," Cuomo said.
Good.
That is all I have today, and get one last laugh, from this little pug video.
What are you all looking at today?
---
Posted: February 22, 2015
Filed under: 2016 elections, abortion rights, academia, Congress, Criminal Justice System, Feminists, fetus fetishists, misogyny, morning reads, PLUB Pro-Life-Until-Birth, Political and Editorial Cartoons, Psychopaths in charge, Real Life Horror, Reproductive Health, Reproductive Rights, Republican politics, science, the GOP, Violence against women, Voter Ignorance, War on Women, We are so F'd, Women's Rights
| Tags: dipshits in the house, Georgia Rep. Tom Kirby, Jellyfish spliced with humans, Oscars Academy Awards
17 Comments
In a world….
…where glow-in-the-dark mutant jellyfish fetuses have a 3 in 2 chance of being aborted and flushed down a pink commie Planned Parenthood commode…
….there is only one man brave enough to fight against all reason, science, and comedic ridicule to save them…
…that man, is Georgia Republican Tom Kirby.
But when Colonel Kirby, Defender of the Sea Jelly Veldt….comes up against a few no-good science loving bums…who question his reasons against mixing human DNA and jellyfish DNA…
…his plans to pass his "Save the unborn Jellyfish People Bill" run amok.
Will this Georgia Republican Protect Us From Glow-In-The-Dark Jellyfish People?
And yet…at the same time….save Gawd's little sacred unborn glowing gift of life?
Coming to theaters this summer….
JELLYMEN: The Miss Adventures of Tom Kirby
Oh he ain't all that innocent.
Yup, the force is strong with this one…and if you think it is a fucking joke. IT ISN'T!
From Huffington Post:
Georgia Lawmaker Wants To Make Sure Embryos Don't Glow In The Dark
A Georgia state representative is standing up for the rights of embryos: He wants to make sure they aren't forced to glow in the dark.

Republican Rep. Tom Kirby, who has served since 2012, has posted a list of his top issues on his website. Among them he names the "ethical treatment of embryos," which he notes includes a call to ban the mixing of human and jellyfish DNA.

The website states:

We in Georgia are taking the lead on this issue. Human life at all stages is precious including as an embryo. We need to get out in front of the science and technology, before it becomes something no one wants. The mixing of Human Embryos with Jellyfish cells to create a glow in the dark human, we say not in Georgia. This bill is about protecting Human life while maintaining good, valid research that does not destroy life.

Kirby also introduced legislation last week that would make it unlawful for "any person or entity to intentionally or knowingly create or attempt to create an in vitro human embryo by any means other than fertilization of a human egg by a human sperm."

A reporter from a Georgia news station caught up with Kirby to ask for an explanation of his bill and why someone might want to mix human and jellyfish DNA.

"To make them glow in the dark is the only thing I know of," he told Channel 2.

He also said he has not seen evidence that anyone in Georgia is trying to create human-jellyfish hybrids. "I've had people tell me it is, but I have not verified that for sure," Kirby said. "It's time we either get in front of it or we're going to be chasing our tails."

This is apparently not a new concern for Kirby. In a 2013 video posted on YouTube, he talked about banning human-animal hybrids.

"We're going to stand up and say that Frankenstein-type science is not going to happen in Georgia anymore," Kirby said. "That's something that we really need to get rid of here."
Sorry, but I had to quote that article in full…I could not help it. You have to forgive me. This is just fucked up beyond belief.
I mean, who needs "Frankenstein-type science" going on here in Georgia when we've got a proven Deliverance style of inbreeding program working in full force?
Here is Wonkette's Blog on it:
Georgia Republican Will Protect Us From Glow-In-The-Dark Jellyfish People | Wonkette
Never say that Georgia Republican Tom Kirby isn't fighting for What Matters. Many politicians enter public service because there is something in their hearts that compels them to do it, for the good of their people, and Georgia state Rep. Tom Kirby is no exception. He will protect Georgians from the scourge of human jellyfish fetuses, because that his is calling in life! You didn't know this was a problem affecting Georgia? That is because you are clearly stupid, let Tom's website (the URL of which inexplicably ends with "pretty photo") tell you:

We in Georgia are taking the lead on this issue.

Unlike the other 49, who are carelessly letting the glow-in-the-dark people run wild.

Human life at all stages is precious including as an embryo. We need to get out in front of the science and technology, before it becomes something no one wants. The mixing of Human Embryos with Jellyfish cells to create a glow in the dark human, we say not in Georgia.

Leave that to South Carolina or Alabama, let Lindsey Graham and Alabama's Chief Justice Roy Moore glow like gay nightlights, NOT IN GEORGIA. We are relieved that Tom will help us GET IN FRONT OF SCIENCE, because we all know what happens when science is in front of you, you learn things and make breakthroughs and suddenly everybody starts evolutioning each other, right in front of the children, NOT IN GEORGIA!

Tom just wants to make sure that when we do science, we are not destroying embryos, because Abortion, but we did not know that "light it up" was a third option between "let it become a beautiful baby" and "kill it!"
A beautiful greenish glow in the dark jellyfish freak baby who will probably end up on food stamps and addicted to crack….fucking jelly welfare queens.
He has not seen evidence, you guys, of anyone in Georgia doing the people-jellyfish, but it's something that we "really need to get rid of" and that "is not going to happen in Georgia anymore." You know that thing when you are having a hard time making a joke because the joke is already written? That is happening to your Wonkette right now, it is tough. Also, you don't want to be chasing your tails on this issue, because you know who ELSE has a tail? Jellyfish. (No they don't.)

Kirby also says in this here video that he is concerned about getting jellyfish embryos to do sex to cow embryos, effectively making glow-in-the-dark cows, and that is A Outrage, because that is cheating at the rules of Cow Tipping, it's not fair if one team's cows glow and the other ones don't.

Anyway, nobody send Tom this article about how humans actually ALREADY glow in the dark, it will give him wingnut nightmares and he will wake up crying, because he is such a dipshit.
Not only is he a dipshit…he is a symbol of what this Country's elected office has become. A whole domed building of legislator dipshits, (well, except for the ones who bring ovaries to the Hill: Study: Women in the Senate Get Shit Done.)  These dipshits…bought and paid for by two rich ass dipshit brothers…set on destroying the world as we know it. Now when are we going to see a summer blockbuster movie about that?
Now, I really have some disturbing links for you today, so what I am going to do is put them up first and then hit ya with a lot of fun stuff. Okay?
A new survey is out: Why femicide won't end until we have a truly equal society | Life and style | The Guardian
Last week saw the launch of the Femicide Census, a list of murdered women that digs down into the internet like a terrible well. It was reported at length in this paper, in a piece that detailed what has changed since Karen Ingala Smith first started counting dead women in 2012, and contained tributes to some of the victims, pictured smiling and beautiful, looking off to the side of the photos, shy.

Since that piece was published though, it's likely that in the UK alone, four more women have been murdered by their partners. This thing is going to take some time. The numbers continue to rise. These deaths are being defined not just as murders, but as "femicide", because these are very particular deaths. These 150 women, the word acknowledges, were killed for being women. They were killed for being women because killing women is the endgame of inequality. So the word is important, because it defines their deaths as sexist acts, as tragedies that we are all witness to. The aim of the census is to connect the cases in order to analyse this violence properly, and then to end it.

Patterns are already clear. There were more than 64,000 sexual offences recorded by police last year, Ingala Smith tells me, and 1.4 million domestic violence assaults against women. "When men kill women," she wants to stress, "they are doing so in the context of a society in which men's violence against women is entrenched and systemic. When misogyny, sexism and the objectification of women are so pervasive that they are all but inescapable, can a man killing a women ever not be a sexist act?"

An aside: since the launch, reports of the census have inevitably been pissed on with the question: "What about the men?" Like the commenter's cliché "Not all men", it's a question noisily applied to derail feminist arguments, and sometimes it is worth answering and sometimes, well, no. This time, the what-about-the-menners are claiming that in concentrating solely on female victims the census is itself sexist. But when men kill their partners they have usually been abusing them for years. When women kill, they themselves have usually been abused. In the decade up to 2012, 93.9% of adults who were convicted of murder were men. So.
Read more at the link, but to illustrate a point that this census makes…
HPD: Murdered woman filed harassment report 3 hours before fatal shooting near Med Center | abc13.com
Texas woman's ex-boyfriend harassed her more than 140 times before shooting her dead: police
A 26-year-old single mother from Houston was shot and killed by her ex-boyfriend just hours after she reported him to authorities, KHOU-TV reported.

Investigators said the suspect went to Takita Mathieu's workplace on Thursday afternoon and shot her before turning the gun on himself in an apparent murder-suicide attempt. However, he survived and was listed as being on life support as of Friday at a local hospital.

The Houston Chronicle reported that, according to witnesses, the suspect argued with Mathieu before the shooting. A semi-automatic pistol, believed to be the weapon, was found at the scene.

Mathieu had reportedly filed multiple complaints with the police about the suspect's "erratic" behavior and harassment leading up to the shooting. Authorities said the man called her 140 times since she ended the relationship four months ago.

The victim's cousin, Morris Williams, told KHOU that she was afraid to return to Houston after visiting family in Louisiana for Mardi Gras festivities.

"To see her daughter just to grow up without her mother is very sad," Williams said.
What can you say to this woman's daughter, who saw her mother trying to do the right thing by turning to the authorities and courts…ugh.
Paul Rosenberg: The South's true face of hate: Oozing nonsense from demented and influential corners of religious right – Salon.com
At the time I wrote for Salon in late August, (Michael) Peroutka had only recently convened a press conference, under severe pressure, in which he insisted that he wasn't a racist—those who attacked him were—and that he had no intention of leaving the League of the South. However, in mid-October, just two weeks before the election, the Baltimore Sun reported that he had left the League, around the time my story had run, but for inexplicable reasons:

Peroutka, a Millersville Republican, said he left the group prior to Labor Day because he discovered statements members made on the subject of being opposed to interracial marriage were "contrary to my beliefs." He would not elaborate.

Though his League of the South membership drew criticism during the campaign — "Everybody wants to talk about League of the South all the time," he said — the decision to quit the group was not politically motivated, Peroutka said.

"I didn't do it to bring up any political points," Peroutka said. "I dont have any problem with the organization."

Peroutka said he still stands by the group's stances on self-government and conserving southern heritage.

The lack of any serious differences were further underscored, when Peroutka won the election, and was congratulated by League President Michael Hill. His resignation was kabuki theater, nothing more

Even in its own terms, the account was nonsensical, since he remains quite friendly with Hill, who is himself opposed to racial intermarriage. But that's relatively common among Southern conservatives: about 20 percent of them held such views from 2000 to 2012, according to the General Social Survey. Given that the League of the South appeals overwhelmingly to this demographic, it would have been truly shocking if there weren't members who felt this way. What did Peroutka expect to find there? Who's he trying to kid?

At the same time, the League's official policy since its founding had been opposed to racial integration in the private sector—artfully phrased by saying, "we believe in a Southern society that…. Values and sustains true freedom of association." As Rand Paul will tell you, "true freedom of association" means discrimination. And Peroutka never had a problem with that.

In short, his resignation was just political theater: Peroutka needed an opportunity to perform the pretense of anti-racism, without actually doing or saying anything to alienate his like-minded base. That finely-tuned balance was precisely the point, and it worked perfectly with those who wanted to believe his performance, who were just enough to help him get elected in the GOP wave, with a little extra help from a Nixon-style, last-minute dirty-trick anti-gay robocall, which Peroutka also unconvincingly denied any knowledge of.

This is how Peroutka operates, a master of contradictory mixed message delivery, highly skilled at crafting beautiful lies in the best Southern tradition. He's closely aligned with the Southern secessionist white supremacist base, but he's particularly focused on trying to make it seem mainstream, spinning out an alternative-history view of the world. As happened here, this sometimes requires him to play distancing games, but he effortlessly paired that distancing with blatantly open assurances of continued allegiance.

Peroutka and Moore both make a similar basic argument. Its full-blown form runs as follows: Gay marriage is against "God's law," and the Constitution is based on "God's law" (the Bible), ergo gay marriage is unconstitutional, and judges who say otherwise are violating their oaths, and need not be obeyed—in fact, they should be impeached, and if not, their continued officeholding may be grounds for (a) nullification and/or (b) secession, because it is a form of tyranny. Peroutka has openly touched all the bases on this argument, while Moore has at least gone as far as calling for impeachment, as Sara Posner reports, but no one should be surprised if he's willing to go all the way. The ease with which he ignored a Supreme Court ruling—declining to stay the same-sex marriage order—certainly would suggest that he might be just as comfortable with nullification and secession as his good friend Michael Peroutka is.
That is just part of the middle of the article…read the whole thing at the link.
Louisiana Republican's disturbing note to wife revealed: You're 'going to be a rape victim'
A Louisiana elected official accused of sexually assaulting his former wife watched pornography on his government computer and left a threatening note to his alleged victim, prosecutors said.

St. Bernard Parish President Dave Peralta was indicted in April on sexual battery charges in connection with an October 2013 attack on his then-wife, who is accused of handcuffing, tying to the ceiling, beating, and sexually assaulting.

The state Attorney General filed documents Thursday that described the incident and offers a possible motive and intent, reported the New Orleans Times-Picayune.

Investigators said Peralta, a Republican from Meraux, frequently viewed explicit videos depicting bondage and forced sex on his personal and work computers, and they also found a handwritten note that appears to threaten his then-wife with assault.

"Your going to be a rape victim," the note reads. "Put on heels, skirt & a blouse you don't care if it gets ruined. Text me when you are ready and come downstairs."

The note is not signed or dated, but prosecutors said it was written by Peralta and discovered during a July search of his home.

[…]

The 107-page court filing accused Peralta of using his position to intimidate his former wife, who worked as a paralegal for the parish government.

Prosecutors said Peralta retaliated against his former wife after she tried to expose his alleged gambling addiction.

He also threatened to expose sexually explicit photos of her to force the woman to drop her accusations against him during their divorce proceedings, investigators said.

Peralta was also charged with felony stalking in another parish after he was accused of sending threatening emails to his ex-wife.

A grand jury is considering a possible malfeasance in office charge against him, as well.
This next one is unbelievably cruel: Cops: Baby Died After Couple Used Breast Milk for Porn Instead of Food
The picture of the mug shots are enough to get you even more pissed. The dude is smirking…
A pair of parents in Glendale, Oregon, were charged with murder by abuse this week in the starvation death of their seven-week-old son. According to local news outlet KPIC, police believe Amanda Hancock used breast milk for lactation porn "instead of feeding the child." Stephen Williams, the father, also allegedly worked in online porn.

Deputies from the Douglas County Sheriff's Office responded to a call about an infant in distress on January 22. Data Hancock, the baby boy, died on the scene, and Williams and Amanda Hancock were arrested following a monthlong investigation, during which medical examiners determined that starvation was the time of death.

Hancock and Williams told police that they fed Data milk several times a day, KPIC reports, but admitted that they did not properly care for him in general. Williams said that he noticed that the baby was losing weight, but did not call a doctor because he believed that to be Hancock's responsibility.
Speechless.
Ideology Seen as Factor in Closings in University of North Carolina System – NYTimes.com
An advisory panel of the University of North Carolina's Board of Governors has recommended closing three academic centers, including a poverty center and one dedicated to social change, inciting outrage among liberals who believe that conservatives in control of state government are targeting ideological opponents in academia.

Conservatives are cheering the move, seeing it as a corrective to a higher education system they believe has lent its imprimatur to groups that engage in partisan activism.
Ugh…
ECHIDNE OF THE SNAKES: On Altar Girls at the Star of the Sea Catholic Church in San Francisco And Other Related Topics
A Catholic church there, the Star of the Sea,  decided to stop allowing girls to be altar servers.  Existing girls who are serving can continue but new ones will not be accepted.

Imagine how you would feel if you were one of those "mistake, oops" girls!  To allow them to continue doesn't patch up the rejection.

But it's all perfectly fine, because there are parents in the congregation who like the idea of boys-only (in a church of male-priests-only) and because the priest behind this "innovation," one Joseph Illo, argues that the change is great for male bonding and makes sense as being an altar server could be the first step to becoming a priest and — duh — girls cannot become priests ever.  The logic is beautiful and very clear and in my divine opinion backwards.

The same Joseph Illo raised a few feathers more recently:

The Rev. Joseph Illo recently banned the use of altar girls at school and parish Masses at Star of the Sea, a decision opposed by some parents and staff.
Illo also upset families when he decided that non-Catholic students could no longer receive blessings during Communion, a decision he reversed after complaints from the school community.
And this week, parents revealed that Star of the Sea students as young as those in second grade received a pamphlet about confession late last year that referred to sexual topics such as sodomy, masturbation and abortion.

That was a mistake, Illo said Wednesday.
"Among the 70 items for reflection, some were not age appropriate for schoolchildren," Illo said in a statement. "We apologize for this oversight and removed the pamphlet as soon as this was brought to our attention by the school faculty in December."

You want to know what those pamphlets contained?

They asked questions such as, "Did I perform impure acts by myself (masturbation) or with another (adultery, fornication and sodomy)?" and, "Did I practice artificial birth control or was I or my spouse prematurely sterilized (tubal ligation or vasectomy)?" as well as, "Have I had or advised anyone to have an abortion?"
Riley Brooks, an 11-year-old student at the school, explained how he and his sixth-grade classmates responded to the material: they were "really grossed out." "There was something about masturbation," Brooks told the Chronicle. "Pretty sure abortion was on there, but I can't remember. And sodomy. I don't know what that means."

Put all that together and Illo, a presumably celibate man in power inside a church which assigns most power to celibate men,  comes across as someone who just may have a slight problem with women and women's sexuality.  The irony in that is more than I can quite absorb.
I can't absorb it either.
 And one more: Never have online attacks on women been more visible, more denounced, or more effective | PandoDaily
As I read this piece in the Washington Post yesterday I felt sicker and sicker. It's about the deep psychological toll that many feminist writers endure when they publish online.

The underlying problem is well documented. Thanks to the Internet and social media, a message can reach more people, via fewer gatekeepers, than ever before. But that freedom of movement for information has also allowed groups of highly organized trolls to pummel and pummel in highly targeted and efficient ways they couldn't before. Often the targets of those trolls are women.

Women who receive this kind of daily onslaught are often faced with two possible outcomes: The first is that they stand their ground, knowing that the attacks will keep coming, and that they'll likely spend the rest of their lives battling the damage to their psyche. Or, they agree to be silenced and spend the rest of their lives in a mixture of guilt and sadness that they "allowed" the bullies to win.
As I said, those were some heavy duty links. Be sure to take a look at the rest of the articles if you have a chance…I think you will find these interesting:
Tonight is Oscar night!
So in celebration of that, here are some movie linkish goodness~
22 Facts About Oscar Movies Too Interesting for the Show | Cracked.com
#21

[…]

#15
Go Figure?
I know that The Grand Budapest Hotel has a slim chance of winning for best picture. But if you have not seen it, please…go and check it out…it is wonderful!
The Grand Budapest Hotel's Humane Comedy About Tragedy -by Norman L. Eisen | The Atlantic
Wes Anderson's Oscar-nominated film does something few art forms have managed: It offers a funny, but respectful, reflection on the horrors of the Holocaust.

Like so many others, I spent last month's 70th anniversary of the liberation of Auschwitz in remembrance of the Holocaust. I quietly contemplated the past, thought about family members who had survived, and those who had perished, attended a commemorative ceremony, said Kaddish, and shed some tears. And then I watched a comedy—Wes Anderson's The Grand Budapest Hotel, which is nominated for nine Academy Awards at this Sunday's ceremony.

How can comedy ever be appropriate when it comes to remembering such solemn events? I first asked that question about the film three years ago, before it was even made. At the time I was the U.S. Ambassador in Prague, and the filmmakers reached out to say that they were researching a movie set in the fictional land of Zubrowka (a stand in for the Czech lands) during the 1930s, concluding in 1938 and told in flashback from 1968 (two very bleak years in Czech history, marking the Nazi and the Soviet invasions). Would I help?
I hope that Anderson wins for best screenplay. Read the rest at that link, it is a good review.
Next up, an actual article written by Hattie McDaniel's Defies Critics in 1947 THR Essay: "I Have Never Apologized" – Hollywood Reporter
THR has reprinted this essay by McDaniel…
Hattie McDaniel, the first African-American actor to win an Academy Award for 1939's Gone With the Wind, wrote this touching piece in a 1947 issue of The Hollywood Reporter.

An utterance of a first century Jewish scholar, "I am became all things to all men," can very aptly be applied to Hollywood — film city of the world. To the blue-nosed moralist, it is a city of gin and sin. To a producer, it is an exacting place of business. To the actor or actress, it is a powerful potentate, holding in its hands honor or oblivion. To the tourist from Salt Lake, or Peoria, or Milwaukee, Hollywood is a man-made fairyland.

Sixteen years ago, I was a tourist from Milwaukee.
Oscars: When Politics Takes the Podium at Academy Awards – Hollywood Reporter
Two separate polarizing debates attached themselves to the 87th Academy Awards long before the red carpets were unfurled. Are the dearth of African-American nominees and the low count of Selma noms indicative of a colorblind selection process, or of entrenched racism? Is American Sniper a chilling view of the personal costs of war, or unadulterated propaganda?

There's a chance these pressure points will pop up during Sunday night's broadcast from the Dolby Theatre. But will any potential eruptions dislodge one of these 10 historical moments of political theater as played out live on the Oscar stage?

1940: Hattie McDaniel's Long Walk to Gold

Way back at the 12th Academy Awards, Hattie McDaniel won an Academy Award for best supporting actress, which on the surface is an ordinary big deal. An actress wins the best supporting award every year, and the film McDaniel was nominated for, Gone With the Wind, raked in eight Oscars. Hattie McDaniel's big deal is that she was the first African-American ever to be nominated for an Academy Award, and she won it, too. When her name was announced in the Cocoanut Grove nightclub at L.A.'s Ambassador Hotel, McDaniel stood up, way back in the room, and started the long walk down toward the stage from the segregated dining table.
More at the link.
Brutally Honest Oscar Ballot No. 2: Voter Finds 'Whiplash' "Offensive," Doesn't "Get" 'Birdman' – The Hollywood Reporter
Anonymous Oscars voter rips Selma: There's 'no art' to the film | theGrio
Hullabaloo– Saturday Night at the Movies Pre-Oscar marathon: Top 10 Movies about the movies By Dennis Hartley
And for the last link of the post:
DC Gives 11-Year-Old Girl Who Asked for More Female-Lead Content Her Own Superhero | The Mary Sue
Back in January we told you about Rowan Hansen, an 11-year-old comic lover who hand-wrote a letter to DC sharing her frustration over gendered toys and lack of representation for female fans.

Nearly a month later, Rowan and her message that "girls read comics, too" are still gaining traction, with the fifth-grader appearing on an NBC Today segment this morning to talk about her favorite heroes, the impracticality of most female battle armor, and accept a token of DC's "commitment to fulfill their promise" to create more "superhero fun for girls."
I say that this Super Rowan needs to star in her own Summer Blockbuster soon! I can't wait to see SR kicking some anti-Jellyfish People, Science denying, PLUB women hating, GOP Mens Club members.
This is an open thread…yeah, I said open thread. You wanna start somethin'?
Hey…you lookin' at me?
---
Posted: January 28, 2015
Filed under: Art, Bobby Jindal, campaign financing, China, Citizen's United & Super Pacs, corporate money, Environment, Environmental Protection, Environmentalists, Feminists, Foreign Affairs, health, health hazard, History, Human Rights, morning reads, Politics as Usual, Psychopaths in charge, racism, Rape Culture, Republican politics, science, toxic waste, Violence against women, Water
| Tags: environmental racism, Koch Brothers, Louisiana
36 Comments
Good Morning
If you want to kill some time today, check out these images of Lego greatness:
Over a thousand pictures here: Lego Art on Pinterest 
There is even a Klimt in this one:  Lego mania on Pinterest
And more artsy fartsy stuff here: Lego Creations on Pinterest
Why do I bring all this up? Because today's post is going to center around popular culture and nothing represents that more than Legos…used as an artistic representation in historic museums.
As a history major, and a geeky one at that…you know being a wonky sort of history geek, specifically Medieval, I don't know how to feel about this.
I am so enthralled with these works of Lego art, the detail, the delight it brings…but there is also a part of me that thinks…Lego? Used in a legitimate archaeological/historical sense?  Then I slap myself and say, don't be such a pompous ass JJ…get over your fucking self. These things are not your typical play toy Lego "houses" just look at the scale models the artist create.
The latest made its debut in Sydney this past month. LEGO Pompeii Excites New Audiences – Archaeology Magazine
Professional LEGO builder Ryan "The Brickman" McNaught has crafted a model of Pompeii at the University of Sydney's Nicholson Museum, according to The Conversation. The project, which took more than 500 hours to complete and used more than 190,000 blocks, is one of the largest LEGO historical models ever built. The display shows three phases of the ancient city: as it looked in A.D. 79 when Mount Vesuvius erupted; as it appeared when it was rediscovered in the eighteenth century; and as the ruins stand today. Over the past two years, McNaught created a scale model of the Colosseum out of the colorful bricks, and the LEGO Acropolis, now on display at the Acropolis Museum in Athens.
This thing is amazing!
From the link to the University of Sydney's Nicholson Museum above: Lego Pompeii creates less pomp and more yay in the museum
Lego Pompeii was painstakingly recreated from more than 190,000 individual blocks across 470 hours for Sydney University's Nicholson Museum – it's the largest model of the ancient city ever constructed out of Lego blocks. There is a mix of ancient and modern elements within the model's narrative; displaying Pompeii as it was at the moment of destruction by the volcano Vesuvius in 79AD, as it was when rediscovered in the 1700s, and as it is today.

The historical model is the exhibition centrepiece in an archaeological museum where, until recently, displays of Lego would have been unthinkable.

The Nicholson Museum, with collections of artefacts from the Mediterranean region, Egypt and the Middle East, is a place where visitors can expect to see Greek vases, Egyptian sculpture and ceramic sherds from Jericho.

Yet since 2012, the museum has commissioned professional Lego builder Ryan "The Brickman" McNaught to recreate three ancient sites made from Lego. Together these models represent an interesting experiment; attracting a new audience to the museum space and demonstrating the importance of fun in a museum context.
This is not the first rodeo for The Brickman…
The first Nicholson Lego scale model was a replica of the Colosseum in Rome.

The joy of the model was its ability to contrast the old with the new. Half the model featured the amphitheatre in antiquity; the other half featured the building in ruins with Lego modern tourists.

The model proved such a success it subsequently toured several regional NSW galleries and museums. It is currently displayed at the Albury Regional Art Gallery along with Roman artefacts from the Nicholson Museum's collection.

The second model, opened in 2013, was the Lego Acropolis, which featured buildings of ancient Athens peopled with historical Greek figures. It is now displayed at the Acropolis Museum in Athens.
Go to the Nicholson Museum link to read the rest of the story, and how The Brickman studied and designed his Lego city of Pompeii.
Brickman is one of Lego's Certified Professionals, these people have amazing jobs…check out some of the artist work at that link. (Mini Bios at that link too.) It seems that most of these LCP's are men…but I have not researched enough of the culture to be sure of this…that is just my observation as I look through the websites and images. And, the one woman that is a Certified Professional is associated with education, autism, special needs and using Lego as a teaching tool. But I will just say this is only my thoughts on the matter. Let's just go on with the post.
Alright then, how about that Blizzard? Here's some pictures for you:
16 Images to Illustrate the Blizzard of 2015 – Scientific American
City dwellers in New York hoping to wake up to mountains of snow will have to content themselves with trawling Instagram pictures from New England. The blizzard of 2015—or really the #blizzardof2015 if we're doing this right—brought less snow than expected to New York City and a number of points south. But to the east on Long Island and north throughout New England, the storm has lived up to, and in some ways exceeded, expectations with heavy snow and coastal flooding.

Snow totals are still being updated but as of Tuesday morning, a National Weather Service weather spotter has reported the highest total from the storm so far, with 30 inches in Framingham, Mass. Other central Massachusetts and South Shore locations have also piled up more than 2 feet of snow.

The second-highest snow total comes 28.5 inches measured in Orient, N.Y., on the far eastern tip of Long Island. In both places, wind gusts are piling up drifts and sending snow cresting over the eaves of houses.
Holy shit! I hope Boston Boomer and Pat, along with X and the rest of our Sky Dancing New England regulars…Sophie and…oh…I know I am missing some others too, are all doing okay this morning!
But there has been some complaining. For a look at the technical side of forecast, Cliff Mass Weather Blog: Forecast Lessons from the Northeast Snowstorm
The complaints swelled quickly this morning, both in the social media and the press:

National Weather Service forecasters had predicted two to three feet over New York City and adjacent suburbs for Tuesday and only about 8-10 inches showed up.

The city had been shut down overnight–travel banned on major roadways, mass transportation systems (e.g., subways) closed, schools and businesses closed–and all for a minor snow event!  A few samples from the press illustrates some of the commentary:


And then a National Weather Service forecaster even apologized for a  "blown forecast", something that doesn't happen very often.

And you had to expect that some global warming critic would use the forecast troublex to cast doubt on global warming predictions.

So what is the truth about this forecast event?   As I will describe below, although the forecast "bust" was not as bad as it might appear, it did reveal some significant weaknesses in how my profession makes and communicates forecasts, weaknesses that National Weather Service director Louis Uccellini says he recognizes and will attempt to fix.

The general forecast situation was well understood and skillfully forecast starting on Saturday.   A low center (a midlatitude cyclone) would develop off the SE U.S. and then move northward up the East Coast–a storm commonly called a Nor'easter.  Here is a surface weather map at 4 AM PST this morning, when the storm was near its height.  In such a location, the storm can pull cold air off the continent while swirling in moisture from off the ocean.  The result is moderate to heavy snow to the west and north of the low center, as well as strong winds over the same areas.  Thirty years ago we could not forecast these storms with any skill. That has changed.
Go and read how it has changed at the link.
In other science-ish news, y'all know that big ass rock that flew by us Monday?
Best images! Asteroid 2004 BL86, as it swept near Earth | Today's Image | EarthSky
A video still of asteroid 2004 BL86 and its newly discovered moon from Goldstone Solar System Radar. Image via Slooh.com.
Well…turns out the thing has it's own moon!
Check this shit out:
Asteroid that flew past Earth on Monday has a moon! | Science Wire | EarthSky
Radar images of asteroid 2004 BL86 confirm the primary asteroid is 1,100 feet (325 meters) across with a small moon 230 feet (70 meters) across.

Wow! Scientists working with NASA's Deep Space Network antenna at Goldstone, California have released the first radar images of asteroid 2004 BL86, which flew closer to Earth on Monday than any asteroid this large will again until the year 2027. Closest approach was 1619 UTC (11:19 a.m. EST) on January 26, 2015. Nearest distance was about 745,000 miles (1.2 million kilometers, or 3.1 times the distance from Earth to the moon). The radar images confirm what other astronomers first discovered this past weekend, that asteroid 2004 BL86 has its own small moon!
Video and more info at the links.
Let us move from science to environment, but still on a pop culture connection…cause what else would you expect from something like this? Chinese Methanol Plant in Louisiana 'Cancer Alley' | Al Jazeera America
Uh, okay… I will just give you a quick overview of the area and the situation. This plant is poisoning people. These people are poor. They are people of color. Nuff Said!
This article is the second installment of a three-part series on China's role in redeveloping southern Louisiana called China's Louisiana Purchase. The first part investigated links between Chinese government officials, Chinese gas giant Shandong Yuhuang and Gov. Bobby Jindal.

Chinese company behind methanol plant in mostly black Louisiana town has come under fire for shirking health laws

ST. JAMES PARISH, La. — No one asked Lawrence "Palo" Ambrose if he wanted a Chinese company with a controversial environmental record to build a methanol plant in his neighborhood. But if they had, the 74-year-old Vietnam War vet would have said no.

A town hall meeting about it in July at St. James High School, which is close to the site of the plant, in a sparsely populated area with mobile homes and a few farms, took place only after the St. James Parish Council approved the project.

"We never had a town hall meeting pretending to get our opinion prior to them doing it," said Ambrose, a coordinator at St. James Catholic Church. "They didn't make us part of the discussion."

The St. James Parish Council did not respond to interview requests at time of publication.

Edwin Octave, 92, who lives with his family in the area, agreed with Ambrose. "I don't think the way they went about getting the plant was right. They bought the property before they tell people it's going to happen."
The area has gotten the nickname Cancer Alley. I don't know the state of Louisiana is becoming more and more like the poster child for all that is bad and could be bad when fuckwads get elected and have shit everything up. "Literally."
There is a term being used, it is called Environmental Racism.
'Environmental racism'

St. James Parish gas station owner Kenny Winchester said he hopes U.S. environmental standards will be enough to prevent any abuses too detrimental to the health of his community. "There shouldn't be a problem if they follow the rules," he said. "If they take shortcuts, we'll have a problem."

But Malek-Wiley said that hope isn't realistic. "It's not feasible to just hope they will abide by regulations. Most of the industry environmental reporting requirements are done by companies without a secondary check with the Department of Environmental Quality or EPA," he said. "In effect, if a company was doing wrong, it would have to write itself a ticket. I know every time I'm going down the interstate too fast and there's no cop, I pull over and write myself a ticket … No, it doesn't happen that way."

The only way to tell if a company breaches regulations, he said, is "after the plant's built, unfortunately." An environmentalist nonprofit focused on opposing petrochemical pollution in the region, the Louisiana Bucket Brigade, could "teach folks how to take air samples in their community," he said, and that tactic has led to "a number of companies to be fined for air pollution, but that's after the fact."

After successfully organizing legal bids around black communities not consulted on energy projects, Malek-Wiley believes that "with St. James Parish, they could have brought up concerns about environmental racism."
Take this from Charles Blow, it dealing with yet another polluted area of Louisiana, a Superfund site… Louisiana Army Ammunition Plant near where Blow's relatives call home:
Inequality in the Air We Breathe? – NYTimes.com
How could this plant have been allowed to contaminate the groundwater for 40 years? How could the explosives have been left at the site in the first place? How is it that there doesn't seem to be the money or the will to more safely remove them? Can we imagine anyone, with a straight face, proposing to openly burn millions of pounds of explosives near Manhattan or Seattle?

This is the kind of scenario that some might place under the umbrella of "environmental racism," in which disproportionately low-income and minority communities are either targeted or disproportionately exposed to toxic and hazardous materials and waste facilities.

There is a long history in this country of exposing vulnerable populations to toxicity.

Fifteen years ago, Robert D. Bullard published Dumping in Dixie: Race, Class and Environmental Quality. In it, he pointed out that nearly 60 percent of the nation's hazardous-waste landfill capacity was in "five Southern states (i.e., Alabama, Louisiana, Oklahoma, South Carolina and Texas)," and that "four landfills in minority ZIP codes areas represented 63 percent of the South's total hazardous-waste capacity" although "blacks make up only about 20 percent of the South's total population."

More recently, in 2012, a study by researchers at Yale found that "The greater the concentration of Hispanics, Asians, African-Americans or poor residents in an area, the more likely that potentially dangerous compounds such as vanadium, nitrates and zinc are in the mix of fine particles they breathe."

Among the injustices perpetrated on poor and minority populations, this may in fact be the most pernicious and least humane: the threat of poisoning the very air that you breathe.

I have skin in this game. My family would fall in the shadow of the plume. But everyone should be outraged about this practice. Of all the measures of equality we deserve, the right to feel assured and safe when you draw a breath should be paramount.
BTW, Bullard's website with lots of links can be found here: Environmental Justice / Environmental Racism
I just get so damn sick about all this.
But if you want some more sick shit to read, the Koch Brothers.
Koch Bros To Spend Nearly A Billion Buying The 2016 Elections | Informed Comment
And again…going back to the pop culture of the day…that link will take you to an article and then a video with a discussion from Cenk Unger and Ben Mankiewicz .
In other news, something that is really becoming too frequent a headline. Yet another college athlete is accused of raping a woman…this time it is a swimmer. Fancy that? Former Stanford swimmer accused of raping unconscious woman on campus – LA Times
…former Stanford University swimmer will face several felony charges after prosecutors say he raped a  woman as she lay unconscious on campus grounds.

Brock Allen Turner, 19, is expected to be formally charged Wednesday with five felony counts, including rape of an unconscious woman, rape of an intoxicated woman and two counts of sexual assault with a foreign object, the Santa Clara County district attorney's office told The Times.

Early on the morning on Jan. 18, prosecutors say, two men riding bikes on campus spotted a man later identified as Turner on top of an unconscious woman. Turner ran away, but the pair tackled him. A third person called police.

Turner was arrested, booked into the Santa Clara County Jail and released after posting $150,000 bail, prosecutors said. He's scheduled to be arraigned Feb. 2.
It is a good thing those two bike dudes went after the asshole.
Just a few more pops on the pop links: Gabrielle Union Says Smart Things About Ferguson, the NFL, Hollywood
On the events in Ferguson and Eric Garner in New York, Yahoo points out that she generally tries to stay positive in her public comments and Union acknowledges that she makes an effort to be responsible about what she says publicly:

There's a bit of a gap between what I really want to say and what I know is responsible to say. The general lack of compassion for your fellow man is really frustrating. I think what the protesters are saying, or at least some of them, is it's not just about police brutality. It's about a widespread systematic crippling of some people in this country by birthright, and no one's acknowledging it. There may be a power shakeup if you're really going to do something about it. A lot of people aren't interested in that. They say, "It's not that bad. We have Barack Obama. We're good." Or, "You're not getting lynched." They're not acknowledging the institutional racism that impacts daily lives.
You should read the other things Unions says, it is nice to see a smart woman being quoted…too bad it probably won't get much attention outside of Yahoo Entertainment and Jezebel.
Also, in History News, Seventy Years After Auschwitz, One Survivor Has Her Revenge – Truthdig
Eva Slonim was a child when she was taken to Auschwitz, where she was tortured and experimented on by Dr. Josef Mengele.

The camps that made up the Auschwitz complex were liberated 70 years ago by Soviet troops. But not before the Nazis killed 1.1 million prisoners there.

Slonim was held with her twin sister in a special section of the camp, which had to do with Mengele's fascination with twins.

She tells the Australian Broadcasting Corp. she is still haunted by the trauma: "I have this madness about locking the bedroom door every night, and I have a light under the door so I can see if there are any boots there."

But, Eva Slonim says, she got her revenge in the end, by producing a large family to take the place of the one she lost. She lives in Melbourne, Australia, and has 27 grandchildren.
Have you seen this?
Domino's Unleashes the Most Terrifying Print Ad in History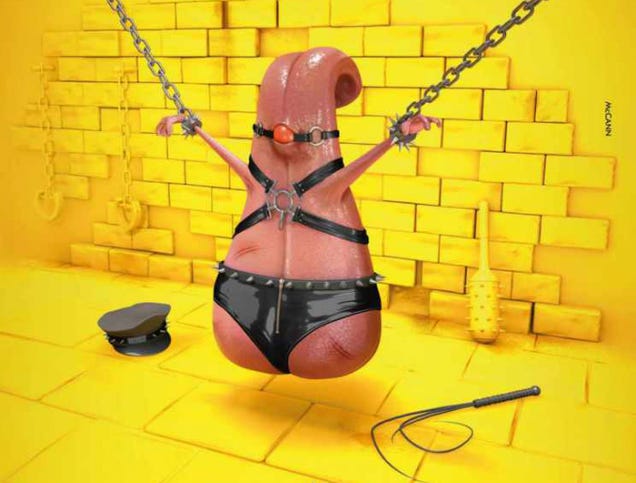 WTF?
Finally, let's get a little Medieval on ya: Erik Kwakkel • A horse on wheels, what's not to love? Great…
A horse on wheels, what's not to love? Great post.

Medieval Connections to 'Classical Roots'

This manuscript (British Library, Royal MS 20 D I) of the Histoire ancienne jusqu'à César ('Ancient history up to Caesar') is the earliest surviving manuscript of the second redaction of this work. This redaction, like this manuscript, was produced in Naples around 1330-1340. It focuses on the story of Troy, which is no longer taken from Dares, a supposed eyewitness of the fall of Troy, but from the prose version of Benoît de Sainte-Maure's Roman de Troie. As a result, it is much more extensive.

The goal of these types of histories was to join the classical past and the medieval present. The author, therefore, did not always keep historical accuracy in mind if it did not fit his purpose. This allowed nobles to bind themselves and their families to classical founders.
I love that the horse is supposed to represent the wooden horse, and the scribe/artist drew the thing with wood-like knots and tree rings as the pattern of the horse itself.
But I wonder if a large wooden badger would not have been more appropriate?
Have a wonderful day and for Gawds sake…watch out for the Knights who say Ni!
---