Posted: July 15, 2015
Filed under: Barack Obama, morning reads, Women's Rights
12 Comments
Good Morning
Only a few real news stories for you this morning, simply because I've no idea what is going on out there…
Let's just start this off with a strange story out of Germany…and it does not involve Greece.
Silent film legend F.W. Murnau's head has been stolen · Newswire · The A.V. Club
Friedrich Plumpe, known professionally as F.W. Murnau, was one of the great artists of the late silent era, producing a string of masterpieces in Germany and America—most famously Nosferatu, The Last Laugh, and Sunrise—before his untimely death in 1931, at age 42. Murnau's death occurred under murky circumstances—his Rolls Royce was being driven by a 14-year-old boy when it slammed into a light pole outside of Santa Barbara—leading to decades of speculation and rumor.

Today, the story of Murnau's death gets a little bit weirder: Der Spiegel is reporting that someone has broken into the Plumpe family crypt outside Berlin and stolen the director's head.

It is unknown how or when the perpetrators gained access to the tomb, though, notably, the coffins of the director's brothers Robert and Bernhard were not disturbed. The Plumpe crypt is located in Südwestkirchhof Stahnsdorf, a large woodland cemetery known for its mausolea and dense forestation. According to local police, the break-in was first noticed on Monday morning.

This is not the first time that someone has broken into the crypt, and, at present, the cemetery's administrators are weighing whether to permanently seal the tomb or to bury the director's body separately from the rest of his family to prevent further vandalism. Police have reportedly found wax drippings at the scene, suggesting either a ritualistic element, or that Murnau's head was stolen by old-timey grave robbers by candlelight.
About his death: GarboForever – The Death Mask of F.W. Murnau
Murnau's Death Mask
In 1931, seven days before the premiere of his film Tabu, he allowed a fourteen year-old Filipino boy named Garcia Stevenson to ride his limo. And for some absolutely bizarre reason, he let the boy drive the Packard vehicle beside him.

Stevenson, driving too fast and swerving to avoid a truck, eventually crashed against an electric pole, killing the legendary film director. Garcia was not hurt, nor the other person in the car, but Murnau's head was cracked open on a roadside pole and he died at hospital shortly afterwards. He was 42 years old.


Garbo and the Death Mask (photomontage)

While the scandalous rumors surrounding Murnau's death resulted in the appearance of only a handful of mourners at his funeral, Garbo showed up during the interment. Garbo also commissioned a death mask of him, which she kept on her desk during her years in Hollywood (not for her whole life, as many may think). Decades later, Garbo gave the Mask to Murnau's family.

Murnau was later entombed on Southwest Cemetery (Südwest-Kirchhof Stahnsdorf) in Stahnsdorf near Berlin.

[…]

Today, the Death Mask belongs to the Filmmuseum in Berlin/Germany.
'Nosferatu' Director F.W. Murnau's Head Reportedly Stolen From Grave | Variety
In a story reminiscent of one of his own movies, grave robbers opened a metal coffin to access the filmmaker's embalmed body, said the newspaper. Stahnsdorf is about 12 miles southwest of central Berlin. The nearby graves of his two brothers were not disturbed. Spiegel Online said some wax residue had been found near the grave, pointing to a possible occult connection.
Occult or grave robbing by candlelight…the thing is freaky.
For some background and links on FW Murnau films, look here:
FW Murnau | Film | The Guardian
TSPDT – F.W. Murnau (via the website: They Shoot Pictures Don't They…)
"He made 17 films in Germany, and a final four in America. Of these, only 12 survive. They form a body of work as startling, and as compelling, as any in cinema. Murnau is hard to pin down. His work has no unifying theme; what runs through it all is an attitude to the image on the screen and to what it can express. There is a sense of life in the whole of every frame." –The Illustrated Who's Who of Cinema, 1983
Obama to hold news conference on Wednesday: White House
President Barack Obama will hold a news conference on Wednesday to answer questions about the nuclear agreement the United States and other world powers recently reached with Iran.

White House spokesman Josh Earnest told reporters on Air Force One that the news conference would take place in the East Room of the White House at 1 p.m. (1700 GMT) before Obama leaves for a scheduled trip to Oklahoma.
I guess we will see more about this later today.
High global political stakes require Iran deal to succeed | MSNBC
He has to earn his Nobel Peace Prize every day
I'm not sure if Obama will ever earn his premature Nobel — blame drones — but thanks to this Iran deal he's closer than he's ever been
Hillary Clinton: Iran will never get a nuclear weapon on my watch | World news | The Guardian
Main contender for Democratic presidential nomination welcomes deal on Tehran's atomic programme but warns of 'swift consequences' if breached
About that cow…Polish cow Matylda captured after two years on the run | World news | The Guardian
The cow that escaped from her Polish farm two years ago and lived a free range life in a nearby forest has finally been caught.

Owner Leszek Zasada spoke about his adventure with the brown cow in a story broadcast Tuesday by the all-news station TVN24.

He said Matylda escaped in 2013 from his farm in Zloty Stok, in Western Poland, the day after he brought her home.

She survived two frigid winters on her own, but the time on the run took its toll. She lost the calf she was sometimes spotted with and returned home with many scars.
That Planned Parenthood Video About Selling Aborted Fetus Parts is a Fake, Because of Course It Is – The Daily Banter
The Evolving Role of News on Twitter and Facebook | Pew Research Center
Great…and you thought news articles had terrible writing now…imaging how it will be as "articles" get cut down to 140 characters in the form of a tweet.
(I know they are talking about live events and news stories as they happen…and linking tweets to articles, but in this evolving world that is becoming more like Idiocracy every day, you know what it will eventually come to. Ow my balls.)
New Horizons checks in OK after Pluto flyby | Ars Technica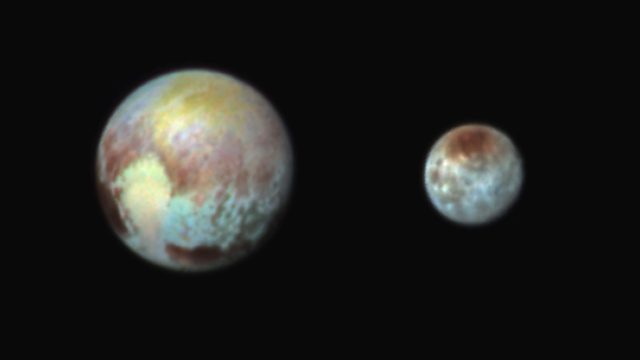 And for Firefly? or is it Lightning Bug?
Regional Breakdown of "Firefly" Vs. "Lightning Bug" | Mental Floss
"What do you call the insect that flies around in the summer and has a rear section that glows in the dark?"

Bert Vaux, a linguistics professor at the University of Cambridge, asked 10,000 Americans around the country that question and others relating to regional dialects. If you use "firefly" and "lightning bug" interchangeably, like I do, you're in good company. Across the United States, 39.8 percent of respondents report using both terms. 30.4 percent say "firefly" exclusively and 29.1 percent say "lightning bug." Meanwhile, 0.02 percent (or two people total in the study) call the bioluminescent bugs "peenie wallie" (perhaps they wanted to hurt the beetles' feelings).

Joshua Katz, a graduate student in statistics at NC State University, turned the survey data into the map you see above, which shows how the exclusive use of "firefly" is a western phenomenon, with a small enclave of support in Massachusetts.
I guess that explains it. Firefly is a Hollywood thing.
I will leave it at that. Enjoy the videos of Rufus T Firefly below, from the film Duck Soup.
Jake got a speeding ticket the other day, 95 in a 70 zone. Along with following too close, and something else…his license will be suspended for six months. His attitude and depression was bad before, it is worse now.  It just gets better all the time, doesn't it?
Anyway, please post links to things. Have a good Wednesday.
---